Photos of Wildlife Entanglement in Plastic
Unfortunately, I have had a number of opportunities to photograph wildlife entangled in plastic debris. Plastic Debris. We make it, we use it and then we leave it behind. This stuff is killing animals and causing problems everywhere. I find it dismaying every time I come across abandoned netting (ghost nets) or monofilament fishing line in the ocean. Often the monofilament is wrapped around a sea lion's neck as in these photos, or tangled on a reef where it can snag passing fish or invertebrates. I've also come across some animals entangled in plastic shopping bags, such as the brown pelican pictured below. At least plastic shopping bags degrade somewhat when exposed to sunlight, so those animals stand a chance of recovery provided they do not eat the bag in an effort to remove it. Alas, in all three cases shown below I considered how to assist the animal pictured but no opportunity presented itself.
California sea lion injured by fishing line.
Image ID: 27419  
Species: California sea lion, Zalophus californianus
Location: Sea of Cortez, Baja California, Mexico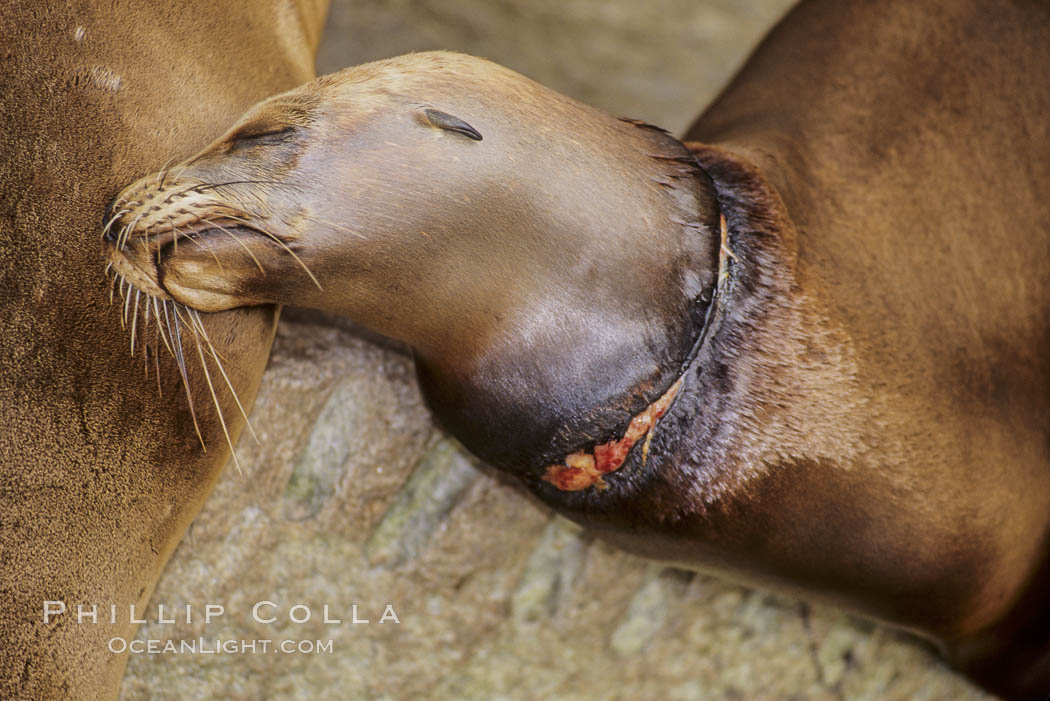 California sea lion, with monofiliment cut.
Image ID: 00958  
Species: California sea lion, Zalophus californianus
Location: Monterey, California, USA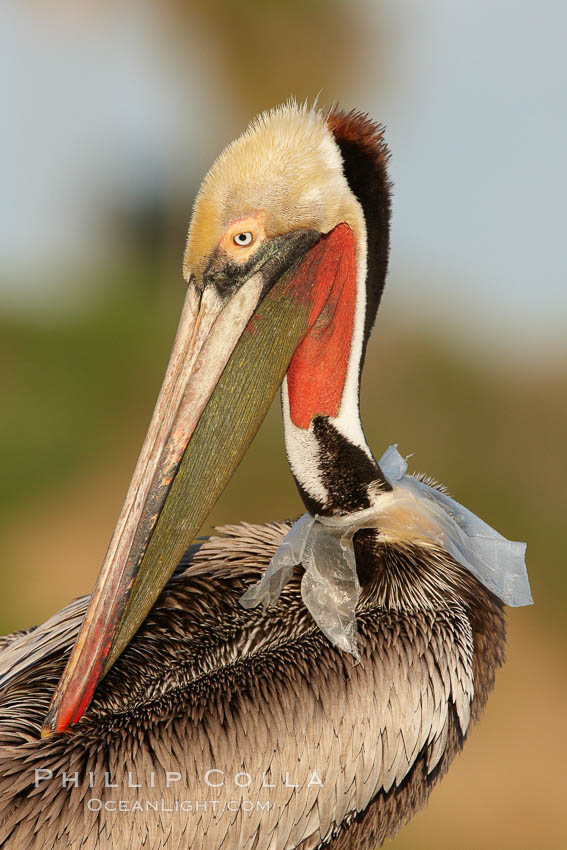 A California brown pelican entangled in a plastic bag which is wrapped around its neck. This unfortunate pelican probably became entangled in the bag by mistaking the floating plastic for food and diving on it, spearing it in such a way that the bag has lodged around the pelican's neck. Plastic bags kill and injure untold numbers of marine animals each year.
Image ID: 22572  
Species: Brown pelican, Pelecanus occidentalis
Location: La Jolla, California, USA
 
Lathe Arch, Alabama Hills, Sierra Nevada, California
Lathe Arch in the Alabama Hills is one of my favorite natural arches. Lathe Arch is quite accessible but relatively hidden in the sense that it is easy to walk right by it without even noticing it. I first photographed Lathe Arch, along with its more famous cousin Mobius Arch, about 12 years ago. I've returned to Mobius Arch and Lathe Arch a number of times since and have always enjoyed them in solitude … until this year. They have become popular spots (there is even a developed trail leading to them now!) which is not surprising since they make for great photographs. I believe many of the photo tour/workshops that have popped up in recent years visit these arches but my sense is that working Lathe Arch and Mobius Arch on your own is the way to go since the space around these arches is quite limited. Plus, these are very nice spots to simply be alone to take in a cold Eastern Sierra dawn. Alone is best by far, two people is doable, three gets a little much, any more and you will save yourself considerable aggravation by instead heading up Whitney Portal Road to photograph the mountain or some of the other arches and features of the beautiful and stark Alabama Hills.
Made on separate days, Lone Pine Peak is seen in both images but Mount Whitney is only seen in the first image (being obscured by clouds in the second). Thanks for looking!
---