I was recently up in Monterey to join Jon Cornforth trying to photograph sea otters (Enhydra lutris). We saw a few. In this photo, Casanova (the male sea otter on the left) is holding his lady friend (the female, inverted on the right, apparently not enjoying it) by HER NOSE as he mates with her. It is brutal, yes, but it is standard otter fare. Male sea otters usually mate with females in this manner, so much so that females can usually be identified by their scarred and wounded noses.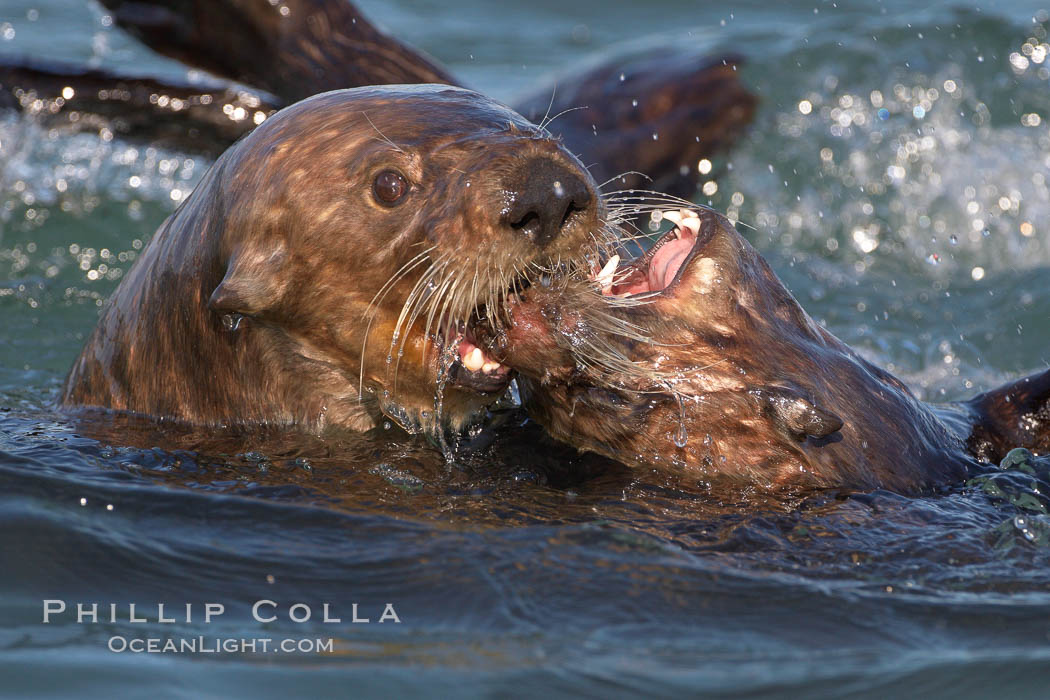 Sea otters mating. The male holds the female's head or nose with his jaws during copulation. Visible scars are often present on females from this behavior. Sea otters have a polygynous mating system. Many males actively defend territories and will mate with females that inhabit their territory or seek out females in estrus if no territory is established. Males and females typically bond for the duration of estrus, or about 3 days.
Image ID: 21606
Species: Sea otter, Enhydra lutris
Location: Elkhorn Slough National Estuarine Research Reserve, Moss Landing, California, USA
See more of our sea otter photos.
What's with the title of this post, you might wonder? Strangely, an earlier post of mine entitled "Rough Sex" has become one of the most popular posts on this site. So I thought I would do a little shameless SEO and use the technique again hoping for more visitors.