Photos of Vogelsang High Sierra Camp in Yosemite National Park
Note: I made a return trip to Vogelsang High Sierra Camp with my father in August 2010.
I made another banzai speed run up to the Eastern Sierra last weekend, this time to spend two nights at reknowned Vogelsang High Sierra Camp. This was my first visit to one of Yosemite's high country camps, and I loved it. Dating back to the 1920's, the High Sierra Camps consist of five wilderness camps (Vogelsang, Merced, Sunrise, Glen Aulin and May Lake) at altitudes ranging from 7,000′ to 10,000′, accomodating hikers with great meals, comfortable but spartan accomodations and incredible scenery. Backpackers also camp at these High Sierra Camps, and some backpackers opt to purchase meals at the mess tent while setting up their own campsite nearby. I opted to make a reservation and pay the full price in order to stay in the tent cabins with my own bed, and was rewarded with a lighter pack and no hassles setting up my campsite or carrying a bear can. Sure, I can carry a pack with full gear, but honestly I've got enough heavy camera gear to deal with so why not enjoy the comforts of the full-service camp? I'd definitely opt for the tent cabin again in the future so I can spend more time shooting photos, and leave the backpacking mode to others.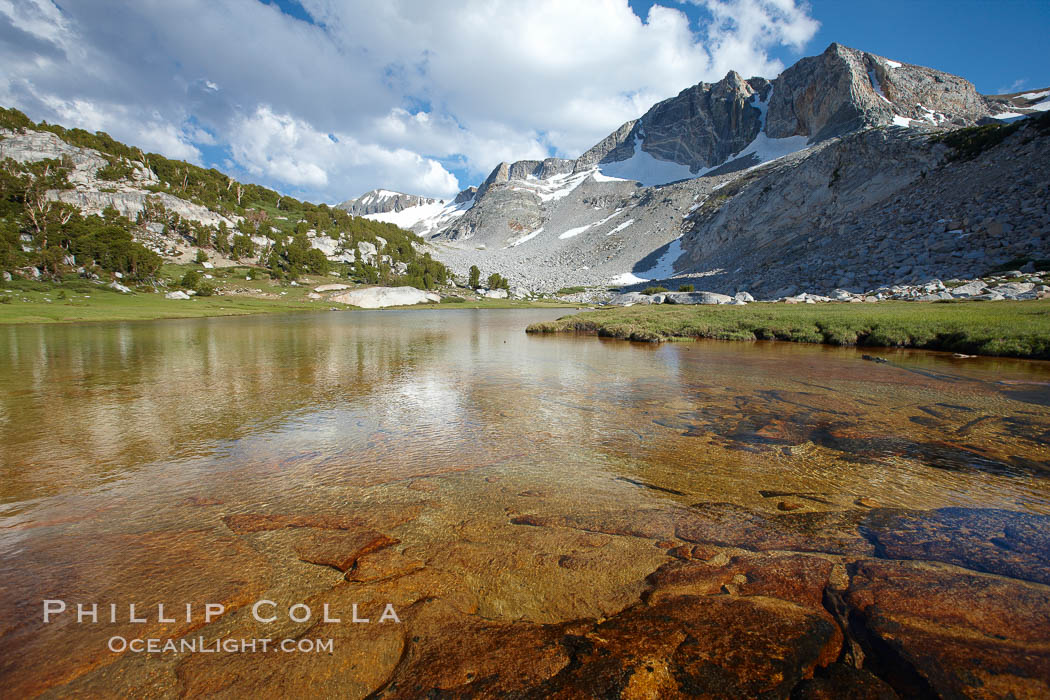 Townsley Lake (10396′), a beautiful alpine lake sitting below blue sky, clouds and Fletcher Peak (right), lies amid the Cathedral Range of glacier-sculpted granite peaks in Yosemite's high country, near Vogelsang High Sierra Camp.
Image ID: 23206
Location: Yosemite National Park, California, USA
I took the Rafferty Creek trail from Tuolumne Meadows to Vogelsang, the shorter of the two routes, since I did not get started until after 1pm. (I spent sunrise and the morning at Schulman Grove in the White Mountains looking at ancient Bristlecone Pine trees.) The Rafferty Creek trail is reasonably straightforward, with most of the work and elevation gain done in the first three miles, after which the trail wanders through the gradual incline of Rafferty Meadows with Fletcher Peak and Vogelsang Peak growing larger with each passing mile. I treated the trail as a workout, busted a move and reached the camp about 4pm, stopping once to demolish the mondo huge ham sandwich I picked up at Schaat's Bakkery in Bishop. I washed up, greeted my tent-cabin-mates and made my way to the mess tent for a huge satisfying dinner (chicken, soup, potatoes, veggies, homemade soda bread, salad and chocolate cake). My plans to shoot star trail photos were waylaid as I realized my bed was more appealing than the meadow behind the camp, and I crashed hard.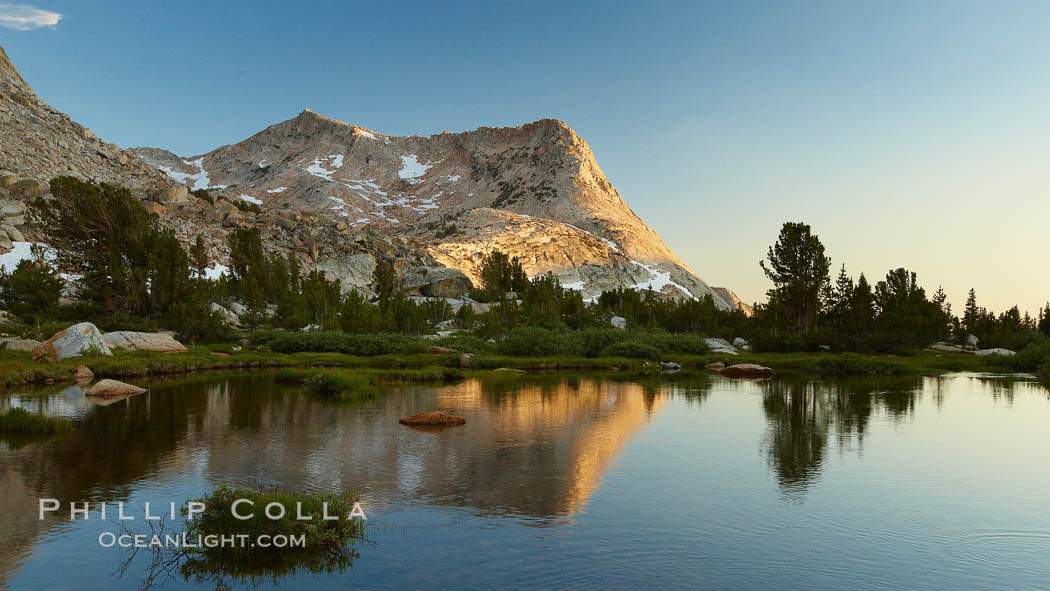 Vogelsang Peak (11516′) at sunset, reflected in a small creek near Vogelsang High Sierra Camp in Yosemite's high country.
Image ID: 23202
Location: Yosemite National Park, California, USA
Next morning I made a pre-sunrise hike up to nearby Vogelsang Lake and watched the sun play upon the lake, Vogelsang Peak which rises above it, and the surrounding granite terrain of the Cathedral Range. I made it back to camp just in time for breakfast: apple nut pancakes, eggs, bacon, sausage, oatmeal — killer. I never eat this well; I had to venture out into the sticks to get this great breakfast. I returned up to the lake and beyond to make a Vogelsang Pass panoramic photo, then a swim in the lake. I saw very few people. Back to camp for a midday nap after lunch, then off for an afternoon hike to the other side of Fletcher Peak to visit Fletcher Lake, Townsley Lake and Nameless Lake. I nearly bumped into a deer at Townsley Lake; if it had been 100 years ago and I had been named Phil Crockett I would have bagged me some fresh venison with nothing but my Swiss Army knife ap for my iPhone. A breeze came up keeping the mosquitoes down and me cool among the brilliant summertime scenery, making the afternoon one of the best hikes I've had in years. After I got back to camp for dinner, I met my new tent mates for my second evening in camp, including a fellow who had undergone two shoulder and two knee replacements. I realized that if this bionic man could hike the full High Sierra Loop, anyone can!

Panorama of Nameless Lake (10709′), surrounded by glacier-sculpted granite peaks of the Cathedral Range, near Vogelsang High Sierra Camp.
Image ID: 23211
Location: Yosemite National Park, California, USA
Dinner the second night was equally superb: steak, potatoes, string beans, salad, homemade bread and cheesecake. After dinner I made a half-hearted attempt to shoot high-ISO images of the Milky Way as it arched over the Sierra, but passing clouds made the results less than stellar. Off to bed. My second and final morning at Vogelsang meant one more dawn visit to the Vogelsang Lake, hoping for dramatic sunrise light. It almost clicked but not quite, but the views are so awesome from Vogelsang Lake that the sunrise hike was worth it even without photos. I was able to watch the backside of Half Dome light up as the sun rose, neat. Another killer breakfast, then depart camp at 9am for the all-downhill hike back to Tuolumne along Rafferty Creek. At the car by 11:30am, slurp down a ice cold Diet Coke and then buzzing south on 395 by noon.
My GPS says I made 30 miles in 2.5 days between my walk on the Methuselah Walk in the White Mountains and my hikes to, from and about Vogelsang in Yosemite. I'm not running much these days, knees giving me problems, so the hiking was not as smooth as I expected, but it sure was worth every step. The scenery was outright spectacular, mind blowing in its simplicity and beauty. It really is God's Country up there.
Next time I visit I'll make a few changes. First, I will visit later in the summer to avoid the thick mosquitoes. The higher meadows, including Vogelsang Camp, were full of mosquitoes while I was there. A head net and long sleeve shirts proved to be the trick, along with DEET on the legs, and I got only a few bites. But I'd rather try the camp again when mosquitoes are less dense. Another change I will make is to start my hike to Vogelsang earlier in the day so I can take the Lyell Canyon route, which is about 12 miles (compared to 7 for the Rafferty Creek route). I hiked the length of Lyell Canyon to Donohue Pass with some high school friends 30 years ago; it was awesome and I want to see some of that area again. I will summit Vogelsang Peak next time. I was most of the way there my first morning when I reached Vogelsang Pass, but decided not to make for the peak so I could bag a few lakes that afternoon; next time I'll take the peak just so I can experience the view which I understand is tops. Lastly, I took too much stuff. I did not need all those Powerbars — the food at the camp was plentiful and delicious. I did not need three camera batteries, nor did I need those two heavy f/2.8 zoom lenses. I'm going commando next time, stripped down to the min for speed and agility. I'm going to bring my uber-mikro-pocket-digikam for shooting while on the trail, and save the big camera for when I am on dayhikes around the camp.
You can see more Vogelsang High Sierra Camp photos on my website.
Keywords: Vogelsang High Sierra Camp, Yosemite National Park, photo, picture, images, stock pictures, photography.