Sockeye Salmon swims upstream in the Adams River.
This is another sockeye salmon photograph (Oncorhynchus nerka) that took a while to grow on me, but which is now one of my favorites. Usually underwater photographers spend much of their time trying to eliminate backscatter and bubbles from their compositions, hoping for the clearest and most pristine rendition possible. For some reason, perhaps because I do not shoot underwater much anymore and have lost the grip I used to have on backscatter-free imagery, on this trip I deliberately placed my camera into some of the most turbulent, sand- and pebble-filled sections of the Adams River rapids. My hope was to make a few gritty images showing the sockeye salmon struggling against really difficult currents. While in most of my attempts this approach resulted in photographs in which the salmon is so heavily obscured by gook and turbulence as to be unusable, I did manage a few keepers with which I am happy. In these few frames — such as this one — the suspended sand and streaking bubbles add to the atmosphere of the image and help to describe the amazing migration story of these fascinating fish. I had to experiment and discover some different lighting techniques that allowed me to shed artificial light on the scene, balancing strobe light with the available sunlight while not highlighting the bubbles and sand any more than necessary. The trip ended up being one of the most challenging and technique-expanding underwater photography efforts I have made in years. I really hope to do it again.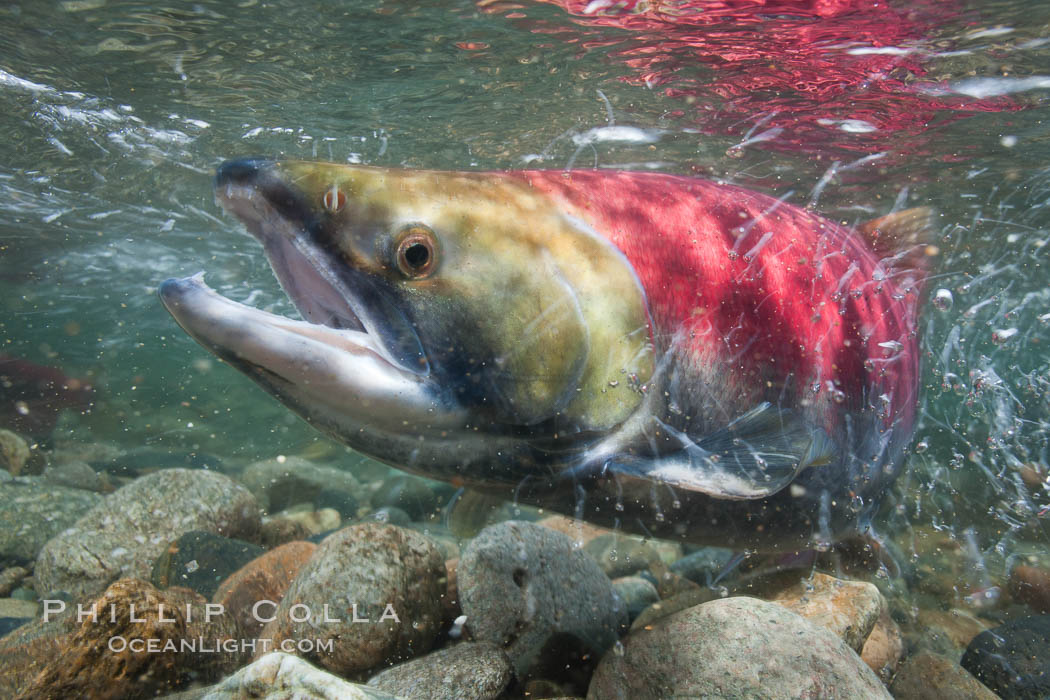 Adams River sockeye salmon. A female sockeye salmon swims upstream in the Adams River to spawn, having traveled hundreds of miles upstream from the ocean.
Image ID: 26161
Species: Sockeye salmon, Oncorhynchus nerka
Location: Adams River, Roderick Haig-Brown Provincial Park, British Columbia, Canada
Photography efforts undertaken by permission of Fisheries and Ocean Canada and BC Parks.