Each winter I photograph the California race of Brown Pelican in La Jolla (Pelecanus occidentalis californicus). From about mid December through early February, if I look out the window and the skies to the east are clear and there is no fog over La Jolla, I have a chance to hustle down to Goldfish Point and make new photos of the pelicans in their mating plumage. I first noticed this colony of pelicans in the early 80s while a student at UCSD, and started photographing them (often poorly) in the early 90s. I don't need any more photos of brown pelicans, but after many years of admiring them while diving at islands along the coast of California, Baja and the offshore eastern Pacific I have a real love for these birds. Photographing them keeps me in practice and having a nice place to shoot them with a simple blue ocean background and great light practically in my backyard is fun.   This year was especially nice due to a near-complete lack of people; no groups of bird photographers or workshops.  The sparsity of humans meant the birds were relaxed and as a consequence I often found hundreds of pelicans preening on the bluff above the Clam. I was alone most days, watching the waves roll in and birds glide by, or quietly cluck as they stood on the bluff preening and drying out in the morning sun.  Very peaceful.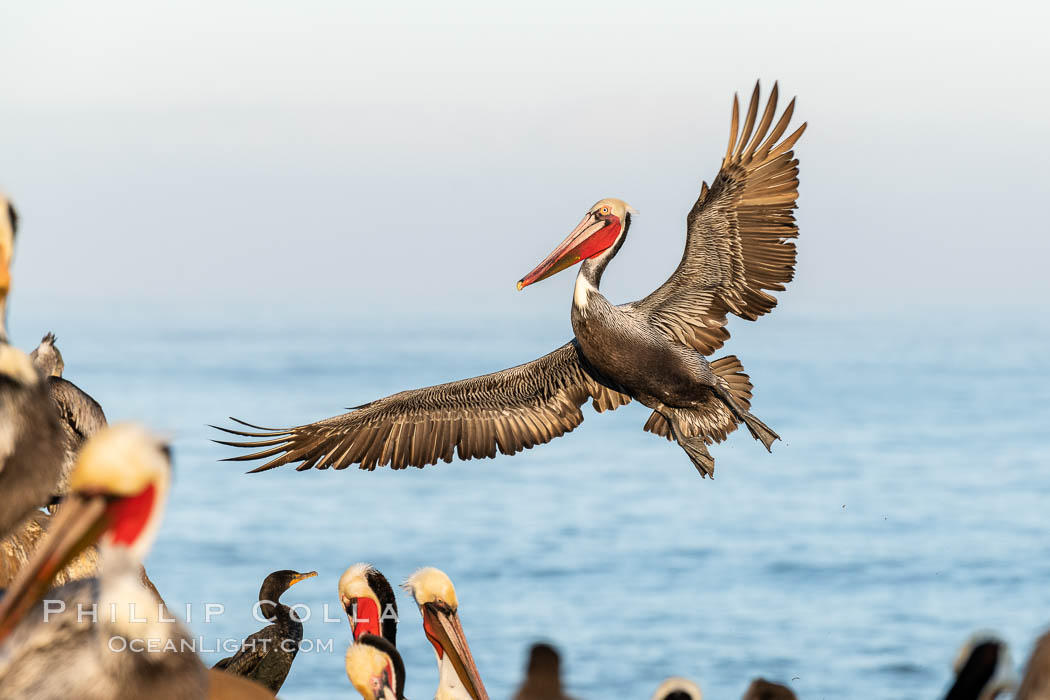 California brown pelican in flight, spreading wings wide to slow in anticipation of landing on seacliffs.
Image ID: 36679
Species: Brown Pelican, Pelecanus occidentalis californicus, Pelecanus occidentalis
Location: La Jolla, California, USA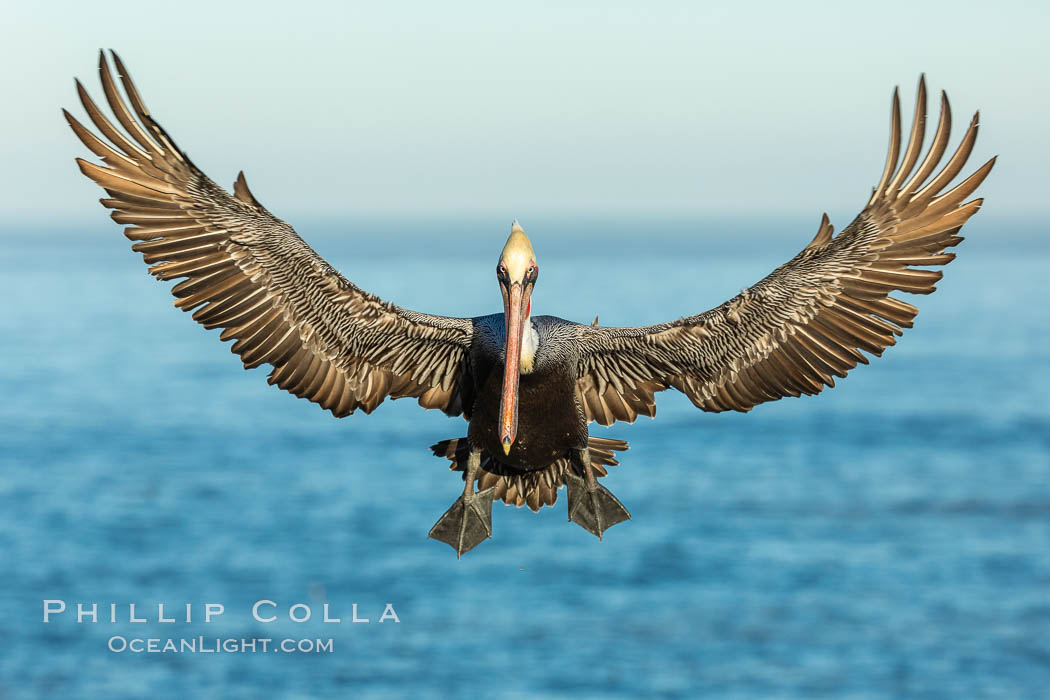 California brown pelican in flight, braking to land on seacliffs.
Image ID: 36726
Species: Brown pelican, Pelecanus occidentalis californicus, Pelecanus occidentalis
Location: La Jolla, California, USA
I like to photograph these birds with flat light, having the sun directly behind me so my shadow is pointed at my subject. I rely on an uncluttered distant background falling out of focus to frame the animal and give sharp relief to the feather details framing the bird.  Since I can pick and choose when I photograph these birds, I rarely do unless the sky is clear since the results with diffuse light from overcast skies are almost never worth it.  (In this batch there is one shot in partly cloudy skies, I liked it because of the interested clouds behind the bird.)  Here are a few I liked from the last several months.  Cheers, and thanks for looking!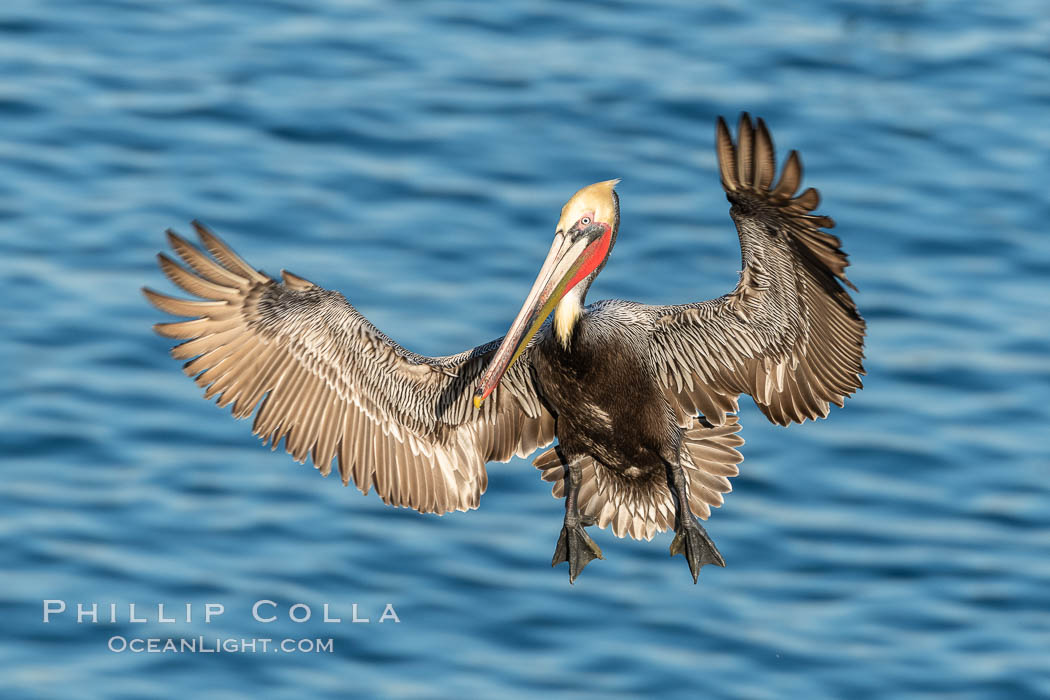 California Brown Pelican In Flight, La Jolla California.
Image ID: 36624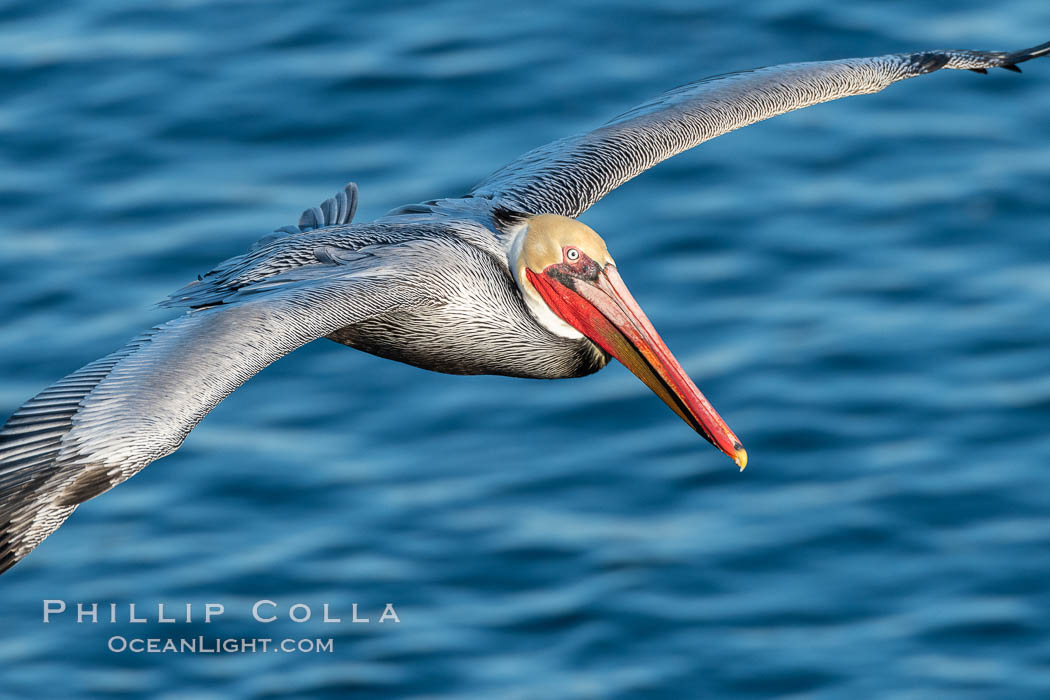 California Brown Pelican In Flight, La Jolla California.
Image ID: 36626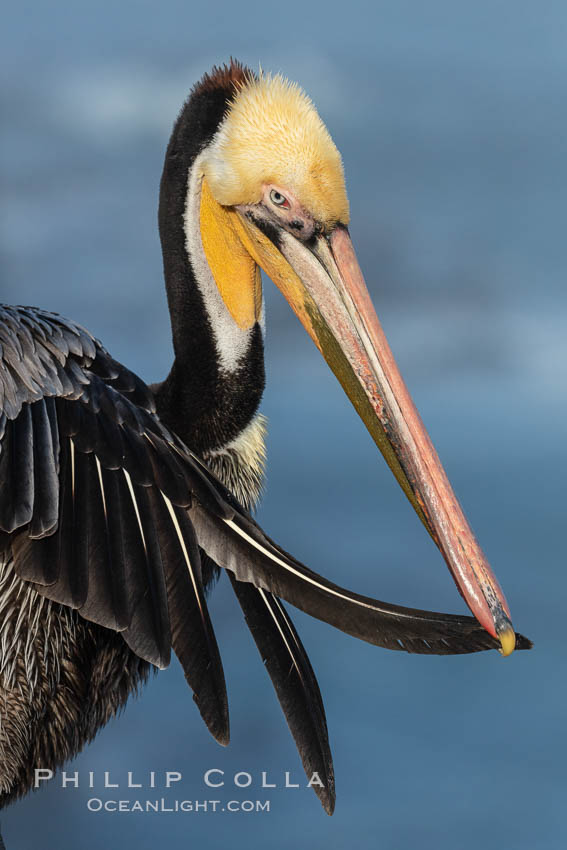 Brown pelican preening, cleaning its feathers after foraging on the ocean, with distinctive winter breeding plumage with distinctive dark brown nape, yellow head feathers and red gular throat pouch.
Image ID: 36683
Species: Brown Pelican, Pelecanus occidentalis californicus, Pelecanus occidentalis
Location: La Jolla, California, USA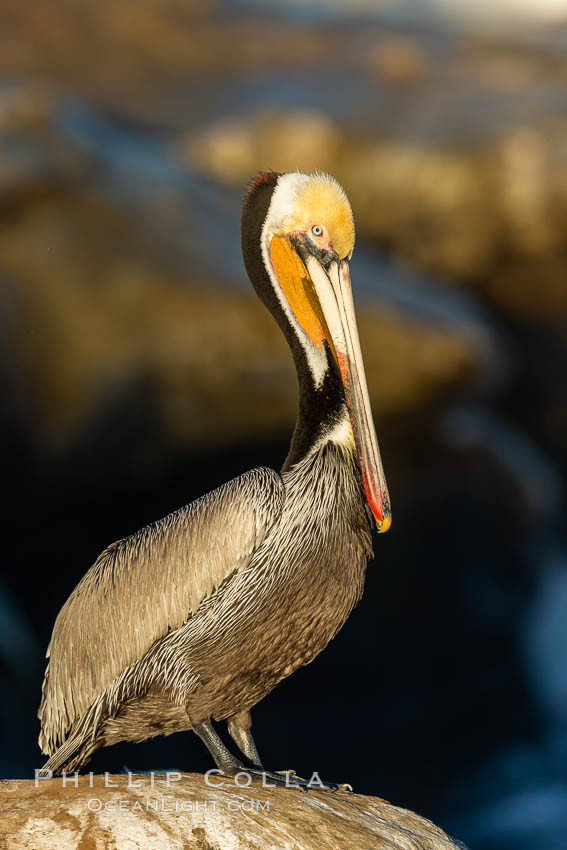 Brown pelican portrait, displaying winter plumage with distinctive yellow head feathers and colorful gular throat pouch.
Image ID: 36722
Species: Brown Pelican, Pelecanus occidentalis californicus, Pelecanus occidentalis
Location: La Jolla, California, USA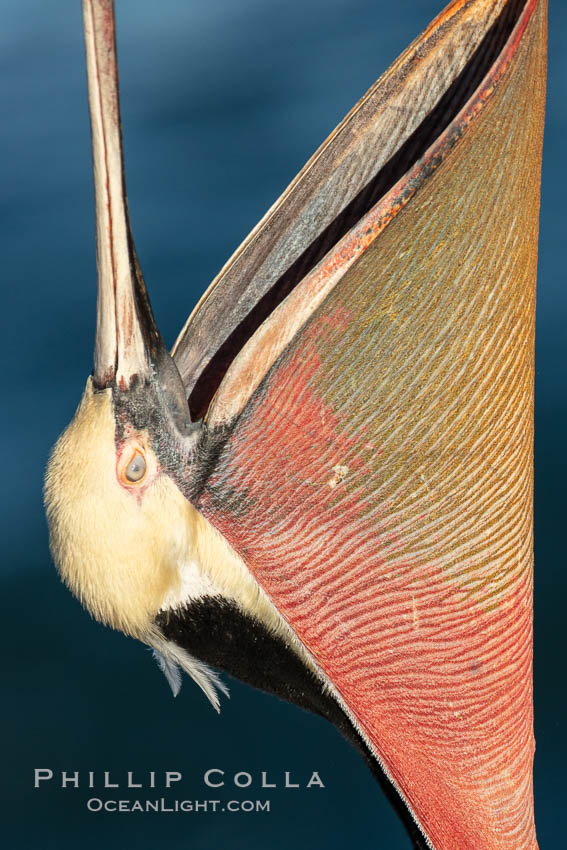 California Brown Pelican head throw, stretching its throat to keep it flexible and healthy. Note the winter mating plumage, olive and red throat, yellow head.
Image ID: 36605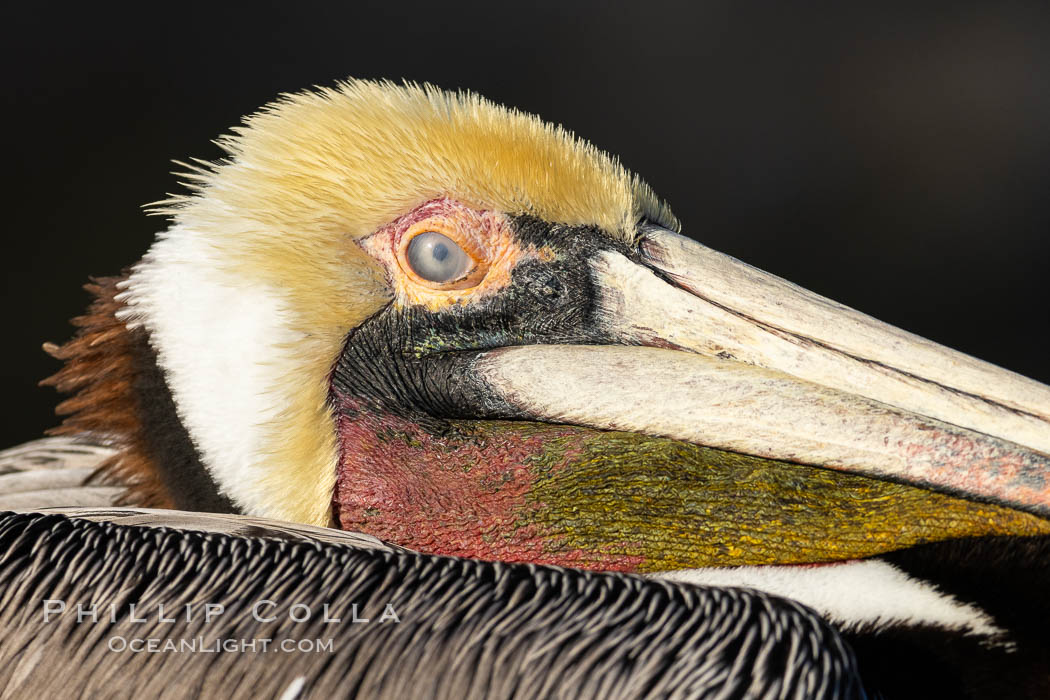 Brown pelican nictitating membrane, a translucent membrane that forms an inner eyelid in birds, reptiles, and some mammals. It can be drawn across the eye to protect it from dust and keep it moist.
Image ID: 36718
Species: Brown Pelican, Pelecanus occidentalis californicus, Pelecanus occidentalis
Location: La Jolla, California, USA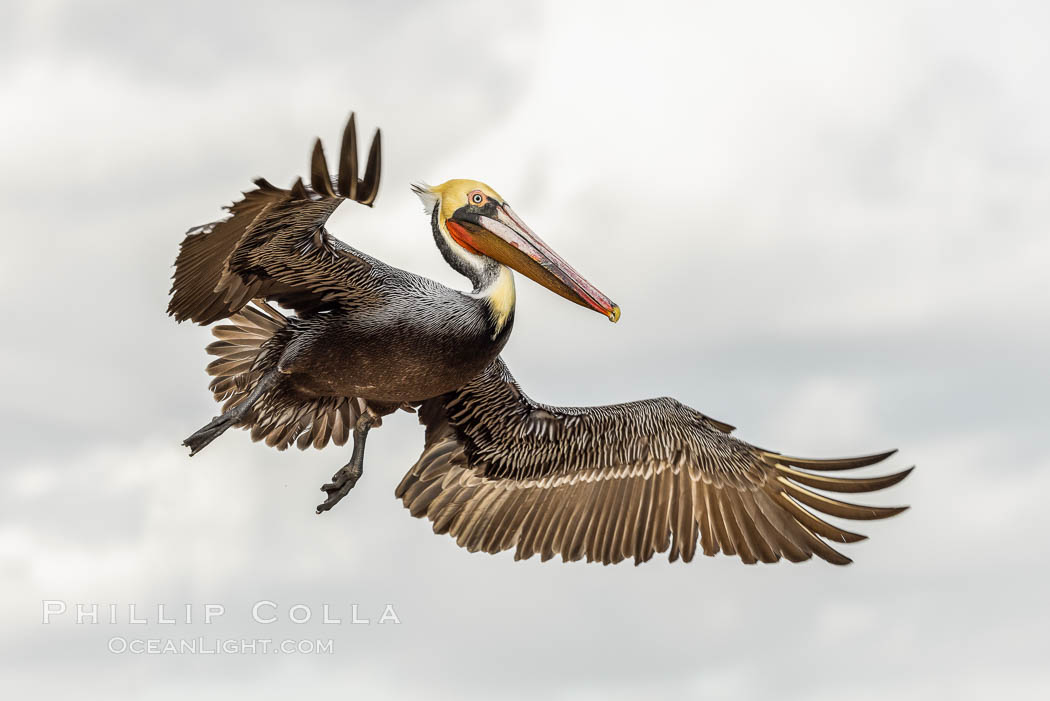 California brown pelican in flight, spreading wings wide to slow in anticipation of landing on seacliffs.
Image ID: 36737
Species: Brown Pelican, Pelecanus occidentalis californicus, Pelecanus occidentalis
Location: La Jolla, California, USA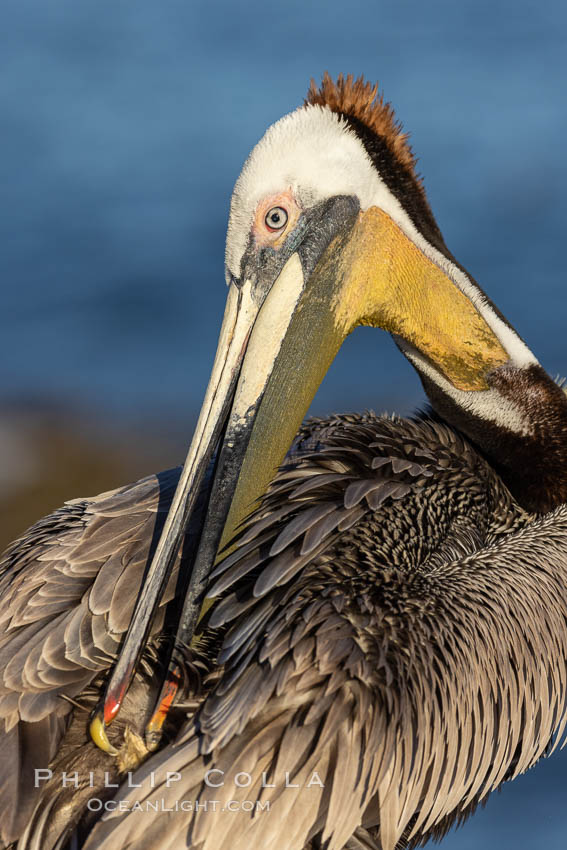 A brown pelican preening, reaching with its beak to the uropygial gland (preen gland) near the base of its tail. Preen oil from the uropygial gland is spread by the pelican's beak and back of its head to all other feathers on the pelican, helping to keep them water resistant and dry.
Image ID: 36844
Species: Brown Pelican, Pelecanus occidentalis californicus, Pelecanus occidentalis
Location: La Jolla, California, USA
Brown pelican portrait, displaying winter breeding plumage with distinctive dark brown nape, white and yellow yellow head feathers and red and yellow gular throat pouch.
Image ID: 36850
Species: Brown Pelican, Pelecanus occidentalis californicus, Pelecanus occidentalis
Location: La Jolla, California, USA
Brown pelican close up portrait, showing eye and transition from plumage to beak, with winter yellow and white head feathers.
Image ID: 36851
Species: Brown Pelican, Pelecanus occidentalis californicus, Pelecanus occidentalis
Location: La Jolla, California, USA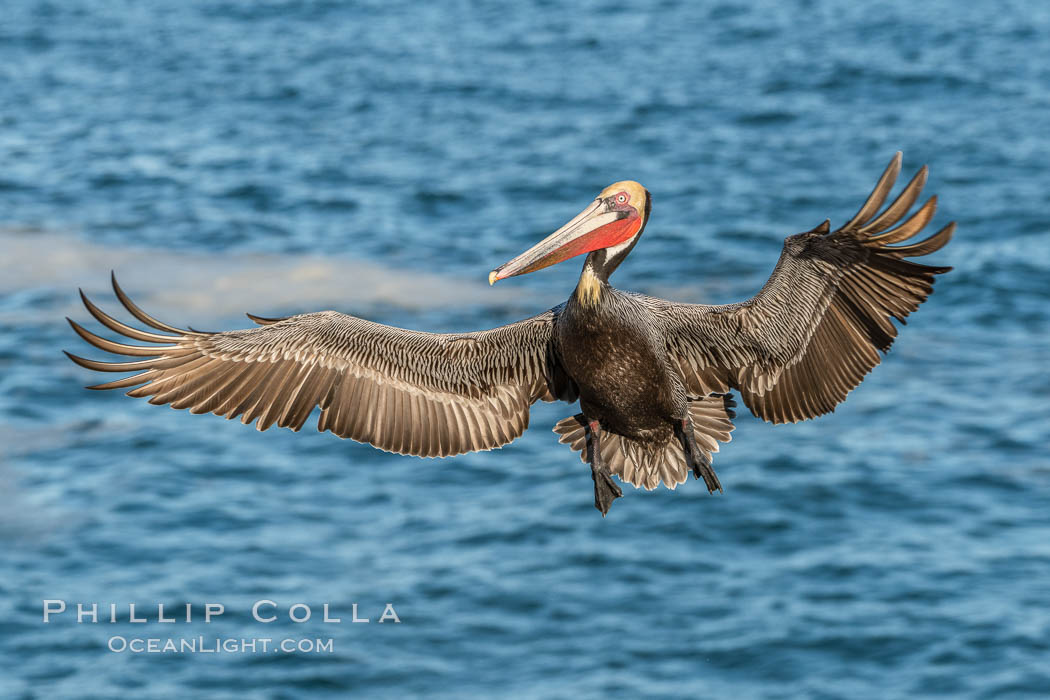 California brown pelican in flight, wings spread wide as it approaches its landing area on cliffs over the sea.
Image ID: 36691
Species: Brown pelican, Pelecanus occidentalis californicus, Pelecanus occidentalis
Location: La Jolla, California, USA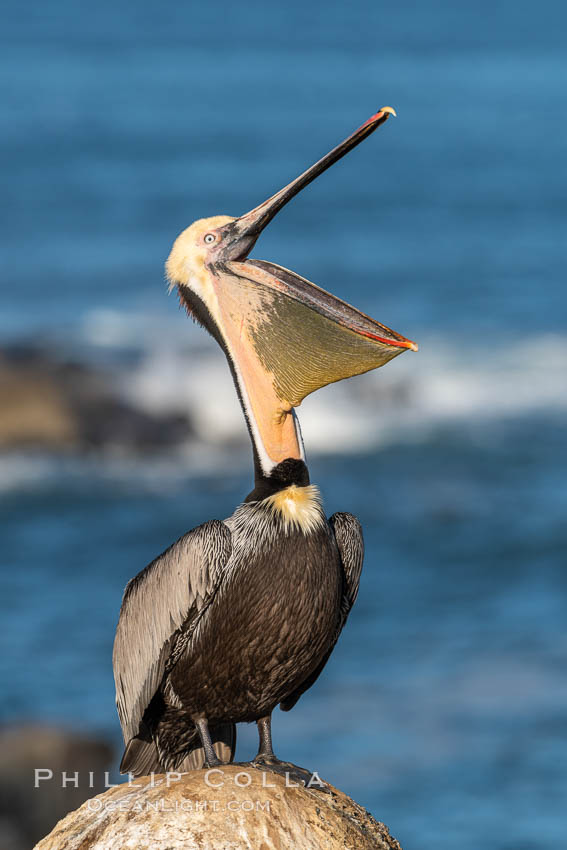 California Brown Pelican head throw, stretching its throat to keep it flexible and healthy.
Image ID: 36692
Species: Brown Pelican, Pelecanus occidentalis californicus, Pelecanus occidentalis
Location: La Jolla, California, USA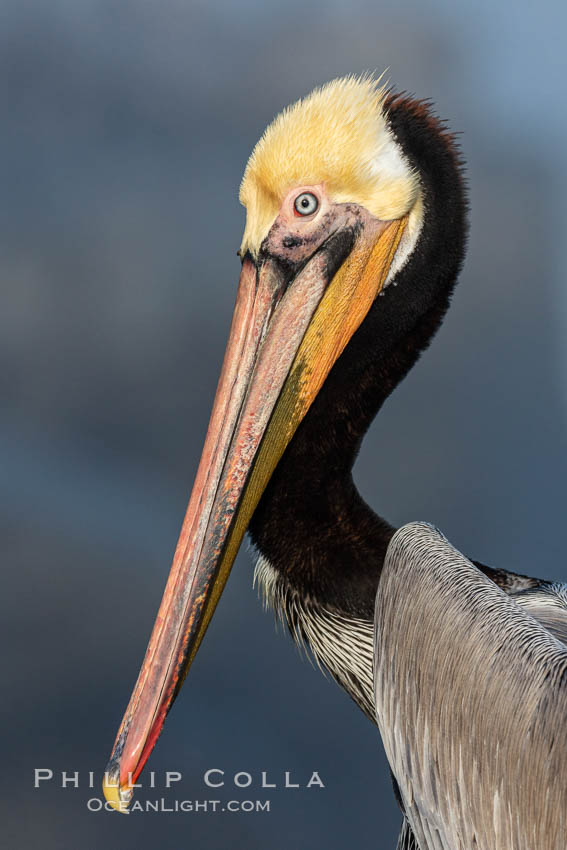 Brown pelican portrait, displaying winter plumage with distinctive yellow head feathers and colorful gular throat pouch.
Image ID: 36697
Species: Brown Pelican, Pelecanus occidentalis californicus, Pelecanus occidentalis
Location: La Jolla, California, USA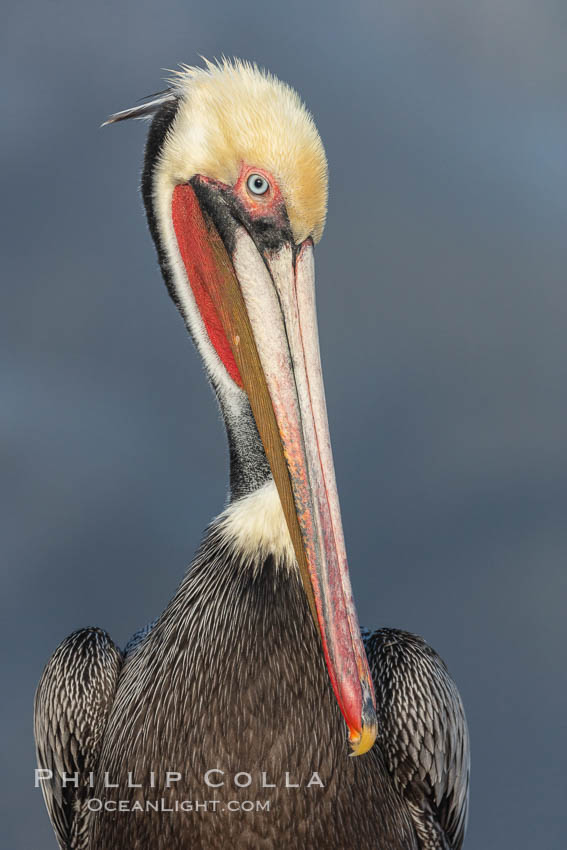 Brown pelican portrait, displaying winter plumage with distinctive yellow head feathers and colorful gular throat pouch.
Image ID: 36698
Species: Brown Pelican, Pelecanus occidentalis californicus, Pelecanus occidentalis
Location: La Jolla, California, USA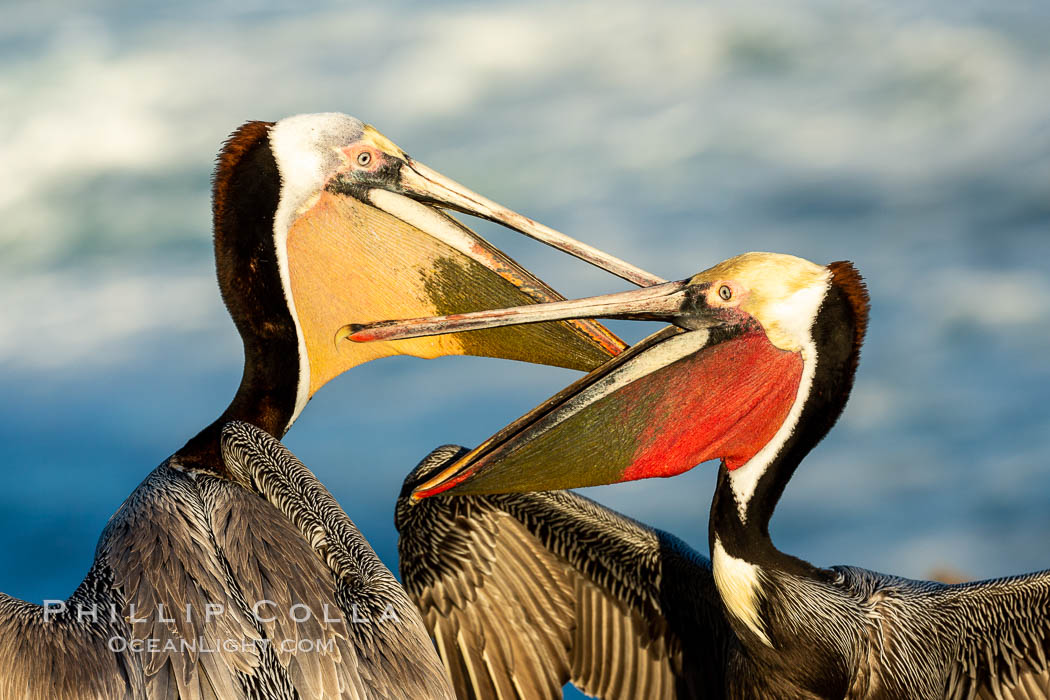 Two California brown pelicans mock jousting, displaying vividly-colored throat skin and mating plumage.
Image ID: 36703
Species: Brown Pelican, Pelecanus occidentalis californicus, Pelecanus occidentalis
Location: La Jolla, California, USA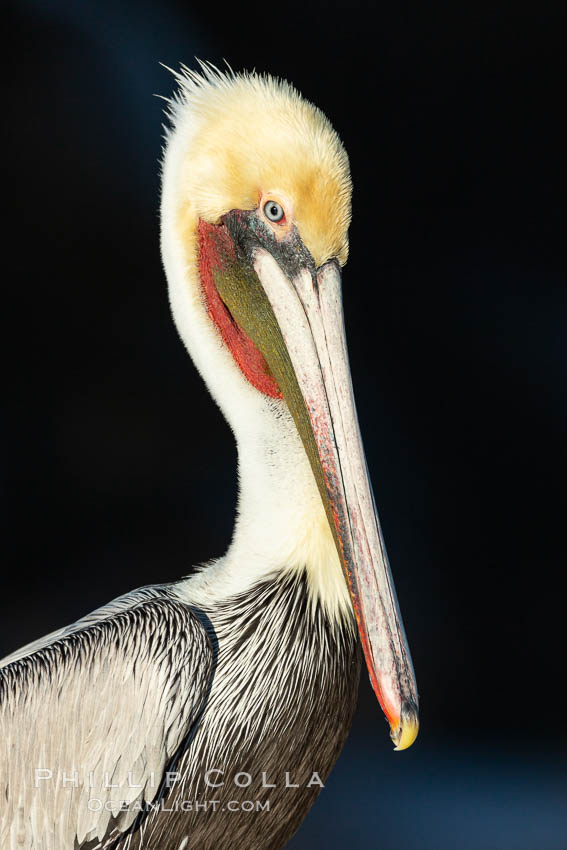 Brown pelican portrait, displaying winter plumage with distinctive yellow head feathers and colorful gular throat pouch.
Image ID: 36712
Species: Brown Pelican, Pelecanus occidentalis californicus, Pelecanus occidentalis
Location: La Jolla, California, USA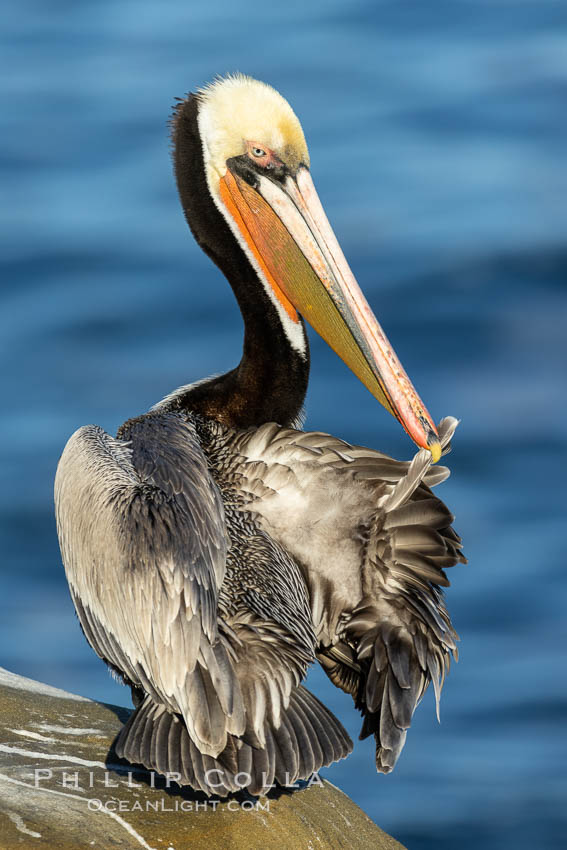 Brown pelican preening, cleaning its feathers after foraging on the ocean, with distinctive winter breeding plumage with distinctive dark brown nape, yellow head feathers and red gular throat pouch.
Image ID: 36715
Species: Brown Pelican, Pelecanus occidentalis californicus, Pelecanus occidentalis
Location: La Jolla, California, USA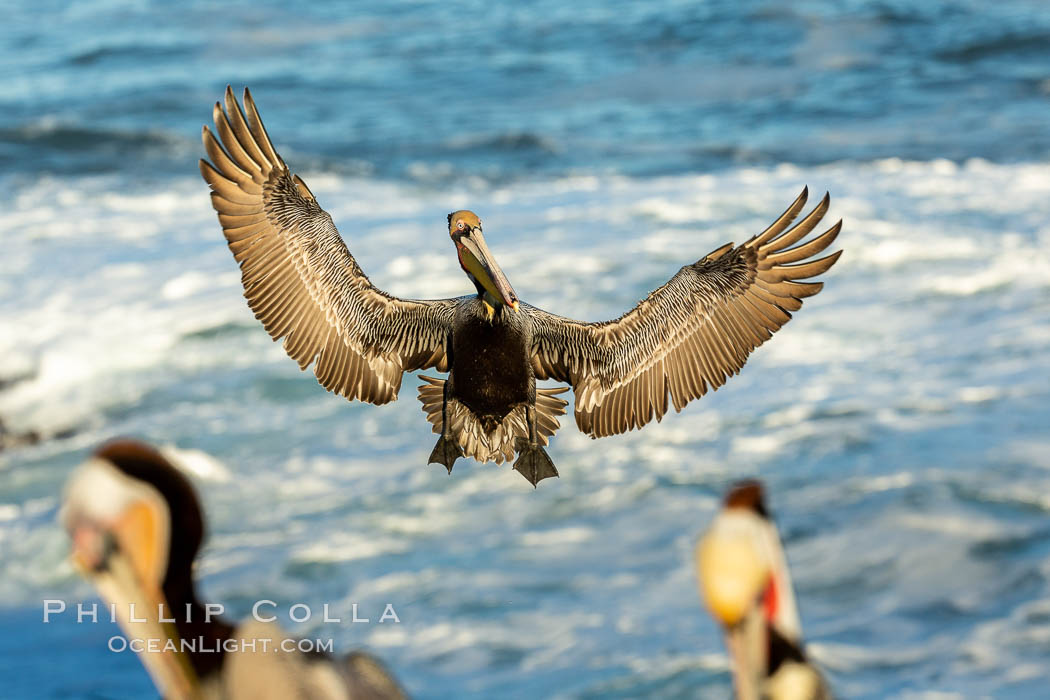 California brown pelican in flight, spreading wings wide to slow in anticipation of landing on seacliffs.
Image ID: 36721
Species: Brown Pelican, Pelecanus occidentalis californicus, Pelecanus occidentalis
Location: La Jolla, California, USA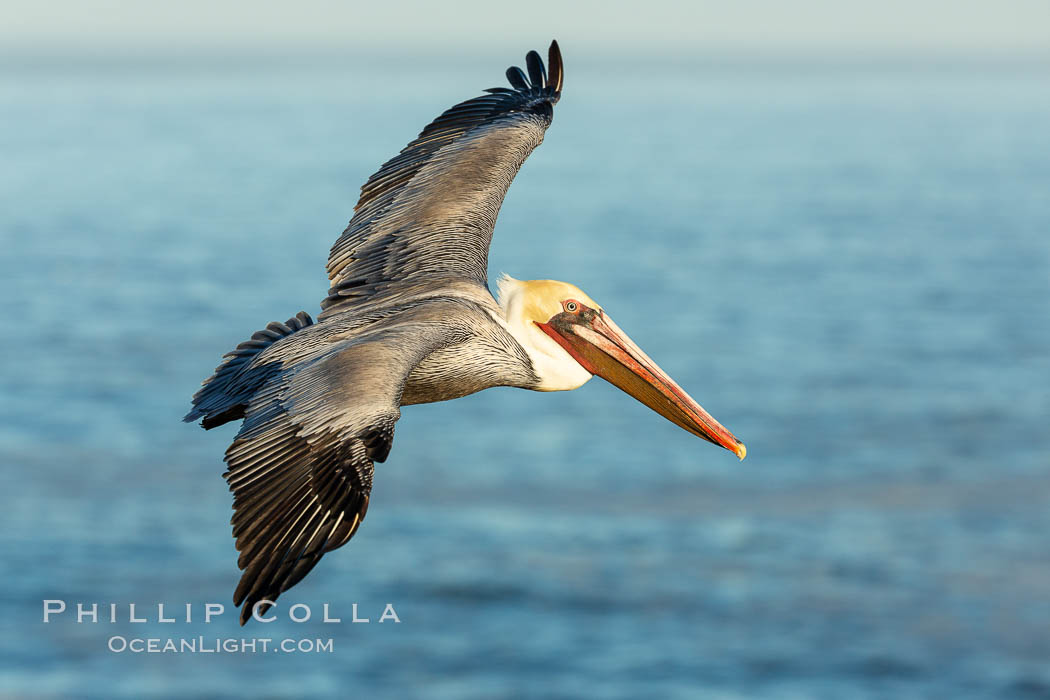 California brown pelican soaring over the ocean.
Image ID: 36724
Species: Brown pelican, Pelecanus occidentalis californicus, Pelecanus occidentalis
Location: La Jolla, California, USA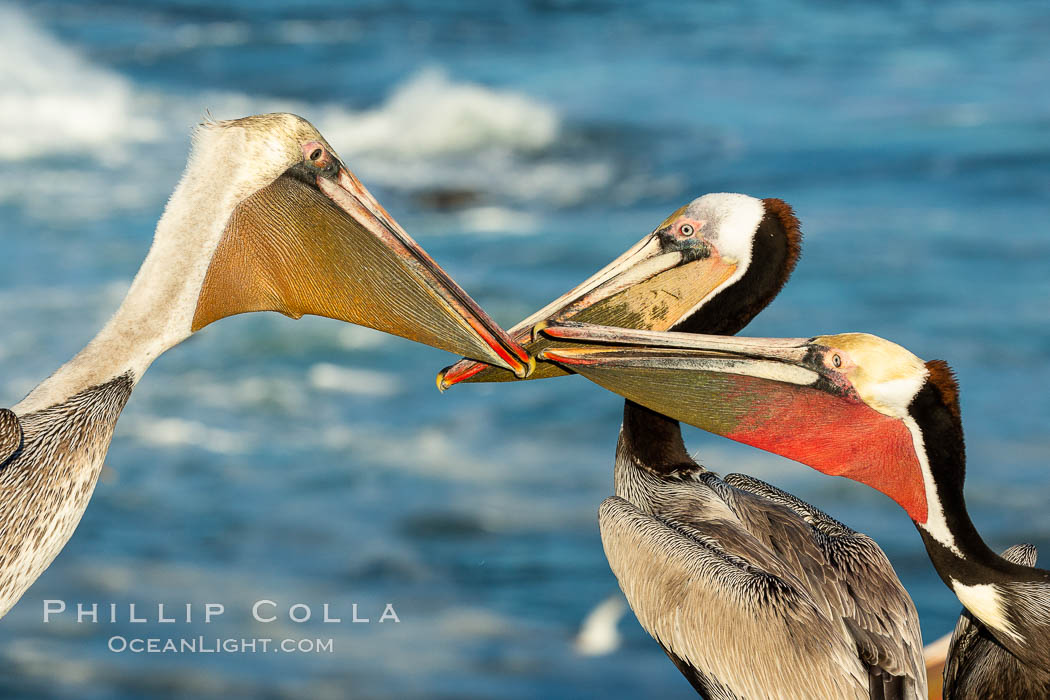 Three California brown pelicans mock jousting, displaying vividly-colored throat skin and mating plumage.
Image ID: 36725
Species: Brown Pelican, Pelecanus occidentalis californicus, Pelecanus occidentalis
Location: La Jolla, California, USA