This northern elephant seal pup (Mirounga angustirostris) looks like it has issues to work out with its mother.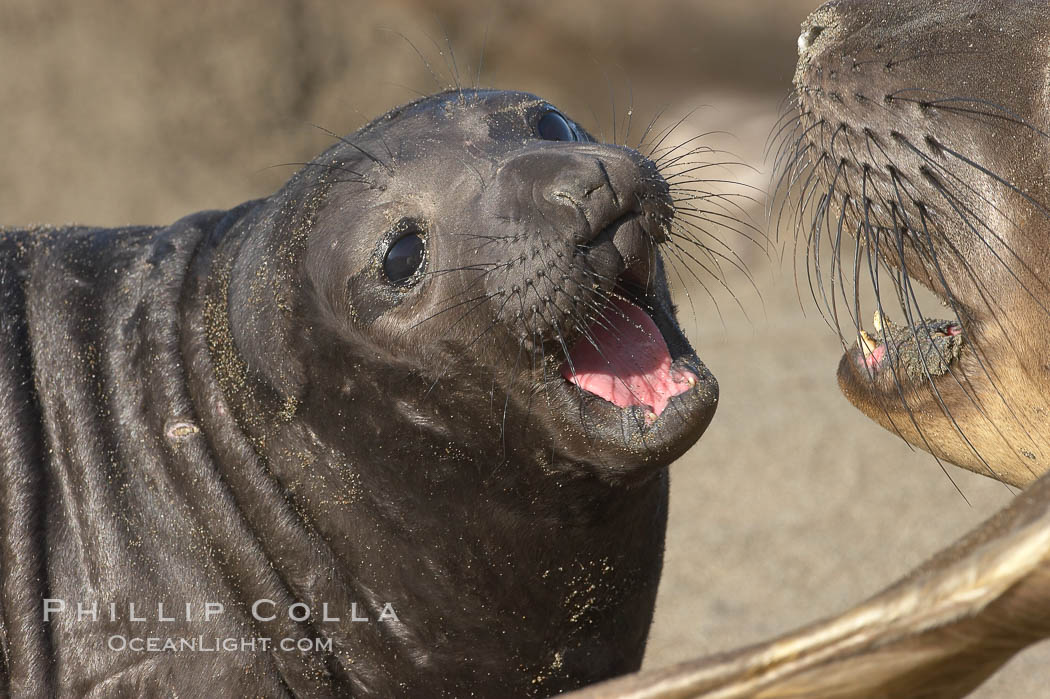 Elephant seal mother and pup vocalize to one another constantly, likely to reassure the pup and confirm the maternal identity on a crowded beach. Central California.
Image ID: 15421
Species: Elephant seal, Mirounga angustirostris
Location: Piedras Blancas, San Simeon, California, USA
In December females return to the colony and form harems around the males. Elephant seals are highly sexually dimorphic, meaning the males and females differ in size considerably. Female elephant seals are much smaller than the males, up to 10 feet in length and weighing one ton. Generally within five days of their arrival at the colony from eight months at sea, the females give birth to a single pup that they have been carrying since the previous breeding season. Births are usually first observed in late December and continue increasingly through February, peaking near mid-February. Often seagulls will be the first to detect a new birth, flocking to the birth to feast on the discarded placenta. Vocal bonding between the pup and mother is critical and takes place immediately as this is the only certain way the mother and pup can identify one another if they are separated, which is a common occurrence on a crowded beach and beside 5000 pound males that do not hesitate to trample and push the pups aside while mating or fighting. Orphaned pups are commonly observed, usually through separation with their mothers or by virtue of a mother than is insufficiently mature to understand how to care for its pup. Some mothers who have lost their pup will attempt to steal another female's pup. Some mothers will also tolerate an orphaned pup nursing, although this may actually doom both pups as it is thought that a mother only has enough milk supply to properly nourish a single pup each season, since for each pound that a pup gains its mother will have lost two. It is estimated that about 3500 pups were born at the Piedras Blancas rookery in 2005. Pups weigh up to 75 lbs. at birth and may be four feet long. When they are first born they carry a striking dark black, smooth coat which will gradually fade to brown as the pup matures.