I was pretty lucky to get this photo. This is a great white shark (Carcharodon carcharias) that I photographed at Guadalupe Island while I was on a Shark Diver trip last week on the liveaboard boat Horizon. This one, a medium size (e.g, 12-13′) male, surprised us all. We were cooling our heels in the cage during a five minute lull, a rarity on this trip as virtually every minute we had at least one shark visible underwater. I happened to be staring off the port stern corner of the boat when suddenly this shark came streaking in from the edge of the visibility, took a huge bite at the bait and missed. I have never seen a shark swim so fast in my life. What motivated him to approach like that was a mystery. Typically the sharks at Guadalupe swim rather slowly around the boat, accelerating only with two or three final thrusts of their tails to take the bait. But this guy was going full steam the entire time, even as he disappeared into the gloom on the starboard side of the boat. His momentum carried him in front of the cage with his mouth still agape, which was awefully impressive. When I returned onto the deck later, the crew even commented how they were caught offguard by his rocket approach and how he left a pressure wave on the surface as he pumped his tail below. That such a large creature could move through the water with such speed was a real eye opener for me.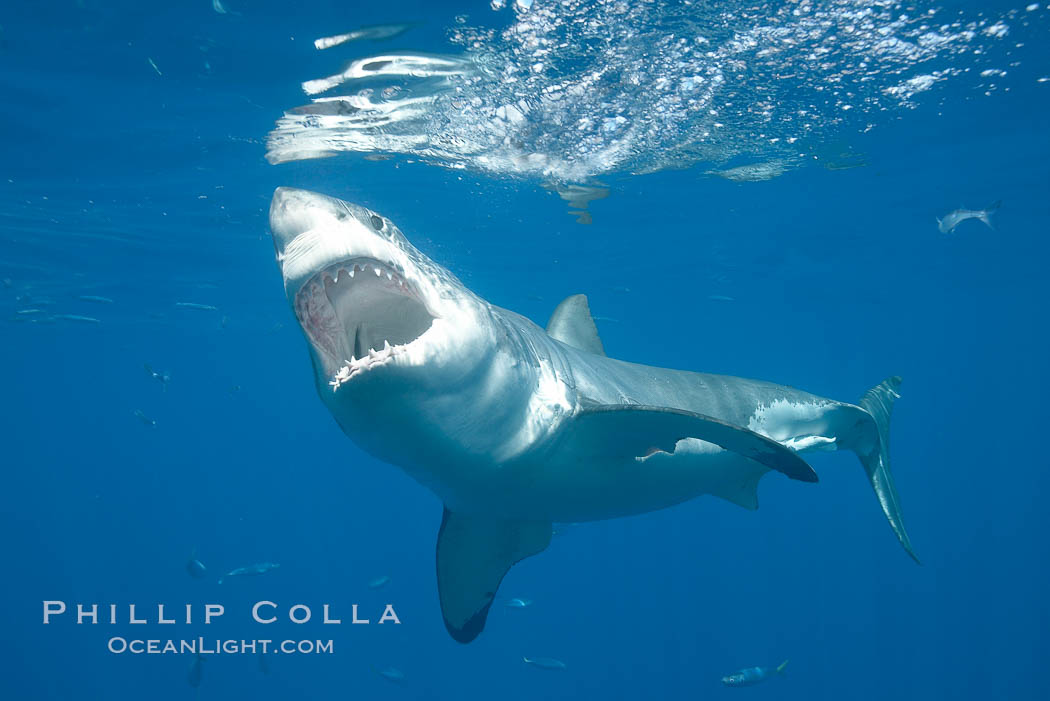 A great white shark opens it mouth just before it attacks its prey with a crippling, powerful bite. After the prey has been disabled, the shark will often wait for it to weaken from blood loss before resuming the attack. If the shark looses a tooth in the course of the bite, a replacement just behind it will move forward to take its place.
Image ID: 19452
Species: Great white shark, Carcharodon carcharias
Location: Guadalupe Island (Isla Guadalupe), Baja California, Mexico
See also: great white shark photos, Guadalupe Island, Isla Guadalupe, Carcharodon carcharias photos.