Just back from a quick trip to Guadalupe Island to photograph great white sharks (Carcharodon carcharias). I had heard that this season has been a particularly good one for white sharks at Guadalupe, and I managed to get a few days off to get down there for a look on my favorite dive boat, the Horizon out of San Diego. (Patric Douglas at Shark Diver runs a series of trips each fall aboard the Horizon to see white sharks at Guadalupe.) Guadalupe is my favorite island, I love the place. I think I have made 15 trips to the island now, most for diving but at least five for white shark photography. I am always looking for an excuse to visit Isla Guadalupe as it never fails to offer up something extraordinary. This time was no exception. During three days at the island and about 18 hours in the cage, I saw probably 15 different white sharks ranging from about 8 feet to 13 feet or more in length, a mix of males and females, some I had seen and photographed before and some that were new to me and perhaps new to the white shark photo identification project. We'll see on the latter once I submit the images to the researchers. We had only about one hour total where there were no sharks around the boat. We often had two at the boat, and on a few occasions had four within sight at once and six at the boat during a dive. There are a lot of white sharks at the north end of the island right now and from the sounds of it there have been for at least a month. It will take me a few weeks to sort through the 1700+ photos that I shot, select the keepers and get them processed for the web. Since I was using a new camera housing and lens, I was not entirely certain of how sharp the combo was so I pulled a few shots up on the computer between dives on the first day to check sharpness and exposure. Here is one: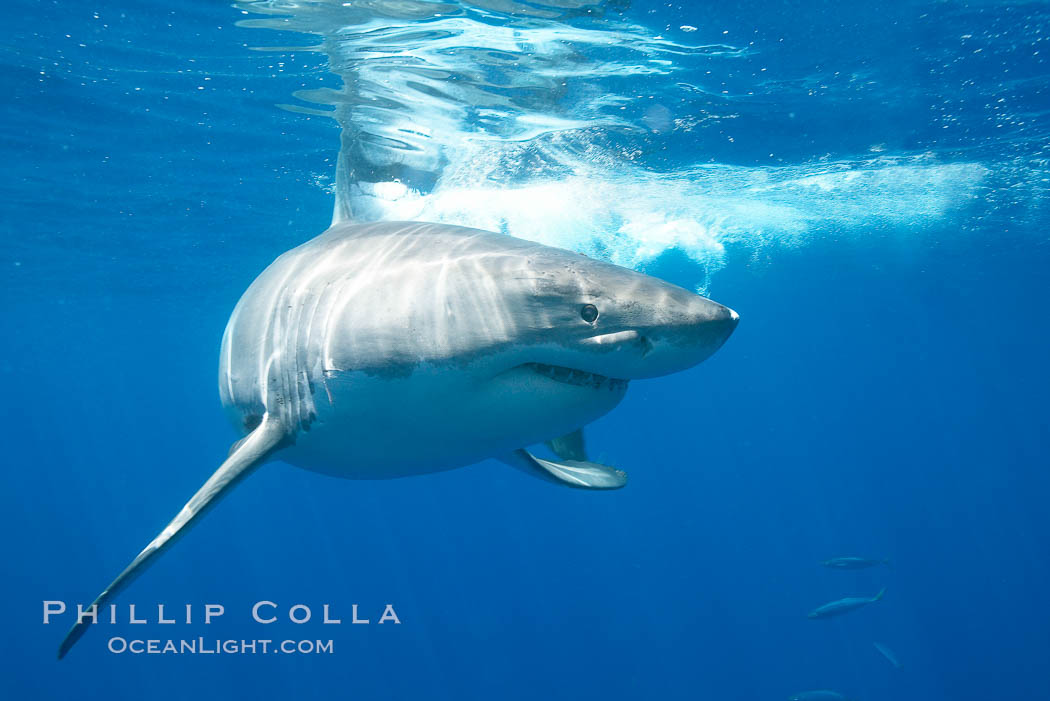 A great white shark swims through the clear waters of Isla Guadalupe, far offshore of the Pacific Coast of Mexico's Baja California. Guadalupe Island is host to a concentration of large great white sharks, which visit the island to feed on pinnipeds and use it as a staging area before journeying farther into the Pacific ocean.
Image ID: 19473
Species: Great white shark, Carcharodon carcharias
Location: Guadalupe Island (Isla Guadalupe), Baja California, Mexico
See more great white shark photos.