I'm shooting the La Jolla pelicans often this winter; see recent blog posts about La Jolla Pelicans as well as a gallery of my favorite brown pelican photos.
This winter certainly has turned out to be great for bird photography in La Jolla. We have had a large number of pelicans, cormorants, terns and gulls almost every morning. My project of shooting new and different pelican images, along with generally improving the flight, portrait and head throw images I already have (lots) continues.  While the weather in December was nearly ideal most days, it has been anything but in January.  A relatively few days this month has had sweet light and winds.  Instead, for the most part lots of rain and mist produced softly-lit portraiture akin to what you might get in a studio with big soft boxes over your lights. I'll take those if that's what Nature gives, but I really prefer full sun especially for flight photographs.
I have managed a number of photographs depicting pelican yoga, cool postures the pelicans assume when preening and stretching. I've also managed a few images with frozen water droplets that add a little something to an otherwise typical portrait.  And on several mornings when there were huge waves in La Jolla, I managed a few flight shots with the birds depicted against expanses of waves and foamy, turbulent ocean.  Here are a few of my favorites from the last two weeks.  Cheers, and thanks for looking!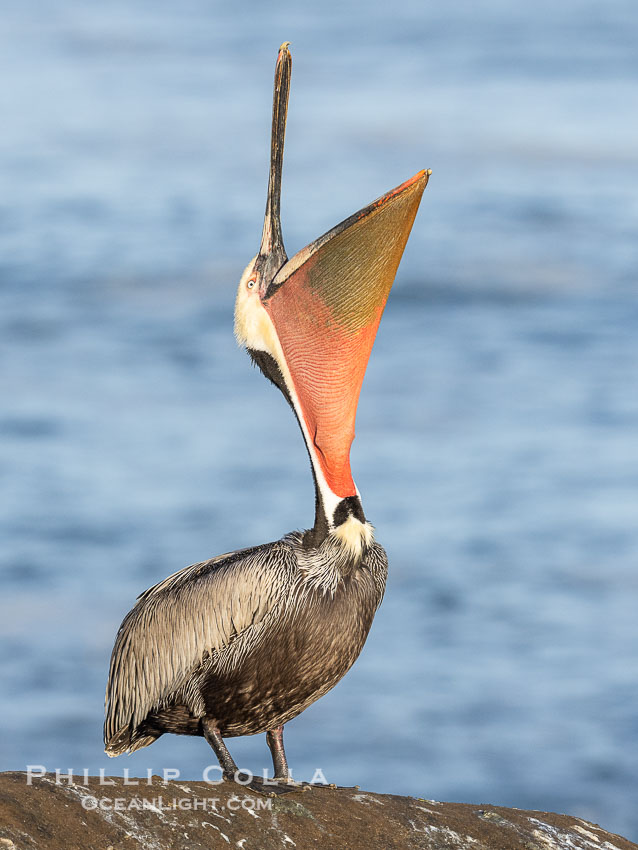 A perfect Brown Pelican Head Throw with Distant Ocean in Background, bending over backwards, stretching its neck and gular pouch, winter adult breeding plumage coloration.
Image ID: 38888
Species: Brown Pelican, Pelecanus occidentalis, Pelecanus occidentalis californicus
Location: La Jolla, California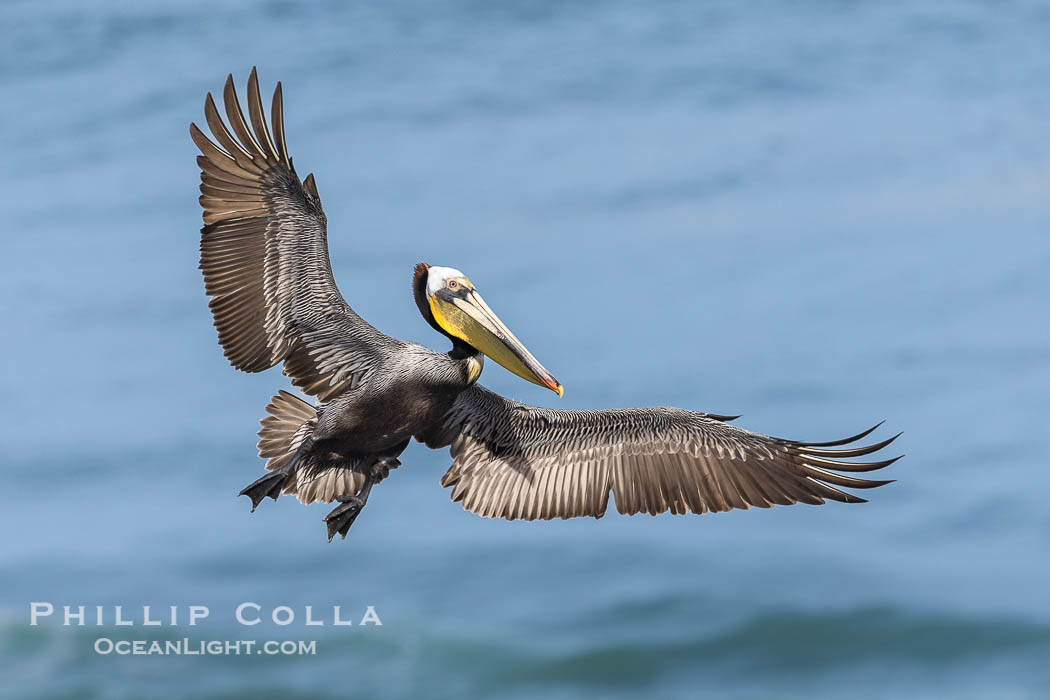 California Brown pelican in flight, La Jolla, wings outstretched, spreading wings wide to slow in anticipation of landing on seacliffs. Adult winter breeding plumage colors.
Image ID: 38884
Species: Brown Pelican, Pelecanus occidentalis, Pelecanus occidentalis californicus
Location: La Jolla, California
A perfect Brown Pelican Head Throw with Distant Ocean in Background, bending over backwards, stretching its neck and gular pouch, winter adult breeding plumage coloration.
Image ID: 38879
Species: Brown Pelican, Pelecanus occidentalis, Pelecanus occidentalis californicus
Location: La Jolla, California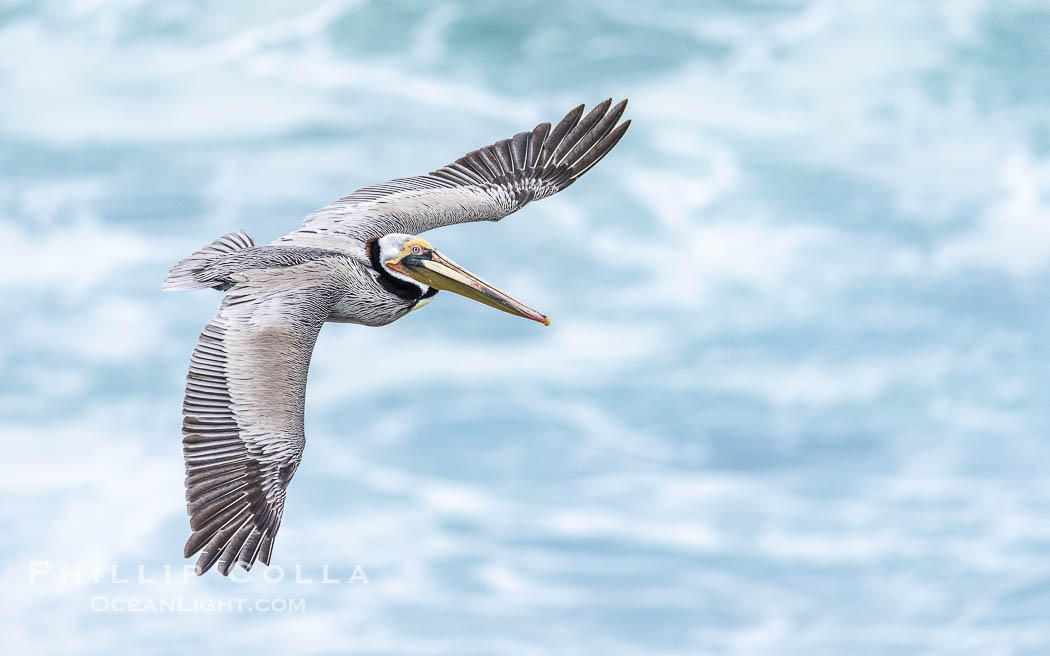 Pelican in Flight over Huge Waves in La Jolla, foamy ocean background, adult winter breeding plumage, wings spread wide.
Image ID: 38914
Species: Brown Pelican, Pelecanus occidentalis, Pelecanus occidentalis californicus
Location: La Jolla, California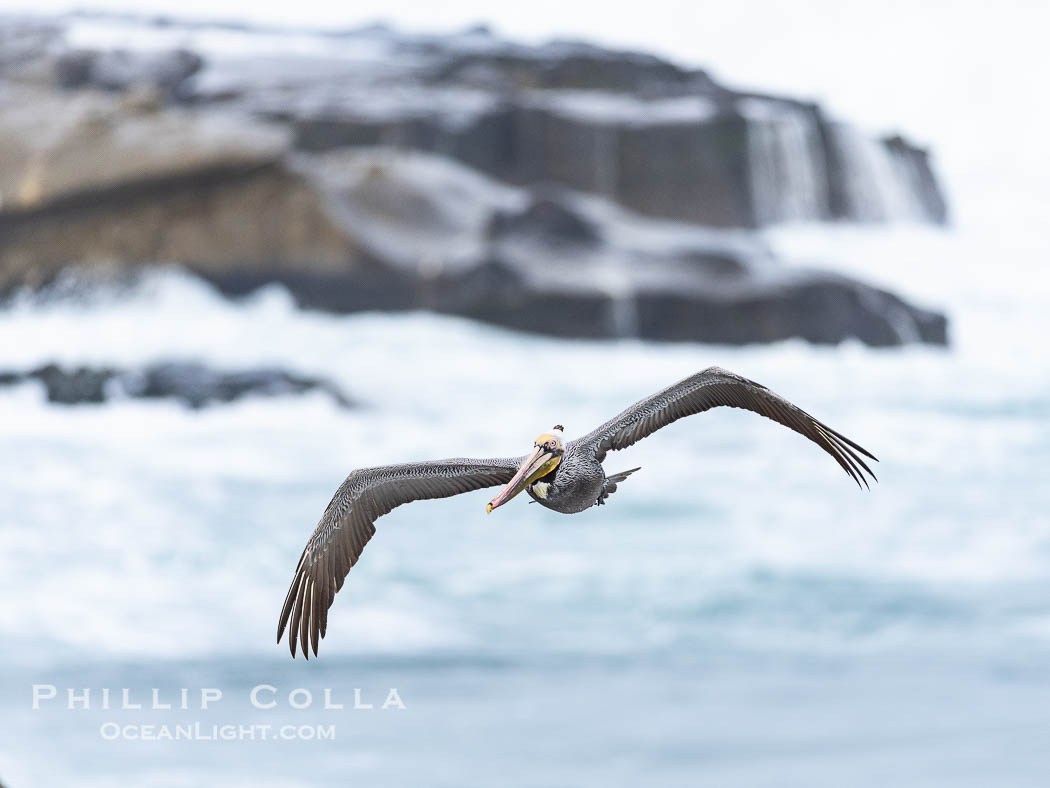 Pelican in Flight over Huge Waves in La Jolla, foamy ocean background, adult winter breeding plumage, wings spread wide.
Image ID: 38911
Species: Brown Pelican, Pelecanus occidentalis, Pelecanus occidentalis californicus
Location: La Jolla, California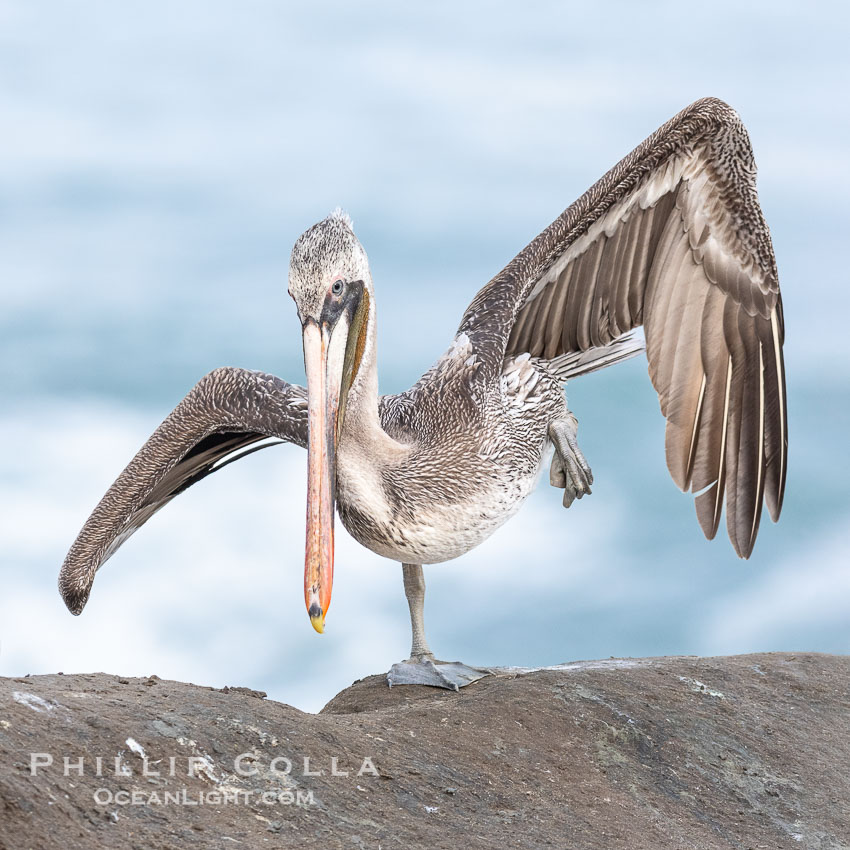 Young brown pelican performing yoga Warrior Three or Half Moon Pose Virabhadrasana, on one leg with wings raised and head tipped forward. Possible second or third year winter plumage, immature.
Image ID: 38881
Species: Brown Pelican, Pelecanus occidentalis, Pelecanus occidentalis californicus
Location: La Jolla, California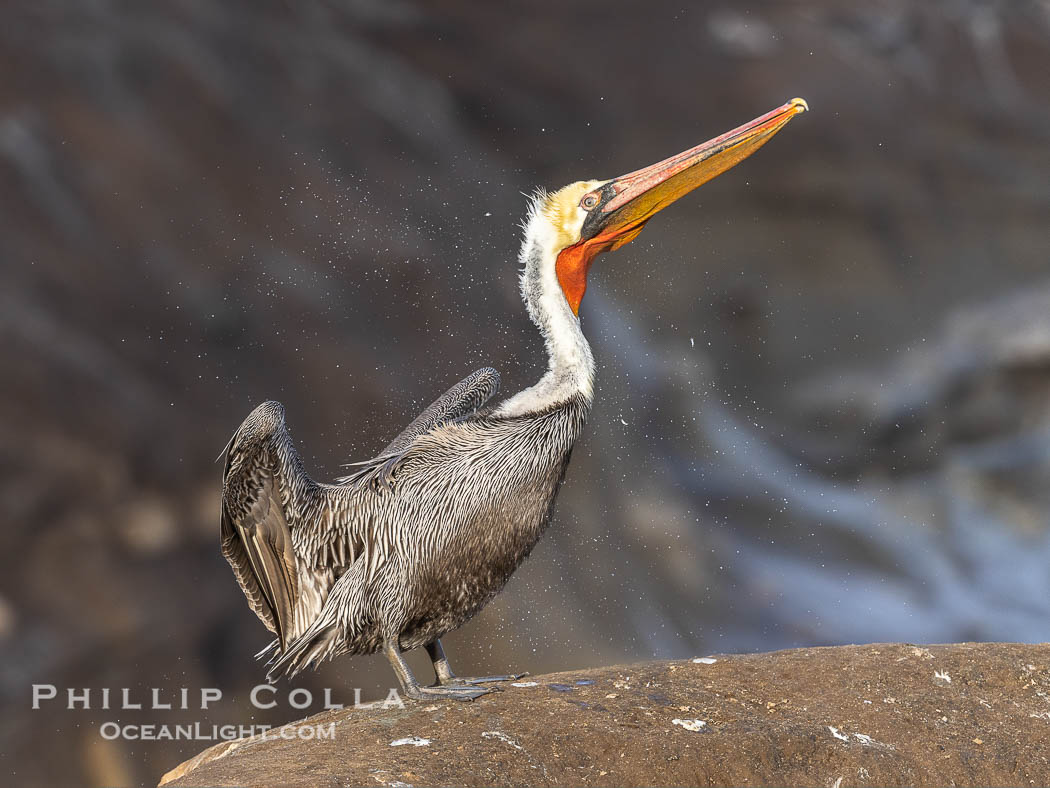 Brown Pelican shakes its feathers, water droplets flying, drying off after foraging on the ocean.
Image ID: 38894
Species: Brown Pelican, Pelecanus occidentalis, Pelecanus occidentalis californicus
Location: La Jolla, California
Brown Pelican Ruffles Its Feathers, distant Pacific Ocean in the background, winter adult non-breeding plumage, turning back to look at the camera as it preens.
Image ID: 38895
Species: Brown Pelican, Pelecanus occidentalis, Pelecanus occidentalis californicus
Location: La Jolla, California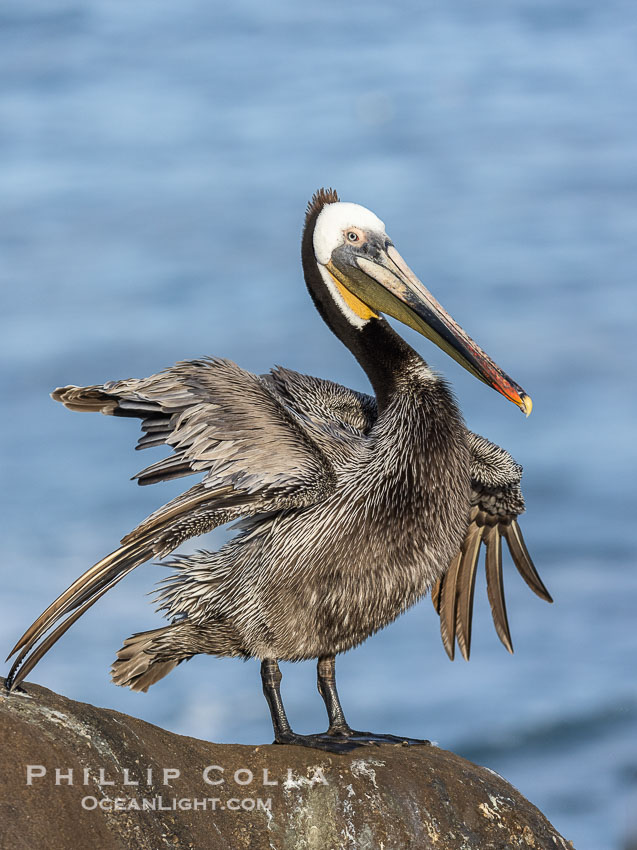 Brown Pelican Ruffles Its Feathers, distant Pacific Ocean in the background, winter adult breeding plumage.
Image ID: 38891
Species: Brown Pelican, Pelecanus occidentalis, Pelecanus occidentalis californicus
Location: La Jolla, California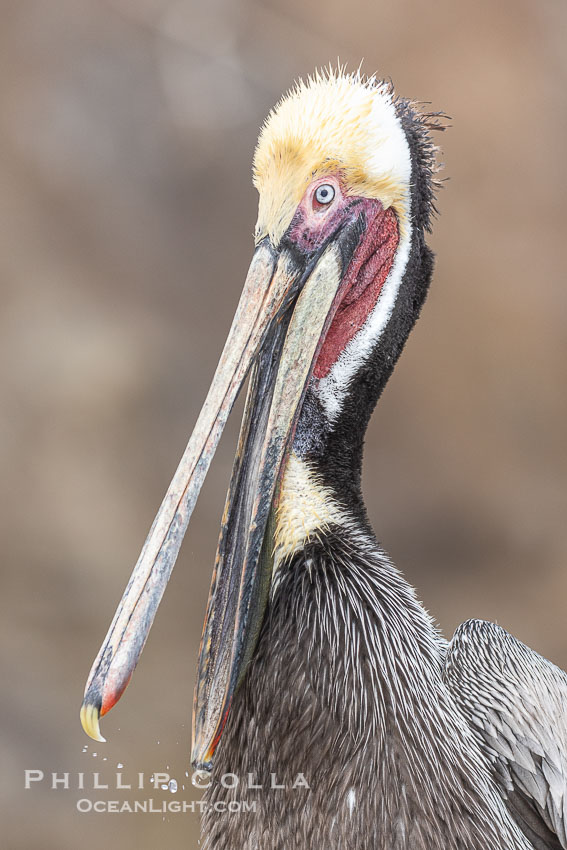 Brown Pelican Portrait Clapping Its Jaws, drops of water frozen in mid air between the tips of its bill, adult winter breeding plumage, feathers wet from rain.
Image ID: 38910
Species: Brown Pelican, Pelecanus occidentalis, Pelecanus occidentalis californicus
Location: La Jolla, California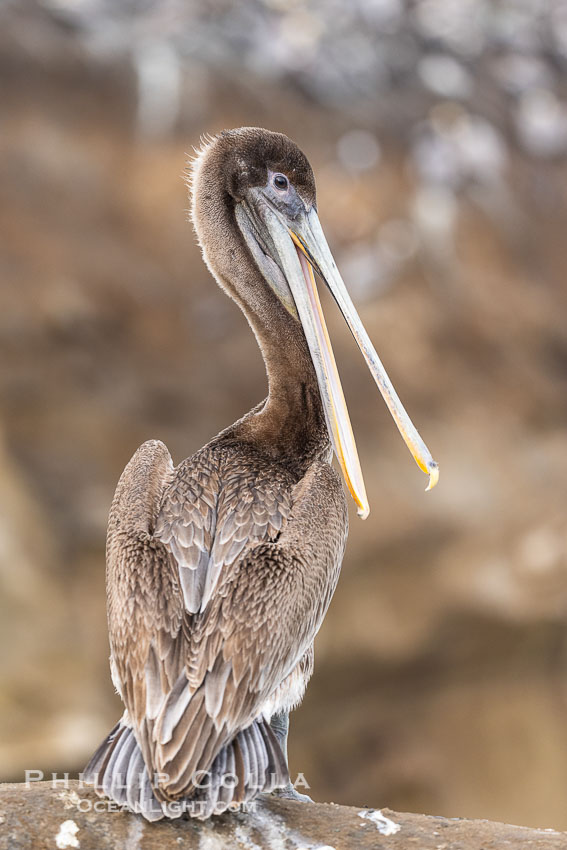 Brown Pelican Portrait Clapping Its Jaws, other pelicans in the background resting on steep cliffs, juvenile plumage (second winter?).
Image ID: 38913
Species: Brown Pelican, Pelecanus occidentalis, Pelecanus occidentalis californicus
Location: La Jolla, California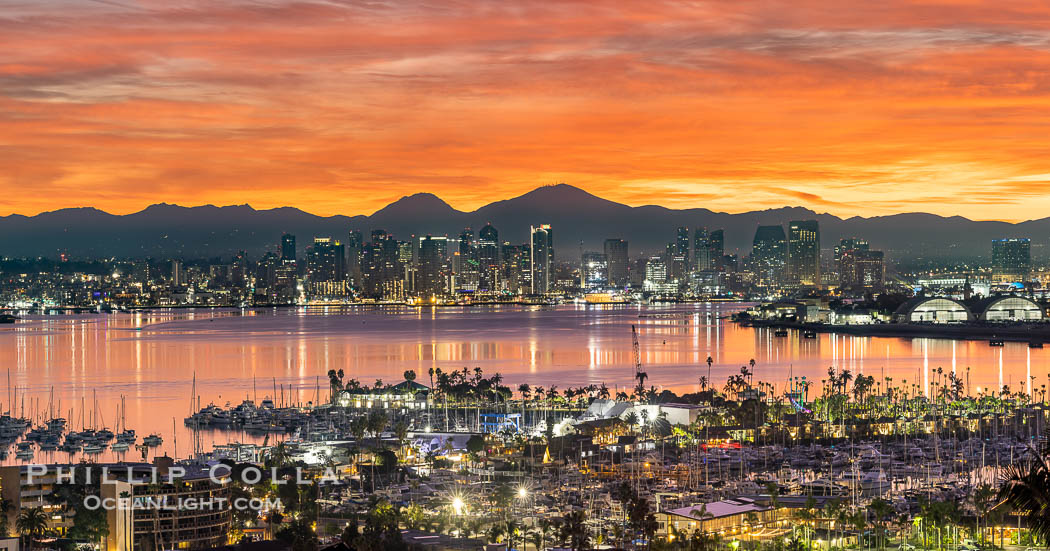 Spectacular Sunrise over San Diego Bay and Downtown San Diego. Mount San Miguel and Mount Lyons in the distance. Shelter Island in the foreground. Viewed from Point Loma.
Image ID: 38892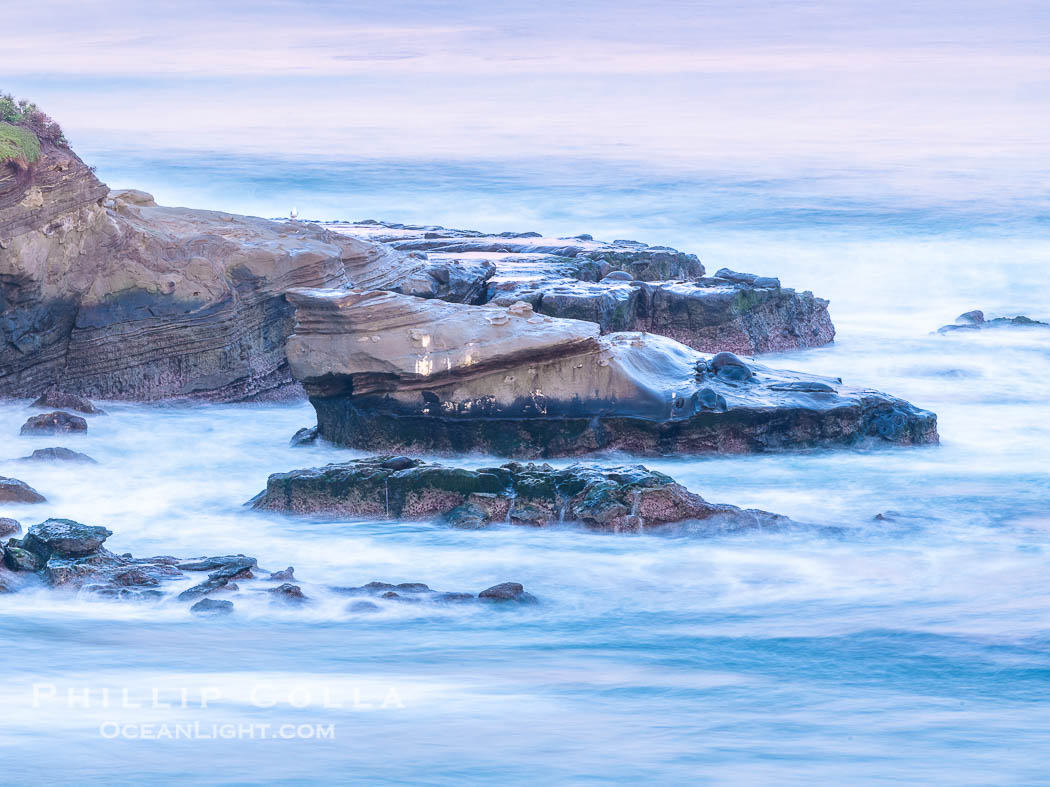 La Jolla Cove and Point La Jolla at Dawn, waves blur into abstract white, pre-sunrise soft light.
Image ID: 38917
Location: La Jolla, California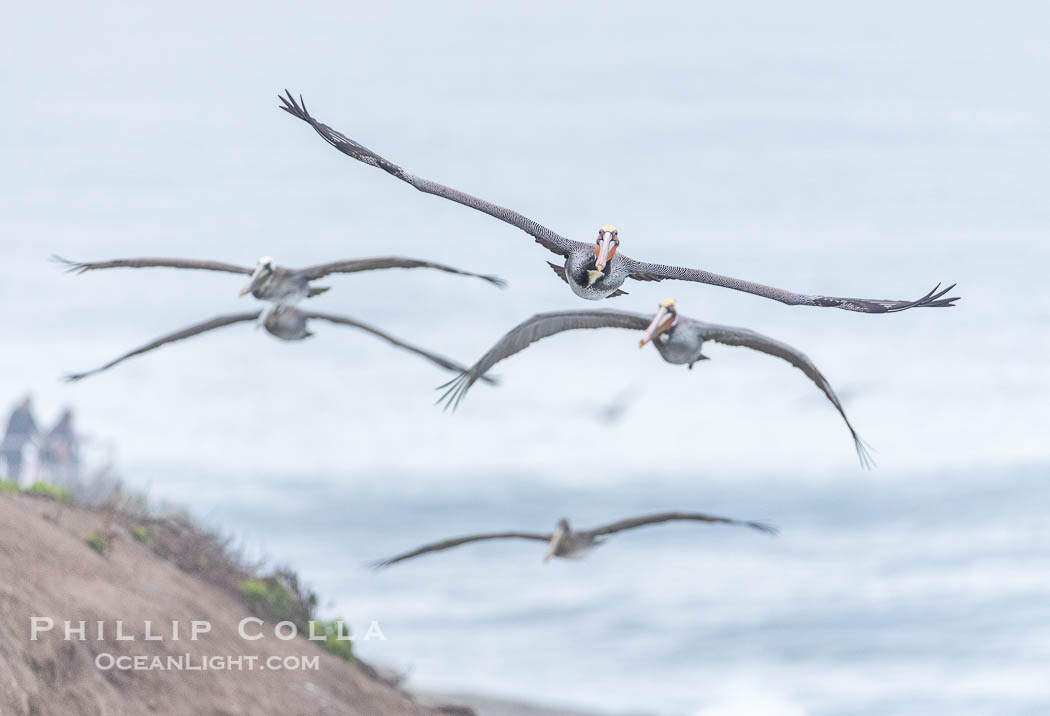 Pelican in Flight over Huge Waves in La Jolla, foamy ocean water background, people watching from the cliffs.
Image ID: 38909
Species: Brown Pelican, Pelecanus occidentalis, Pelecanus occidentalis californicus
Location: La Jolla, California
La Jolla Cove and Point La Jolla at Dawn, waves blur into abstract white, pre-sunrise soft light.
Image ID: 38916
Location: La Jolla, California