Landscape Arch and Milky Way at Night, Arches National Park, Utah
Landscape Arch in Arches National Park, Utah, is considered to be the longest natural arch in the world, having a span of 290 feet (89m) . Landscape Arch is gradually falling apart, with at least three sections of the arch known to have fallen since 1991. I set out to photograph this amazing arch under the star-filled Utah sky and it turned out to be one of the most technically challenging nightscapes (nighttime landscape photos) I have made. Because the trail that formerly went under the arch is now closed (National Park lawyers know what is good for us better than we do), viewing of the arch is from several hundred feet away. That is a long distance to light at night. Furthermore, in order to use side lighting as a way of illustrating detail in the rock, I had to use remotely controlled equipment since I was working alone. After two nights of experimentation, I managed to make four keeper images, of which this is my favorite. This image was shot with the technically excellent combination of Canon 5D Mark III and Nikon 14-24 lens so it is very sharp and clean while still freezing the glorious Milky Way galaxy (the galaxy in which we live) in the sky above the arch. If you like this image, please see my website devoted to my full collection of Landscape Astrophotography images. Thanks for looking!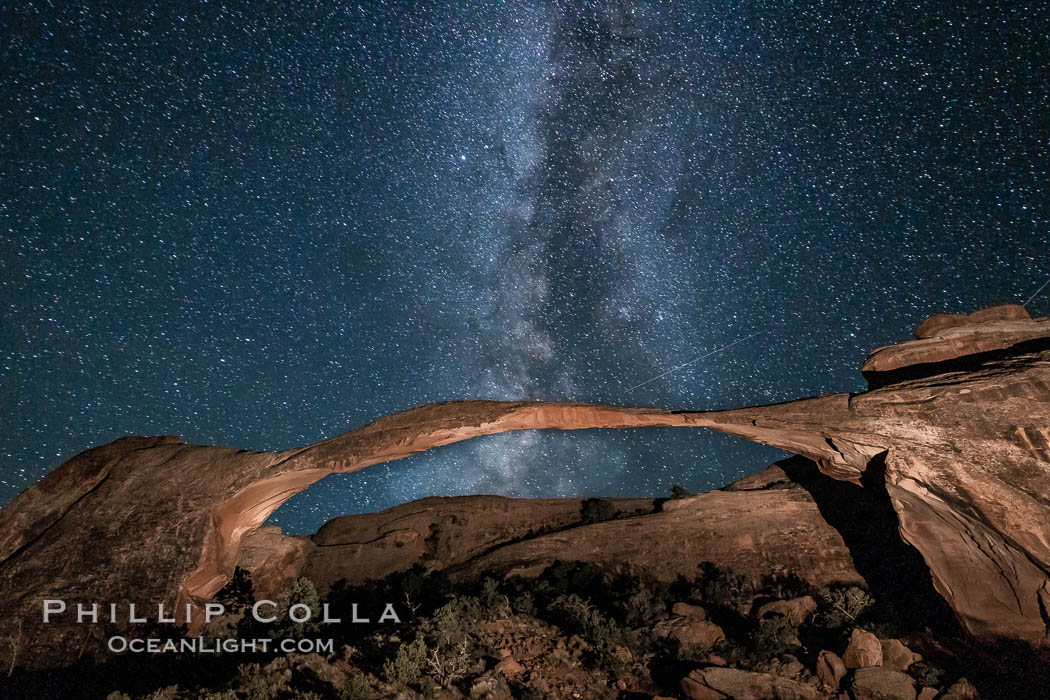 Landscape Arch and Milky Way galaxy. Stars rise over Landscape arch at night, filling the Utah sky, while the arch is gently lit by a hiker's light.
Image ID: 27869
Location: Arches National Park, Utah, USA
Also seen on my Landscape Astrophotography website: Landscape Arch and Milky Way at Night, Arches National Park, Utah.