Sky Rock Petroglyph and the Milky Way Galaxy, Bishop, California
This image has been a goal of mine for some years. Ever since I first saw Sky Rock in person, and realized how fully its skyward gaze ties it — and its visionary creator of many centuries ago — to the stars above, I wanted to depict the Sky Rock Petroglyph beneath the night sky. Sky Rock is considered by some to be the finest single petroglyph panel found anywhere; it is certainly the best I have ever seen. This panorama, spanning 220 degrees horizontally and 160 degrees from top to bottom, is based on 51 separate 36mp exposures. I've created it using two projections: the Mercator projection (below) and the spherical projection (link).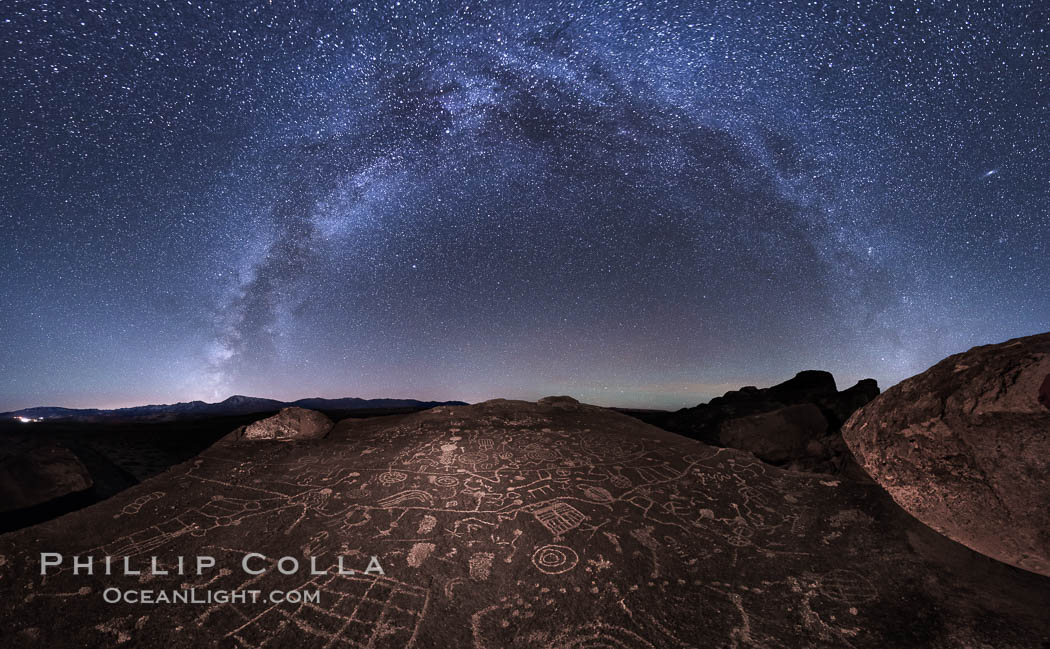 The Milky Way at Night over Sky Rock. Sky Rock petroglyphs near Bishop, California. Hidden atop an enormous boulder in the Volcanic Tablelands lies Sky Rock, a set of petroglyphs that face the sky. These superb examples of native American petroglyph artwork are thought to be Paiute in origin, but little is known about them.
Image ID: 28817
Location: Bishop, California, USA
This enormous, high resolution panoramic image will print 11′ wide by 14′ high. Prints are available here. If you like this image, please see more Photos of Sky Rock Petroglyph and more Astrophotography Landscape photos.