The National Wildlife photo contest is the only one of the "big three"** in which I have not had any luck — until now. After taking a hiatus from contests for about 8 years, something possessed me to enter this year. Lo-and-behold the image below caught the judges' notice and won first place in the professional division of "Connecting People and Nature", and is featured along with 17 other super images in the December/January 2010 issue of National Wildlife magazine.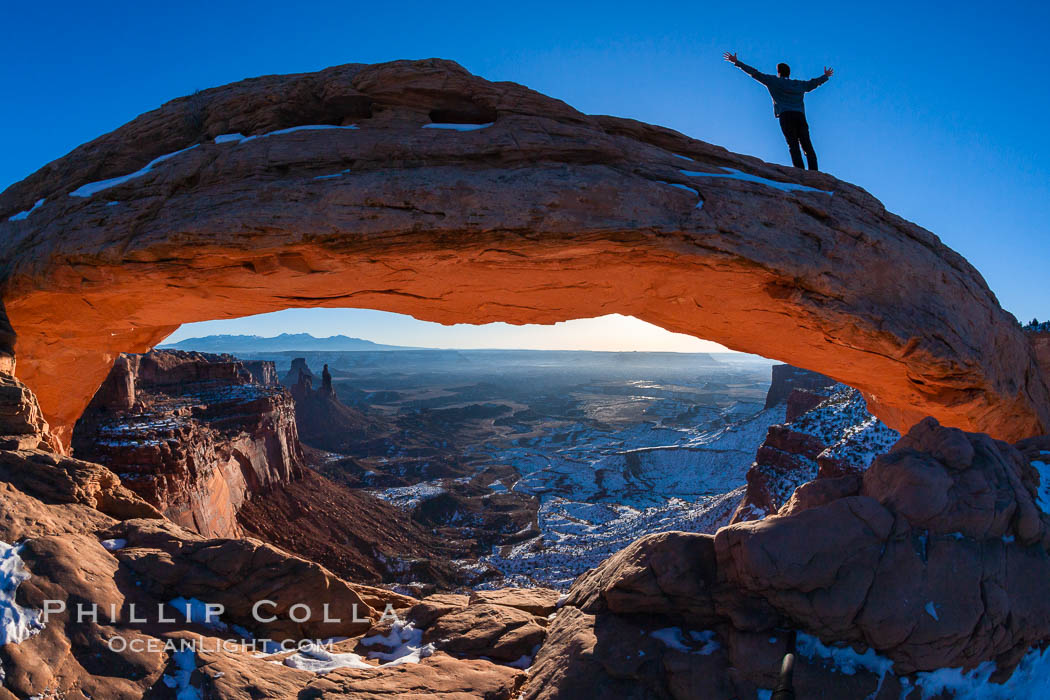 Mesa Arch, Utah. An exuberant hiker greets the dawning sun from atop Mesa Arch. Yup, that's me.
Image ID: 18036
Location: Island in the Sky, Canyonlands National Park, Utah, USA
This is a self portrait. I was alone this morning at Mesa Arch in Canyonlands National Park. It was a cold but clear January morning with some snow on the ground. I used a Canon 1Ds Mark II camera and 15mm fisheye lens. I put the camera on timer, quickly walked up on the arch, raised my hands the way I do when my daughter scores a goal, and click. The view from atop the arch, looking down the wall to the canyon below, was exhilirating.
**The "big three" photo contests, at least for wildlife, outdoor and nature photographers, are the Wildlife Photographer of the Year competition, the Nature's Best photography contest and the National Wildlife photo contest. For ocean-oriented photographers, Nature's Best also sponsors the Ocean Views contest.
Note: Performed by a trained professional stunt photographer. Do not try this at home. Photography is an inherently dangerous and frustrating pursuit. You can and will die photographing landscapes.