The old Point Loma lighthouse, situated at the top of Cabrillo Monument at the end of Point Loma, puts forth a speck of light beneath a summertime sunset.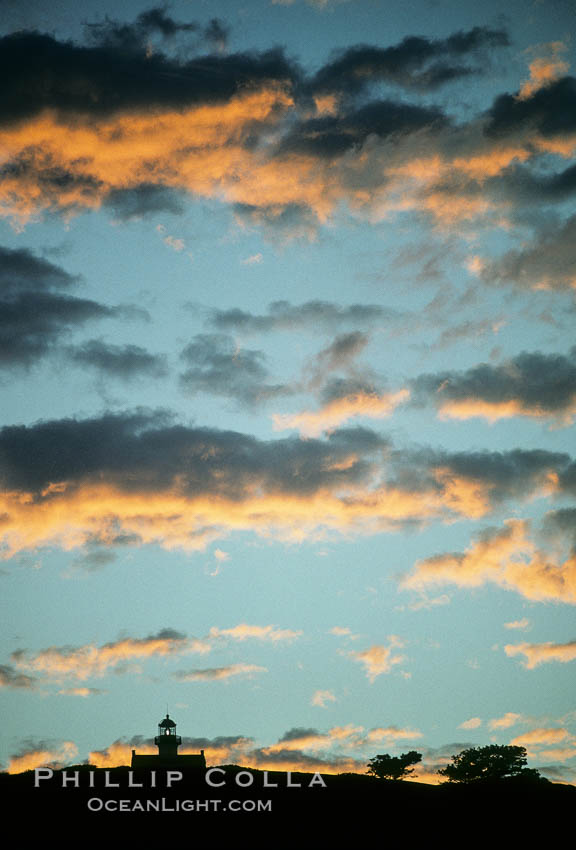 Cabrillo Monument lighthouse at sunset, Point Loma.
Image ID: 05511
Location: San Diego, California, USA
The original Point Loma lighthouse was built in 1855 and operated until 1891. It was one of the original 8 lighthouses built on the West Coast and was designed in the Cape Cod style common to all of them at the time. East Coast lighthouses were then built on promontories and hill tops so it was natural to do so on the West Coast as well. This was soon realized to be a major blunder: the lighthouses were too high for the weather, above the low-lying fog that is common on the West Coast, and thus not visible to coastal mariners. In 1891 the Point Loma lighthouse was replaced by another one closer to sea level. The "old" Point Loma lighthouse, which has been refurbished to its 1880's condition, is now the principal attraction of Cabrillo National Monument and offers unobstructed views of San Diego Bay, North Island Naval Air Station and Coronado Island, Mexico's Islas Coronado and the Pacific Ocean.
More lighthouse photos.