This image is also featured on my Landscape Astrophotography website: Delicate Arch at Night, Milky Way and Shooting Star, Arches National Park, Utah
This is spectacular Delicate Arch, the most iconic and popular of the arches in Arches National Park in Utah. Looking back on 2012 I realize I made a strong series of Landscape Astrophotography photos in 2012 — and this image is one of my favorites. It combines Delicate Arch, the Milky Way galaxy, just a tad of blue in the sky from the sunset earlier, and a shooting star crossing the sky directly above Delicate Arch. That last element was sheer luck of course, but luck favors the prepared and I was certainly prepared on this evening, shooting three cameras aided by special lights and remote triggers for my camera. Cheers and thanks for looking!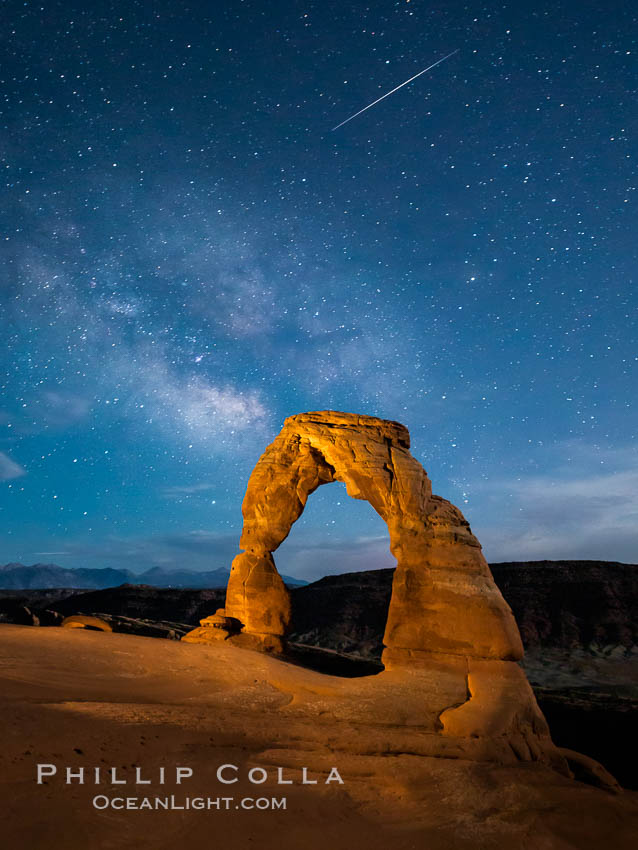 Milky Way and Shooting Star over Delicate Arch, as stars cover the night sky.
Image ID: 27854
Location: Arches National Park, Utah, USA
Like this image? Please see my website devoted to my full collection of Landscape Astrophotography images.