In 2005 I received a recommendation to visit Silver Salmon Creek Lodge to see bears. I already had a trip planned to Brooks Camp so I didn't look into SSCL for a while. A week at Brooks in July 2006, with superb weather, company and bears, helped me to realize that I enjoyed the "Alaska thing" much more than I had anticipated. I was eager to do it again. About the same time we were put on notice that we might be making a family trip in Alaska in 2008, complete with cousins, grandparents, aunts and uncles. If indeed we were making the effort of taking the kids to Alaska, it was inconceivable to me that we would not include a good close look at coastal brown bears (Ursus arctos) in the wild. Brooks Camp was a known quantity at this point, and while it would be ok for my family it was not ideal; the younger kids would get bored waiting on the viewing platforms and the crowds that Brooks Camp attracts (lodge, campers and day visitors alike) conflicted with the quieter experience I wanted Tracy and the kids to have their first time in Alaska. I needed to find an alternative place to take them. I got in touch with David Coray, longtime owner of Silver Salmon Creek Lodge, and arranged to spend a week there in July 2007. I had a great time.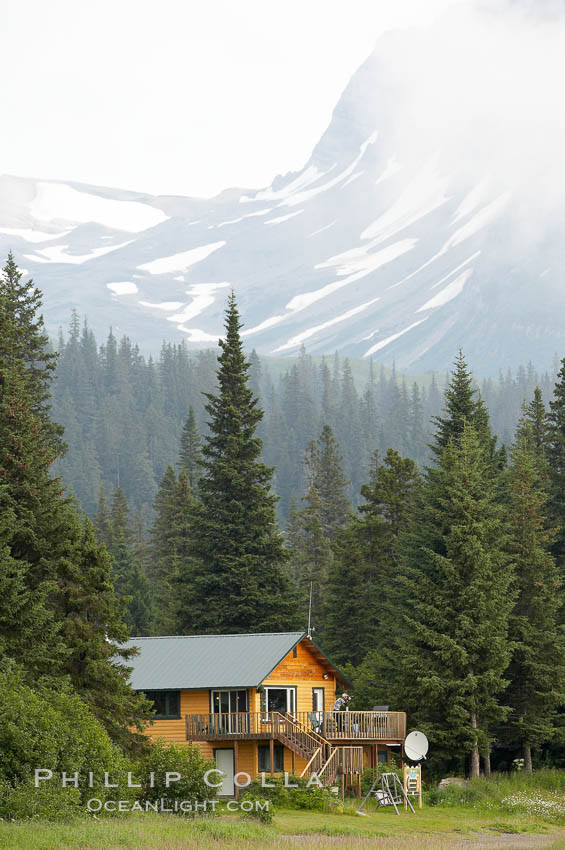 Silver Salmon Creek Lodge, spruce trees and Chigmit Range.
Image ID: 19064
Location: Lake Clark National Park, Alaska, USA
Silver Salmon Creek Lodge, part of a private parcel of 160 acres in Lake Clark National Park, lies at the edge of a spruce forest and is fronted by broad flat sedge grass meadows. The view from the lodge is wonderful: the meadows stretch left and right several miles and out about a half mile, beyond which are the sandy beaches and tide flats of Cook Inlet. Tidal sloughs slice across the meadows in many places. About a mile to the south lies Silver Salmon Creek, while three miles to the north is Johnson River. Both of the rivers open directly to Cook Inlet and are host to runs of spawning salmon in late summer. Bears constantly stroll about the meadows while bald eagles can be seen often flying or perched on trees. A short distance behind the lodge, through the trees, is a large pond covered with lilies and surrounded by green peaks with patches of snow. Access to Silver Salmon Creek Lodge is by plane or boat only, and the vast majority of visitors come by air. Those arriving on float planes will land on the pond while those coming on wheeled planes land on the beach.
Brown bears graze among sedge grass meadows at Silver Salmon Creek Lodge.
Image ID: 19067
Location: Lake Clark National Park, Alaska, USA
On a clear Sunday morning I met our pilot Mark Madura at Lake Hood, along with five fellow guests also spending the week at the lodge: John, Kent and Jenny, father, son and daughter who were set to fish Silver Salmon Creek and Copper River, and Dennis and Denny, father and son who were planning to shoot photos like myself. After an hour in the air Mark announced we would be waylaid by thick clouds over the lodge and could not land, so he landed on a pond at Homer, told us to cross our fingers for a change in the weather and set us free onshore to kill some time at the local brewery while he topped off the fuel and waited for word from David that all was clear to land. This turned out to be a fortunate diversion as we got a chance to get to know another a bit and buy a bunch of growlers of Homer Brewing Company's finest to take with us. After a lunch of bratwurst and onion rings, we squeezed the beer in the few remaining bits of room on the plane and took off again, spotted a few whales crossing Cook Inlet, had a magnificent view of Mt. Redoubt rising above the clouds, and finally landed on the lily-covered pond behind the lodge.
Float plane, water lilies and pond lie beneath the Chigmit Range near Silver Salmon Creek.
Image ID: 19092
Location: Lake Clark National Park, Alaska, USA
Naturally, before bothering to see if my cameras, clothes and money had arrived on the other plane, I had to check out the kitchen and dining room. I've learned from many liveaboard boat trips that the cook and his menu are crucial to the success of the trip! As luck would have it chef Steve had saved some lunch for us latecomers. I will state without reservation that mealtime at Silver Salmon Creek Lodge is superb. The view from the dining room is beautiful. David's daughter Dorian makes her baked treats fresh daily, the veggies come from the lodge's own garden and the fish that is served is from the river and ocean one sees right out the window. The clams are the same ones the bears are after! It is all delicious and served in generous quantities. I ate really well and put on a few well-earned pounds. OK, enough said.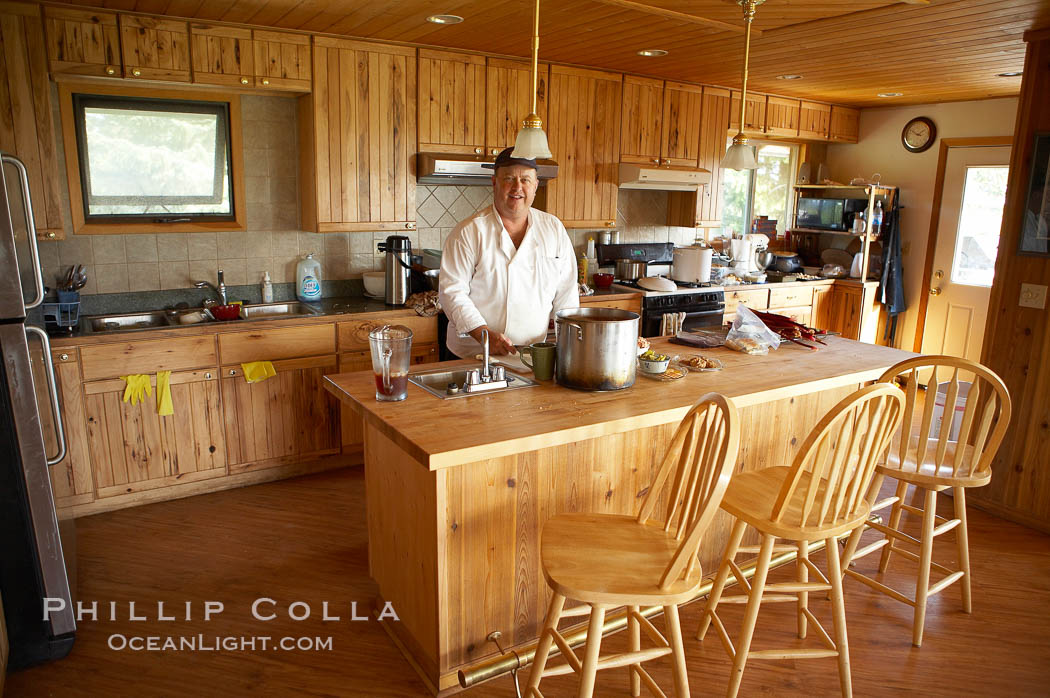 Kitchen and chef Steve, Silver Salmon Creek Lodge.
Image ID: 19070
Location: Lake Clark National Park, Alaska, USA
While bear viewing has in recent years been the major draw at SSCL, historically fishing is the pursuit of choice. Guests at the lodge can spend time fishing the rivers for salmon, sea kayaking, canoeing on the pond, or halibut fishing on the ocean. Or chilling at the lodge, napping or just enjoying the fresh air and fantastic views. One of the days at Silver Salmon Creek Lodge involved a boat trip up the coast a ways to a small island loaded with seabirds. Murres, puffins, gulls, and I think some terns and a hawk were all spotted there. I am not a bird photographer — I don't have the patience or skill for it — so I just napped and watched the flocks of birds wheeling about above us. For the most part I chose to spend my time in the sedge grass meadows and on the beach and tide flats watching the bears and photographing them. My guide, Dawn, not only has guided in the area for years but has a formal biology education so she was able to keep me appraised of the natural history around us and answer my many questions. Dawn was willing to get out early and stay out late to give us ample opportunities to photograph the bears in the best light. Her husband John has worked even longer at SSCL and has some outstanding photographs to show for it, ones that would make the pros visiting the lodge envious. The staff at SSCL are both professional and personable (i.e., fun!), and are an important part of the success of SSCL.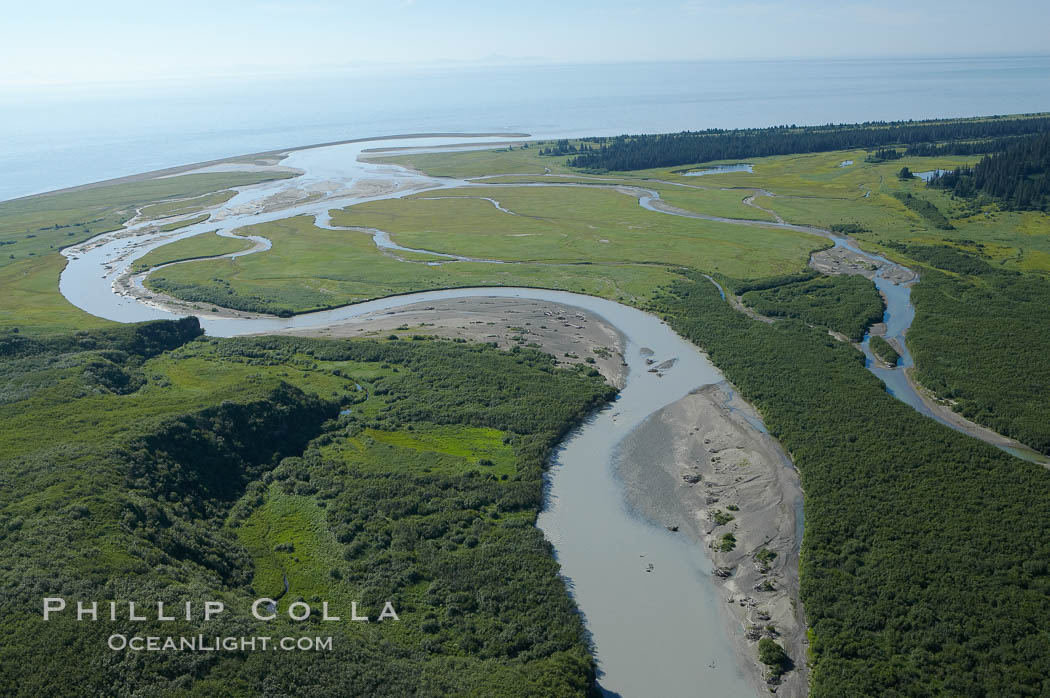 Johnson River, side waters and tidal sloughs, flowing among sedge grass meadows before emptying into Cook Inlet.
Image ID: 19063
Location: Johnson River, Lake Clark National Park, Alaska, USA
Summer days are quite long in Alaska, and there was plenty of time to shoot. Granted, I was blessed with nearly perfect weather: lots of sun with high overcast to soften it punctuated by two days of darker skies and a tad of light rain. We (my fellow photographers, Dawn and I) would make several outings each day to see bears. Sometimes we would head north, with three miles of beaches and meadows to explore before reaching Johnson River. Other times we would head out to the beach at low tide, hoping to see bears digging for clams on the broad tide flats. A mile to the south is Silver Salmon Creek, with a tidal slough and grass meadows along the way. Bears were found throughout these areas, at nearly all times, while I was there. Getting around was done almost entirely by ATV, with a rugged and simple trailer on the back. When I first learned we would get around by ATV I was confused (why not just walk?) but given the distances involved using an ATV really allows one to make the most of one's time. We found large male boars, juveniles alone and in pairs, solitary sows as well as mothers with one, two and even three cubs. Some cubs were "spring cubs", quite small and born just months earlier, who are totally dependent on their mother for survival. Others were born the previous winter and are now a year and a half old, much more gregarious and able to venture further from their mother and act more independently.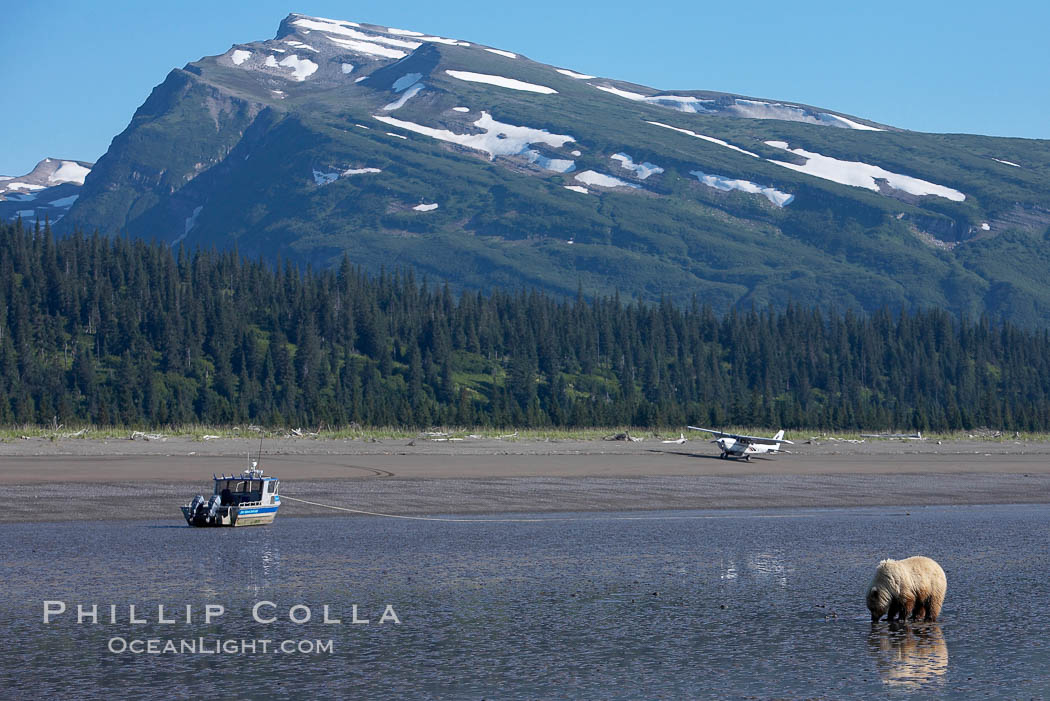 Coastal brown bear forages for razor clams on mud flats at extreme low tide.
Image ID: 19221
Species: Brown bear, Ursus arctos
Location: Lake Clark National Park, Alaska, USA
The lodge itself and its operations are just the right size: large enough to be comfortable while small enough to feel private and uncrowded. About 12 to 16 guests were present while I was there, a handful coming or going every few days. We had three different parties from Switzerland (two fishing, one bear viewing) during just the week I was there — the Swiss love Alaska it seems. Professional photographer David Cardinal was conducting one of his two annual tours at SSCL, leading a group of five serious photographers. David has been photographing the bears and leading tours to SSCL for eight years, and has some fine images on his web site to show for it. Occasionally we would see David and his group while out in the field, but the area is so large that everyone has plenty of space. Other tour groups led by Charles Glatzer and Jess Lee were coming soon after or had left before I arrived. Another lodge, Alaska Homestead Lodge, lies a short distance from SSCL and hosts primarily day fly-in visitors whom we would see on the trails once in a while.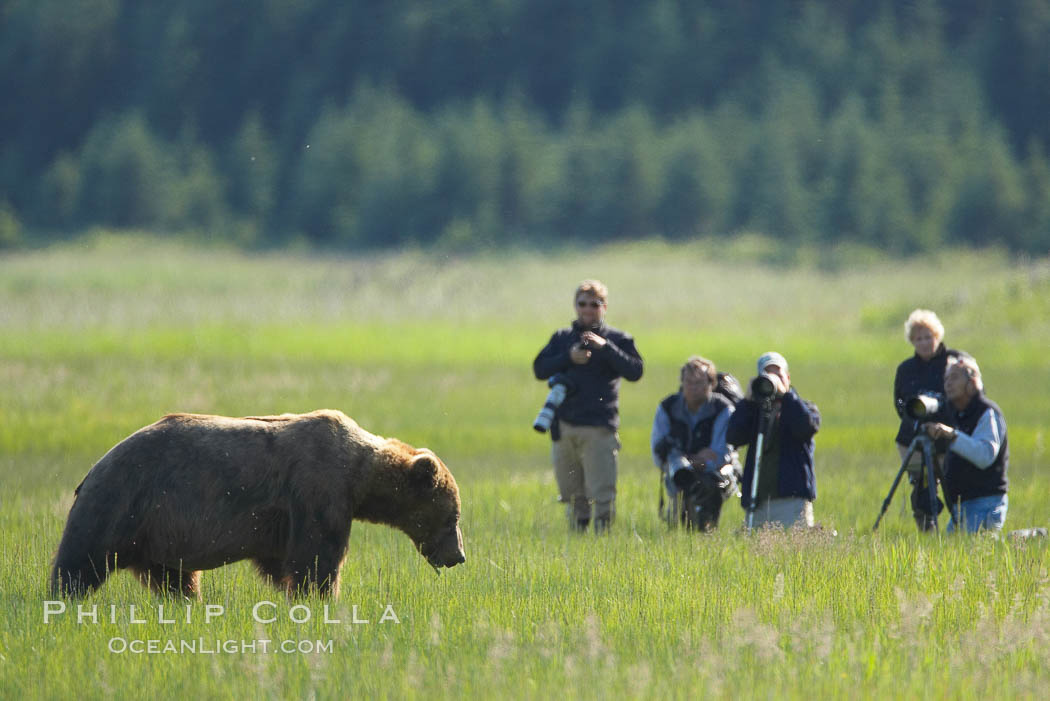 Photographers and brown bear.
Image ID: 19075
Location: Lake Clark National Park, Alaska, USA
At low tide we went out to the tide flats to watch the bears digging for clams. We saw up to about 9 or 10 bears at once, spread widely over the flats. Each bear worked alone and had its own technique for shelling the clams once they were pulled from the sand. Some bears were clearly less skilled than others as their clams would be essentially destroyed as the bear tried to shell them. These bears would also end up covered with more sand and mud than their more skiller counterparts. A couple old pros we saw were able to lay the razor clam on the back of one paw and slide the claws of its other paw between the shells, opening the clam with little damage. Their dexterity is surprising.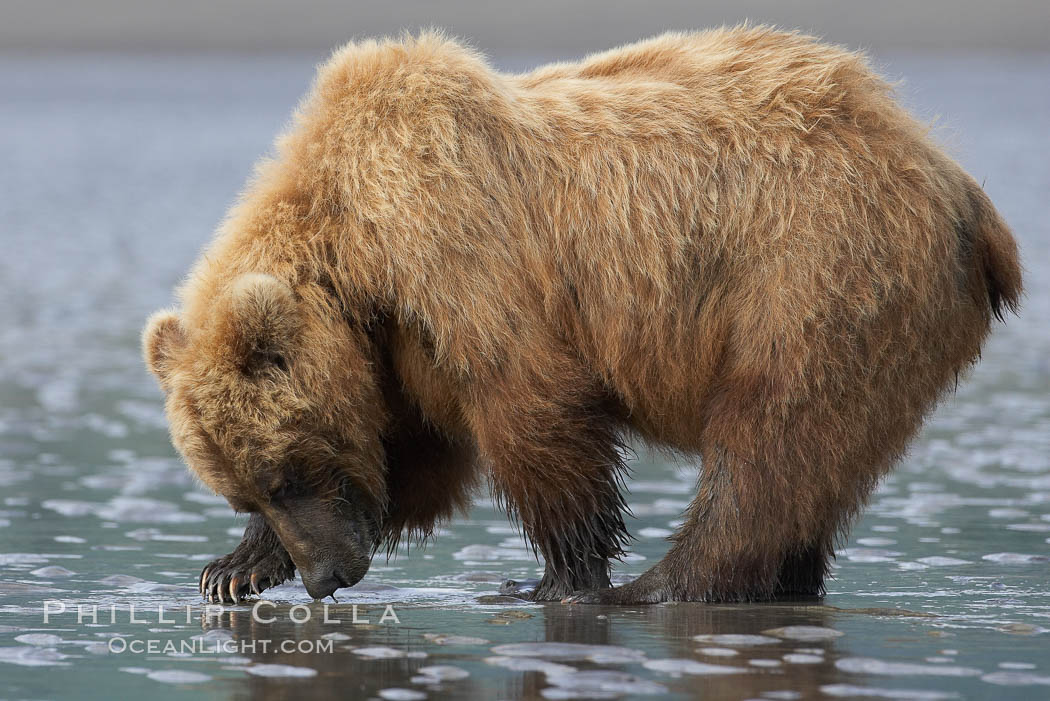 Coastal brown bear forages for razor clams in sand flats at extreme low tide. Grizzly bear.
Image ID: 19140
Species: Brown bear, Ursus arctos
Location: Lake Clark National Park, Alaska, USA
My goal visiting Silver Salmon Creek Lodge was to shoot simple portraits of large brown bears. Coastal brown bears are considerably larger than brown bears living in the interior of North America because they have access to salmon coming in from the ocean to spawn in the rivers and lakes. I am told by bear experts that interior brown bears are often referred to as grizzly bears or grizzlies, while it is generally agreed that coastal brown bears are not grizzlies. This distinction seems silly to me, however. Coastal brown bears are the largest bears in the world, surpassing polar bears and peaking in size with the Kodiak Island race. The best opportunities for portraits were in the meadows, with bears eating sedge grass. Being essentially pure fiber, sedge grass is not very nutritious for the bears but they are hungry as they wait for the salmon to arrive and so will eat lots of it. I even tried a little of it, and didn't get sick, ok. The bears can eat up to 30 lbs of sedge grass each day and will spend hours in the meadows resting and grazing. Below are a couple of portraits of the bear that I thought was most impressive of those I saw during my stay. His eyes appear beady small because his head has grown so large and thick over the years, his shoulders were monstrously broad and thick and he walked with a swagger that suggested there was nothing that concerned him. He bears a recent scar over his right eye presumably from a fight with another male for territory or mating rights. I hope my kids get a chance to see him next year.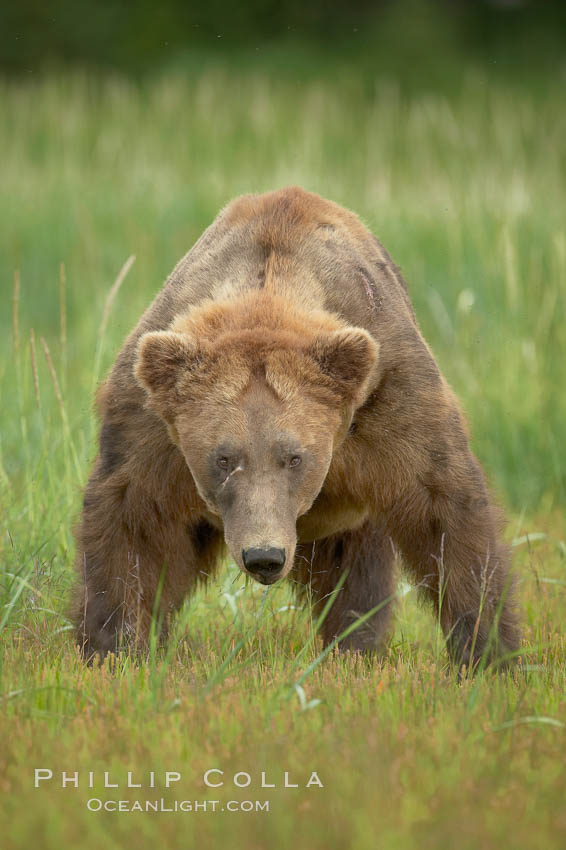 Full grown, mature male coastal brown bear boar (grizzly bear) in sedge grass meadows.
Image ID: 19134
Species: Brown bear, Ursus arctos
Location: Lake Clark National Park, Alaska, USA
Mature male coastal brown bear boar waits on the tide flats at the mouth of Silver Salmon Creek for salmon to arrive. Grizzly bear.
Image ID: 19149
Species: Brown bear, Ursus arctos
Location: Lake Clark National Park, Alaska, USA