Road Trip: Day 2
White Dome Geyser lies along Firehole Lake Drive in the Lower Geyser Basin area of Yellowstone National Park. White Dome Geyser is a cone-type geyser whose eruption, through a narrow opening of about 6 inches, reaches heights of 30′ (10m). It erupts relatively frequently — sometimes with intervals as short as 15 minutes — but unpredictably. White Dome Geyser has a large sinter cone, one of the largest in Yellowstone, a sign that it has been active as a spring or geyser for many years. If you visit White Dome Geyser in early morning (as I did) there is a good chance you will not only have the entire area to yourself, an uncommon and pleasant situation in such a popular National Park, but you may also be fortunate enough to observe a rainbow suspended in the spray of the geyser.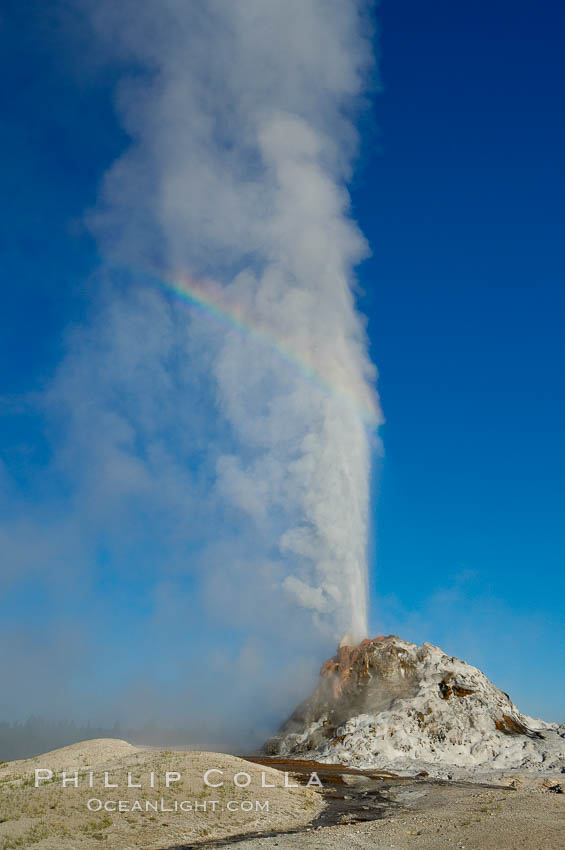 White Dome Geyser, with a faint rainbow visible in its mist, rises to a height of 30 feet or more, and typically erupts with an interval of 15 to 30 minutes. It is located along Firehole Lake Drive.
Image ID: 13541
Location: Lower Geyser Basin, Yellowstone National Park, Wyoming, USA
Since it is so close to Firehole Lake Drive, many people happen upon White Dome Geyser just as it begins to erupt and view it from their cars. Others may see White Dome Geyser erupt while waiting at nearby Great Fountain Geyser.
Keywords: white dome geyser, yellowstone national park.