My Best Natural History Photographs of 2018
2018 offered opportunities for me to spend a week in Maui with my family, dive the chilly waters of God's Pocket in northern Vancouver Island, return to dive Fiji's gorgeous reefs on the wonderful Naia, enjoy some college volleyball and fall colors on the Blue Ridge Parkway in North Carolina, and dive and hike many of my favorite spots in and around my home state of California all year long, including Catalina, Yosemite, the Coronados, San Clemente Island and the Central Coast.
This is the twelfth year in a row I have done an annual retrospective. My creative goal for any one year is, as it always has been, to shoot 3-4 world-class images and 10-15 portfolio-quality images. Below are my favorites from 2018. If you like these feel free to check out previous years' favorites as well: 2017, 2016, 2015, 2014, 2013, 2012, 2011, 2010, 2009, 2008, 2007. Also, be sure to check out Jim Goldstein's blog, where he collects the "best of the year" collections of many talented photographers.  Thanks Jim! Cheers and Thanks for looking!
Green sea turtle foraging for algae on coral reef, Chelonia mydas, West Maui, Hawaii
Image ID: 34507
Species: Green Sea Turtle, Chelonia mydas
Location: Maui, Hawaii, USA

Panorama of Full Moon and Earth Shadow over Haleakala, Maui, Hawaii. The dark band on the horizon is the shadow of the earth, while the lighter pink band is atmosphere that is still lit by the setting sun.
Image ID: 34515
Location: Maui, Hawaii, USA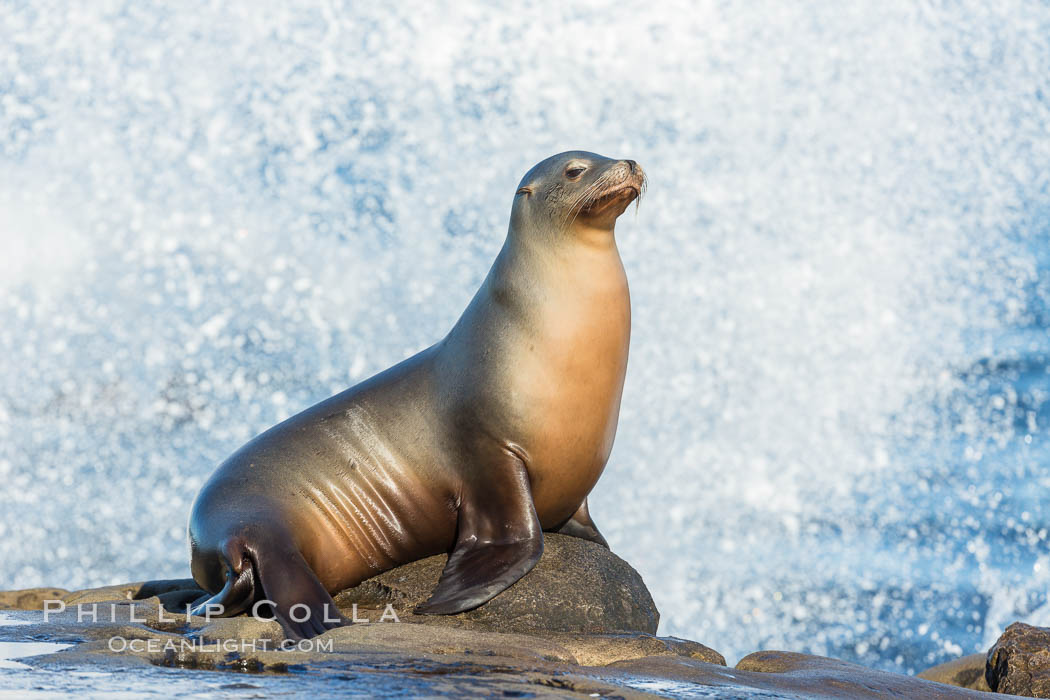 California sea lion, La Jolla
Image ID: 34272
Species: California Sea Lion, Zalophus californianus
Location: La Jolla, California, USA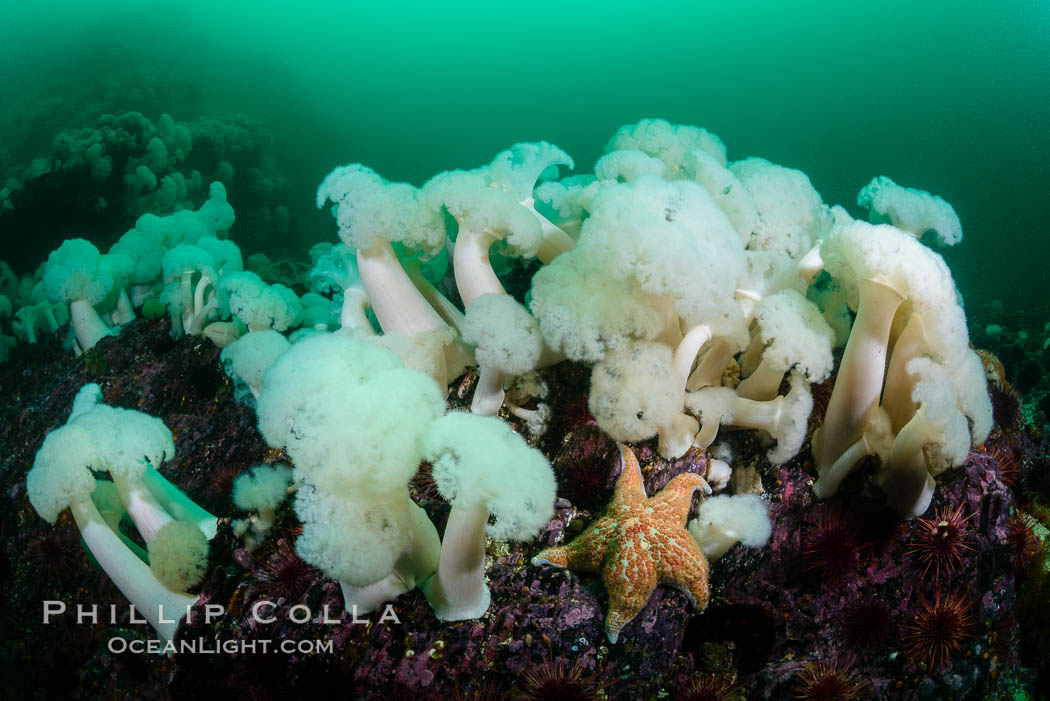 Giant Plumose Anemones cover underwater reef, Browning Pass, northern Vancouver Island, Canada
Image ID: 34326
Species: Giant Plumose Anemone, Metridium farcimen
Location: British Columbia, Canada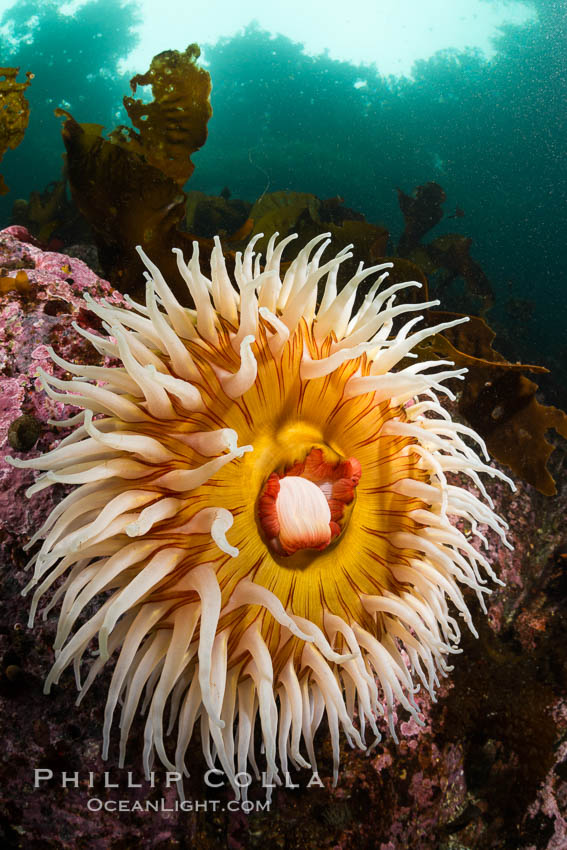 The Fish Eating Anemone Urticina piscivora, a large colorful anemone found on the rocky underwater reefs of Vancouver Island, British Columbia
Image ID: 34327
Species: Fish-eating Anemone, Urticina piscivora
Location: British Columbia, Canada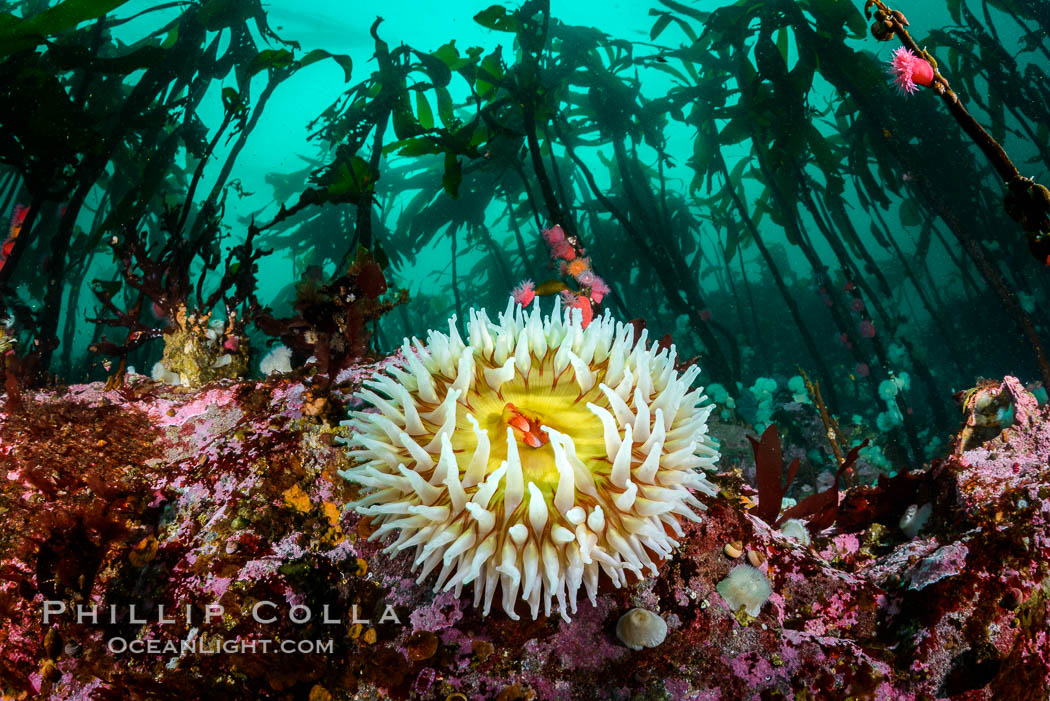 The Fish Eating Anemone Urticina piscivora, a large colorful anemone found on the rocky underwater reefs of Vancouver Island, British Columbia
Image ID: 34331
Species: Fish-eating Anemone, Urticina piscivora
Location: British Columbia, Canada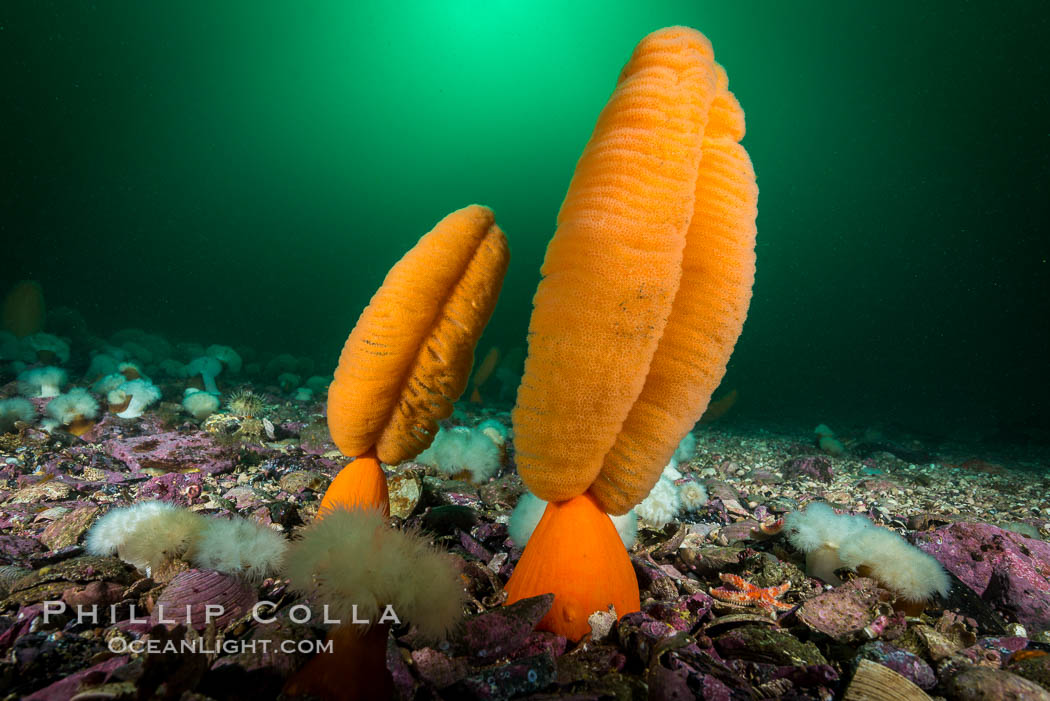 Fleshy Sea Pen, Ptilosarcus gurneyi, Vancouver Island
Image ID: 34334
Species: Fleshy Sea Pen, Ptilosarcus gurneyi
Location: British Columbia, Canada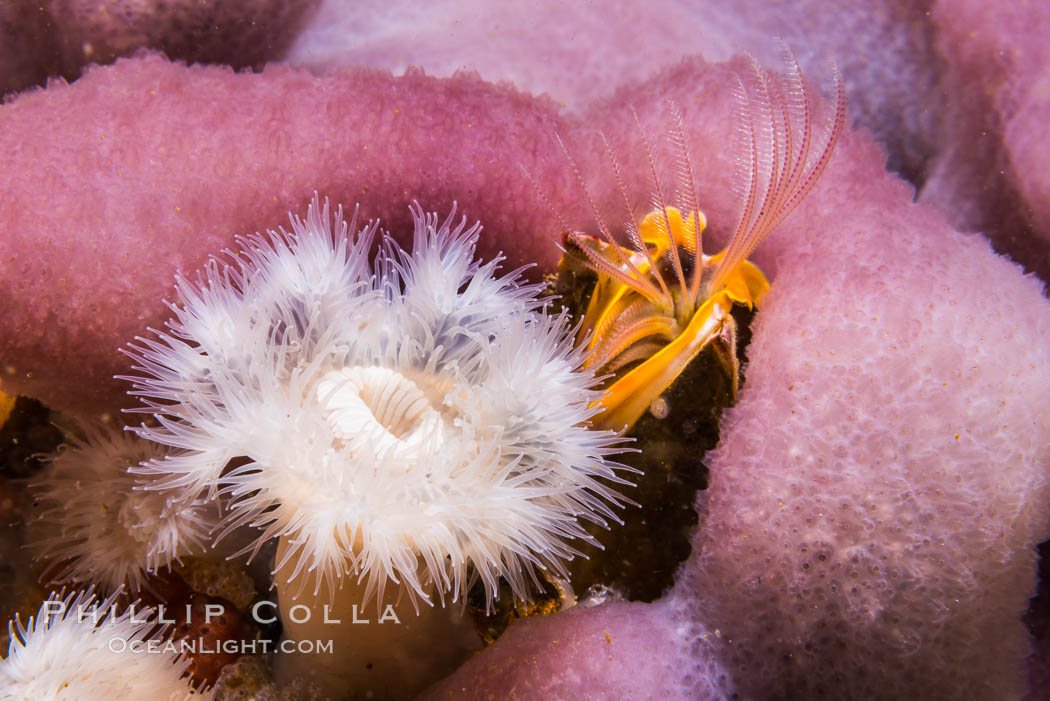 White plumose anemones Metridium senile with purple sponge and barnacle, Vancouver Island
Image ID: 34341
Location: British Columbia, Canada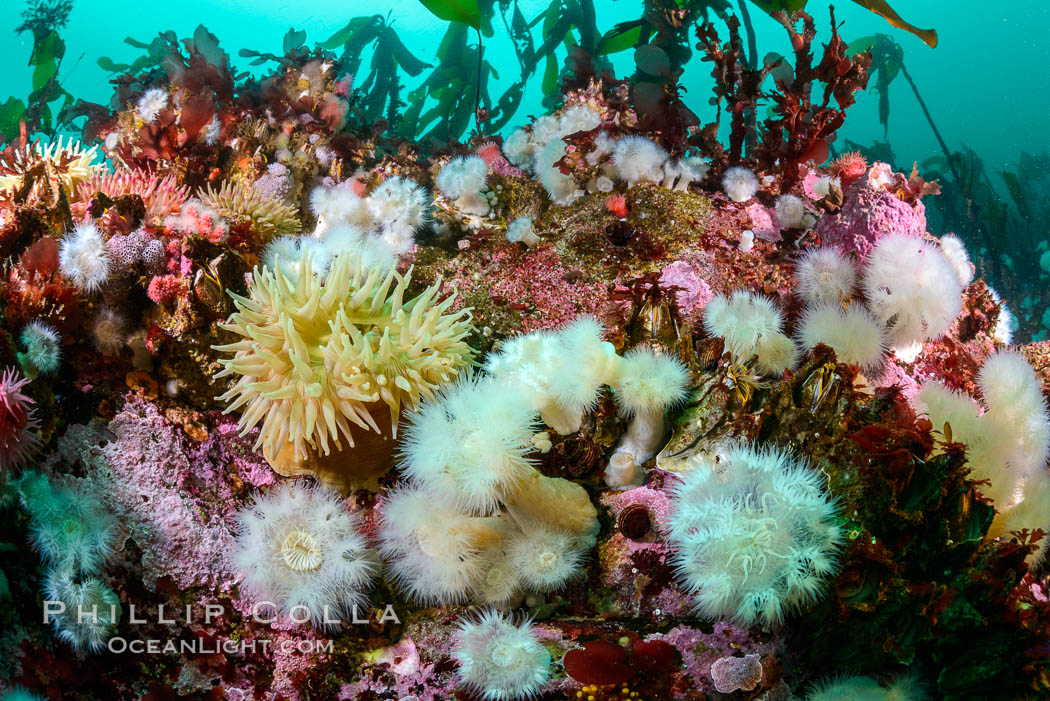 Colorful anemones and soft corals, bryozoans and kelp cover the rocky reef in a kelp forest near Vancouver Island and the Queen Charlotte Strait. Strong currents bring nutrients to the invertebrate life clinging to the rocks.
Image ID: 34429
Species: Plumose Anemone, Metridium senile
Location: British Columbia, Canada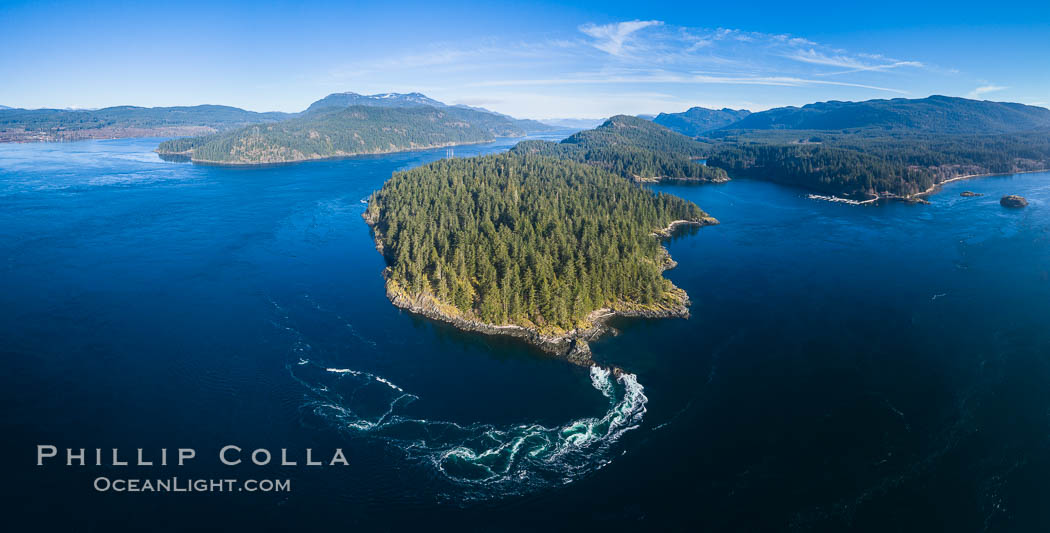 Seymour Narrows with strong tidal currents. Between Vancouver Island and Quadra Island, Seymour Narrows is about 750 meters wide and has currents reaching 15 knots. Aerial photo.
Image ID: 34466
Location: British Columbia, Canada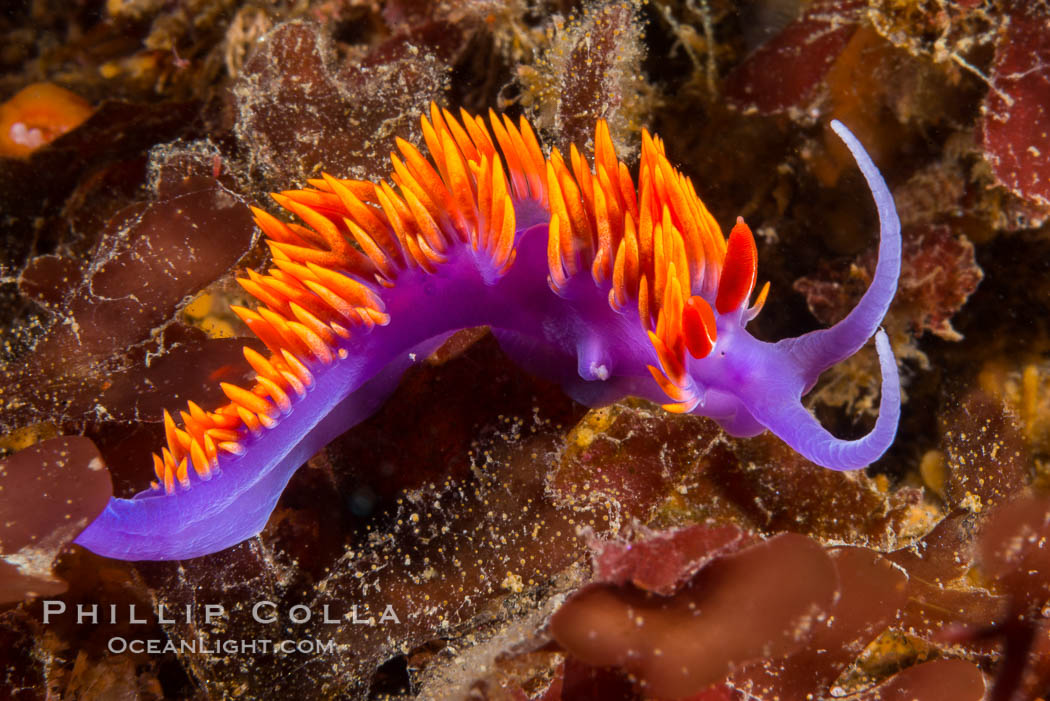 Spanish shawl nudibranch
Image ID: 34196
Species: Spanish Shawl, Purple Aeolis, Flabellinopsis iodinea, Flabellina iodinea
Location: San Diego, California, USA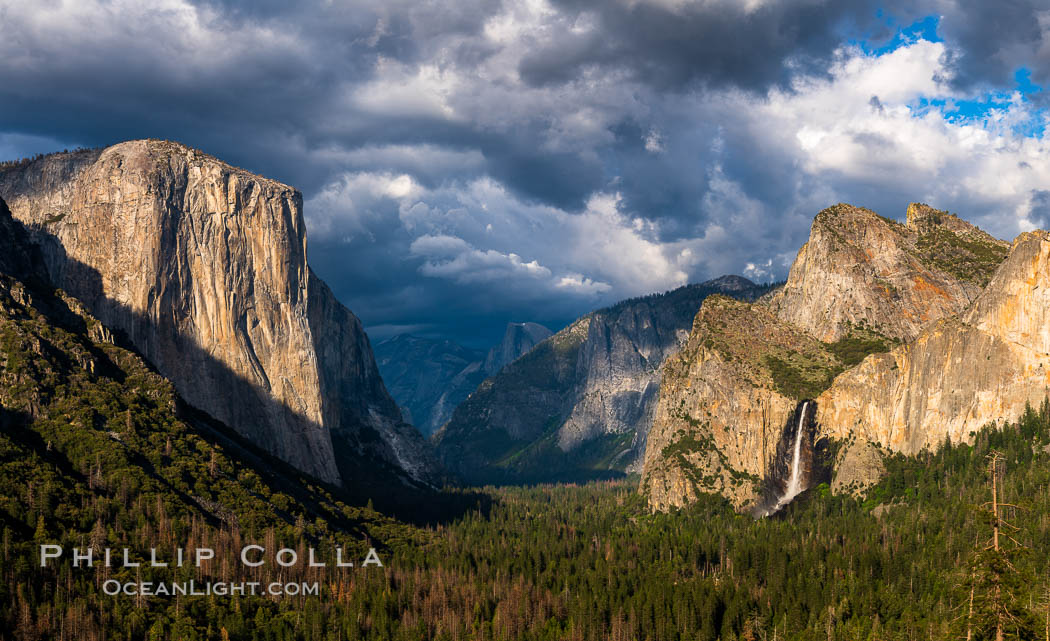 Yosemite Valley Tunnel View, Storm clouds at sunset, Yosemite National Park
Image ID: 34542
Location: Yosemite National Park, California, USA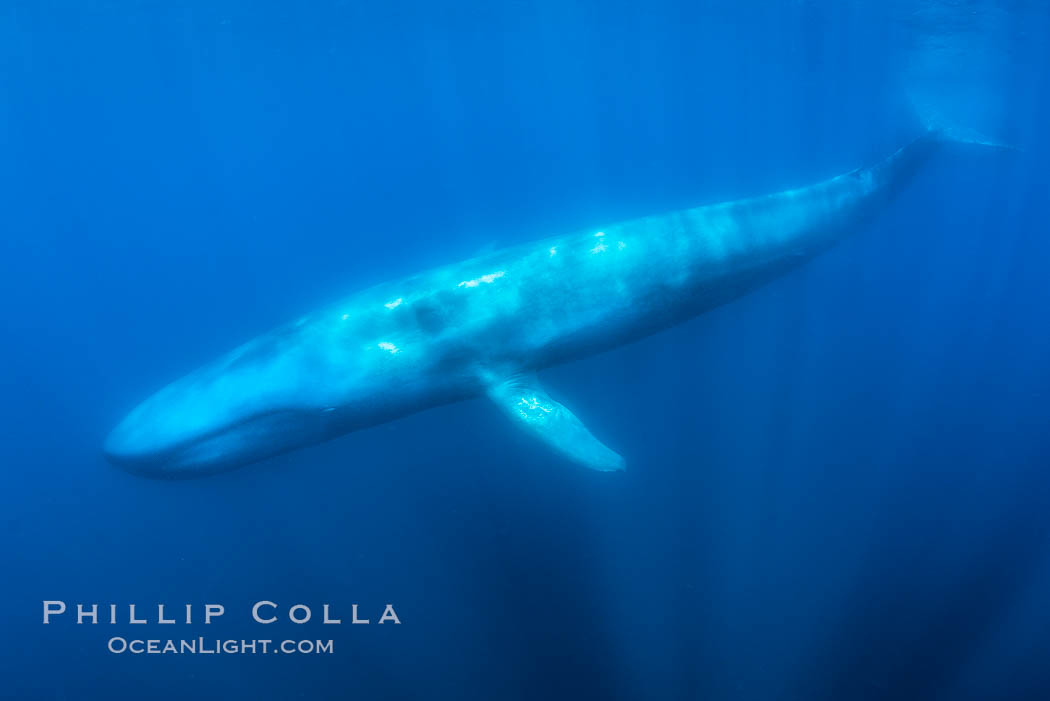 A huge blue whale swims through the open ocean in this underwater photograph. The blue whale is the largest animal ever to live on Earth.
Image ID: 34567
Species: Blue whale, Balaenoptera musculus
Location: San Diego, California, USA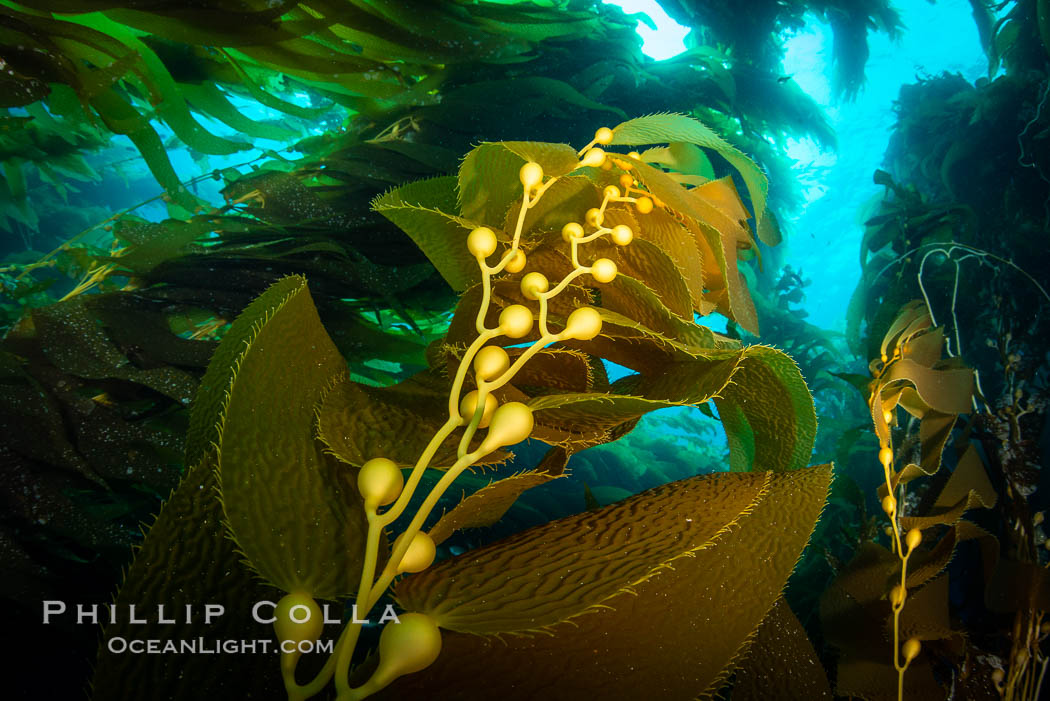 Kelp fronds and pneumatocysts. Pneumatocysts, gas-filled bladders, float the kelp plant off the ocean bottom toward the surface and sunlight, where the leaf-like blades and stipes of the kelp plant grow fastest. Giant kelp can grow up to 2′ in a single day given optimal conditions. Epic submarine forests of kelp grow throughout California's Southern Channel Islands
Image ID: 34606
Species: Giant Kelp, Macrocystis pyrifera
Location: San Clemente Island, California, USA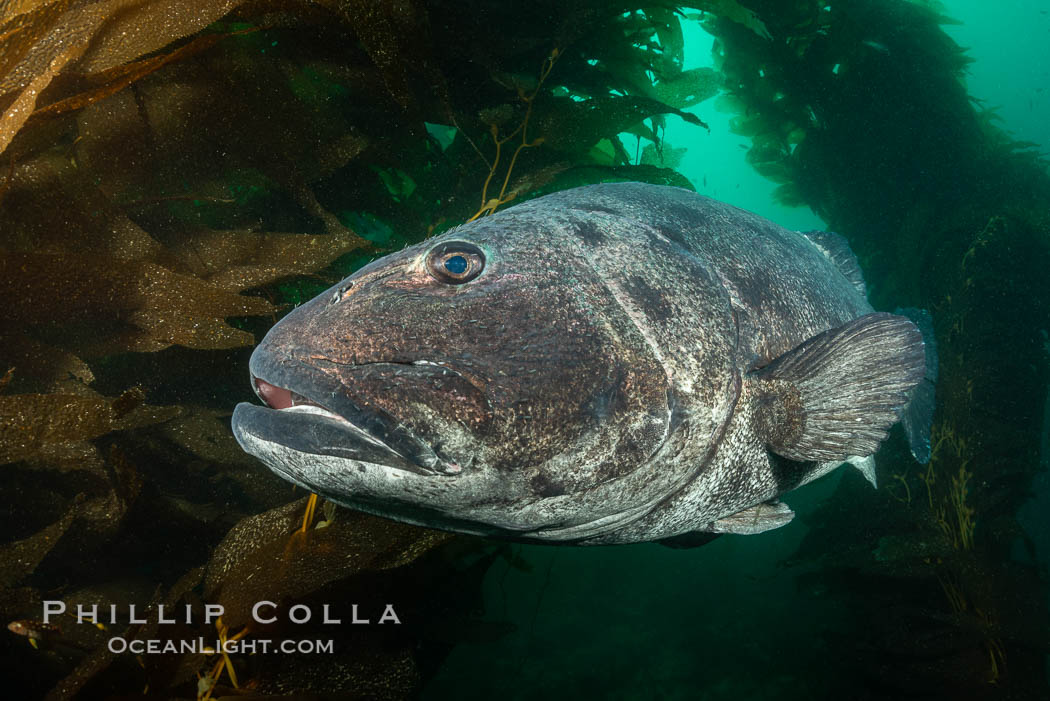 Giant black sea bass, endangered species, reaching up to 8′ in length and 500 lbs, amid giant kelp forest. Catalina Island, California, USA
Image ID: 34616
Species: Giant black sea bass, Stereolepis gigas
Location: Catalina Island, California, USA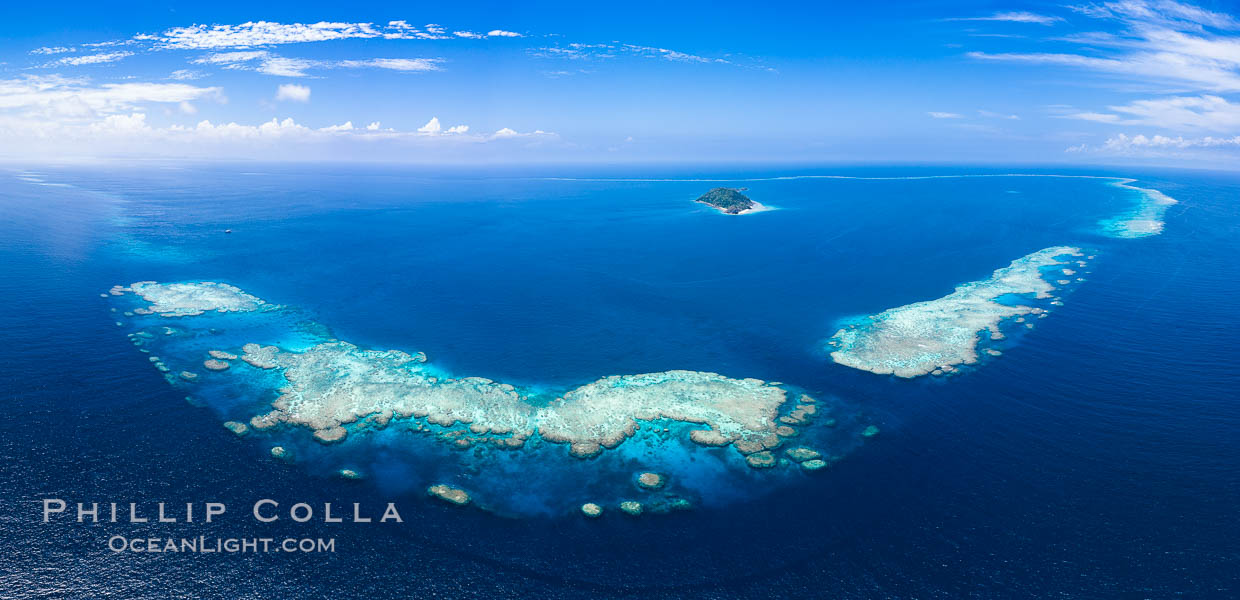 Aerial View of Namena Marine Reserve and Coral Reefs, Namena Island, Fiji
Image ID: 34686
Location: Namena Marine Reserve, Namena Island, Fiji
Plexauridae sea fan or gorgonian on coral reef. This gorgonian is a type of colonial alcyonacea soft coral that filters plankton from passing ocean currents
Image ID: 34707
Species: Gorgonian, Gorgonacea
Location: Vatu I Ra Passage, Bligh Waters, Viti Levu Island, Fiji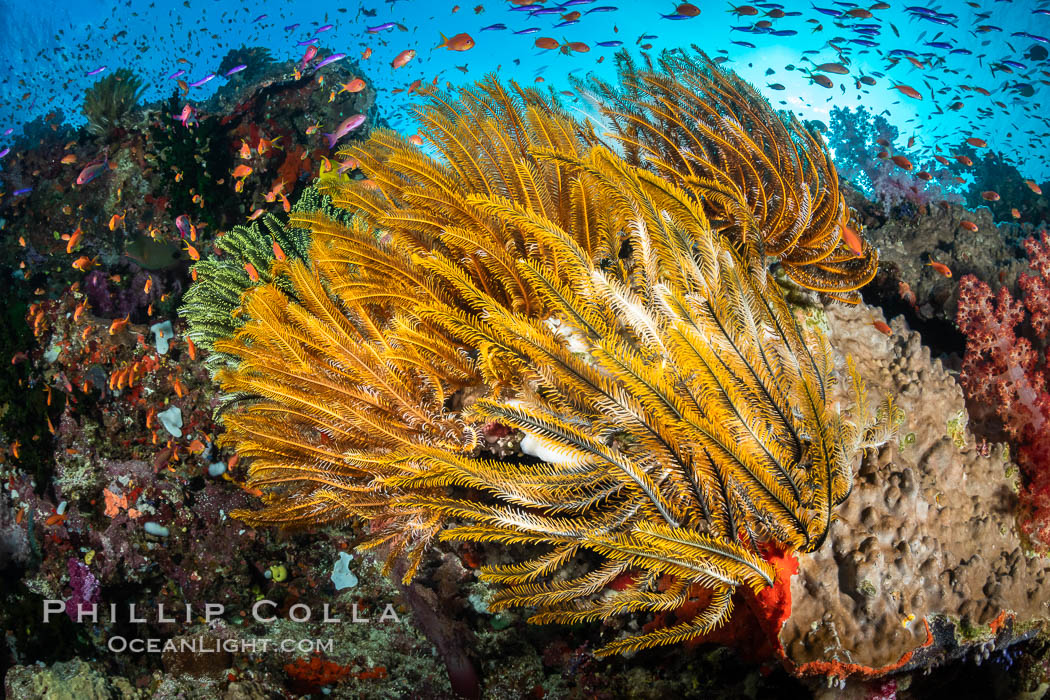 Crinoid (feather star) extends its tentacles into ocean currents, on pristine south pacific coral reef, Fiji
Image ID: 34710
Species: Crinoid Feather Star, Crinoidea
Location: Vatu I Ra Passage, Bligh Waters, Viti Levu Island, Fiji
Spectacular display of pristine cabbage coral, Turbinaria reniformis, in Nigali Pass on Gao Island, Fiji
Image ID: 34714
Species: Cabbage Coral, Turbinaria reniformis
Location: Nigali Passage, Gau Island, Lomaiviti Archipelago, Fiji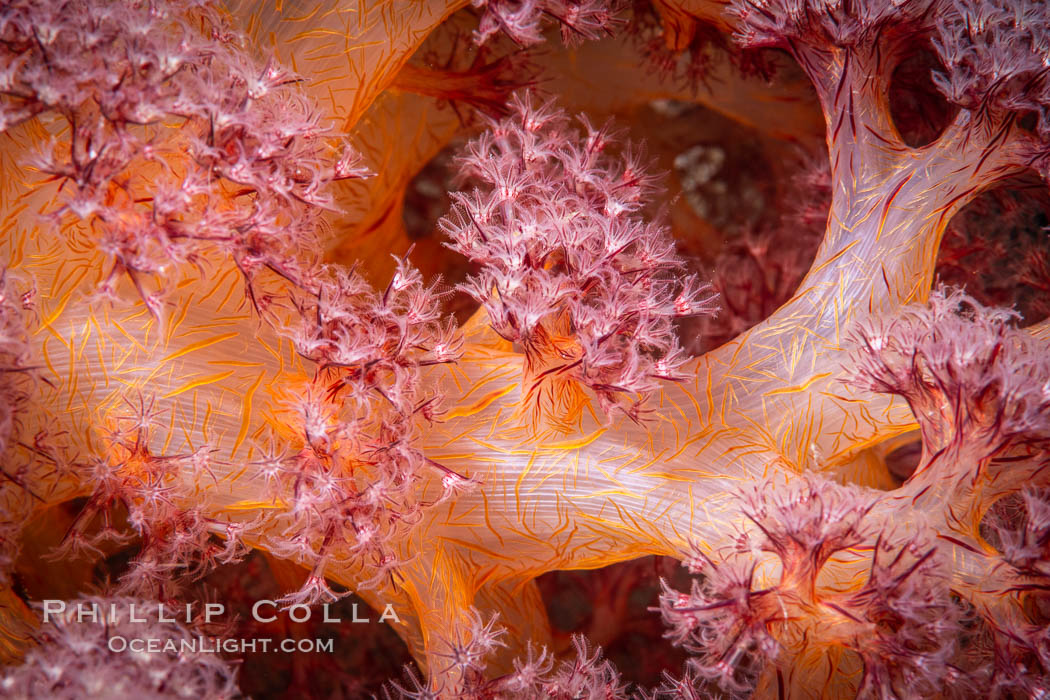 Dendronephthya soft coral detail including polyps and calcium carbonate spicules, Fiji
Image ID: 34715
Species: Dendronephthya Soft Coral, Dendronephthya
Location: Namena Marine Reserve, Namena Island, Fiji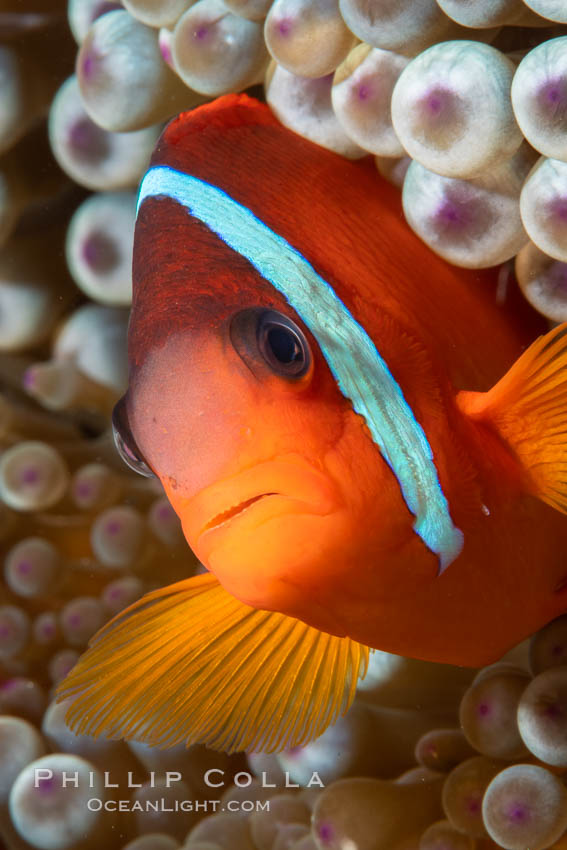 Fiji Barberi Clownfish, Amphiprion barberi, hiding among anemone tentacles, Fiji
Image ID: 34788
Species: Fiji Barberi Clownfish, Amphiprion barberi
Location: Namena Marine Reserve, Namena Island, Fiji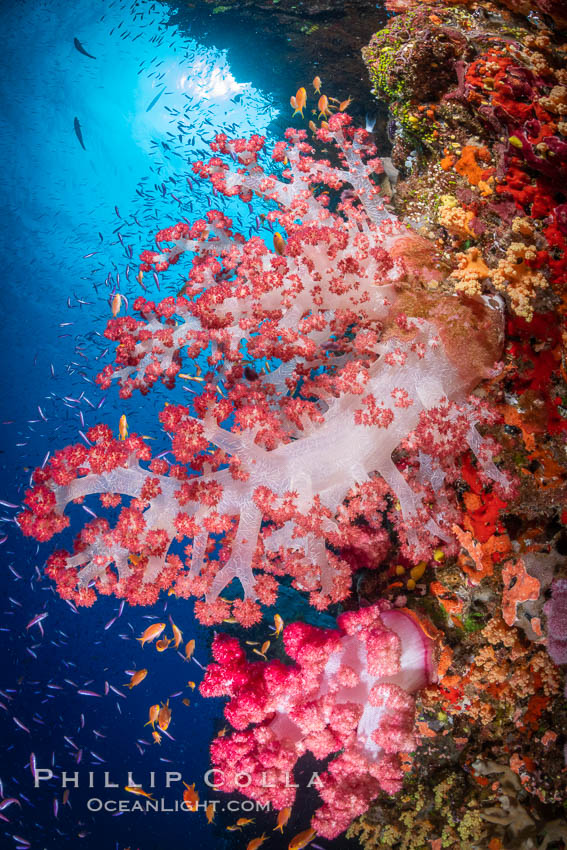 Closeup view of colorful dendronephthya soft corals, reaching out into strong ocean currents to capture passing planktonic food, Fiji.
Image ID: 34713
Species: Dendronephthya Soft Coral, Dendronephthya
Location: Bligh Waters, Fiji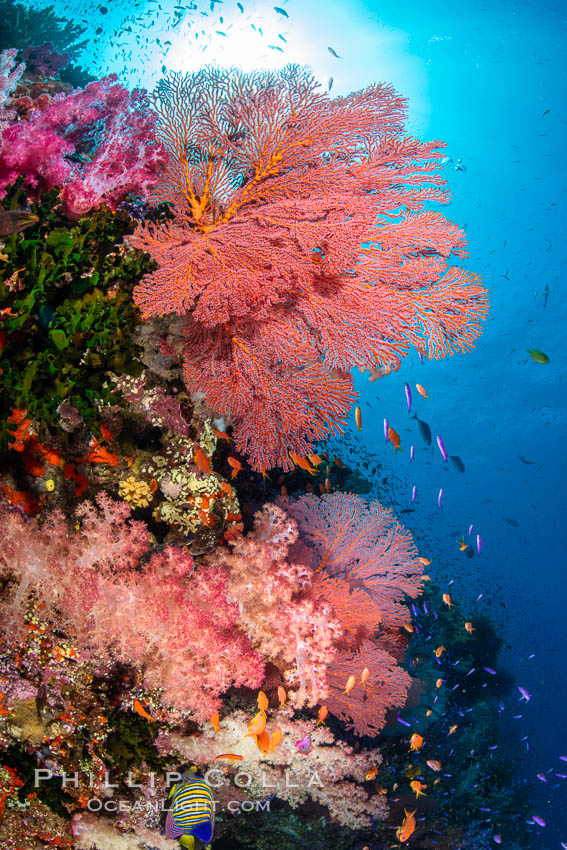 Beautiful South Pacific coral reef, with Plexauridae sea fans, schooling anthias fish and colorful dendronephthya soft corals, Fiji
Image ID: 34716
Species: Dendronephthya Soft Coral, Gorgonian, Anthias, Dendronephthya, Gorgonacea, Pseudanthias
Location: Fiji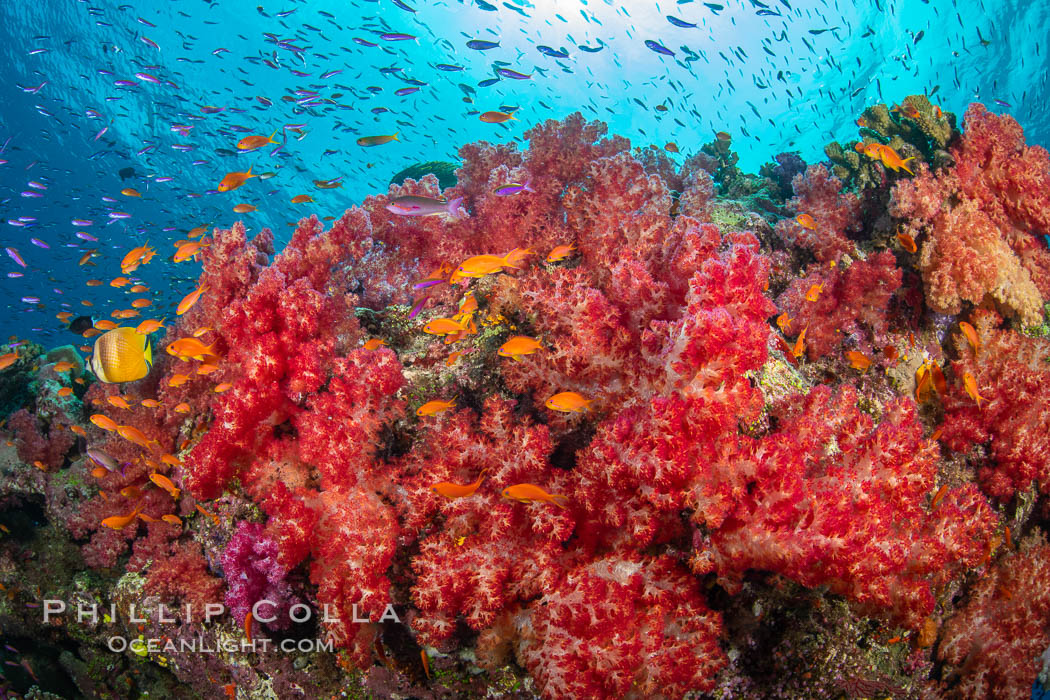 Brilliantlly colorful coral reef, with swarms of anthias fishes and soft corals, Fiji
Image ID: 34727
Species: Dendronephthya Soft Coral, Anthias, Dendronephthya, Pseudanthias
Location: Namena Marine Reserve, Namena Island, Fiji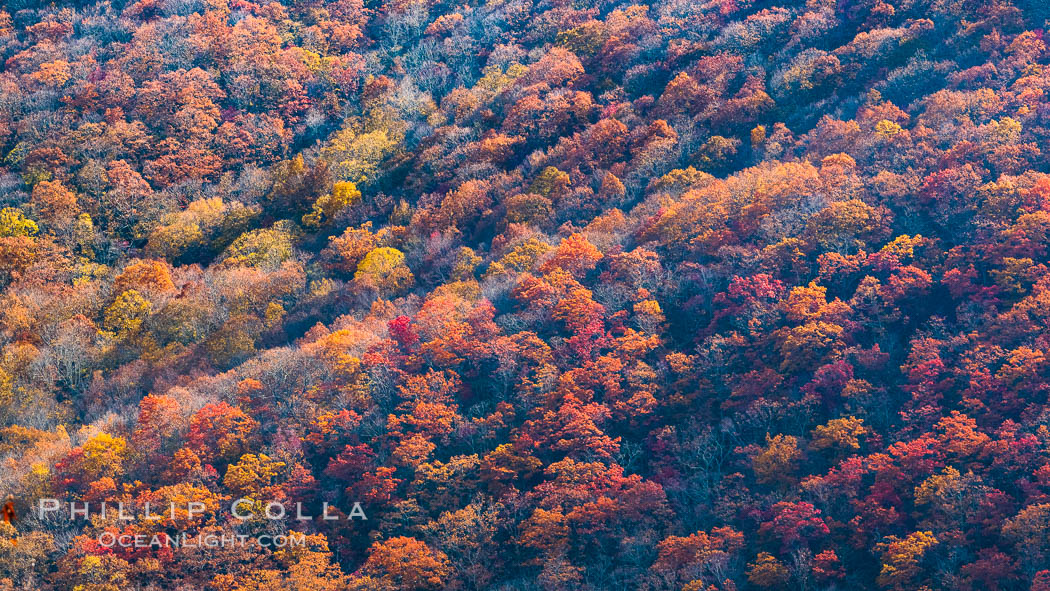 Blue Ridge Parkway Fall Colors, Asheville, North Carolina
Image ID: 34636
Location: Asheville, North Carolina, USA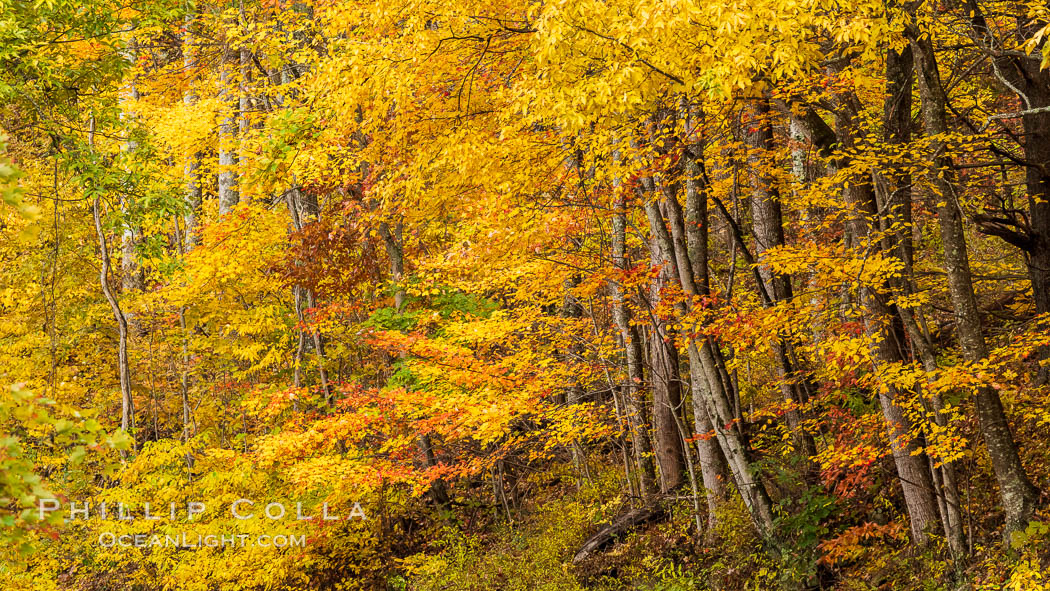 Blue Ridge Parkway Fall Colors, Asheville, North Carolina
Image ID: 34639
Location: Asheville, North Carolina, USA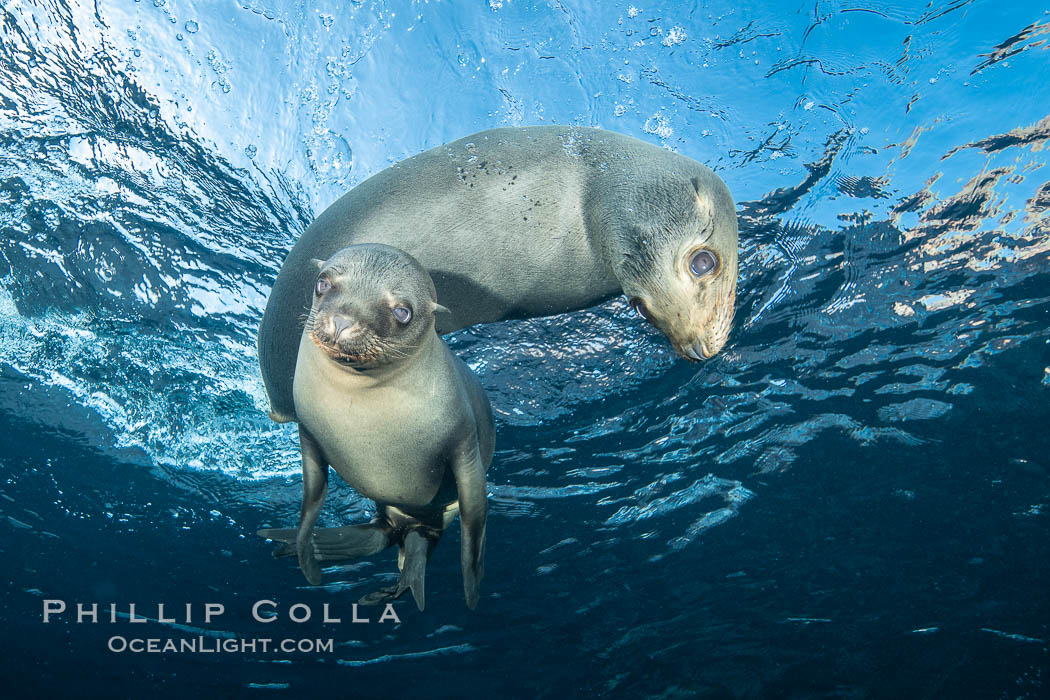 California sea lions underwater, Coronados Islands, Baja California, Mexico
Image ID: 34575
Species: California Sea Lion, Zalophus californianus
Location: Coronado Islands (Islas Coronado), Baja California, Mexico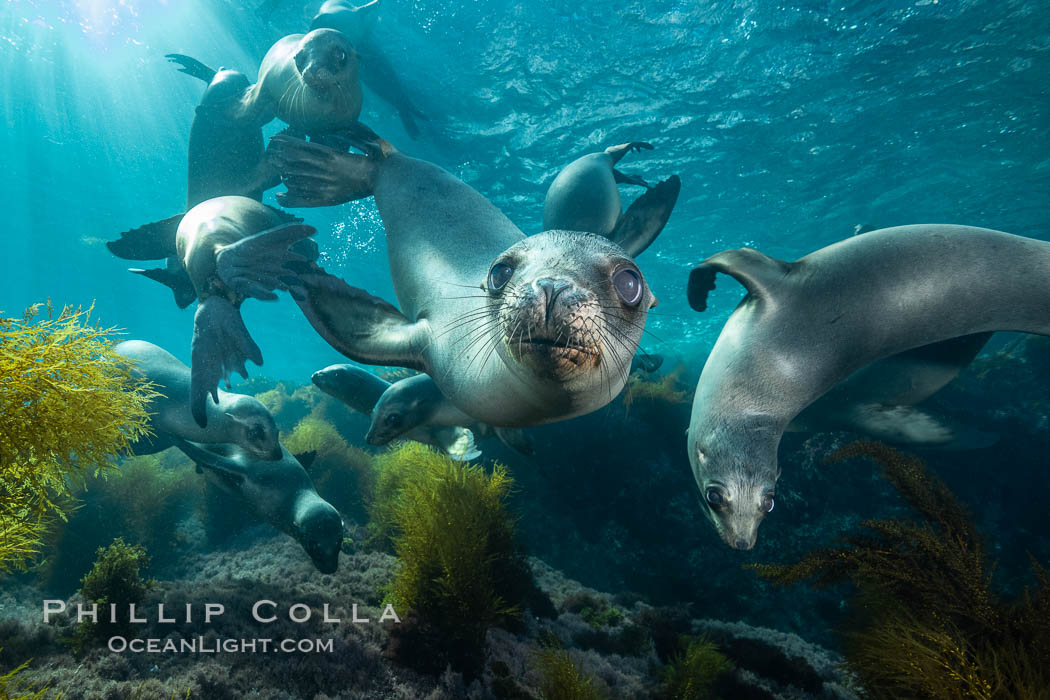 California sea lions underwater, Coronados Islands, Baja California, Mexico
Image ID: 34577
Species: California Sea Lion, Zalophus californianus
Location: Coronado Islands (Islas Coronado), Baja California, Mexico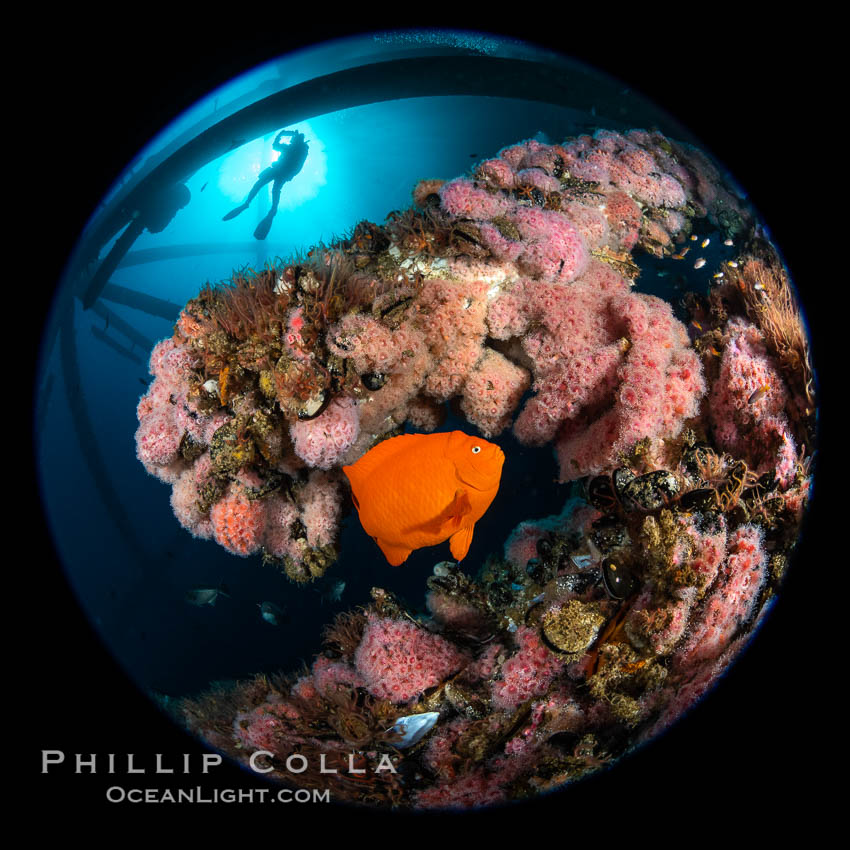 Oil Rig Ellen and Elly with invertebrate life growing on it and fish swimming around
Image ID: 34654
Location: Long Beach, California, USA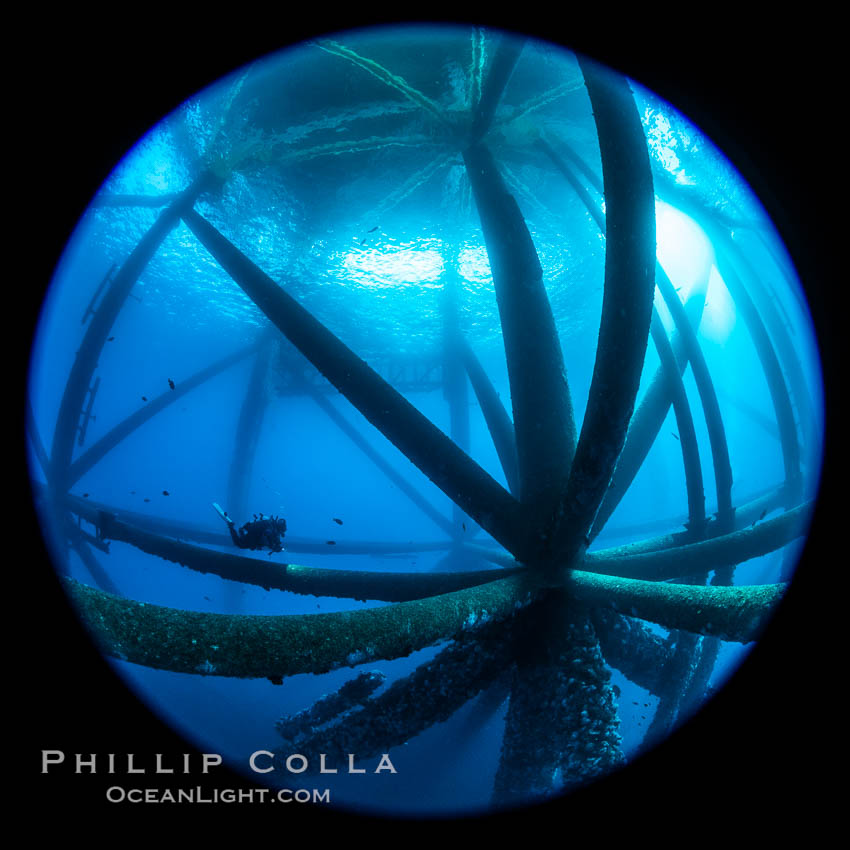 Oil Rig Ellen and Elly, Underwater Structure.
Image ID: 34662
Location: Long Beach, California, USA