During our crossing from Falklands to South Georgia Island we were treated to a magnificent sunset: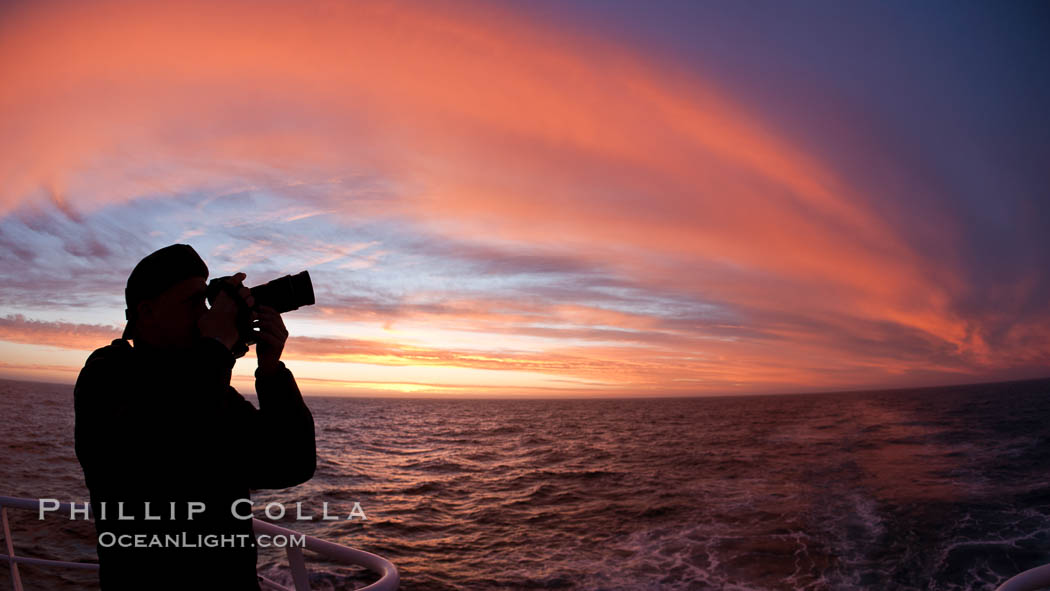 Photographer takes picture of a spectacular sunset arch, spanning the heavens from horizon to horizon, over the open sea between the Falkland Islands and South Georgia Island.
Image ID: 24096
Location: Southern Ocean
A long band of rich orange-red cloud stretched across the sky nearly from one horizon to the other. The only way I could capture the entire formation was with a fisheye lens (which I used a lot on this trip!). The resulting bendo-factor of the lens makes the cloud band look almost like a rainbow or arch. If only we had some mountain peaks or an iceberg below this sunset, but alas we were far out to sea and well north of any icebergs. The photographer in this scene is Scott Davis, a pro from Moss Landing, California. Scott was on assignment gathering lifestyle and action images. His photos, some of which he shared at the end of the trip, are great.
Next: Ushuaia, Tierra del Fuego, Argentina
Previous: Black-Browed Albatross at Sunset
Trip Index: Cheesemans Antarctica, Falklands and South Georgia
All "Southern Ocean" entries