Trip report and photos from Antarctica, the Falkland Islands, South Georgia Island, the South Orkney Islands and the South Shetland Islands on the icebreaker M/V Polar Star with Cheesemans Ecology Safaris.
I have just returned from a one-month trip during which I joined the most recent Cheesemans Ecology Safaris voyage to the Falklands, South Georgia Island and the Antarctic Peninsula. This was one of the few trips I have experienced that can honestly be called an "expedition". There are a variety of tour operators that conduct trips to Antarctica, somewhat fewer that include Falklands and South Georgia as well. The Cheesemans claim to fame with this trip is that they get their guests ashore as much as possible. Did they? Absolutely! In spite of serious challenges presented by poor weather, expedition leader Ted Cheeseman and his crack staff really delivered, doing their utmost to work safely with the captain and crew of the M/V Polar Star to get us ashore. We made 29 landings with a total of about 130 hours ashore. That is in addition to the many hours we had both in zodiacs and on the deck of the M/V Polar Star admiring the scenery and wildlife of the wonderful Southern Ocean waters.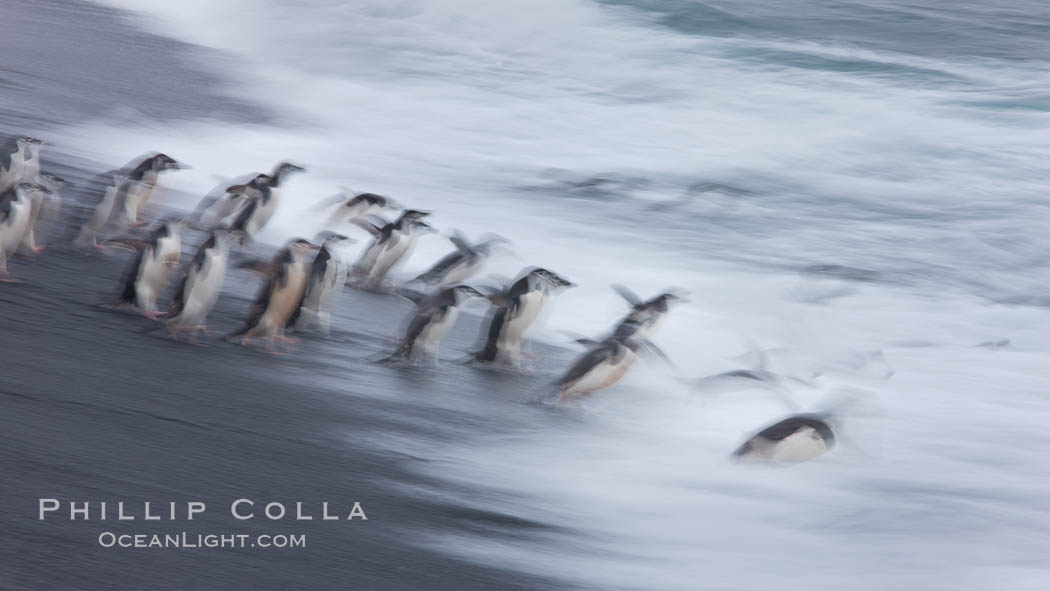 Chinstrap penguins at Bailey Head, Deception Island. Chinstrap penguins enter and exit the surf on the black sand beach at Bailey Head on Deception Island. Bailey Head is home to one of the largest colonies of chinstrap penguins in the world.
Image ID: 25456
Species: Chinstrap Penguin, Pygoscelis antarcticus
Location: Deception Island, Antarctic Peninsula, Antarctica
I am not too keen about traveling in large groups. Usually I make my own plans, arrange my own accomodations, and do my own thing once I arrive somewhere. However, travel to Antarctica and South Georgia Island is sufficiently difficult that getting there on one's own is just not feasible. The economies of scale and logistic realities make it necessary to join some kind of group, either a lay-group of travelers or a scientific party. A few years ago Bob returned from the 2007/2008 Cheesemans Antarctica trip and stated very simply that it was the greatest trip he and Rosie had ever experienced. Coming from a couple who spends 6-8 months a year traveling and who has been literally all over the world, his recommendation required that I sit up and take notice. So I decided to give Antarctica a try. I researched operators and scrutinized comments on the web by other travelers who had taken this sort of trip before. What influenced me most was a series of short conversations I had with Ted Cheeseman. Ted repeatedly stressed that the Cheesemans' itinerary placed great emphasis on getting people ashore. I really did not want to find myself trapped on a boat after investing so much time, effort and money to get to Antarctica. I wanted to be ashore, among outdoors people who enjoyed long days with their boots on the ground, experiencing the wonders of these places first hand. Ted's attitude about maximum time ashore made my decision simple, and I joined the recent 2009/2010 Cheesemans 26-day trip to Falklands, South Georgia and the Antarctic peninsula.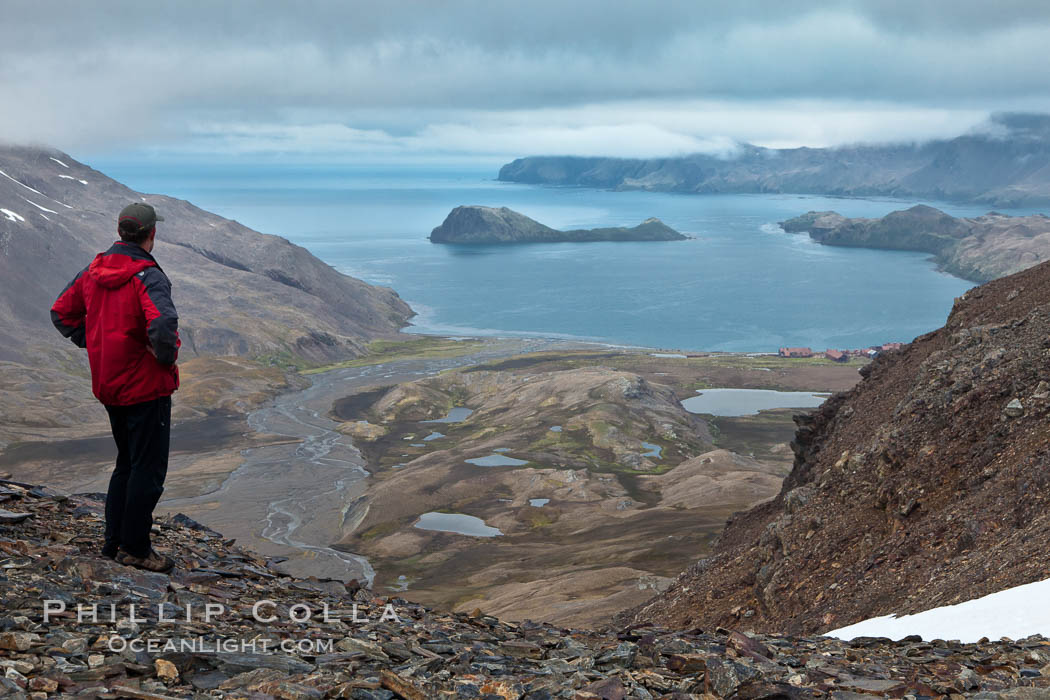 Hiker looks down on Stromness Harbour from the pass high above.
Image ID: 24582
Location: Stromness Harbour, South Georgia Island
The trip was wonderful and I hope to do it again, with Cheesemans, in the future. I'll have lots more to say about the trip in coming weeks. For now, suffice it to say that the Cheesemans staff was superb both in the field and in the many presentations they made during the course of the trip. From Doug's morning wake-up call to Ted's after-dinner daily recap, the staff's attitude was always positive and energetic, not easy to maintain on such a long and fatiguing trip. The ship M/V Polar Star was a good choice by the Cheesemans for this trip, being comfortable, accomodating and seaworthy. The group? It was a good one. This sort of travel is self-selective in the sense that the very people who choose to visit Antarctica and South Georgia are the most enjoyable sort to travel with anyway, so it all works out well. Some had been on many past Cheesemans trips elsewhere in the world, others were first-timers like me. It was a pleasant assemblage of relatively experienced travelers who were comfortable in the sometimes-uncomfortable environs we moved through and were laid-back and enjoyable to be with during our many hours on board together. Weather? OK, the weather could have been better. But this is the Southern Ocean, one of the most turbulent climates on the planet, so challenging weather is to be expected. We just smiled and rolled with whatever Mother Nature handed us, having a great time in spite of the wind, snow and rain. Photography? It was great, and next time it will be better now that I know what to expect and how to best gear up for it. I shot over 30,000 photos that should provide plenty of blog fodder in the coming months. Thanks Cheesemans!
Posts related to this trip, most recent to oldest:
Photography Expedition to Antarctica, South Georgia Island and the Falkland Islands
The Drake Passage
Hannah Point, Livingston Island, South Shetland Islands
Humpback whales in the Gerlache Strait
Neko Harbor, Antarctica
Cloudy Morning in Paradise Bay, Antarctica
Peterman Island, Antarctica
Lemaire Channel, Antarctica
Port Lockroy, Antarctica
Cuverville Island, Antarctica
Cierva Cove, Antarctica
Bailey Head, Deception Island, Antarctica
Brown Bluff, Antarctica
Devil Island, Antarctica
Zodiac Cruising in Antarctica
Paulet Island, Antarctic Peninsula, Antarctica
Nature's Best Photography Cover Shot
Pack Ice at the Edge of the Weddell Sea
Shingle Cove, Coronation Island, South Orkneys
Coronation Island, South Orkney Islands
Scotia Sea, en route to South Orkney Islands
Cooper Bay, South Georgia Island
Drygalski Fjord, South Georgia Island
Godthul, South Georgia Island
Prion Island, South Georgia Island
Salisbury Plain, South Georgia Island
Grytviken, South Georgia Island
Hercules Bay, South Georgia Island
Stromness Harbour and Shackleton Hike, South Georgia Island
Fortuna Bay, South Georgia Island
Right Whale Bay, South Georgia Island
Approaching South Georgia Island
En Route to South Georgia Island
Steeple Jason, West Falklands
Carcass Island, Falkland Islands
Westpoint Island, Falkland Islands
New Island, Falkland Islands
Southern Giant Petrel, Macronectes giganteus, Southern Ocean
Cerro Cinco Hermanos, The Five Brothers, Tierra del Fuego, Argentina
Tierra del Fuego National Park, Argentina
Ushuaia, Tierra del Fuego, Argentina
Sunset Arch, Southern Ocean
Black-Browed Albatross at Sunset
Photography Gear for Antarctica, South Georgia and Falklands
Equipment List for Antarctica, South Georgia and Falklands
Penguin Encounter, Paulet Island, Antarctic Peninsula
Cheesemans Antarctica, Falklands and South Georgia
Sunset Cruise Through Antarctic Ice
All "Southern Ocean" entries