One image that just screams "eastern Sierra fall color" that I wanted to make when I last visited Bishop was one of turning aspen trees alongside running water. The three basins in the mountains above Bishop drain into the three three forks of Bishop Creek, and with aspen trees surrounding much of these forks I knew it was just a matter of looking to find a location that would yield a pleasing composition. I noted a few spots along the outlet of Lake Sabrina along with a couple possibilities along the outlet of North Lake but late in the afternoon when I surveyed the upper reaches of the south fork of Bishop Creek below South Lake I found what I was looking for: walls of color alongside a stream with enough water movement to form interesting blurs. This image was taken very near Parcher's Resort.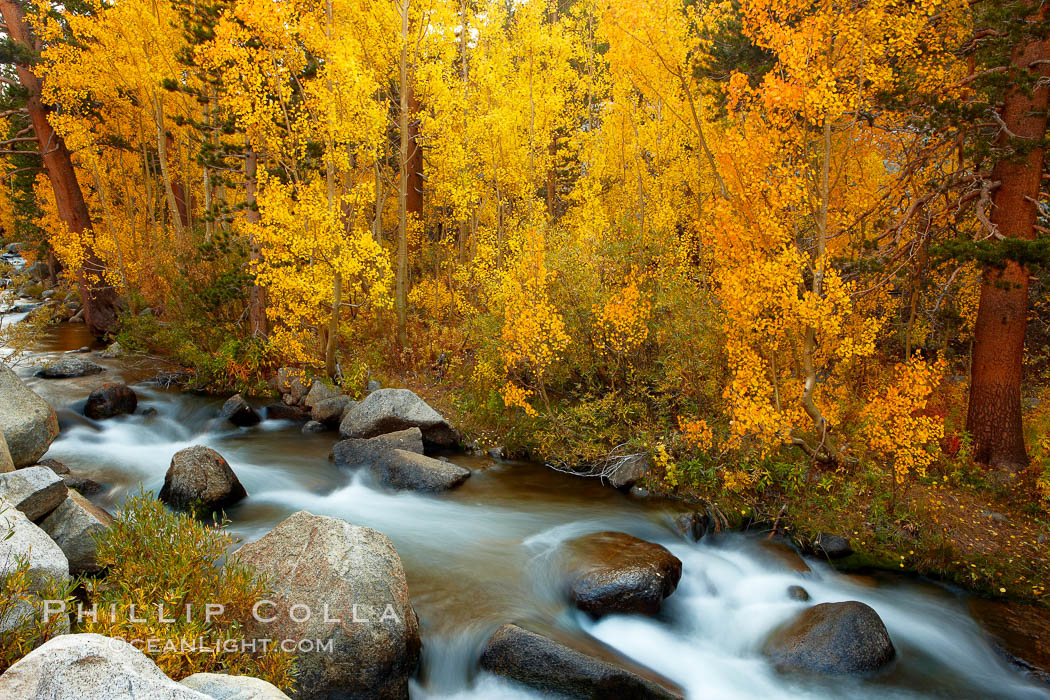 Aspens turn yellow in autumn, changing color alongside the south fork of Bishop Creek at sunset.
Image ID: 23323
Species: Aspen, Populus tremuloides
Location: Bishop Creek Canyon, Sierra Nevada Mountains, California, USA
The day I was in Bishop there were no clouds in the sky at all so contrast was a problem. I was finally able to find a composition with sufficiently low contrast after the sun had descended behind the peaks above South Lake. After that time the light passing through the trees and off the water was even enough to make good exposures without resorting to filters or any of that HDR / blended-exposure silliness. I simply set the aperature at its sharpest for this lens (f/11 on a 24-70 f/2.8 lens) and lengthened the exposure time until I nearly clipped the highlights in the stream. (Curious? See my post about Exposing to the Right and how to properly configure the camera to yield accurate histograms for this approach.) Correcting the white-balance, to account for the cool bias of the shady light, was about all I had to do in the RAW conversion.
Keywords: aspen, stream, creek, fall, eastern sierra, quaking aspen, populus tremuloides, autumn.