Anza Borrego Desert State Park is currently experiencing an epic, once-in-a-lifetime bloom of desert wildflowers, bushes and cacti. The sand verbena and desert primrose flowers that had covered the valley floor so spectacularly in places in February seem to be receding or largely gone, replaced with poppies and lupine. However, the principal attraction now is a profusion of brittlebush filling the canyons and coloring the hillsides on the east side of the valley with yellow. The slopes along the Montezuma Grade leading down to Borrego Springs from the west are bright with brittlebush, so that they appear entirely yellow and green from afar. The density of brittlebush continues down toward the valley and into the canyons, washes and alluvial fans. Barrel and cholla cactus and ocotillo are just now beginning to bloom, so desert color in Anza Borrego should continue to improve for at least a few more weeks. There are many small assorted flowers still, along with caterpillers (munching the flowers) and butterflies. The following is a blended exposure shot at sunrise, composed of three images blended to account for the extreme range of light that neither film nor digital sensor can adequately capture in a single exposure: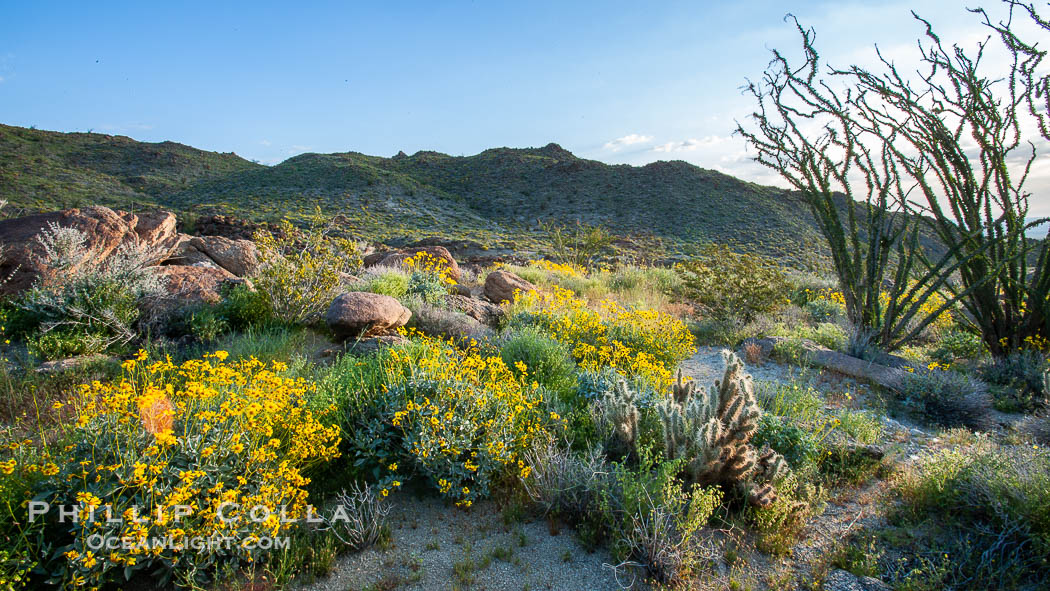 Brittlebush, ocotillo and various cacti and wildflowers color the sides of Glorietta Canyon. Heavy winter rains led to a historic springtime bloom in 2005, carpeting the entire desert in vegetation and color for months.
Image ID: 10895
Species: Brittlebush, Encelia farinosa, Fouquieria splendens
Location: Anza-Borrego Desert State Park, Anza Borrego, California, USA
See all the photos from this shoot.
Keywords: Anza Borrego Desert State Park, photo, photographs, wildflower.