Delicate Arch at Night, Milky Way and Stars Overhead. Arches National Park, Utah.
I spent a wonderful evening photographing Delicate Arch in Arches National Park. It was warm and dry, with a clear star-filled sky overhead and just a speck of breeze. I photographed Delicate Arch and the moon at sunset, then kicked back and ate my dinner while I waited for Milky Way to rise in the sky. Eventually the Earth rotated enough for the Milky Way to be centered through Delicate Arch, and I made this photograph, one of my personal favorites of 2012. If you like this image, please see my website devoted to my full collection of Landscape Astrophotography images. Thanks for looking, and cheers!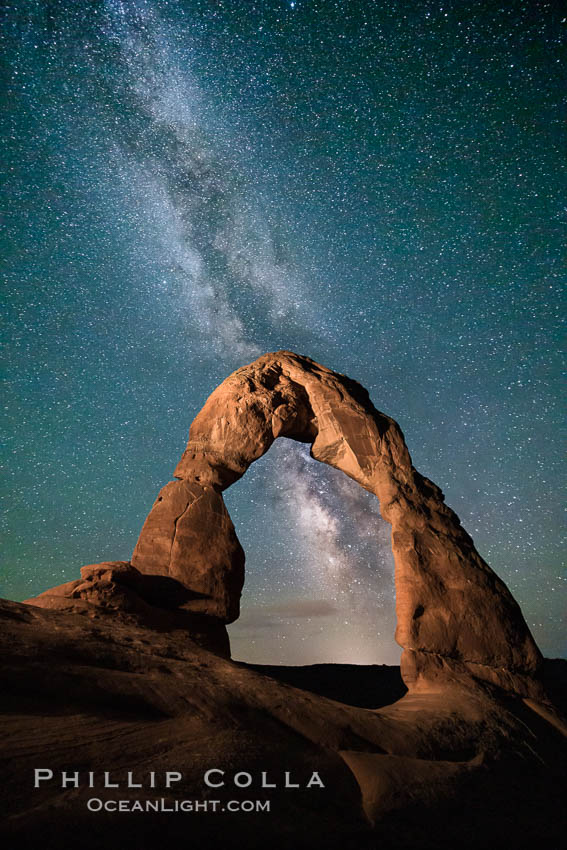 Milky Way arches over Delicate Arch, as stars cover the night sky.
Image ID: 27850
Location: Arches National Park, Utah, USA
Delicate Arch is found at the end of an easy 1.5 mile trail. 65-feet (20m) tall, this beautiful freestanding arch was once a "fin" of Entrada sandstone. Erosion and weathering eventually groomed the fin into its current arch shape, a natural visual frame for the La Sal mountains that lie to the southeast.