Mount Laguna, covered in snow, rises over the downtown San Diego City Skyline
In Southern California we have the ability to go skiing or sledding in the morning and surfing in the afternoon! A couple times when I was growing up I was able to ditch school and go mid-week skiing in the local mountains and get back home in time to make a run on the beach. A novelty, sure, but there are not too many places one can experience both in a single day.** In late February we had a cold wet storm come through that left quite a bit of snow on the mountains east of downtown San Diego. I decided to make a photograph contrasting downtown San Diego with a snow-covered Mount Laguna in the distance. This is a composition that occasionally appears on the front page of the local paper, the emphasis being on the novelty of the snow in this city known for its mild and pleasant weather. However, the U-T usually shows a harsh mid-morning or daytime image. I wanted something with warmer and softer light than that, so I photographed this after sunset. In the foreground is part of North Island Naval Air Station's complex of tarmacs, runways and hangars. The bright plume of white seen in the middle of the image comes from an aircraft carrier docked in San Diego Bay. Originally I liked the streak of light from a passing plane, but being a modern unethical photographer I now think I should remove it in Photoshop. OK, that last part was a lie.
I was in shorts and a t-shirt when I took this photograph but I am sure the folks on Mount Laguna were bundled up.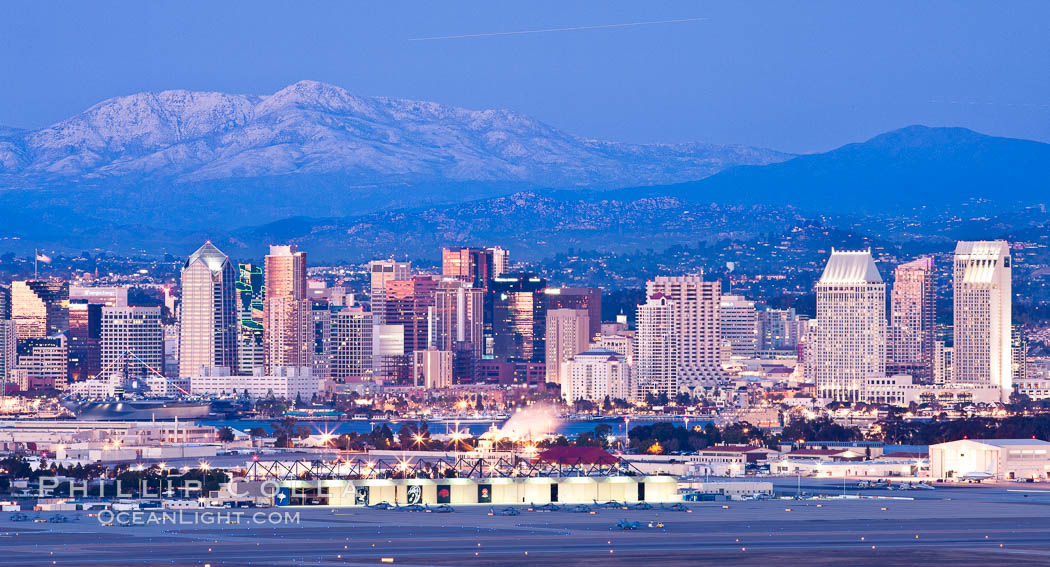 Dusk settles on downtown San Diego with snow-covered Mt. Laguna in the distance.
Image ID: 26716
Location: San Diego, California, USA
**Another place I was able to play in the snow and swim in the ocean on the same day was at my aunt and uncles place on the Big Island. My uncle drove us from Kamuela on a dirt road to the top of Mauna Kea, where we ran around and got lightheaded from the altitude and slid down the snow-covered sides of the bowl alongside the astronomical observatories on top of the volcano. We drove back down and had pupus and an afternoon swim at the beach later that same day. Snow and surf.