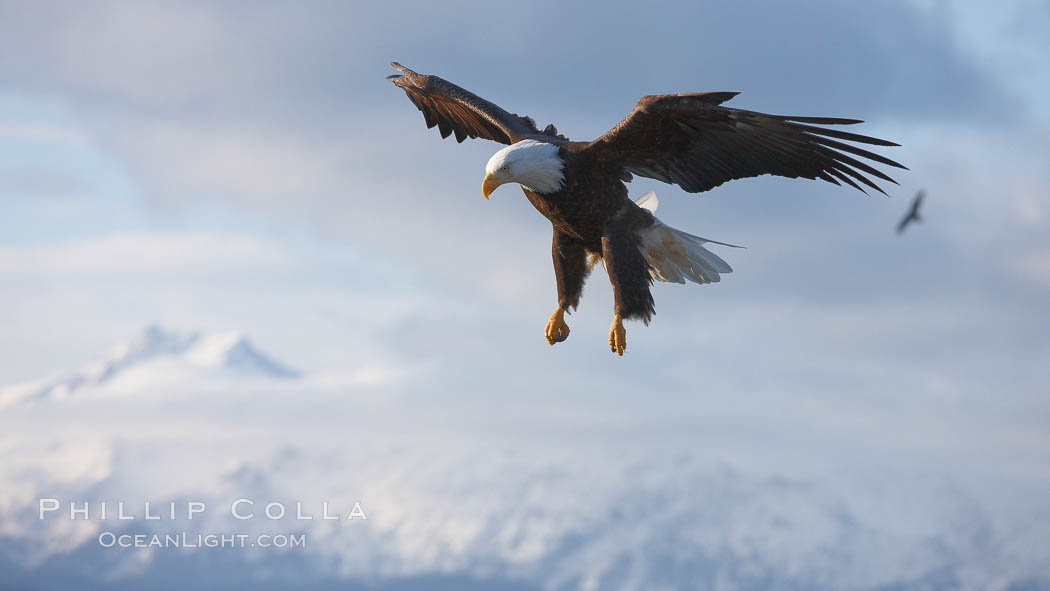 Bald eagle in flight, sidelit, cloudy sky and Kenai Mountains in the background.
Image ID: 22596
Species: Bald eagle, Haliaeetus leucocephalus, Haliaeetus leucocephalus washingtoniensis
Location: Kachemak Bay, Homer, Alaska, USA
OK, I've been running since I was thirteen. That's 32 years of running. I'm not a skinny guy, which means I've been pounding my feet, heavily, for a long time. The nerves in my toes are now so sensitive that its hard for me to wear shoes for long. Which is why I always wear flipflops. (Unless I have to go to a wedding, and then I still try to wear them but rarely get away with it. I have to go to a wedding in a week, and I'll try again but I am not optimistic. If I was single I could probably pull it off.) However, never before have my flipflops caused so much apparent consternation as they did flying up to Homer. The further north I got, the more incredulous people seemed to be. Come on folks, it might be snowing outside but remember we are INSIDE all day, either inside the plane, inside the terminal or inside the corridor between the plane and the terminal. Inside, inside, inside. Flipflips make strategic sense at the security checkpoint too. And yet, I was asked about 10 times "You shore yore going to the raht place with those shoes?" From Seattle north, everywhere I went people that noticed my lucky flipflops — every California guy has a pair of lucky flipflops that he saves for special occasions, mine are for travel and nice restaurants — had but one reaction: shake the head sadly, look down to avoid making eye contact and mutter something under the breath. OK, I get it, I'm supposed to wear snow boots, jeans, thick jacket and Anchorage Equipment Rentals ballcap. Well, maybe next trip, this trip I'm going with flipflops until I have to go outside.
Check out bald eagle photos.