One of the best dives I ever had in the Galapagos Islands occurred while freediving during our 1998 trip there, at Cousins Rock. It was a beautiful sunny day, we were eating lunch al fresco on the deck of the Lammer Law after a late morning dive. I convinced our naturalists to let me skip lunch and swim over to the rock since I had seen quite a few gregarious Galapagos sea lions (Zalophus californianus wollebacki) in the water there earlier. Tracy said she wanted to nap after lunch but the guys gave me the ok to swim to the rock on my own so I grabbed a camera, hopped in and went over to the rock. No other boats were at Cousins which meant I was the only one there for the sea lions to play with. Shortly after I got among them, I noticed two young ones playing with what looked like a baggie or balloon. As I got closer I realized they had pulled a poor hapless puffer fish from the reef and were playing with it, passing it back and forth and dragging it about by its tail. The puffer was freaked out and totally puffed up. (Puffers puff when they freak, sort of like hippies and Democrats). Soon one of them pulled it to me and dropped it off. I kid you not. I look at it for a moment as it paddled around in front of me, far from the safety of its reef, before the two hoodlum sea lions grabbed it and dragged it about again. Then dropped it off for me. This went on for a while. After I got over the hilarity of it, I regained enough presence of mind to snap off a few photos. Ken Howard once insisted that I submit this to some photo contests, but I am convinced the judges would disqualify it believing that I was harrassing the fish and artificially setting up the photo so I never bothered. Yes, the fish was being harrassed, but not by me. Eventually the sea lions tired of their toy and let it go. I can confirm that it made it back to the reef, probably stunned and battered but likely to live another day.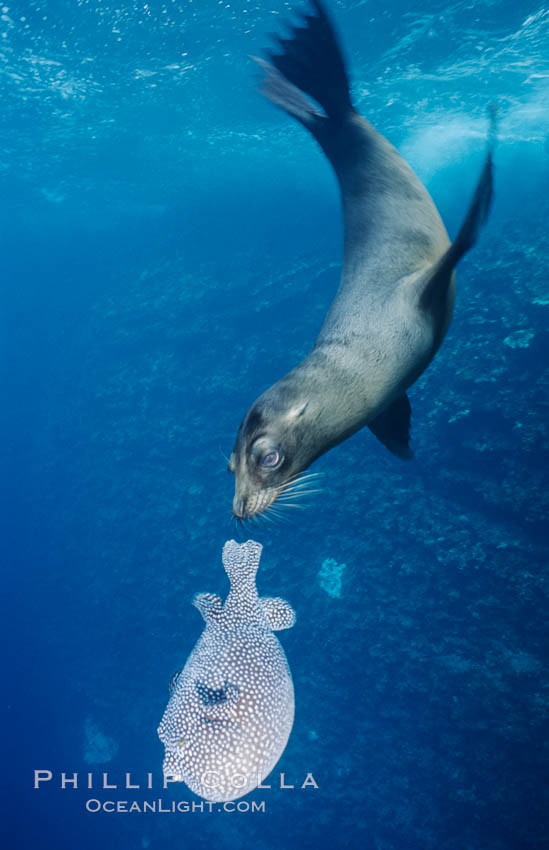 Galapagos sea lion playing with puffer fish.
Image ID: 02254
Species: Galapagos sea lion, Zalophus californianus wollebacki, Zalophus californianus wollebaeki
Location: Cousins, Galapagos Islands, Ecuador
More Galapagos sea lion photos, and photos from the Galapagos Islands.