First Impressions: Guadalupe Island, Mexico
September 1994. Our early expeditionary trips to Guadalupe Island on the Horizon were wild affairs. Each year Skip assembled a superb mix of skilled spearfishermen looking for giant tuna and intrepid SCUBA divers seeking to explore the scarcely seen underwater environment of remote Guadalupe Island. We would dine al fresco each evening on grilled tuna that had been swimming in the ocean that same afternoon, sipping award winning homemade beers and wine, and sleep well in anticipation of the next day's adventures. Our diving decisions were guided largely by the weather and our interest in seeing sections of island we had not dived before. Over the years our groups had a few encounters with sharks, but this was long before before the cage-diving trips and we were not eager to see them more than necessary.
After 30 hours of travel, we have reached Guadalupe Island. We spent most of yesterday's travel fishing, reading, relaxing and talking about what we might find while diving. Would the sharks show up when we entered the water? Anticipation is high. Our first anchorage lies on the east side of Isla Afuera, a spectacular and imposing volcanic plug a few miles south of Isla Guadalupe. The water below our liveaboard dive boat Horizon is so clear it appears almost purple. I hop in, drop underwater and swim over to the wall. A mild current has glassed off the surface above me so that I can see the vertical wall of Afuera from its base some 60′ below me to its towering summit several hundred feet above the water. A group of sea lions which had been perched on a ledge when we anchored swims toward me. I can see their approach from well over a hundred feet away and realize that this is the probably clearest water I have ever experienced. A mild current tugs at the several species of kelp that cover the rock bottom here. Looking about under the kelp I find calico bass, lobster, a few abalone and occasional bat rays. The calicos are large and dark brown, evidence that they are mature adults who may have lived here for 25 years or more.
California sea lion.
Image ID: 00260
Species: California sea lion, Zalophus californianus
Location: Guadalupe Island (Isla Guadalupe), Baja California, Mexico
Schools of perch and chubb swim just above the kelp. With my back to the wall I look out into the blue, wondering what might appear. This water is oceanic, without a hint of any coastal influence. I am struck by how alone and how far from my daily routine I am at this moment. If the current were to take me from here my next stop would be Tahiti, a sobering thought indeed. Small jellies float by as if suspended in air. Periodically a group of heavy yellowtail jacks appear from the open ocean, cruising along the wall and frightening the reef fish into their holes before sweeping back out to sea. These yellowtail are big fish, world record size in some cases, and along with yellowfin and bluefin are one of the reasons were are here, so I am pleased to see them swim by. After a while, sea lions have gathered in the shallows above me, frolicking with one another along the wall. Frequently one or two of them descend and approach me closely, always hanging upside down, and we eye each other for a time. Other than the few local hookah divers that work the island, these sea lions do not see many people. Most are juveniles and naturally curious, so there is no shortage of photo ops. I love to photograph with available light only and the conditions here are ideal: plenty of sunlight, clear water, and inquisitive pinnipeds. I drain my tank, staying with the sea lions as long as possible, and finally head back to the boat already thinking about how soon I can hop back in.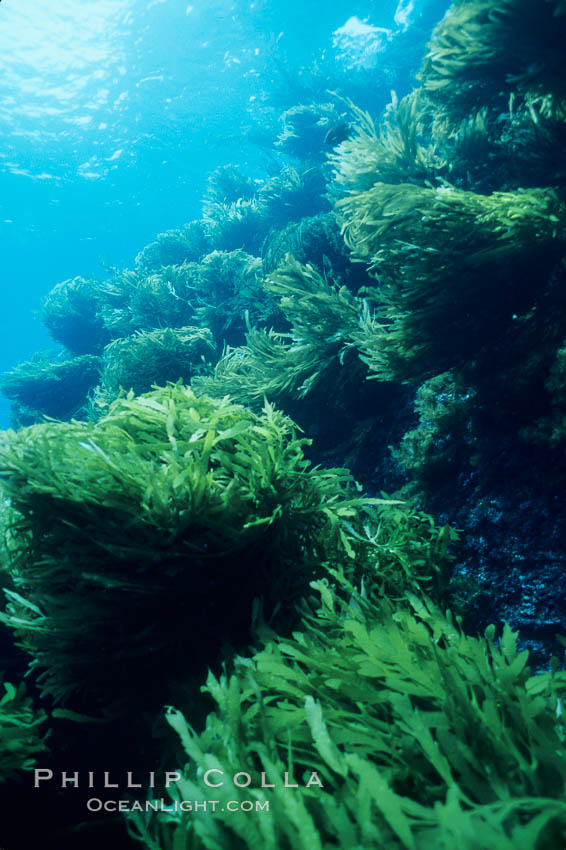 Palm kelp, Isla Afuera. Southern sea palm.
Image ID: 01287
Species: Southern sea palm, Eisenia arborea
Location: Guadalupe Island (Isla Guadalupe), Baja California, Mexico
Isla Afuera is a volcanic plug towering 700 feet above the ocean near the south end of Guadalupe Island. Its steep cliffs extend underwater hundreds of feet offering spectacular wall diving and submarine topography.
Image ID: 09753
Location: Guadalupe Island (Isla Guadalupe), Baja California, Mexico