The 2010 occasion of the International Conservation Photography Awards was held recently in Seattle, with winners being announced June 19 and an exhibit of many of images running until September 6 at The Burke Museum of Natural History and Culture at the University of Washington. You can view online photos of the evening reception (which to my regret I was unable to attend) as well as winning and honorably-mentioned images from the 2010 ICP Awards competition. Be sure to check out Stuart Westmorland's stunning sailfish photograph among the small group of distinguished awards! I was fortunate enough to have one of the earliest "keepers" I ever shot underwater be given an honorable mention in the competition, a study of kelp fronds photographed about 20 years ago in the kelp forest at San Clemente Island: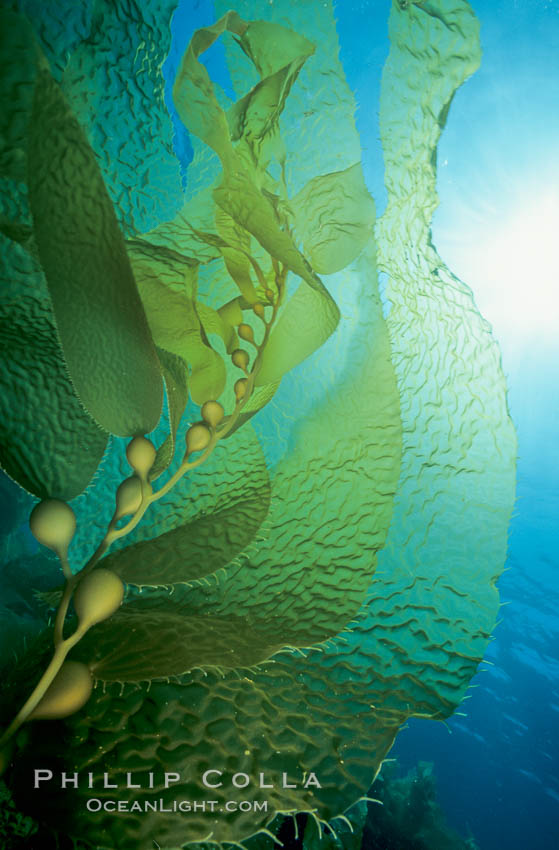 Kelp frond showing pneumatocysts.
Image ID: 00627
Species: Giant kelp, Macrocystis pyrifera
Location: San Clemente Island, California, USA
About the International Conservation Photography Awards: Known for his passionate advocacy of the environment, nature photographer Art Wolfe created a conservation-themed photo contest in 1997 as "an event for the advancement of photography as a unique medium capable of bringing awareness and preservation to our environment through art." The 2010 International Conservation Photography Awards is a continuation of Art Wolfe's vision and has become a biennial (every two years) international event. Each year the ICP Awards strives to increase its reach and influence to photographers from around the world as well as to diverse audiences who will be inspired by the work. More than just a competition, 75+ of the juried photographs will be exhibited in 2010 via a new partnership with The Burke Museum of Natural History and Culture, a development that continues to raise the bar for this program. ICP Awards organizers are also exploring ways to travel the exhibit in the interim year before the next program in 2012 – please let us know if you have ideas about venues that would be interested in hosting the exhibit during the 2011 year. The ICP Awards are open to all photographers worldwide.