Photos of Paulet Island, Antarctic Peninsula, and photos of Adelie penguins
We arrive early in the morning at Paulet Island, our first taste of the Antarctic Peninsula. As we navigate our approach through ice-filled channels around the island, large groups of Adelie penguins (Pygoscelis adeliae) are seen swimming in the water and gathered on the edges of bergs and fast ice. While the day dawns cloudy, it will clear periodically later today, with broken clouds and beautiful Antarctic weather on and off. Strong currents roil the waters about the Paulet Island, moving bergs and brash ice constantly. It takes the captain of the icebreaker M/V Polar Star some time to make a firm anchor.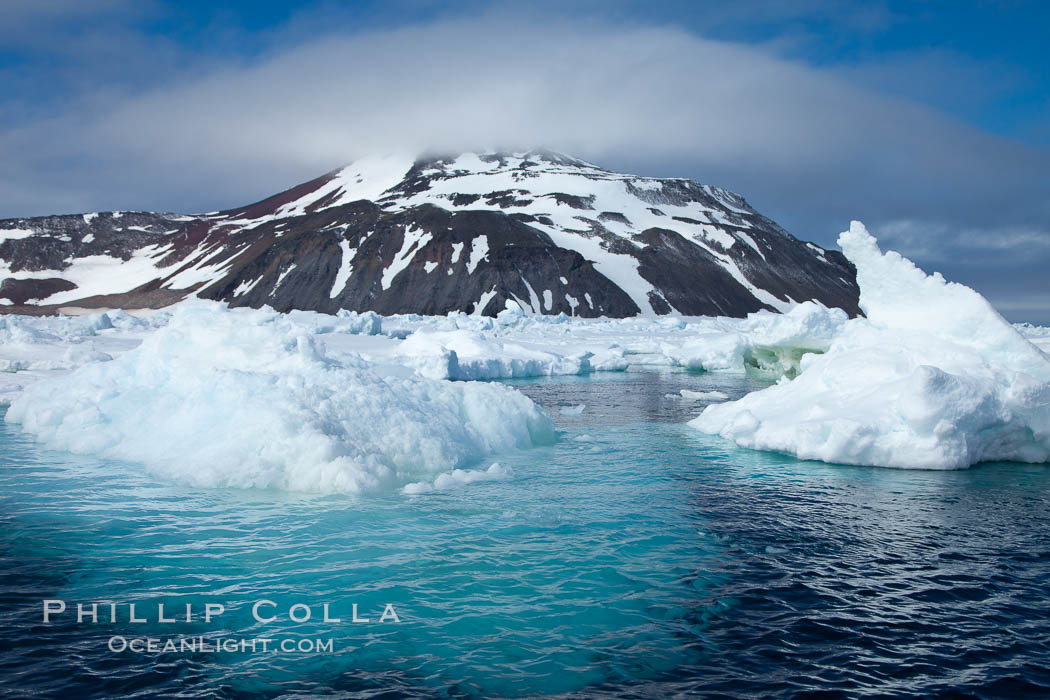 Icebergs floating in the ocean near Paulet Island.
Image ID: 24834
Location: Paulet Island, Antarctic Peninsula, Antarctica
When the boat is securely anchored, we venture out in zodiacs for some cruising among the ice. Adelie penguins abound. The island is literally covered with Adelies and their curious stone nests, while groups of them are found on the beautifully sculpted ice everywhere we look. When they leave their ice perches and take to the water, their porpoising across the glassy sea is marvelous to watch. They are like small speedy footballs leaping out of the water, only to disappear and reappear again every few seconds as their sturdy wings propel them forward. They are nearly impossible to photograph while porpoising, for me at least, and I resign myself to admiring them and trying to photograph the ones standing still on the ice. Simple photos for simple photographers.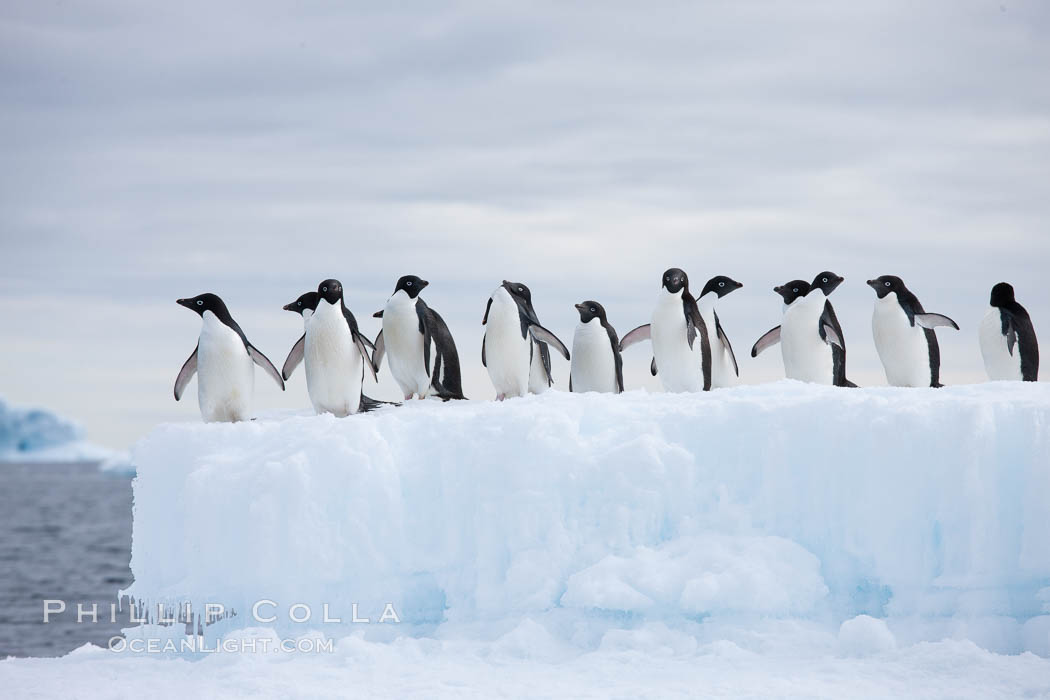 Adelie penguins, in a line, standing on an iceberg.
Image ID: 25018
Species: Adelie Penguin, Pygoscelis adeliae
Location: Paulet Island, Antarctic Peninsula, Antarctica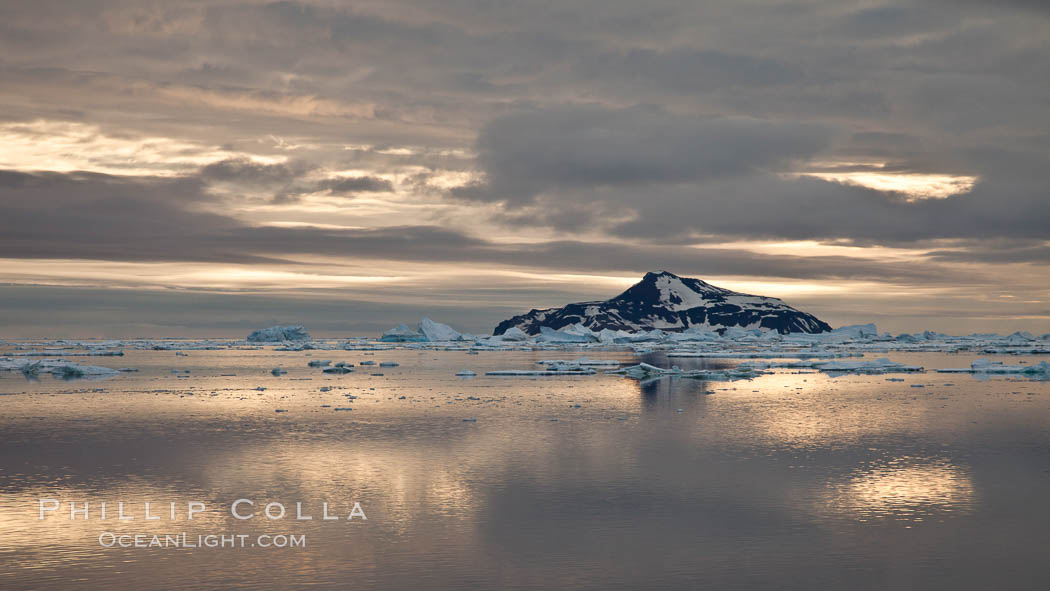 Paulet Island, near the Antarctic Peninsula, is a cinder cone flanks by lava flows on which thousands of Adelie Penguins nest.
Image ID: 24824
Location: Paulet Island, Antarctic Peninsula, Antarctica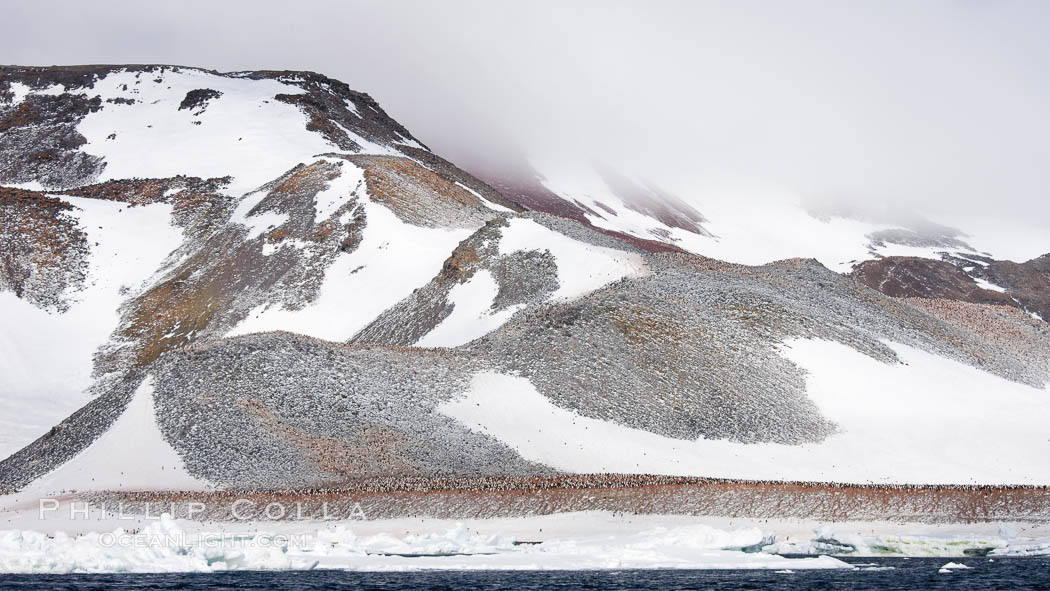 Enormous colony of Adelie penguins covers the hillsides of Paulet Island.
Image ID: 24836
Species: Adelie Penguin, Pygoscelis adeliae
Location: Paulet Island, Antarctic Peninsula, Antarctica
After returning to the big boat, I gather my gear and take a second zodiac ride to land ashore on Paulet Island. It is still morning, but I decide in advance to skip lunch and just stay onshore all day, knowing that each hour with my feet on the ground in Antarctica is exceptionally valuable and is my motivation for making this journey. What a place, so much life here! A cacophony of penguin sounds fills the air, for the many hours that I am ashore. The colony sections themselves are so dense and vast that we stay along the perimeters, in the thin strip of ice- and boulder-covered beach the penguins traverse as they make their way between the ocean and their nests. In the colony itself, the birds are spaced in a highly-regular fashion, with their nests just a few feet apart from one another. I am struck by this aspect of the colony, having seen it earlier in the trip at the phenomenal black-browed albatross colony at Steeple Jason in the Falkland Islands. It seems that each member of the species has exactly the same tolerance for others of its kind, needs exactly the same room to maintain its sanity, leading to the spatial pattern before me that is repeated as far into the colony as one can see. Indeed, when viewed from the boat, the colony takes on an almost abstract look. Mother Nature employs her wonderful mathematics again, producing yet another example of regularity and order out of the chaos that is Life.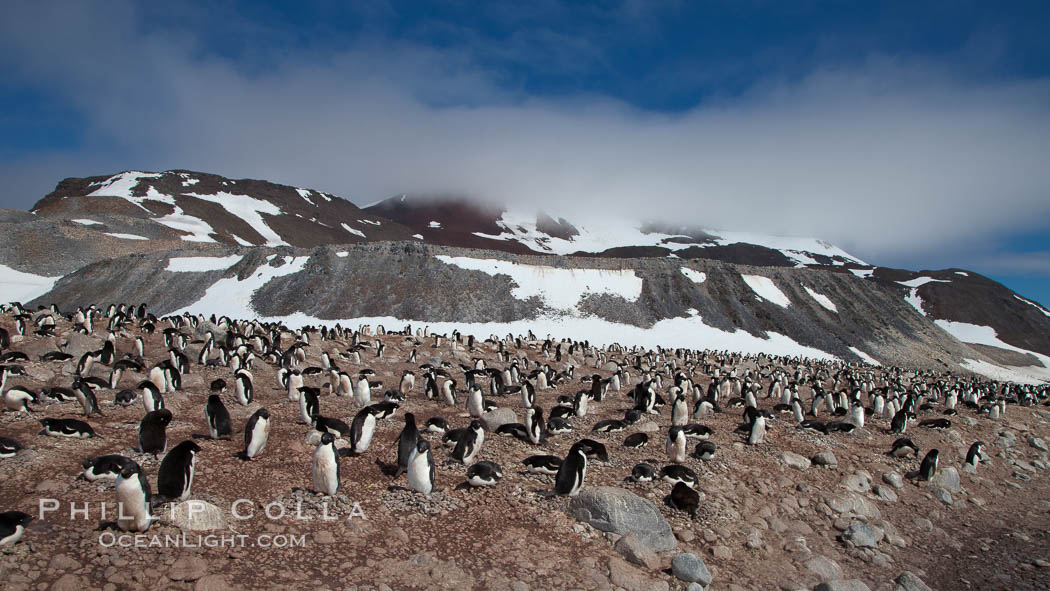 Adelie penguins, nesting, part of the enormous colony on Paulet Island, with the tall ramparts of the island and clouds seen in the background. Adelie penguins nest on open ground and assemble nests made of hundreds of small stones.
Image ID: 25024
Species: Adelie Penguin, Pygoscelis adeliae
Location: Paulet Island, Antarctic Peninsula, Antarctica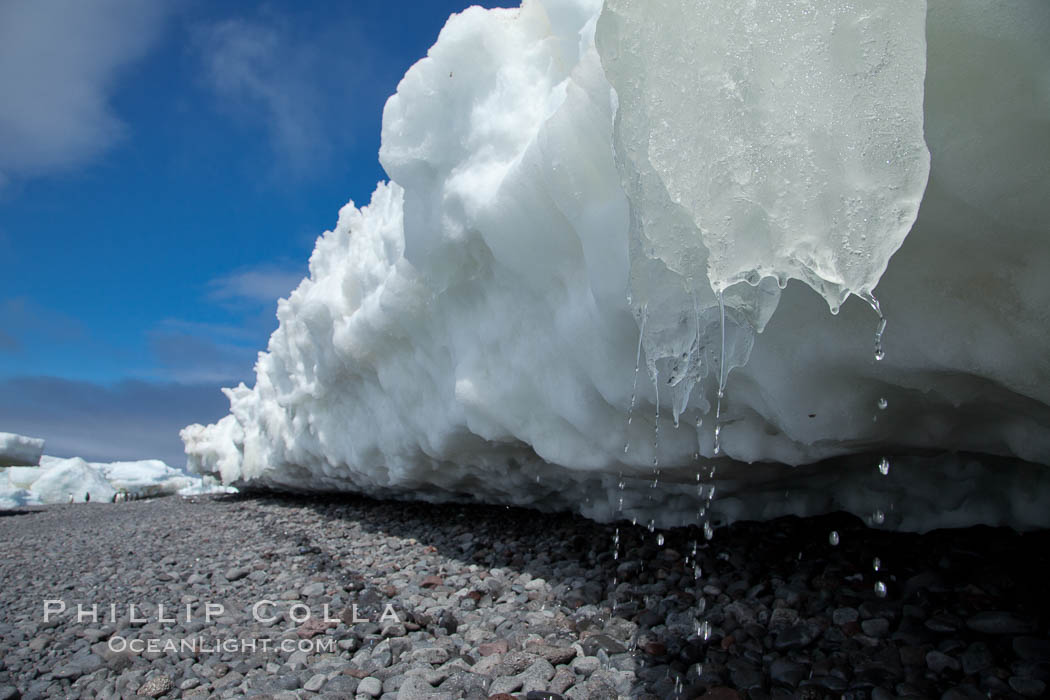 Melting ice along the shore of Paulet Island.
Image ID: 24833
Location: Paulet Island, Antarctic Peninsula, Antarctica
I move to the edge of the island to watch the penguins that are departing to forage at sea. They are not unlike a little river: birds constantly "flowing" from their nesting areas on the plateau above down into the water. Hanging over the cobblestone beach on which I sit is a small cliff of melting ice. Every 30 seconds or so a group of penguins approaches along the edge of this ice, using well-worn paths left behind by thousands of small feet, until they reach a gap in the ice cliff through which they can jump down onto the cobblestone. From there they gather at the water's edge into nervous groups of 10 to 50 before rushing en masse into the water, strategically using their numbers to foil any predatory leopard seal that may be waiting underwater. I setup my camera and tripod in a location where I am sure the penguins will come by. I then move away, and wait. Soon a curious group gathers around the camera, looking at it inquisitively, clucking softly and gently pecking at it to discover what it might be. As they do so, I use my wireless trigger ($20 on Ebay) to take a few pictures of them — from 50′ away. The camera is set to operate as silently as possible to avoid startling the little birds, and the technique works great. When the penguins finally leave, I am able to go inspect my camera and see the images I got; a few look like keepers. I try my remote-cam technique a few more times and am happy with the results. Here are a couple examples; I could have been sipping a margarita in a beach chair while taking these, if it were not so cold: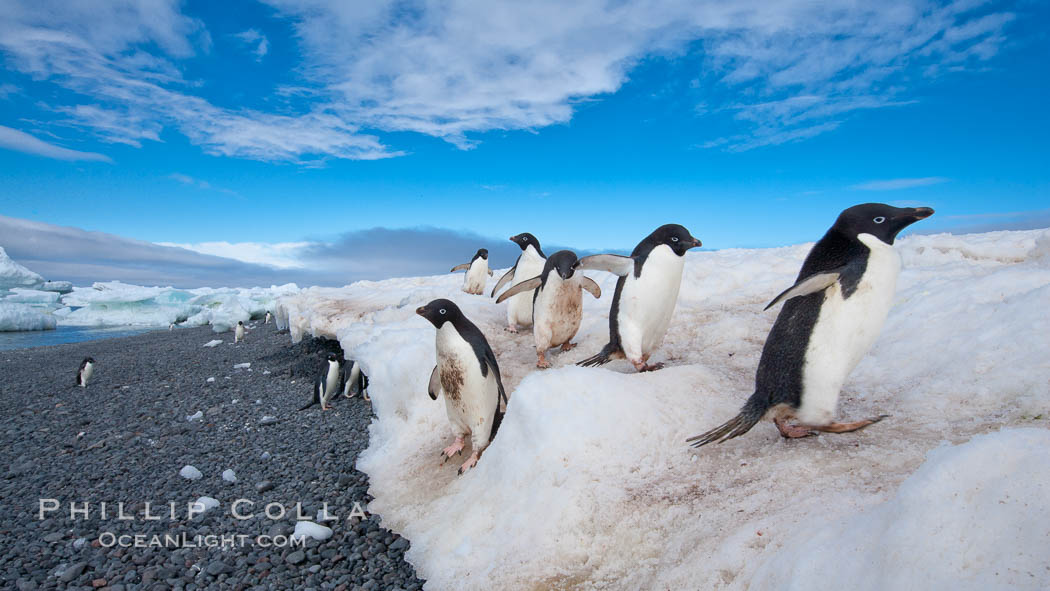 Adelie penguins navigate a steep dropoff, to get from their nests down to a rocky beach, in order to go to sea to forage for food.
Image ID: 25020
Species: Adelie Penguin, Pygoscelis adeliae
Location: Paulet Island, Antarctic Peninsula, Antarctica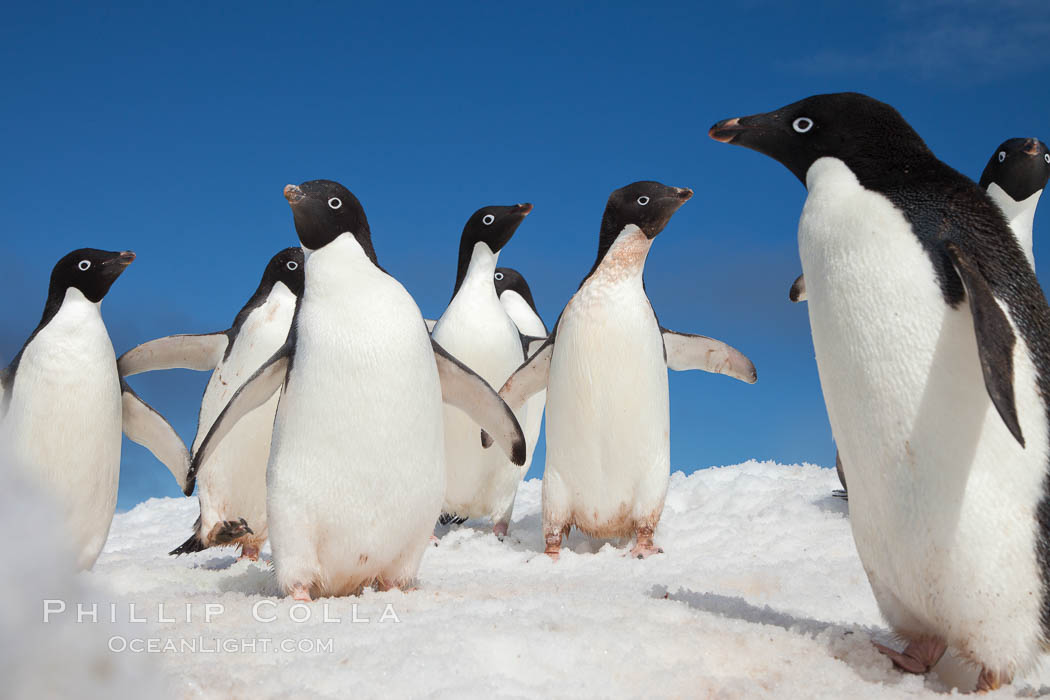 A group of Adelie penguins, on packed snow.
Image ID: 25021
Species: Adelie Penguin, Pygoscelis adeliae
Location: Paulet Island, Antarctic Peninsula, Antarctica
As the day passes, I realize that the movement of the penguins here cannot be conveyed in a single image. So I spend my last two hours on shore arranging several time-lapse sequences, composed of hundreds of photos that together are arranged into a short movie. One never really knows how the result of a time-lapse effort will appear until the final product is finished on the computer. I did not finally see the result of these efforts until now, some six months after my day on Paulet Island:
Next: Zodiac Cruising in Antarctica
Previous: Nature's Best Photography Cover Shot
Trip Index: Cheesemans Antarctica, Falklands and South Georgia
All "Southern Ocean" entries