Stock photographs of leopard sharks, Triakis semifasciata.
I've been diving in the kelp forest for about 20 years, yet have never been able to get a decent photo of a leopard shark (Triakis semifasciata) in the wild. I've seen them many times, but never had a good opportunity for a photo. Leopard sharks are relatively harmless coastal sharks, often found in shallow water in kelp forests or over sand flats. They exhibit a beautiful spotted pattern which provides excellent camoflage, in seaweed especially. However, leopard sharks are timid, and do not typically approach people or divers. The best place that I know of to see leopard sharks is directly in front of the Marine Room restaurant in La Jolla, in shallow water (4′-8′ deep), in summer, since they congregate there en masse. I take my daughters there sometimes to snorkel and look at the leopard sharks. But the water clarity there is poor, making good picture taking difficult. Another good place is the front side of Catalina Island, in summer, in coves and shallow areas.
Monday, about an hour before we had to leave San Clemente Island and return home, I had a 4′ long leopard shark surprise me by appearing out of nowhere and swimming right in front of my camera. I didn't have to do a thing except depress the shutter. Click. Finally got a shot of a leopard shark. This was only about 2-3′ deep, and was shot with a 15mm fisheye lens with the shark about 18″ away from the camera.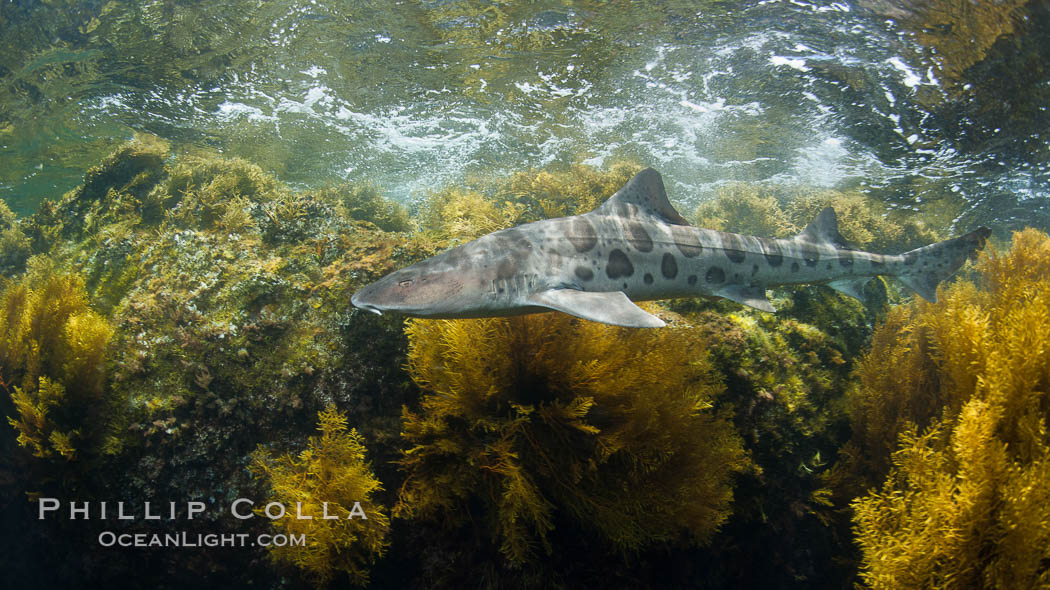 A leopard shark, swimming through the shallows waters of a California reef, underwater, Cystoseira osmundacea marine algae growing on rocky reef.
Image ID: 25417
Species: Leopard shark, Triakis semifasciata, Cystoseira osmundacea
Location: San Clemente Island, California, USA
In the past I have shot some nice portraits of leopard sharks, but in a tank so its not quite the same thing!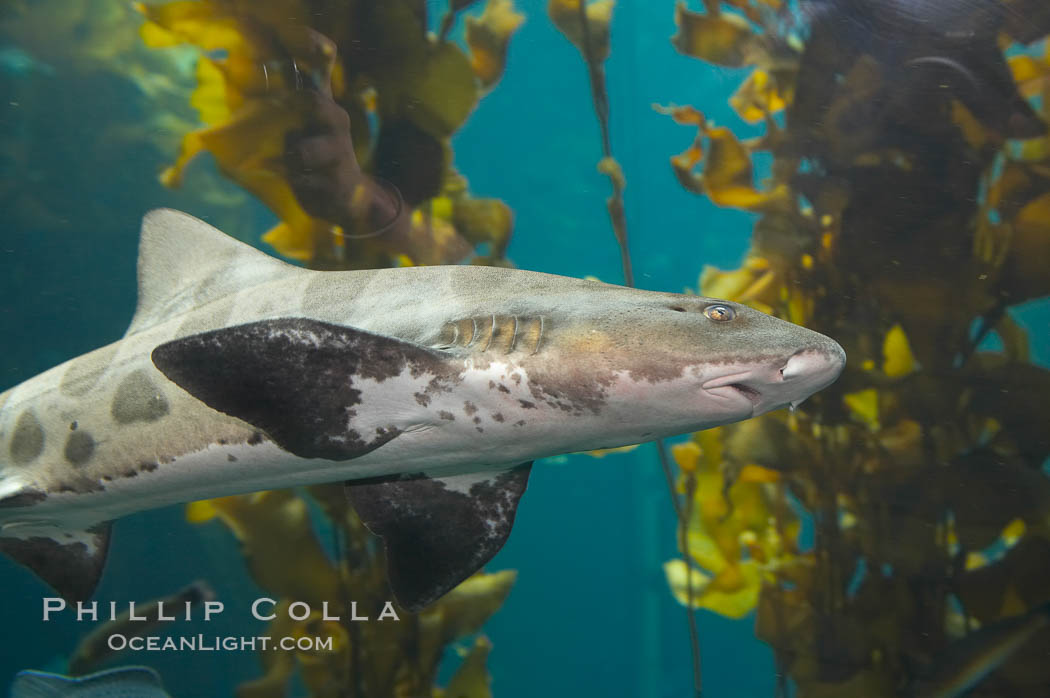 Leopard shark swims through a kelp forest.
Image ID: 14028
Species: Leopard shark, Triakis semifasciata
Leopard shark swims through a kelp forest.
Image ID: 14932
Species: Leopard shark, Triakis semifasciata