This is my favorite image from the Valley of Fire. It was incredibly peaceful and quiet with not a speck of wind or noise. The moon was positioned just right to fit nicely into a small cleft in this 10′ natural sandstone arch. While the daytime temps were warm enough that I could wear shorts and t-shirt, once the sun went down I had my long pants, hat and two sweaters on. One of my cameras suddenly started sparking and then spontaneously blew apart when I first photographed this arch under glorious golden morning sunlight. I'm pretty sure it was because the poor sensor could not cope with the incredibly rich and saturated red and orange hues that this gem of an arch exudes when the sun warms it up. I don't think Canon Professional Services will be covering that one. My remaining camera (coward) insisted that it only be subjected to this arch at night when the color and detail of the scene is more subdued, which is why I ended up with this image. I'm already looking forward to a return to the incredible Valley of Fire State Park when I pass by on my way to Page for a few days of desert landscape photography with some buddies in March!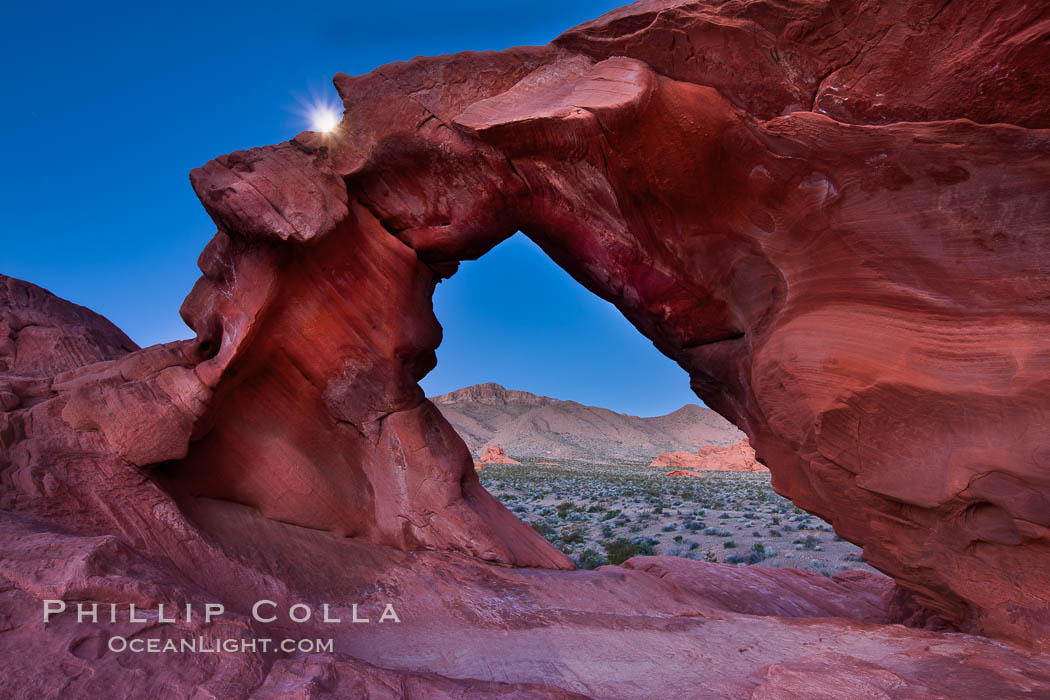 Natural arch formed in sandstone frames the setting moon.
Image ID: 26486
Location: Valley of Fire State Park, Nevada, USA
Do you like how I worked the word incredible into this blog post three times? No, make that four! Incredible! Oops, that's five. Google loves that.
See more Valley of Fire stock photographs.