I have been fortunate to visit and photograph a few of the iconic locations around Page, Arizona: The Wave, Antelope Canyon, Buckskin Gulch, Horseshoe Bend and Monument Valley. Recently, I shared some correspondance about these places with another photographer whom I originally met at Brooks River a few years ago. I decided to edit my comments to David and post them here for others to consider.  Note that I am not what a true landscape photographer would call a true landscape photographer! I know what I am doing with a camera but do not have the dedication or time that is required to photograph landscapes, and these Southwestern landscapes in particular, properly. However, I do have clear impressions of these places and, not being shy, I am putting them out there. On all of my trips through the American Southwest, visiting the places mentioned above plus Zion, Bryce, Canyonlands, and Arches, I was pedal to the metal.  I had too little time and too far to drive, hopped up on caffeine, and tried to see it all. Naturally, that is not the best way to visit such special and serene places but it is how I, and many others, approach such a trip, especially those coming from far away to see the American Southwest for perhaps the only time in their lives. To photograph and experience these locations properly requires a more relaxed, contemplative and deliberate pace, one that I shall be sure to adopt when I turn 80.
Note that virtually all of photos on this website have GPS coordinates as well as links to Google Earth, taking you to the exact spot where they were taken, so there is no mystery where to go.
Rental Car: Assuming you are arriving in Las Vegas (NV) or Salt Lake City (UT), you will probably rent a car. Although none of these destinations requires one, I suggest that you rent a nice cushy SUV (the kind Americans love) when you arrive. It will make the little bit of off-roading you do more comfortable. Since some of the drives are quite long, having room in the back for your kids to spread out is helpful. Yes, you will burn gas — a lot of it. I realize that I am politically incorrect just mentioning the word "SUV". Note that House Rock Valley Road, which is the dirt road that takes you to the Wave and Buckskin Gulch, can be a bit rough (but should not actually require 4WD) and having a larger SUV-type vehicle, with high clearance, makes the drive more pleasant. If there are long or deep muddy parts on the road, an SUV might actually make it possible to get to the trailhead whereas in a passenger (sedan) vehicle it could be more dicey. It all depends on the road conditions when you get there, there is no predicting those. If the conditions are truly bad, the road may simply be closed. Opting for the satellite radio on your rental SUV is important, since the variety of radio stations in this part of the country is quite slim with country/western and western/country being the only two choices.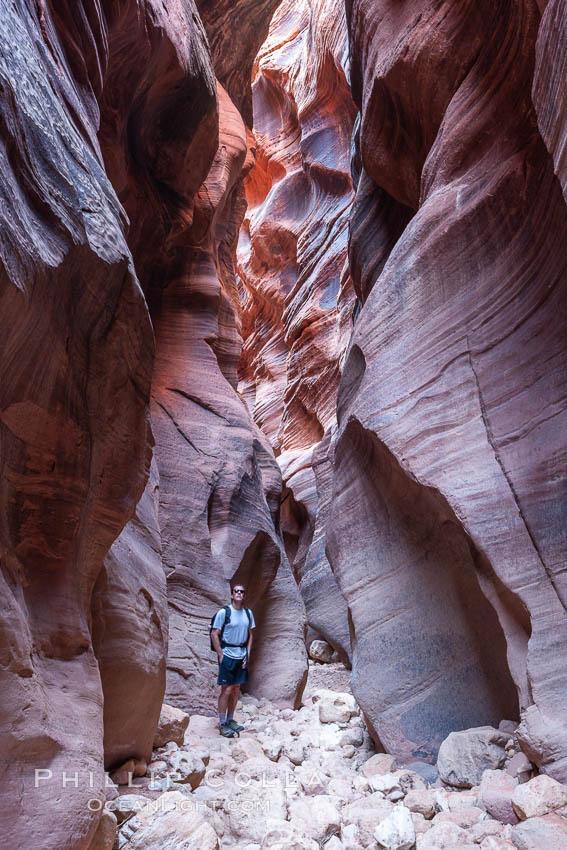 Hiker in Buckskin Gulch. A hiker considers the towering walls and narrow passageway of Buckskin Gulch, a dramatic slot canyon forged by centuries of erosion through sandstone. Buckskin Gulch is the worlds longest accessible slot canyon, running from the Paria River toward the Colorado River. Flash flooding is a serious danger in the narrows where there is no escape.
Image ID: 20716
Location: Buckskin Gulch, Paria Canyon-Vermilion Cliffs Wilderness, Arizona, USA
Buckskin Gulch: Buckskin Gulch is easily accessed from the same trailhead that one uses to hike to the Wave: the "Wire Pass trailhead". For this reason, if you are in the area to visit the Wave it makes perfect sense to visit Buckskin the day before or the day after you visit the Wave. Consider staying in Kanab, and just drive out to the Wire Pass trailhead each day for the two hikes. Kanab is quiet, simple and has a few good restaurants and plenty of hotels and motels. Watch your speed driving through Kanab or Officer Dummy may catch you in his speed trap. Camping at the Wire Pass trailhead is an option. However, since I do not like dirt and do not camp, I cannot advise about the camping there from personal experience. The drive from Kanab to Wire Pass trailhead, via Hwy 89 and House Rock Valley Road is, as I recall, about 30-45 minutes or so, quite easy except for perhaps a bit of the dirt House Rock Valley Road which may be muddy or a bit rough in some places. A half day, especially if you get started reasonably early (7am comes to mind) is enough for you to hike into the "upper reaches" of Buckskin Gulch, get into a few deep and really fun sections, and then return back out the way you came. A full day gives you further reach into the gulch. The alternative is to make a one-way trip down through Buckskin and Paria Canyon, but that requires overnights, permits, and arranging a pick up at the far end, and so the time investment is considerably more. Note that flash floods in Buckskin Gulch and Wire Pass Narrows are a real danger, and it is good to know where the exits to the gulch are as well as the weather forecast for the wider area (flash floods can be created by rain many miles away). It is possible to visit both Buckskin and the Wave in the same day. I did it last May. It was about a 15-17 mile day and tiring but I was in good shape and able to do it without problems. I even had time to catch a one-hour nap at the Second Wave waiting for sunset light. Do not underestimate the need for hydration on a day such as this. I drank about 10 liters of fluids and sweated out all of it (I think I peed only twice all day). Buckskin Gulch blog posts, Buckskin Gulch stock photos.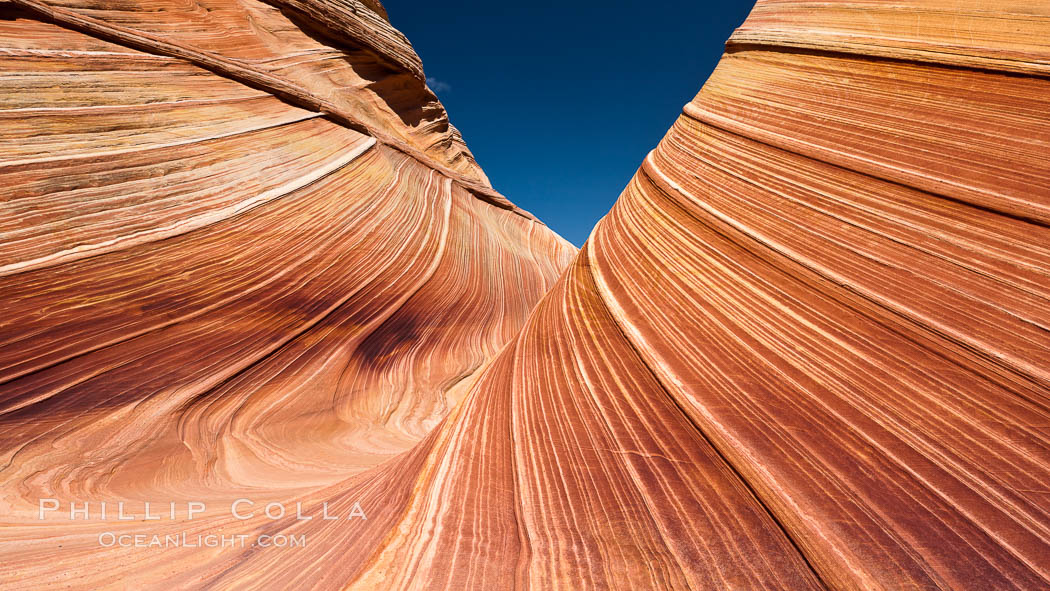 The Wave, an area of fantastic eroded sandstone featuring beautiful swirls, wild colors, countless striations, and bizarre shapes set amidst the dramatic surrounding North Coyote Buttes of Arizona and Utah. The sandstone formations of the North Coyote Buttes, including the Wave, date from the Jurassic period. Managed by the Bureau of Land Management, the Wave is located in the Paria Canyon-Vermilion Cliffs Wilderness and is accessible on foot by permit only.
Image ID: 20608
Location: North Coyote Buttes, Paria Canyon-Vermilion Cliffs Wilderness, Arizona, USA
The Wave: There is no denying the appeal of a sunrise hike to the Wave. At that hour the air is cool with perhaps a hint of dew, the surrounding hills and canyons are quiet and still, and within minutes of setting out one is alone. However, while you may be eager to get to the Wave early in the day, the photography at the Wave formation itself seems to me to be best in mid- to late-morning. By that time the sun has risen enough to fill the deeper parts around the main Wave formation for evenly lit photos. That said, during late spring, summer and fall, the cooler it is walking out to the Wave, the more comfortable you will be. The hike is about 3 miles one way, so plan on two hours at a easy but constant pace. The last part going up a sand hill is the most tiring. There is little shade once you are there, so be prepared for sun! Do not forget the Second Wave, which is only about a 5-10 minute walk from the main wave. You do not actually see the Second Wave until you round a knob of rock at which point you suddenly realize you are are practically on top of it. Although the spot is no secret, the GPS coordinates and Google Earth links alongside my photos will put you right on it. The light on the Second Wave is best just before the sun goes down at the end of the day, so if you stay for that photo it makes for a long day. In that instance you will hike out as the sky is growing dark but that's ok, there is still plenty of light and, if you feel unsure of how to return, you can use your GPS to revisit your waypoints in reverse on the way back out. I should mention that both times I visited the Wave, I stayed until dark. As the day went on, there were fewer people around so that by 3pm I was alone, which was very nice. Blog posts about The Wave. Stock Photos of the Wave.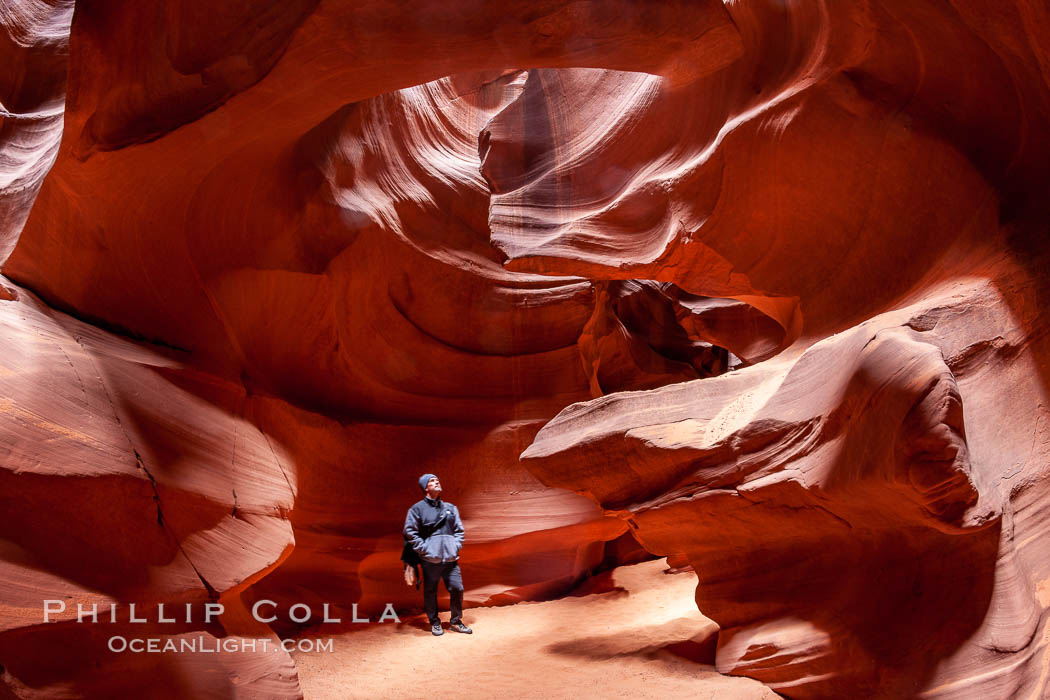 A hiker admiring the striated walls and dramatic light within Antelope Canyon, a deep narrow slot canyon formed by water and wind erosion.
Image ID: 18009
Location: Navajo Tribal Lands, Page, Arizona, USA
Antelope Canyon Slots: These are just outside the town of Page and require virtually no effort to visit. They are on Navaho tribal lands, so accessing these slot canyons requires that you be on a tour or with a guide. The Upper Antelope canyon, which is the most iconic and photogenic, is the one that gets most crowded. If it is crowded when you are there just be patient and wait for the chamber(s) that you are photographing to clear out and then bang out your exposures before someone else walks in front of you. It can help to carry an electric cattle prod or pocket Taser to ensure the area where you are photographing remains clear of New Yorkers and Nikon photographers. OK, my bad on that last part. I highly recommend that you do not change lenses, there is simply too much dust. In fact, do not be surprised if you encounter another photographer tossing dust in the air to better define the light beams in his composition. If his forward technique does not balance harmoniously with your chi, you can rebalance the moment by tossing sand into his eyes to better define your opinion of his method. If I had to choose one lens to use to use at Antelope Canyon, it would be 16-35 (or either of Nikon's 14-24 or 17-35) on a full-frame camera. On a second body I carry a 24-70 or similar. Those two should cover 95% of my needs in terms of focal lengths at Antelope. The LOWER canyon is, I hear, far less crowded and has very good photography as well. There are two types of "tours" to visit Upper Antelope Canyon: a normal tour (about 30-60 minutes) and "photo" or extended tour, the latter being more suitable for photographers who feel a need for more time in the slot. I went on an "extended" tour and had about 90 minutes at the canyon, with a 15 minute ride in a van from Page (we met the tour at a small storefront in Page). That was in winter. I understand that during much of the year the Navaho Indian tribe offers guide services (for a fee) right at the entrance to the Antelope Canyon area on the main highway, in which case you might save a little money over the tours that are arranged in the town of Page itself. However, all visits require some Navaho guide presence. If you are coming from far away I suggest that you just reserve a photo tour ahead of time to ensure that you have the time you need. It may cost a little more but at least you know you will be in the canyon at the right time of day, with enough time to relax and take photos. The only unknowns are weather and how crowded it will be on the day of your visit. Kids might get bored after half hour, so families might arrange for the shorter tour while the lone photographer in the family goes on a longer tour. I went to the Upper Antelope Canyon with Antelope Canyon Tours when I was there in Jan 2007. At that time we literally had the entire Upper Canyon to ourselves (a group of 5 people) for 90 minutes, with one 20 minute exception when another small group came by for a brief visit. However, in the winter the dramatic light shafts do not reach the floor of the slots. Those appear in summer, principally June and July, coincidental with the crowds. So if you want solitude in Antelope Canyon (or something approaching it), try it winter. If you want the cool beams, battle the crowds.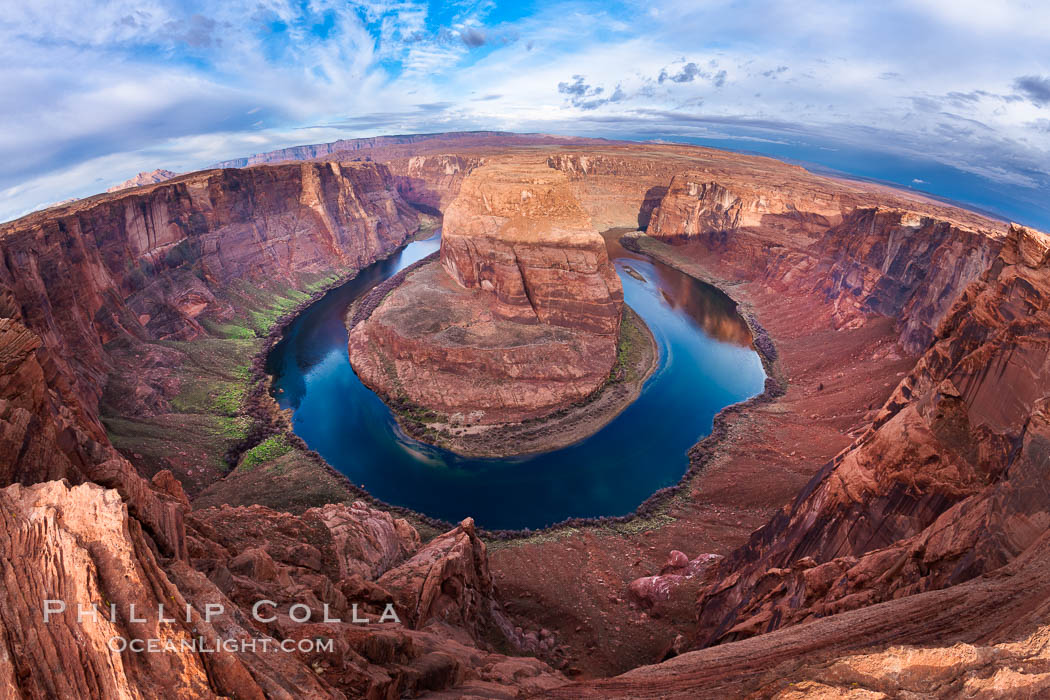 Horseshoe Bend. The Colorado River makes a 180-degree turn at Horseshoe Bend. Here the river has eroded the Navajo sandstone for eons, digging a canyon 1100-feet deep.
Image ID: 26602
Location: Horseshoe Bend, Page, Arizona, USA
Horseshoe Bend: If you are in Page, Arizona, you must find a bit of time for Horseshoe Bend. From a pulloff on the side of the highway just a few minutes outside town, an easy 10 minute walk takes one to the edge of the chasm that is Horseshoe Bend. It is so easy it would be a shame to miss it. Just be careful that Fido and the kids are paying attention since there are no rails or anything keeping you from falling in. (Give the personal injury lawyers time, I am sure there will be a fence and a "viewing area" that we are required to use eventually). If you stay in Page for the night, you might want to go photograph Horseshoe Bend at sunset, late morning and/or sunrise to see what you can get. I took this the above shot with a 16-35 at its widest.

Monument Valley panorama, a composite of four individual photographs.
Image ID: 20902
Location: Monument Valley, Arizona, USA
Monument Valley: OK, in spite of how little experience I have in Monument Valley, I will add some words about it, since it is likely others travelling to Page will visit Monument Valley the same way that I did. I blew through there one day by myself on my way to Page, spending about 1 hour at one of the main viewpoints (where I think I paid $5 to the Navaho tribe at the gate and then drove my own car about 2-3 miles on an easy dirt road into the area and then back out, looking for view points, until I found the one above). The timing was good, I was there in the final hour of light, although having clouds would have helped. If you want to just make a quick stop in Monument Valley and visit only one of the easily-accessed viewpoints, I suggest you make it sunrise or sunset. (If you want to spend a full day at Monument Valley, you can arrange private guides that will take you deep into the area and show you views that are better and different, but I believe it will require most of a day to accomplish.)
Tech: For any of these locations, my photography equipment is quite simple and light, no need for any heavy stuff. Landscape shooting is simple compared to all the gear needed for underwater and/or wildlife shooting!
Two full-frame bodies (currently Canon 1DsII & 1DsIII)
Canon 16-35 II f/2.8 lens
Canon 24-70 f/2.8 lens
Canon 70-200 f/4 lens
Tripod with ball head, cable release, polarizers
If you found this information useful, please post the link to it and let others know. Cheers!