Below is my pre-trip photography gear checklist, to make sure I don't forget anything. On any photography trip I take it is guaranteed that I will forget something important, but by using my little list I keep the forgotten gear to a minimum and I can usually improvise with what I remembered to bring. Note that while this looks like a LOT OF STUFF, it all fits in one photo backpack (Thinktank international size) and one roller duffel. So I buzz through the airport with a minimum of hassle. The only time I have a problem is when I take both the 300 and 500. For most landscape travel I leave the telephotos at home and bring a single mid-zoom. Note that this is not my gear list for a diving trip, however, as that is a whole different can of worms!
Important: the photo posted here has nothing to do with a photography gear checklist.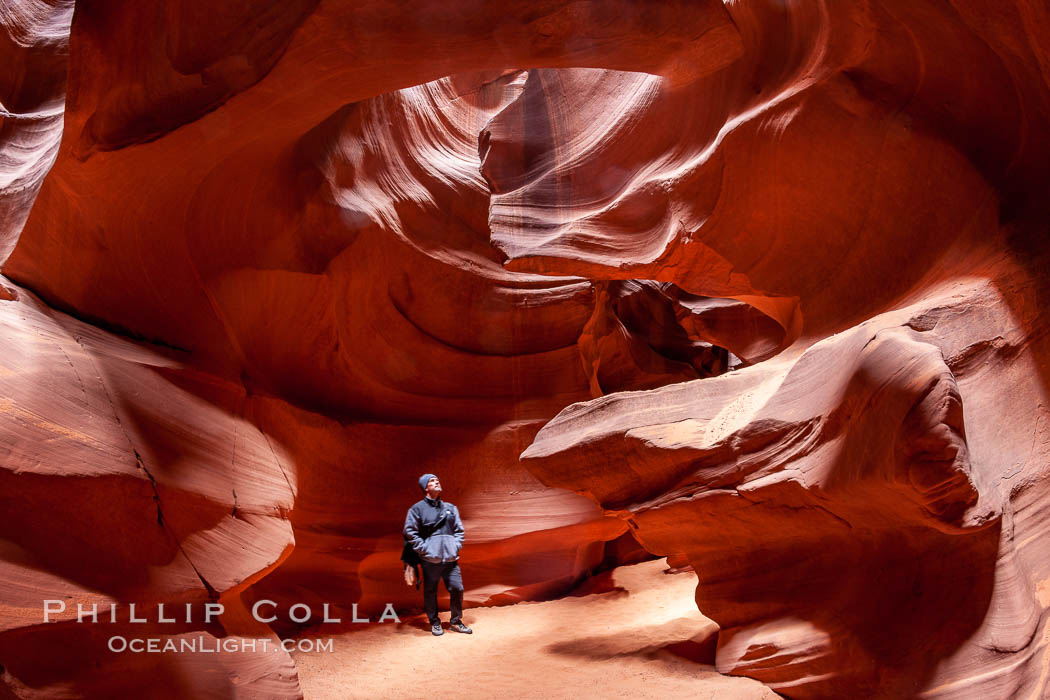 A hiker admiring the striated walls and dramatic light within Antelope Canyon, a deep narrow slot canyon formed by water and wind erosion.
Image ID: 18009
Location: Navajo Tribal Lands, Page, Arizona, USA
Perhaps this gear list will be useful to you. If it is, cut and paste and modify it for your own purposes!
1Ds III and charger, spare battery
1Ds II and charger (time lapse, spare batteries ?)
5D II and charger, spare battery
15mm fish
16-35mm and polarizer
24-105 or 24-70 ? and polarizer
70-200 and polarizer
300
500 (and Wimberly head ?)
Teleconverters ?
All CF cards
Flash ? Better beamer ?
Timer remote controller (both ?)
Grad ND filters, ring, holders ?
ND filter (water ?)

Big tripod
Ball head
Small tripod (time lapse ?)
L plates for all bodies!
Extra base plate
Allen wrench for plates, ball head

AA Batteries and holder
GPS and memory card
Head lamps

Chapstick
Sunscreen
Mittens
Gloves
Woolen hat
Sunscreen hat
Ball cap
Sunglasses

IPad (sync)
Laptop ?
Colorspace and power cord

Printed copy of passport, drivers license, permits, flight itinerary

IPhone:
Passcode and lockout for travel
Sync calendar and contacts
Contacts for hotels, car, guides
Car charger / room charger
E copy passport, drivers license, permits, flight itinerary, car rental

Nav computer for rental car ?

Hiking leggings
Hiking pants
Running shorts
Shorts
Flipflops
Hiking shirts
Nice shirt
Fleece
Jacket
Boots

Cash and tip money
Charge cards
Gas cards
Drivers lic
Passport ?

Big backpack or small backpack
Hip sack
Tags on bags

Bars
Fruit
Water bottle
Wine and chocolate
This is a generic gear list of things I need to consider for any topside trip. If you want to see what I specifically took on my trip to Antarctica last year, and what I recommend for next time, see my Photography Gear List for Antarctica, South Georgia Island and the Falkland Islands.