Road Trip: Day 3
Riverside Geyser is our favorite geyser in Yellowstone National Park. Riverside Geyser lies right at the edge of the Firehole River. It is a cone-type geyser with a tight, hose-like flow angling out over the river and reaching heights of 80′ or more. Low afternoon light often throws a spectacular rainbow across the river if the wind and the geyser mist cooperate. (Note: mild use of a polarizing filter helps bring out the rainbow, but full polarization is too much and will screw the effect badly.) Riverside Geyser is highly predictable, with an interval that is bimodally distributed at either 5.5 or 6.5 hours. It is easy to tell when Riverside Geyser is preparing to erupt. The main vent starts overflowing into the river an hour or two before eruption. The other, smaller vents will start bubbling and splashing, increasing as the eruption approaches. Just moments before it goes off, a family with just one day in Yellowstone and which has been waiting at Riverside Geyser in the hot sun for 3 hours leaves after 3-year-old Junior loses his patience, screams for a frozen yogurt and or a bathroom and goes into full meltdown as Mom and Dad drag him off. When that happens, you are golden. Just hang out a little longer … one of the vent splashes will finally "get" the eruption started. The water phase, which is amazingly scenic with the backdrop of woods and the river flowing beneath it, lasts 15-20 minutes, so there is plenty of time to shoot photos and video. Following the water phase, steam will continue to pour out of Riverside Geyser for quite a while, but it is considerably less interesting.
Absolutely fabulous.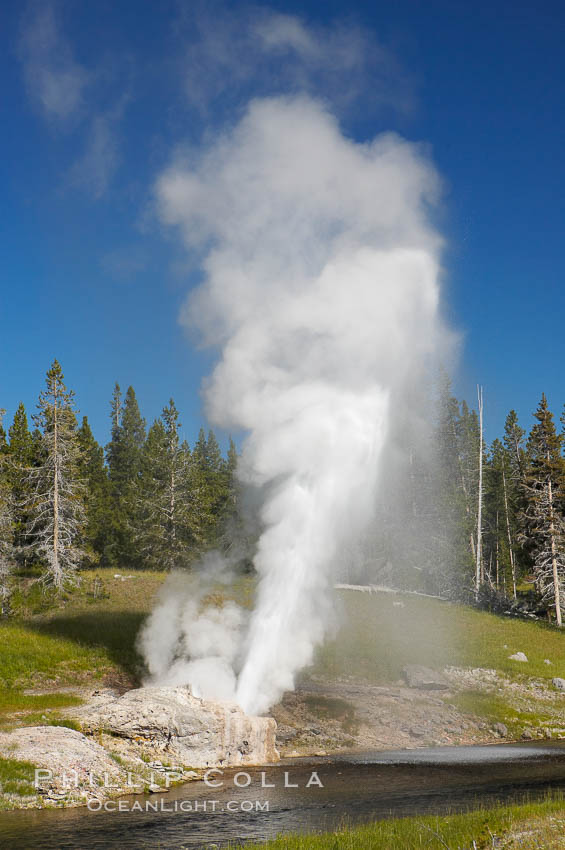 Riverside Geyser at peak eruption, arcing over the Firehole River. Riverside is a very predictable geyser. Its eruptions last 30 minutes, reach heights of 75 feet and are usually spaced about 6 hours apart. Upper Geyser Basin.
Image ID: 13366
Location: Upper Geyser Basin, Yellowstone National Park, Wyoming, USA
More Riverside Geyser Photos.
Keywords: riverside geyser, yellowstone national park.