This is a panoramic photo of the San Diego Marriott Hotel and Marina viewed from North Embarcadero Park along San Diego Bay's beautiful waterfront. The Marriott Hotel is the pair of curved glass-covered buildings rising directly ahead. Between and below them is Roy's Restaurant. The Manchester Grand Hyatt Hotel is the pair of tall buildings at far left. The top of the "sails" of the San Diego Convention Center are at far right. The graceful long white boat is one of the Hornblower Tours cruise ships. This was made on one of those gorgeous evenings we often have during winter in San Diego, with warm hues lighting the building from sunset and clear blue skies above.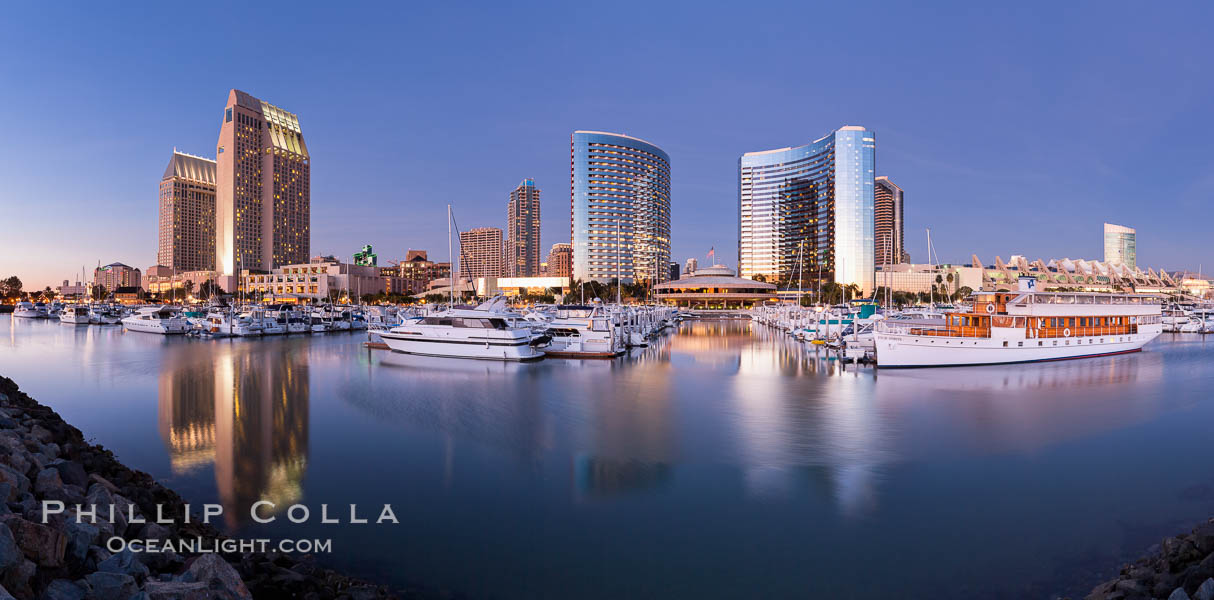 Panoramic photo of San Diego embarcadero, showing the San Diego Marriott Hotel and Marina (center), Roy's Restaurant (center) and Manchester Grand Hyatt Hotel (left) viewed from the San Diego Embarcadero Marine Park.
Image ID: 26568
Location: San Diego, California, USA
I prefer this version with clean deep blue sky since if offers lots of room to drop in text. A few evenings prior to this I shot another version of this composition with a bit more color in the sky. If you like this, be sure to see more of my San Diego photos.