Last year I got to cross off one of my bucket list items: surfing penguins. I was fortunate to see surfing gentoo penguins (Pygoscelis papua) on New Island in the Falkland Islands. After hiking around some of New Island for most of the afternoon, visiting a couple of penguin and cormorant rookeries, I found myself at sunset on a gorgeous, long flat sand beach. The light was warm and gold, there was no wind and it was warm enough to wear just a light sweatshirt. All the others on the M/V Polar Star had left to return to the ship and I had the beach to myself, with penguins coming ashore from their foraging excursions in small groups. The gentoo penguins would ride the waves in at top speed, skizzing** across the shallow water and quickly flipping upright to land on their feet. Quickly they would shuffle across the beach and walk up onto the adjacent hills to find their nests and settle in for the evening.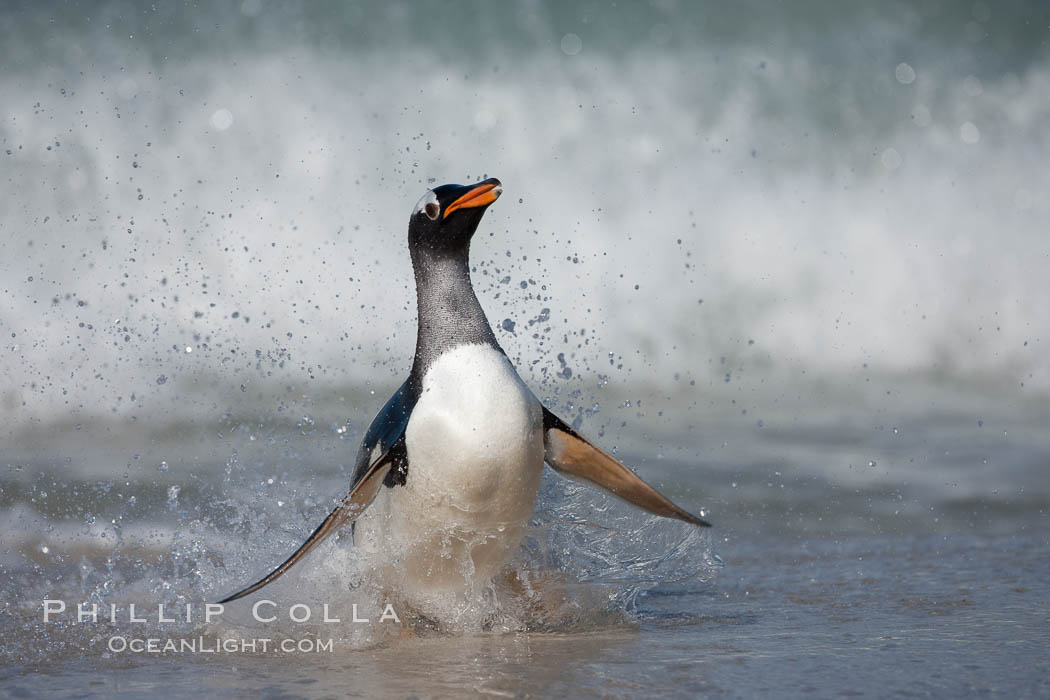 Gentoo penguin coming ashore, after foraging at sea, walking through ocean water as it wades onto a sand beach. Adult gentoo penguins grow to be 30″ and 19lb in size. They feed on fish and crustaceans. Gentoo penguins reside in colonies well inland from the ocean, often formed of a circular collection of stones gathered by the penguins.
Image ID: 23830
Species: Gentoo penguin, Pygoscelis papua
Location: New Island, Falkland Islands, United Kingdom
**another invented word, my third this year. Skizzing is like "skimming" only much better.