Great photography spots around Page, Arizona, including Upper and Lower Antelope Canyon, Horseshoe Bend, Canyon X, Radio Tower Rock, Rattlesnake Canyon, Stud Horse Point, Little Cut, the Toadstool Hoodoos, and the Wave and White Pocket.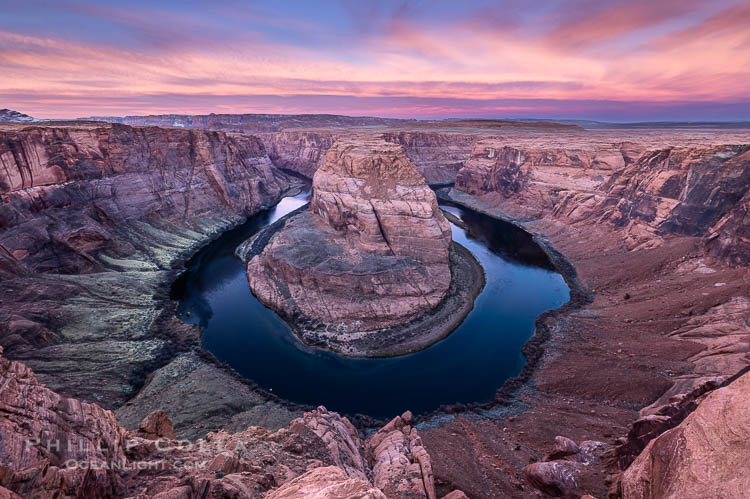 What visit to Page, Arizona is complete with a spectacular Horseshoe Bend sunrise?
So you have 48 hours in Page, Arizona and are wondering what to photograph? Let me give you a few suggestions. There is a lot to see in Page, from an hour before sunrise until well after dark, and I find most of the scenes are suitable for both a professional dSLR as well as an iPhone.  The landscape is beautiful, stark, colorful and tortured, and I keep returning even though I have photographed all the usual sights many times.  In fact, recently I have been using my iPhone more and more, especially combined with a fisheye lens in the slot canyons, and having a lot of fun with it. The photos with the iPhone are surprisingly good, in part thanks for "night mode" which allows for some impressive photos in dim light that formerly would have required a tripod.  More about that later.  For now, unless otherwise stated at the end, the photos below are all shot with serious dSLR cameras and sharp, wide optics.  When you return from your visit to Page and realize you want a beautiful print that reminds you of your trip, considering buying one of my images of the American Southwest to hang in your home.
Let's start with SLOT CANYONS for which Page is famous.  Most are on Navajo land and may only be visited with a Navajo guide service.  There are a number of slot canyons to consider and I've got photos of them for you to compare below.  But first understand that the most photogenic slot canyons — Upper Antelope and Lower Antelope — no longer permit tripods and are often so crowded that serious photography is difficult.  The days of being able to get a permit and walk by oneself through these canyons is largely gone, especially in Upper and Lower Antelope.  So suck it up, enjoy being with other people, and take photos anyway, you'll have a blast even if you aren't alone.  A number of alternative, less-crowded slot canyons can be toured, and in these you may be able to use a tripod and you will probably be with very few people or even alone. These include Secret Canyon, Canyon X, Rattlesnake and Owl Canyons, and Wind Pebbles Canyon.
If you are paralyzed by indecision and don't know which canyon to visit, I suggest one of the two "biggies" (either Upper or Lower Antelope) along with one of the alternatives (Secret, X, Rattlesnake, etc).  This will give you an idea of what the most photogenic canyons are like though you may have crowds, and then you can spend time in a much less crowded canyon albeit one that, while beautiful, simply does not offer the extent of photographic possibilities that the two biggies do.
Upper Antelope Slot Canyon
Upper Antelope Slot Canyon is the one that started it all for photographers. Its an A-frame canyon, meaning it has chambers that narrow as they ascend. It's flat, only about 1/4 mile long, and in places quite narrow and dark.  The first several chambers are the most photogenic, but it is now difficult to photograph them without other people as guides are often leading people through these chambers. Light beams are common during the middle of the day in the summer.  One family controls the wash (which also contains Rattlesnake and Owl Canyons), with three or four companies offering tours of Upper Antelope Slot Canyon.  Reservations recommended. I've used Chief Tsosie and Adventurous Antelope.
Lower Antelope Slot Canyon
Lower Antelope Slot Canyon is my current favorite. It is a V-frame, meaning it widens towards it top. A lot of light reaches the lowest parts of the canyon, making it easy to photograph even without a tripod.  You will spend 45 minutes to an hour slowly walking the length of the canyon, with steep stairs (don't freak out, just hold the hand rail) to enter and a small ladder at the exit. If you only have an iPhone this is probably a better canyon to photograph than Upper Antelope since it is brighter inside.  Reservations recommended.  The family that owns the land operates two tour companies; I've used Ken's Tours for years but I know Dixie Ellis is good too.
Canyon X Slot Canyon
Canyon X is a nice alternative to Upper and Lower Antelope.  There are two sections of Canyon X you can visit separated by a short walk in a partially shaded wash.  While each section of Canyon X is rather short, each has a few very photogenic sections.  The slots are deep, narrow and quite dark in sections — its a lot of fun.  I hired a guide on a "photographer tour" and was alone the entire time.  Taadidiin Tours is the company to contact.
Rattlesnake Canyon and Owl Canyon
Rattlesnake Canyon and Owl Canyon are two slots that empty into the larger Antelope Canyon wash system. In fact, you drive by them (they are on the right) as you approach Upper Antelope Canyon.  Both are accessed with Adventurous Antelope, one of the four companies operated by the Navajo clan that owns the land. (You can also visit Upper Antelope with Adventurous Antelope).  Owl Canyon is named for the great horned owls that nest on the walls, and I saw a few.  It is a beautiful canyon although not particularly photogenic. The most interesting part is at the end/back of the canyon.  Rattlesnake Canyon is the more interesting canyon of the two; it is very narrow in spots and quite twisted.  I spent a lot of time fooling around with a new fisheye lens for my iPhone, so photos in this group are split between a real camera and an iPhone. I visited both canyons on the same cloudy morning and was alone the entire time on a "photo tour"; my guide allowed me to explore each canyon at my own pace.
Horseshoe Bend
Horseshoe Bend used to be one of the Southwest's best-kept secrets. There was a simple dirt parking area, a thin trail to the edge of the canyon, and typically nobody there at sunrise or sunset. Instagram put an end to that. You must pay $10 to park there now.  The lot usually opens a little before sunrise, which is my favorite time to photograph Horseshoe Bend.  You can visit Horseshoe Bend on a tour (Horseshoe Bend Slot Canyon Tours) to avoid the crowded parking lot and view area, but most people visit on their own.  Just know the parking lot can fill during the busiest time of the day and there is no parking along the highway allowed; you will need to return another time or wait for someone to leave. The short trail (about 1.5 miles roundtrip) has a mild incline and is not much more than a stroll. In summer it is the heat about which you must be careful.  Crowds of selfie takers arrive with the first buses early and will often persist all day. It is what it is. Don't be dissuaded, there is plenty of room along the rim so ignore the crowds and enjoy the view. The first two images are with a real camera and a rectalinear 14mm lens, the others are with an iPhone with various lenses.
Radio Tower Rock and the New Wave
"New Wave"?  It's got a stupid name but the New Wave and nearby Radio Tower Rock is an exceptionally easy outing very close to Page, just across the bridge in fact. Google it, you'll find lots of images and directions.  The New Wave is not on par with the Wave itself in terms of striated and cross-hatched sandstone, but given how easy it is to reach its worth a look. There are some formations and views that are really nice, especially in the soft light just before sunrise or after sunset.  The New Wave is about a 5 minute walk from the dirt road, and Radio Tower Rock is about another 10 minutes further.  Great for real photographers and iPhones alike; all of the images other than Radio Tower Rock itself were with my iPhone. No tour guide or permit needed.
Little Cut Viewpoint, Arizona
South of Page on 89 is a great view of the Vermillion Cliffs in the distance and some colorful teepees in the foreground.   A nice photograph both just before sunrise when the landscape is softly lit and a little later when the sun hits everything in view. No permit or guide needed.
Toadstool Hoodoos, Utah
The Toadstool Hoodoos lie just a short hike from Highway 89, with the trailhead just off the highway between Page and Kanab. If you are driving between Page and Zion, it's a no-brainer side trip if you have two hours to spare.  No permit or guide needed.  Most of the photos below are with my iPhone.
The Wave, Buckskin Gulch, White Pocket, South Coyote Buttes
The Wave, White Pocket, and the North and South Coyote Buttes region as a whole is an incredible destination with some of the most spectacular photographic landscapes in the United States. It is near to Page and it is natural to work both areas in one trip.  You will want to research online how to obtain a permit to visit the North Coyotes Buttes (including the Wave) and South Coyote Buttes permit areas, as well as White Pocket and Paw Hole.