Shortly before my visit to Yellowstone National Park this fall to photograph elk, I learned that not one but two female grizzly bears had been killed, presumably by other bears. Fratricide among adult grizzlies is not particularly unusual, but two killings within days of one another is strange. Since both females were killed in the same part of the park, it is natural to presume they met their demise from the same cause: a male grizzly bear (Ursus arctos horribilis). When I arrived in the Lamar Valley, I spoke with a few photographers and animal watchers who told me that indeed the conventional wisdom, based as it was on circumstancial evidence in the absence of any witnesses to the killings, was that a single large male grizzly was probably responsible for the killings. I was fortunate to spot the bear as I was passing through Little America near the distinctive stand of aspens on the north side of the road, not far from the river. By the time the bear had made his way up from the river to cross the road near me quite a crowd had formed. I was told that a "bear researcher" was among those watching, and that this researcher had confirmed the bear as being the one suspected of the killings in the preceding weeks. The bear was bending his nose, perhaps to get a better scent of the people watching him.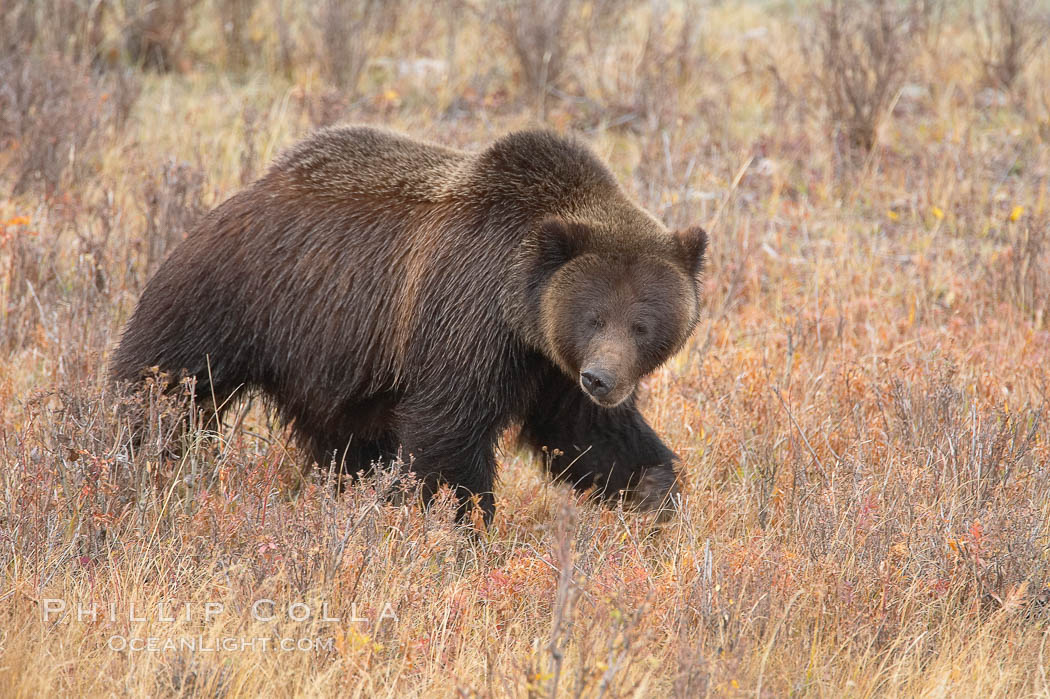 Grizzly bear, autumn, fall, brown grasses.
Image ID: 19614
Species: Grizzly bear, Ursus arctos horribilis
Location: Lamar Valley, Yellowstone National Park, Wyoming, USA
"Grizzly bears" and brown bears are one and the same species. Perhaps they are best thought of as distinct races of the same species, differing in size primarily due to diet. Some refer to grizzlies as Ursus horribilis or Ursus arctos horribilis but that is a distinction without a difference and I suspect would be discounted by modern taxonomists. The scientific name is Ursus arctos and I only include the horribilis on my web site to help distinguish between the two races. "Coastal" brown bears, which inhabit coastal regions in Alaska and Canada and include the famous Kodiak Island, Katmai and Kenai populations of brown bear, have access to vast amounts of fat rich salmon and thus grow considerably larger than interior grizzlies. Indeed, coastal brown bears are the largest bears found in the world. Grizzlies are found further inland in Alaska through Canada and into the northern United States and are often seen in Yellowstone, Grand Teton, Glacier and Waterton Lakes National Parks.