After getting word that the waterfalls in Yosemite are pouring at ginormous levels right now (due to a timely combination of last winter's deep snowpack and recent warm weather), I blasted up to Yosemite Valley for a quickie. Indeed, all the falls were huge. As I drove into the Valley in the dark I could just see Bridalveil and Ribbon Falls going pretty good. A short while later I got a glimpse of Yosemite Falls, also raging. These were high flow levels I had seen in these falls only a few times before in my life, pretty special. I arrived just a few hours before the rising of the full moon Friday night hoping to see the famed "moonbow" of Yosemite Falls. When I got to the foot of Yosemite Falls about 10pm, I joined a small crowd of others who were also there to witness the lunar rainbow. Unfortunately, as I feared, the mist (re: rainstorm) at the foot of Yosemite Falls was so heavy there was no way to keep a camera dry; I was not about to get my gear out for a series of four-minute exposures, I take enough photos underwater as it is. There were a few guys giving it a try, so if they got anything perhaps they'll publish their shots. Instead I spent the evening hiking around the valley, admiring the walls and falls in the moonlight from the relatively dry vantages of the meadows, a singular experience. At one point I was accompanied by a coyote hunting something (mice?) in one of meadows. We were surrounded by such quiet that I could hear his breathing and digging. It turns out that I did manage to obtain a lunar rainbow photo after all. Although I could not see it with my eyes at the time I took the photo below, the camera managed to capture the rainbow in the lower section of the falls (look hard, you'll see it).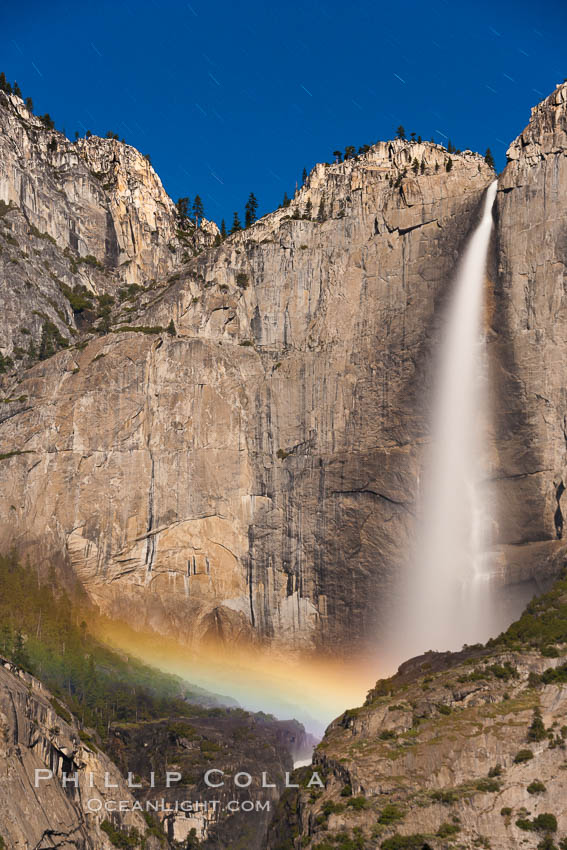 Upper Yosemite Falls and lunar rainbow, moonbow. A lunar rainbow (moonbow) can be seen to the left of Yosemite Falls, where the moon illuminates the spray of the falls.
Image ID: 27751
Location: Yosemite Falls, Yosemite National Park, California, USA
Yosemite Falls by moonlight, reflected in a springtime pool in Cooks Meadow. A lunar rainbow (moonbow) can be seen above the lower section of Yosemite Falls. Star trails appear in the night sky. Yosemite Valley.
Image ID: 16093
Location: Yosemite Falls, Yosemite National Park, California, USA
I spent the next day on the Mist Trail. It was a spectacular day, warm and clear with lots of people enjoying the drenching spray and giddying heights of the Mist and Panorama trails alongside Vernal Falls and Nevada Falls. I got some nice snaps.
Keywords: Yosemite falls, waterfall, yosemite national park, photo, picture, image, lunar, moon, night, photograph.