Photos of Godthul and Gentoo Penguins, South Georgia Island
Our plans to visit St. Andrews Bay this morning are scuttled. There is a strong SE wind that is sending big waves onto the beach at St. Andrews making a landing ill-advised. We move north a short ways to Godthul and find the conditions are calm enough to land, so after breakfast we do. Godthul, named "Good Hollow" by the Norwegian whalers who once anchored here, is a well protected bay surrounded on several sides by steep grassy slopes and the omnipresent South Georgia snow-covered mountains. There are kelp beds along some of the shoreline. We land at a derelict old whaling facility. There some small old buildings, in, on and under which fur seals are lounging — they appear to have reclaimed this area now that the whalers who used to maintain a floating processing platform here in the early 1900's have long since departed.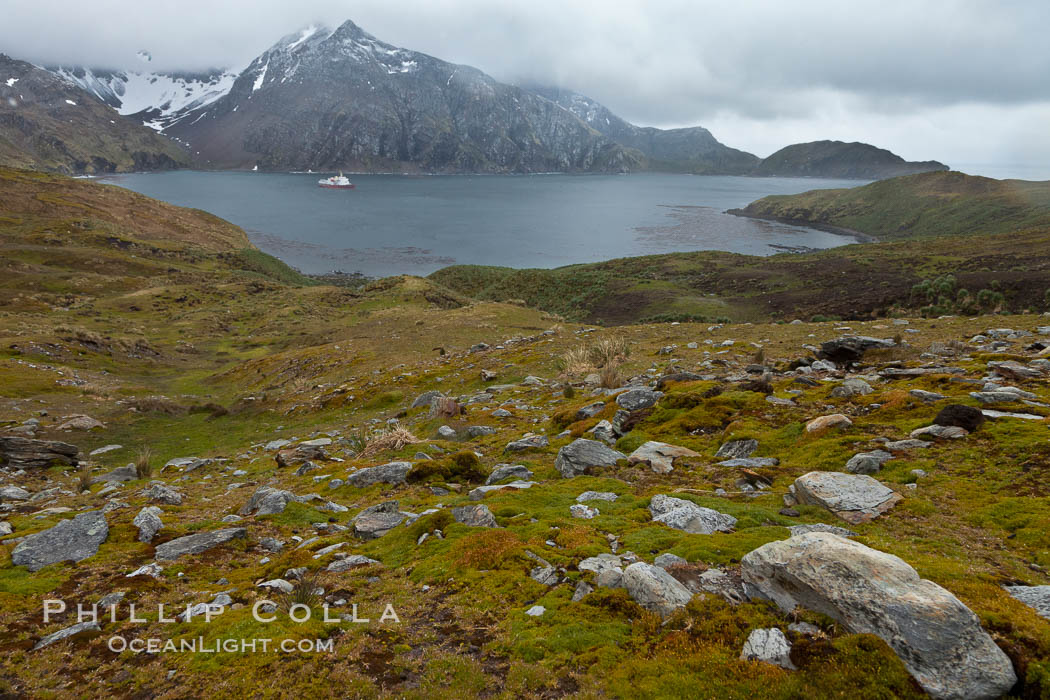 View of Godthul, from the grassy slopes of South Georgia. The name Godthul, or "Good Hollow", dates back to Norwegian whalers who used this bay as a anchorage.
Image ID: 24745
Location: Godthul, South Georgia Island
The beach here is narrow and long, littered with decaying old whale bones, and is populated by Southern Elephant Seals (Mirounga leonina), King Penguins (Aptenodytes patagonicus) and Antarctic Fur Seals (Arctocephalus gazella). There are enough elephant seals and fur seals to make walking the length of the beach difficult, so after a short while I elect to head up the bluff to see the plateau above. The bluff is choked with tussac grass, and many fur seals, so many that finding a path through the waist-high grass without getting bitten is a challenge. I take it slow, making sure there is no fur seal laying under a tuft of grass where I am about to step. After some time I am through the tussac grass maze and onto the higher ground, which is clear and easy walking. Some Gentoo Penguins (Pygoscelis papua) are descending from the plateau, a clue that there must be a colony above.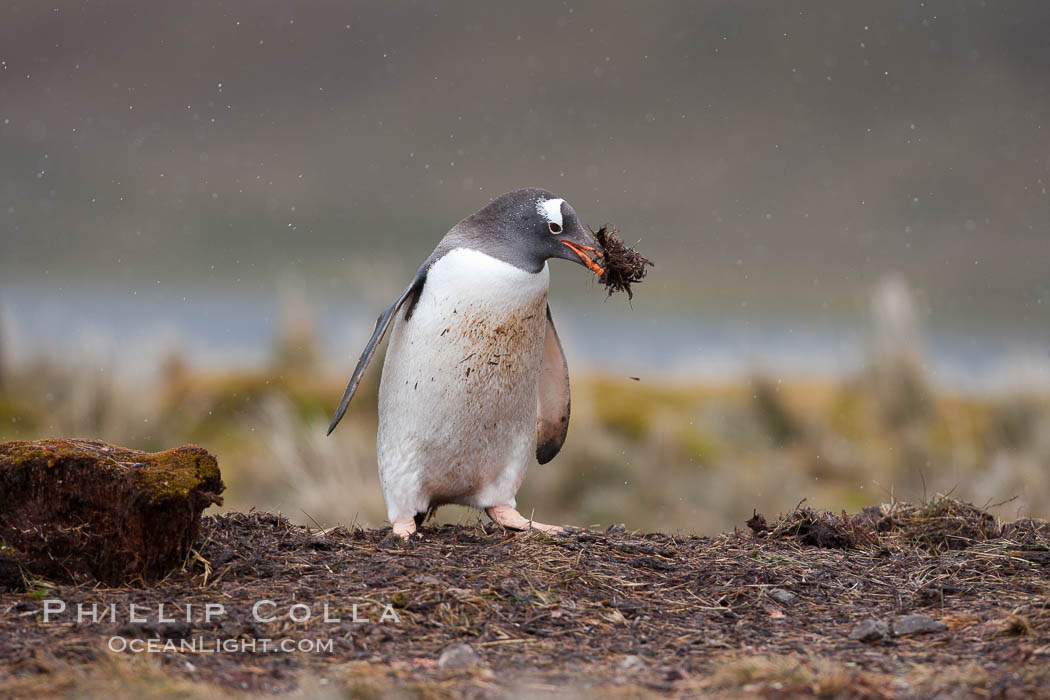 Gentoo penguin stealing nesting material, moving it from one nest (hidden behind the clump on the left) to its nest on the right. Snow falling.
Image ID: 24721
Species: Gentoo penguin, Pygoscelis papua
Location: Godthul, South Georgia Island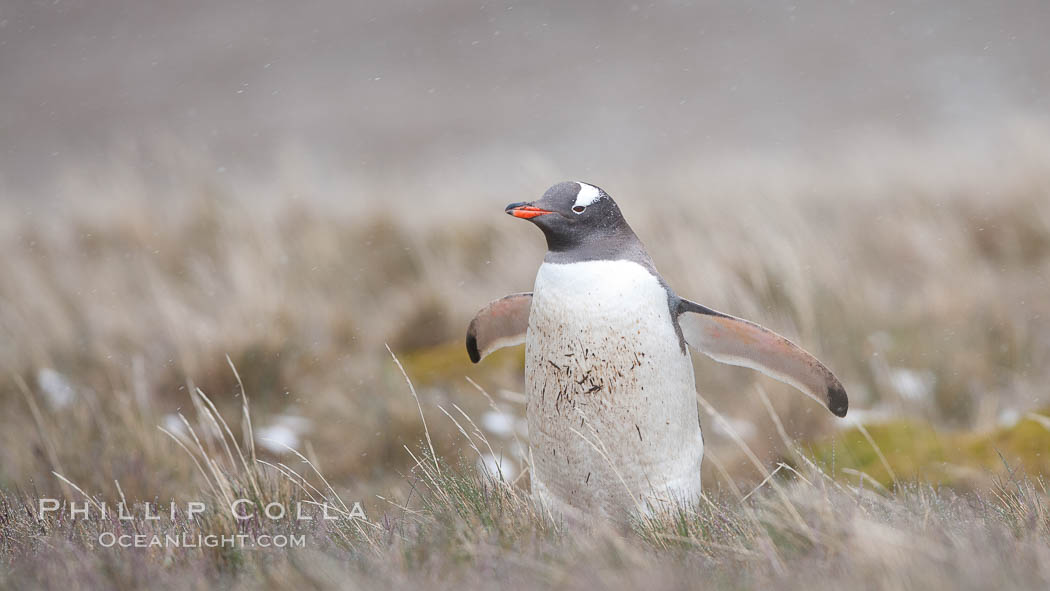 Gentoo penguin, walking through tall grass, snow falling.
Image ID: 24722
Species: Gentoo penguin, Pygoscelis papua
Location: Godthul, South Georgia Island
I go higher and as the terrain begins to flatten, sure enough I find the first of several gentoo colonies, set on a spectacular expanse of open land, with broad views of the ocean and bay below and mountains above. The colony is totally exposed to weather but high enough above the beach that there is no risk to the gentoos from aggressive fur seals. I think I can hear the sharp calls of terns echoing off the sides of the mountains, and see some small white birds flittering about in the distance. I walk further until the land crests to a plateau and am pleased to find a lake set below the steep snow-covered flanks of the peaks above. The lake is wide and appears shallow and has several small groups of gentoos nesting around it, and swimming in it. Then gentoos enter the water dirty and emerge clean and white. Beyond the lake the mountains rise steeply, and a waterfall of perhaps 400-500' drops from the cloud-strewn heights. I settle down beside one gentoo colony for 90 minutes or so, laying in the grass and watching their activities at the nest. There are some courtship displays (I think that's what I am observing) and there is much nest building and tending. Some penguins walk to and from the lake, while others head off down the hills to the ocean. A few gentoos stay beside their humble nests and then, when noone else is looking, brazenly steal nesting material from their colony-mates and add it to their own nest. I realize this is one of those seminal moments were all have when travelling: here I am, laying down in soaking wet grass, freezing my ass off, thousands of miles from home, trying to make photos with wet gear, laughing at the seemingly comic behaviors of the stout little penguins that are going about their business as if I am not even there. I attempt to videotape the scene but not sure whether I succeeded, the sound of wind and snow is filling the microphone. The weather is now pretty grim again, but not yet harsh enough that we must leave. The wind blows snow sideways one minute, then abates letting the snow fall softly the next. After some time my fingers are too cold to operate my camera. I pack up my gear and head down to the beach, choosing the wrong path several times before finally finding the route that has few enough fur seals that I can get back to the zodiac. I'm the last passenger on board, ready for lunch.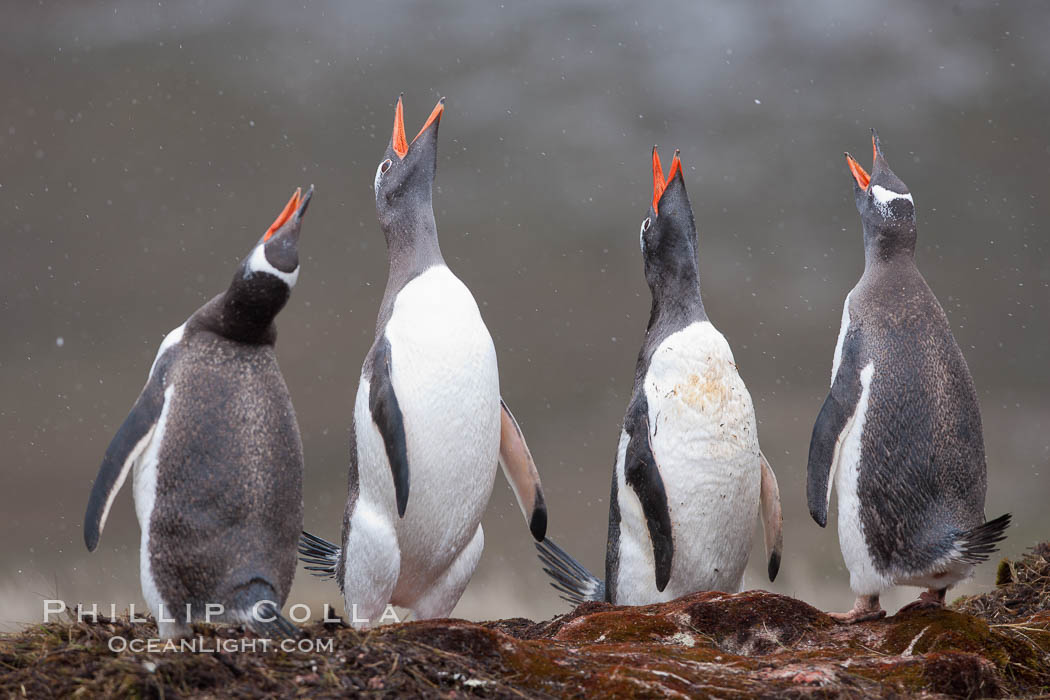 Gentoo penguins, calling, heads raised.
Image ID: 24690
Species: Gentoo penguin, Pygoscelis papua
Location: Godthul, South Georgia Island
Next: Drygalski Fjord, South Georgia Island
Previous: Prion Island, South Georgia Island
Trip Index: Cheesemans Antarctica, Falklands and South Georgia
All "Southern Ocean" entries