Photos of Nesting Wandering Albatross (Diomedea exulans) on Prion Island, South Georgia Island
We wait out the bad weather that arrived while we were on Salisbury Plain on the icebreaker M/V Polar Star, which is anchored in the lee of a nearby small island. Although the weather is cold, dark and snowing, it is also gradually improving. A warm and hearty lunch, and some time reading a book, recharges me after the cold morning and I am hopeful we make another landing today in spite of the weather. After dinner, Ted Cheeseman makes the decision to go ashore at Prion Island to see nesting Wandering Albatross (Diomedea exulans).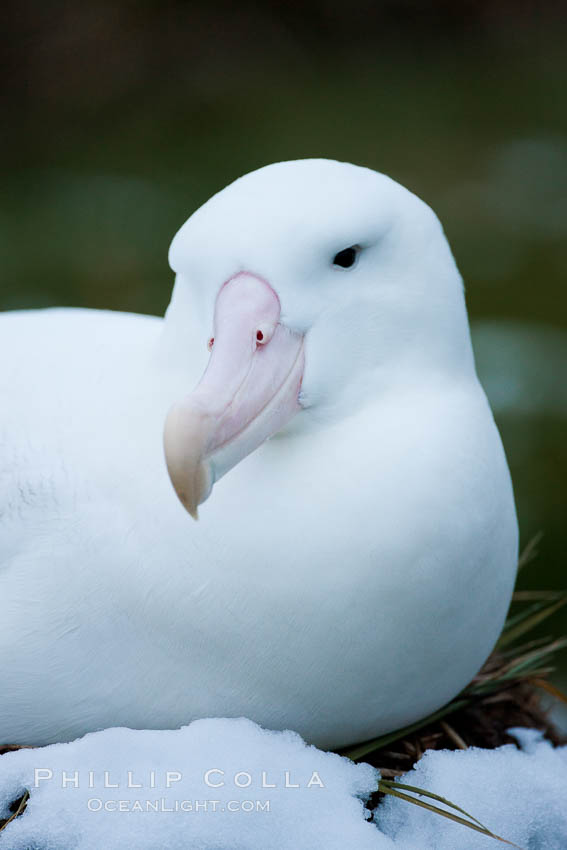 Wandering albatross, on nest and the Prion Island colony. The wandering albatross has the largest wingspan of any living bird, with the wingspan between, up to 12′ from wingtip to wingtip. It can soar on the open ocean for hours at a time, riding the updrafts from individual swells, with a glide ratio of 22 units of distance for every unit of drop. The wandering albatross can live up to 23 years. They hunt at night on the open ocean for cephalopods, small fish, and crustaceans. The survival of the species is at risk due to mortality from long-line fishing gear.
Image ID: 24428
Species: Wandering albatross, Diomedea exulans
Location: Prion Island, South Georgia Island
We had seen Wandering Albatross in flight over the open ocean when we made our crossing from the Falklands to South Georgia, but since then I had not seen one. Wanderers have the greatest wingspan of any bird, up to 12′ from wing tip to wing tip. They are at their most impressive when in flight. The birders on the trip are eager to see more of them, and consider the Wandering Albatross a very special bird. Only small groups of visitors are permitted, and only on a restricted walking path, to avoid disturbing these highly endangered birds. It is dark, and stormy looking, but the seas are reasonably calm and we experience an easy zodiac ride and landing. Once ashore, a short walk amid fur seals brings us to the summit of the small island. A dozen or so nesting albatrosses are seen, including one which is only about 10' from the walkway. My long lens, brought in anticipation of more distant nests, is overkill but at least I get some tight portraits of the huge, snow-white seabird. In spite of being in the presence of these noble albatrosses, the condition make Prion Island seem forlorn to me right now. Snow patches surround the albatrosses, wet snow falls occasionally, the wind is blowing and the skies are dark and ominous. If I had to stay here with the gear I have with me I would die in a few days. These elegant birds are incredibly hardy.
Next: Godthul, South Georgia Island
Previous: Salisbury Plain, South Georgia Island
Trip Index: Cheesemans Antarctica, Falklands and South Georgia
All "Southern Ocean" entries