Photos of Hercules Bay and Macaroni Penguins, South Georgia Island
It is snowing this morning. We are anchored at Stromness but can hardly see the mountains over which we hiked yesterday. The M/V Polar Star is covered with snow. The beaches surrounding our anchorage are dusted with snow and look cold. During breakfast we slowly motor north to Hercules Bay, anchor and prepare for a look at more penguins and seals. Hercules Bay is a spectacular cirque, a snow-topped bowl that rises on three sides of us. A waterfall drops hundreds of feet to a narrow cobblestone beach on which king penguins, fur seals and elephant seals reside.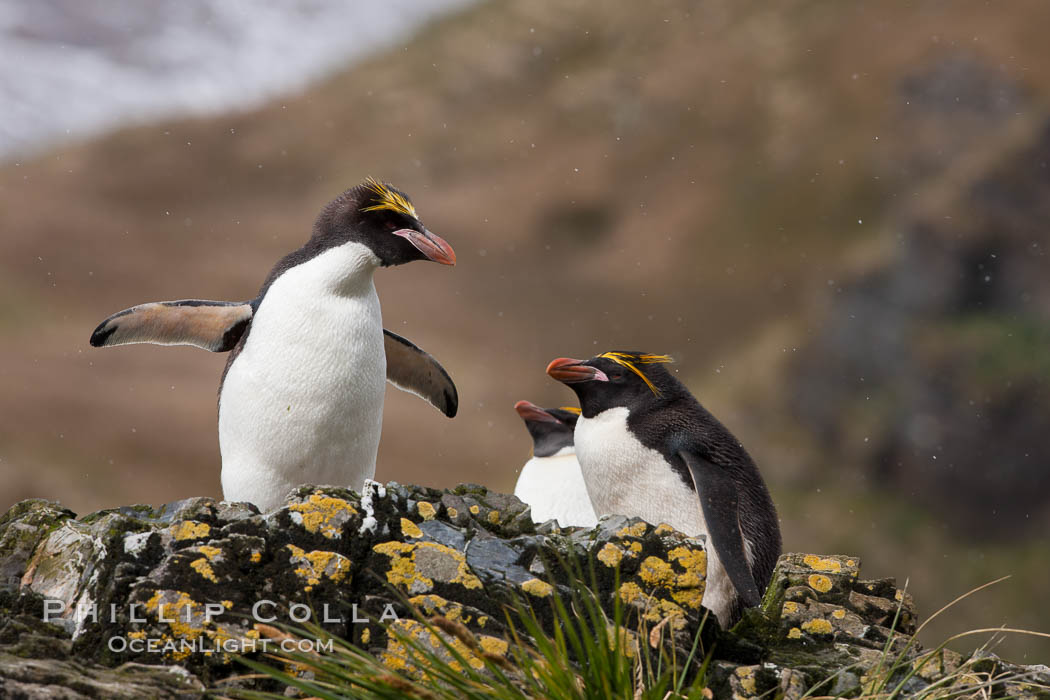 Macaroni penguins, on the rocky shoreline of Hercules Bay, South Georgia Island. One of the crested penguin species, the macaroni penguin bears a distinctive yellow crest on its head. They grow to be about 12 lb and 28″ high. Macaroni penguins eat primarily krill and other crustaceans, small fishes and cephalopods.
Image ID: 24390  
Species: Macaroni penguin, Eudyptes chrysolophus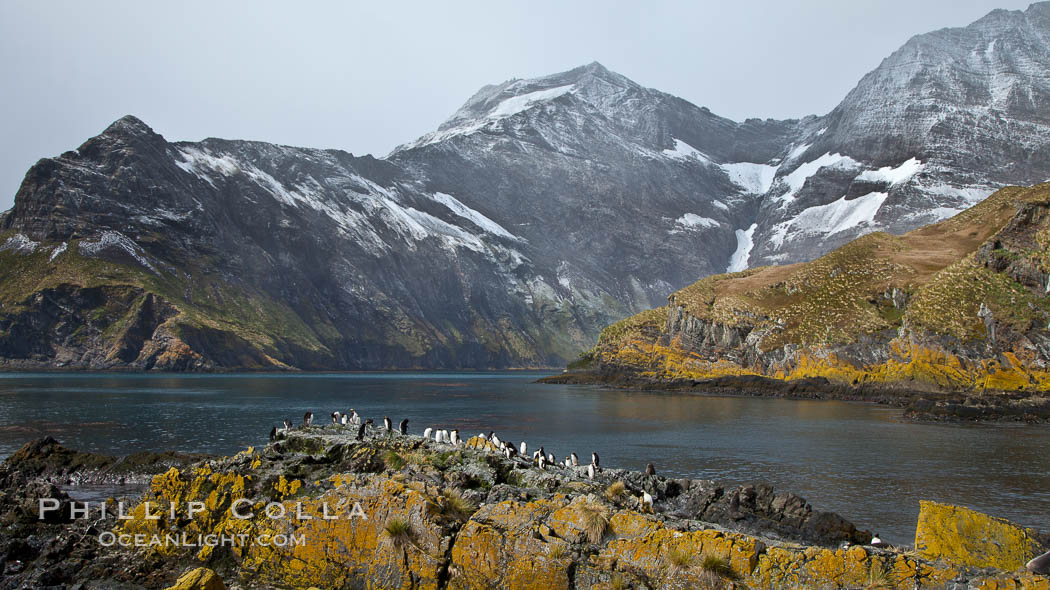 Macaroni penguins and Hercules Bay, South Georgia Island.
Image ID: 24391  
Species: Macaroni penguin, Eudyptes chrysolophus
It continues to snow as we motor in the zodiacs. As we arrive in a small rocky cove, the stench of bird guano and pinniped poop is stunningly strong, a bracing waft of lung-shaking malodorous fumes. Nothing like a group of elephant seals lying in puddles of their own making to open up one's sinuses. Everyone winces. Ahhh, to be alive on South Georgia Island! Indeed, this is the smell we traveled halfway around the world to experience. For a hour or so we watch Macaroni penguins (Eudyptes chrysolophus) as they walk to and fro from their nests in the tussac grass on bluffs overlooking the bay down to rocks at the water's edge. As we do, we must avoid Antarctic fur seals and elephant seals resting on the rocks. Two lone chinstrap penguins are hassled by the larger macaronis, which we now realize are nothing more than 24" bullying avian thugs. Clouds break and the sun begins to light the beach. The air is actually fairly warm now yet snow still falls. What a morning! It is beautiful here, wow.
After an hour we move by zodiac to another cove a short distance away, the one we saw earlier with a waterfall dropping into it. On a small cobblestone beach with mountains rising high above us, a group of about 100 molting King penguins (Aptenodytes patagonicus) are standing in the fresh water as it flows the short distance from the cliff to the ocean. A few young fur seals move about the edge of the king penguin group. Feathers dropped during the penguin's molt gather in clumps in the stream, and blow about in the air when a breeze rises. They are very photogenic and cooperative. Besides the photos I take of them, I shoot a video to show my kids later, hoping that the audio track captures the croaking of the penguins, barking of the fur seals and elephant seals and the soft tap-tap-tap of the still-falling snow. Eventually it is time to leave Hercules Bay and the staff gathers the zodiacs back on board. As we motor away toward Grytviken, the skies open up and show us how really gorgeous this bay is.
Next: Grytviken, South Georgia Island
Previous: Stromness Harbour and Shackleton Hike, South Georgia Island
Trip Index: Cheesemans Antarctica, Falklands and South Georgia
All "Southern Ocean" entries


Leave a comment
---