Photos of Stromness Harbour and Shackleton Hike, South Georgia Island
After lunch on the boat we return to the far side of Fortuna Bay to set out on a 3.5m hike over a mountain pass to Stromness. This hike will follow the final leg in Ernest Shackleton's heroic journey from Elephant Island to South Georgia Island. As Shackleton crossed over South Georgia Island, his goal was Stromness Harbour where he knew he could find help from the whaling station there. However, he mistakenly descended into Fortuna Bay. Upon realizing this, he made for Stromness Harbour by the most direct route, over a low pass. Our hike today is a reenactment of that final short traverse, one that he performed in winter. Thanks to the forgiving weather, our walk turns out to be fun and easy, but the thought of hiking up on the mountains above in winter as Shackleton did holds no appeal.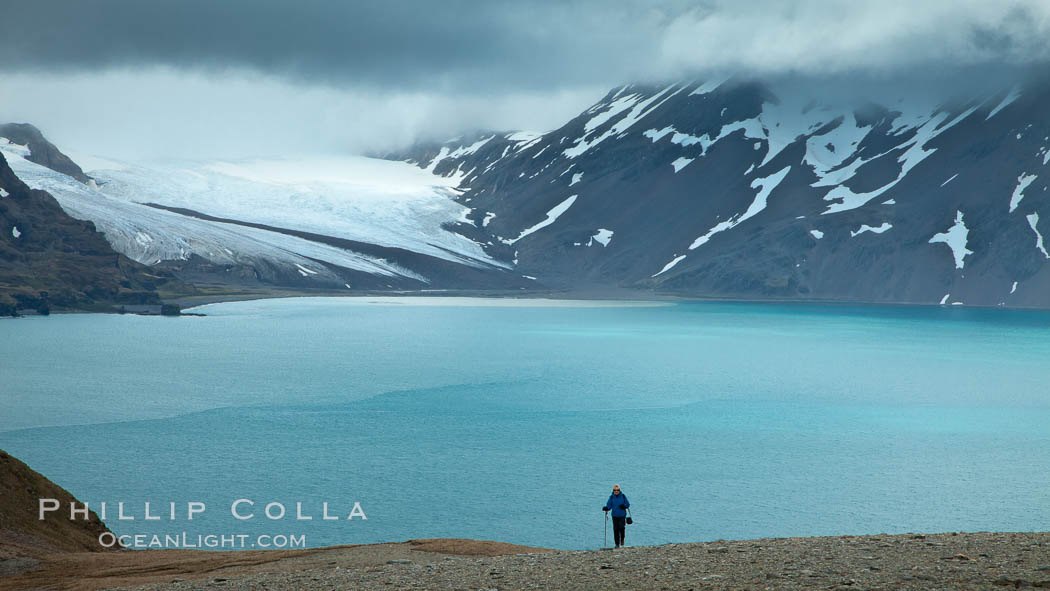 A hiker ascends the slopes of South Georgia Island above Fortuna Bay.
Image ID: 24591
Location: Fortuna Bay, South Georgia Island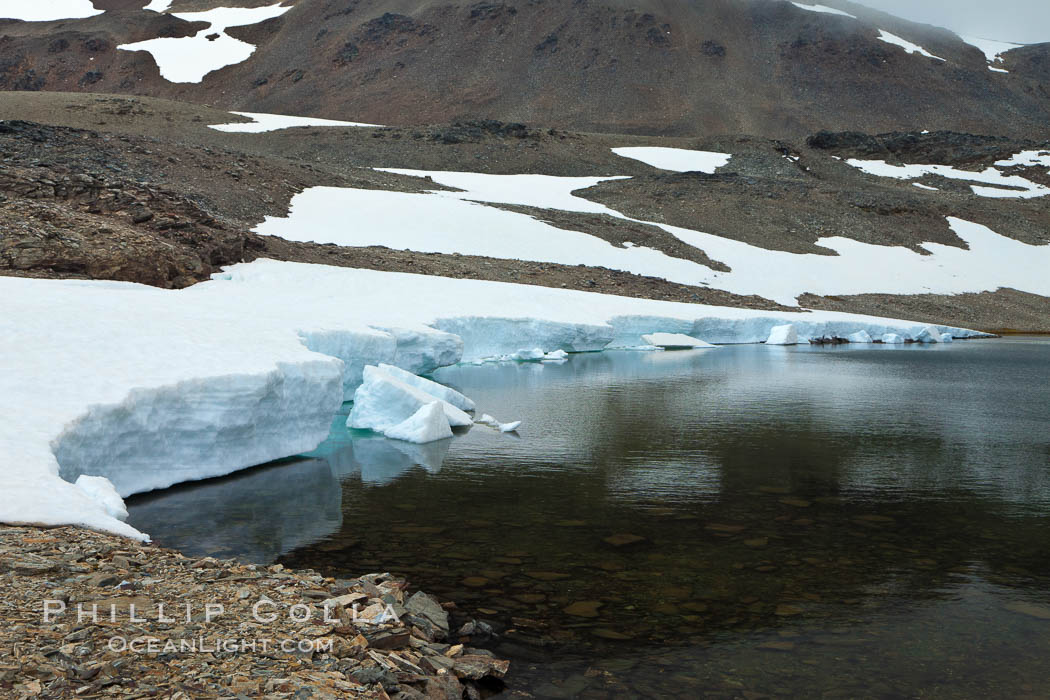 Crean Lake, with permanent ice and snow, near the pass over South Georgia Island between Fortuna Bay and Stromness Bay.
Image ID: 24589
Location: South Georgia Island
We leave from – what else – a small cobblestone beach with fur seals and elephant seals. The initial ascent is steep but simple, with open views of still-overcast Fortuna Bay below. The route (not a trail) is a over some type of slate scree, a fascinating debris that must be revealing the geologic history of the rock below but which I can't read. I just like the footing it offers, and I can travel easily and quickly. On the way to the top of the saddle I pass a stream and several small lakes, and patches of snow. It is drizzling lightly. Once over the pass I see my first views of Stromness Harbour and the whaling station there. Several glaciers in the surrounding basin feed into the stream that winds across a wide flat alluvial flood plain below. A steep snow patch blocks the way – nothing to do but descend. Others who have gone before me have slid down on their butts but I left my foul weather pants on the boat so decide to schuss-ski the 300 yards run on my feet. It's really fun. Below the snow I find Shackleton's Falls (not sure what the actual name of this waterfall is), dropping in several parts nearly all the way to the flood plain. I shoot a few photos and a video, then head off across the wet plain alongside the stream. From this point a hill blocks Stromness Harbour from sight, so that one must either go over or around. I go up and over. Atop the hill there are a few colonies of gentoo penguins (why so far inland and high up?), skuas laying in grass, and lichen-covered ancient-looking rock formations. The drizzle now changes to snow, and I am forced to put my jacket on. Reindeer are running over the grassy hills a half mile away across a gap, travelling up the mountainside as far as the lower reaches of snow. More waterfalls can be seen from the top of this hill, each descending to the flood plain and into the bay at Stromness. The abandoned whaling station at Stromness can be seen clearly from atop this hill. It is a decrepit wreck of rusting metal, docks, cranes, barrels and old roads. I descend through beautiful spreads of tall tussock and mounds of short grasses to the beach below, passing by bachelor fur seals and gentoos walking from the water to their hilltop colonies.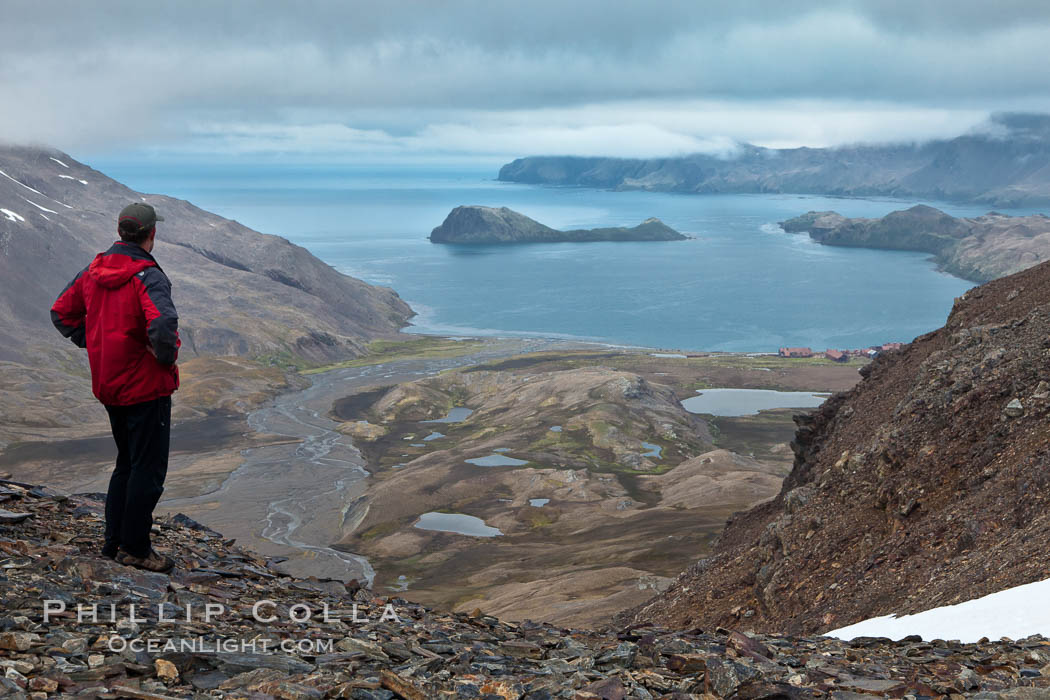 Hiker looks down on Stromness Harbour from the pass high above.
Image ID: 24582
Location: Stromness Harbour, South Georgia Island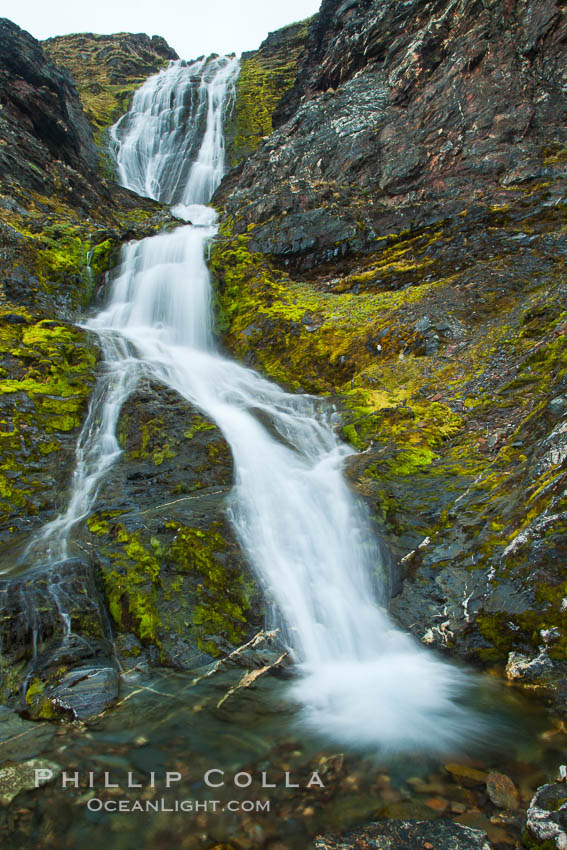 Shackleton Falls, named for explorer Sir Ernest Shackleton, formed from glacial meltwaters, near Stromness Bay.
Image ID: 24636
Location: Stromness Harbour, South Georgia Island
Glacial melt waters, runoff, flows across an alluvial flood plain between mountains, on its way to Stromness Bay.
Image ID: 24587
Location: Stromness Harbour, South Georgia Island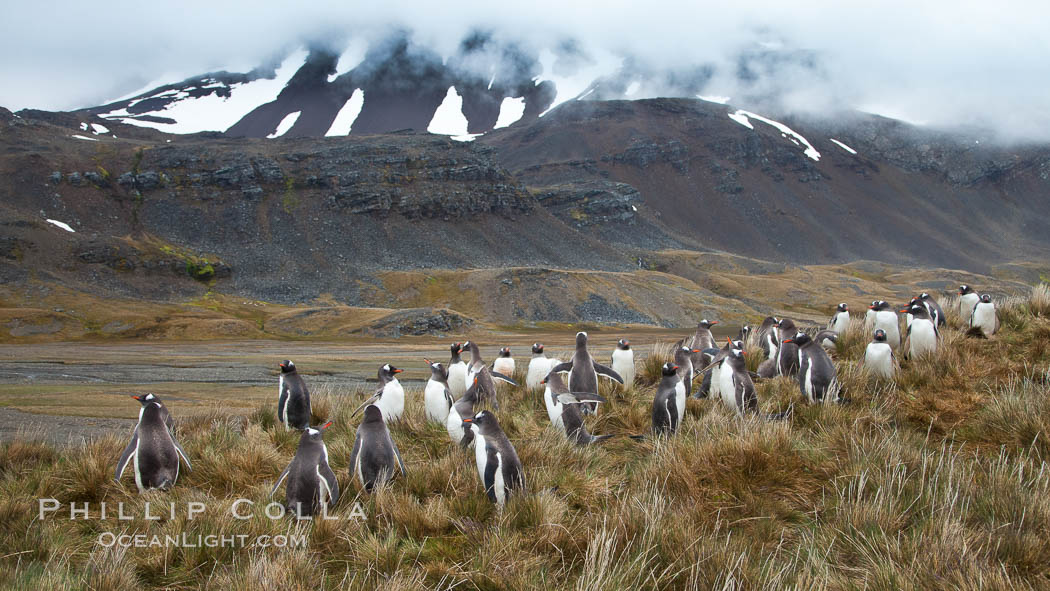 Gentoo penguins, permanent nesting colony in grassy hills about a mile inland from the ocean, near Stromness Bay, South Georgia Island.
Image ID: 24635
Species: Gentoo penguin, Pygoscelis papua
Location: Stromness Harbour, South Georgia Island
Next: Hercules Bay, South Georgia Island
Previous: Fortuna Bay, South Georgia Island
Trip Index: Cheesemans Antarctica, Falklands and South Georgia
All "Southern Ocean" entries