Here is one of the cuter sea otters (Enhydra lutris) I managed to photograph in Monterey recently. After shooting one afternoon's worth of otters, both Jon and I decided that it was not worth spending time taking pictures of the dark-faced otters — their deep brown fur made it tough to get an appealing exposure without blowing out the background. So, like guys are wont to do the world over, we focused our attention entirely on the blondes. Seen in this photo is "Paris," known for her vacant expression and vacuous intellect.* As one would expect, the blond otters made for the best photos, something about having been to modeling school and having a good surgeon.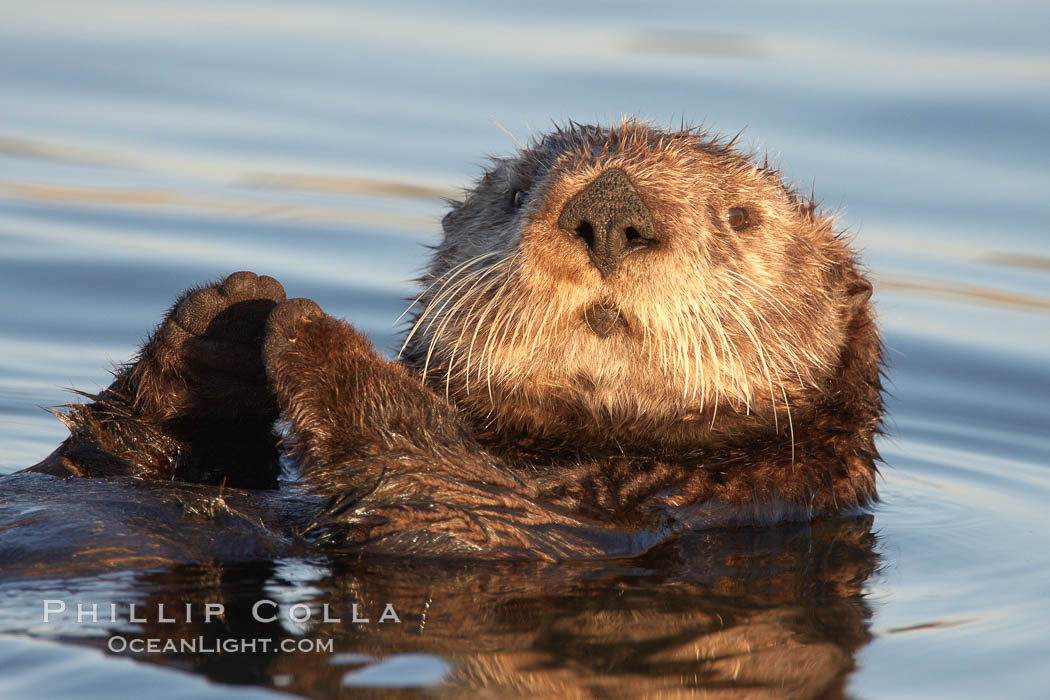 A sea otter, resting on its back, holding its paw out of the water for warmth. While the sea otter has extremely dense fur on its body, the fur is less dense on its head, arms and paws so it will hold these out of the cold water to conserve body heat.
Image ID: 21602
Species: Sea otter, Enhydra lutris
Location: Elkhorn Slough National Estuarine Research Reserve, Moss Landing, California, USA
See more of our sea otter photos.
* The astute observer will note that this otter, being male**, technically should not be named Paris. Good point, we'll call him Jessica.
** If you are not able to identify this otter as a male, then go here to get the info.