Photos of Peterman Island, Antarctica
Soon after passing through the Lemaire Channel we arrive at Peterman Island. Peterman Island is a relatively low-lying, somewhat flattish granite island with scattered gentoo penguin (Pygoscelis papua) colonies and some small ponds. Rounded rocks along the edge of the island are awash with small waves, and I make my way to one attractive point away from the penguins (I have had enough of photographing penguins by this point) to make pictures of the water swirling ashore with peaks and clouds in the distance. I stand about thigh deep in the ocean water, but its not as cold as I expected – my boots and pants keep me dry.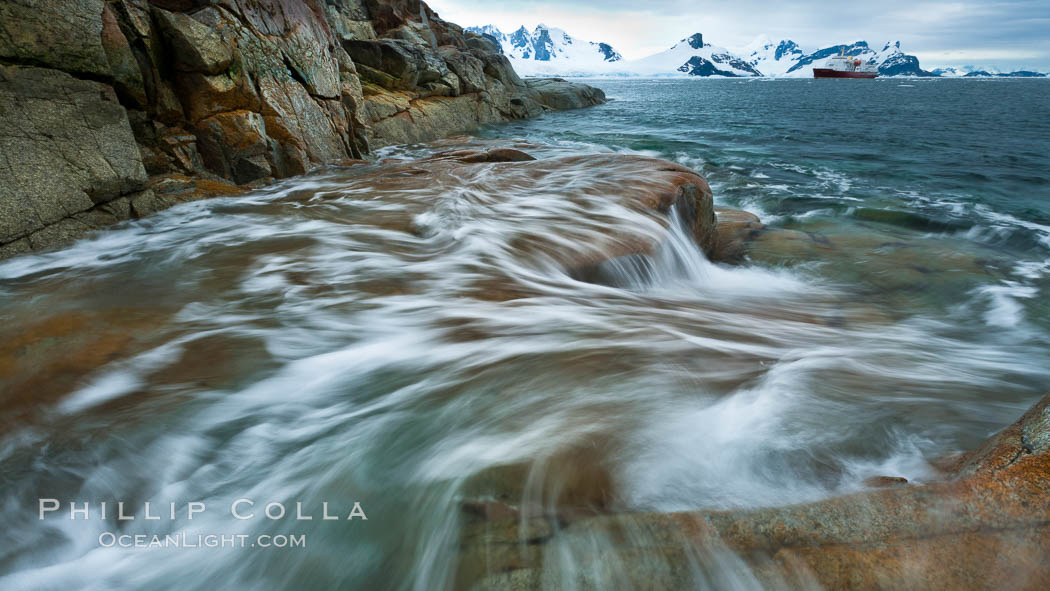 Waves rush in, sunset, Antarctica. Ocean water rushes ashore over the rocky edge of Peterman Island, Antarctica.
Image ID: 25610
Location: Peterman Island, Antarctic Peninsula, Antarctica
After about 15 minutes, I hear a rustling behind me. A gentoo penguin has snuck up on me, standing on a ledge at my shoulder only about 3' away, watching me and nosing my backpack lying next to him. We both stand still for a few moments, checking one another out. Is it making sure there is nothing to be fearful of? Perhaps. Eventually, the gentoo starts nibbling some clean white snow next to me. I go on with my picture taking. When I turn around a few minutes later, it is still there watching me, now joined by another gentoo. I set one of my cameras on the granite and put a self timer on it, and let it take a few photos of the two little birds (see next image). Soon they waddle down to the water and swim off.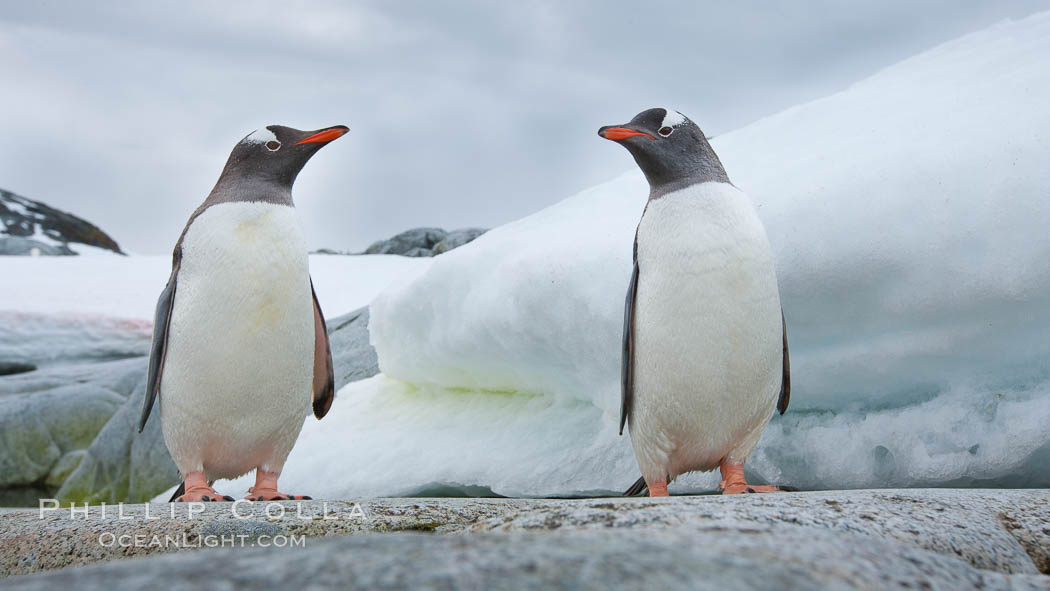 Gentoo penguins, Peterman Island, Antarctica
Image ID: 25613
Species: Gentoo penguin, Pygoscelis papua
Location: Peterman Island, Antarctic Peninsula, Antarctica
I pack up and hike about the island, past many more penguins on their nests feeding their pairs of chicks: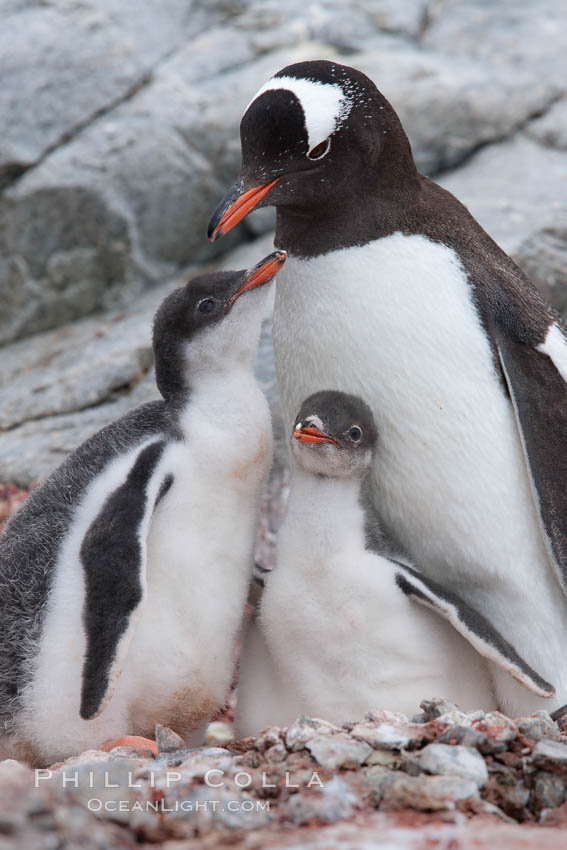 Gentoo penguin adult tending to its two chicks. The chicks will remain in the nest for about 30 days after hatching.
Image ID: 25601
Species: Gentoo penguin, Pygoscelis papua
Location: Peterman Island, Antarctic Peninsula, Antarctica
Before returning by zodiac to the ship, I visit a lonely memorial to three BAS (British Antarctic Survey) scientists who were working at the small research hut on Peterman Island some years ago and trapped there by partially frozen seas with insufficient provisions. The ice conditions were such that the three BAS staff could not safely walk out, nor could a boat reach them. They waited weeks for help. Eventually a BAS ship reached Peterman Island, but instead of finding the researchers only a note was discovered. It is believed all three BAS scientists perished after attempting walk across the thin ice to another research station 9 miles away, likely falling into the strait through the thin ice. The memorial is a poignant reminder of the unforgiving nature of life on the Antarctic Peninsula.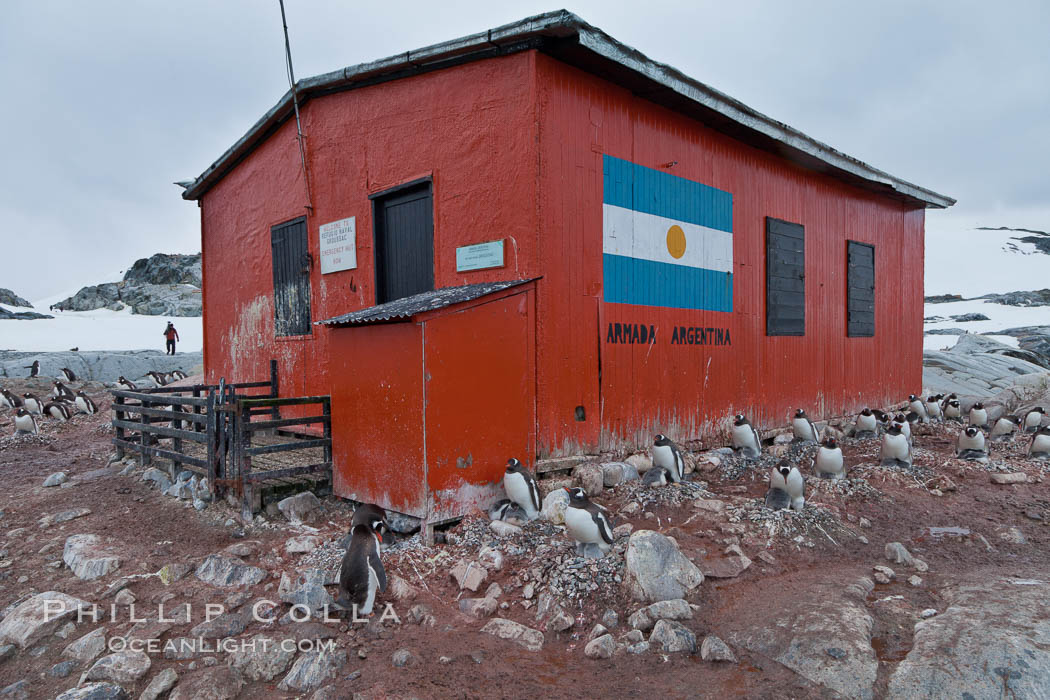 Argentine research hut on Petermann Island, Antarctica.
Image ID: 25605
Species: Gentoo penguin, Pygoscelis papua
Location: Peterman Island, Antarctic Peninsula, Antarctica
Next: Cloudy Morning in Paradise Bay, Antarctica
Previous: Lemaire Channel, Antarctica
Trip Index: Cheesemans Antarctica, Falklands and South Georgia
All "Southern Ocean" entries