This is the second in my "Southern California Bight Sampler (Post-Covid?)" series: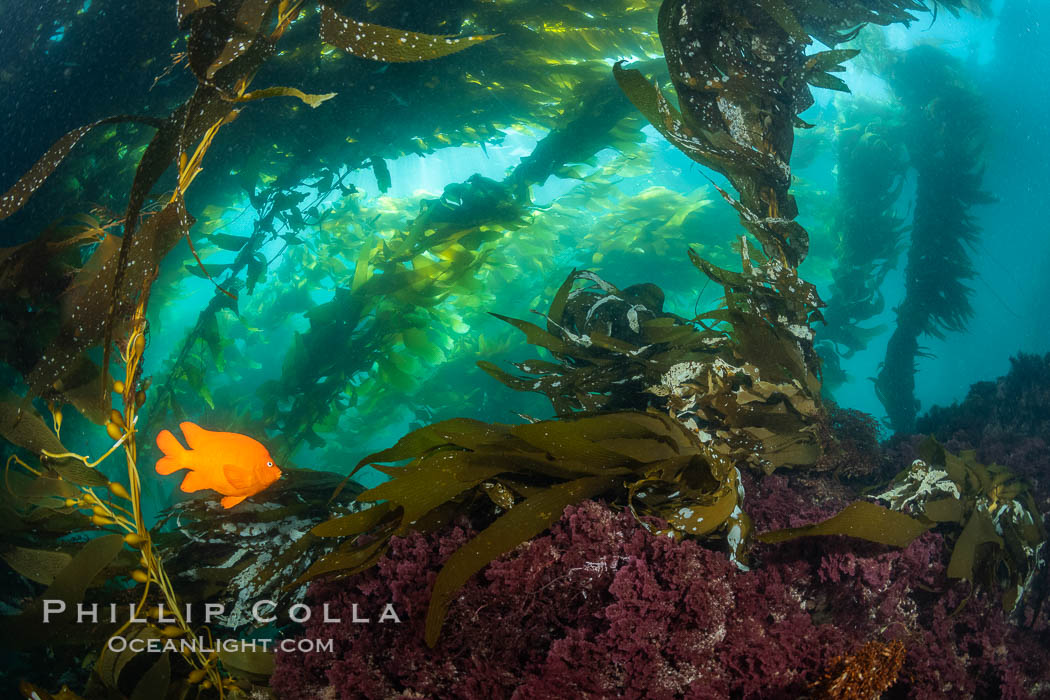 Garibaldi swims in the kelp forest, sunlight filters through towering giant kelp plants rising from the ocean bottom to the surface, underwater.
Image ID: 37091
Species: Garibaldi, Hypsypops rubicundus
Location: San Clemente Island, California, USA
San Clemente Island, and in particular the southern end of the island, is where I developed a real love for diving, the ocean and its inhabitants, and particularly the spectacular kelp forests of the west coast of North America. I spent many days exploring the undersea terrain of San Clemente Island, sometimes with my friends and sometimes alone, but always with the dive boat Horizon and its crew making it possible. Often I was one of the divemasters which was cool as that allowed me to have some influence over where we would drop the anchor and hop in. In the last decade I have not been able to get out to San Clemente Island as often as I would like, so when my friend Gayle let me know she had space on her Memorial Day 3-day trip to the island I jumped at the chance. It was a relatively small group of skilled divers, friends old and new, and we had a blast. It felt like the old days with no mention of the pandemic or politics or any of that crap, just people enjoying being at ease and in their element. We spent all three days in Pyramid Cove, around China Hat and just a bit up the lee side. Water conditions were okay, not great, but the kelp itself and life on the reef were lush and healthy. I spent all of my dive time composing photographs of gorgonians against a backdrop of giant kelp, a theme that is clear in the images selected below. Cheers, and thanks for looking!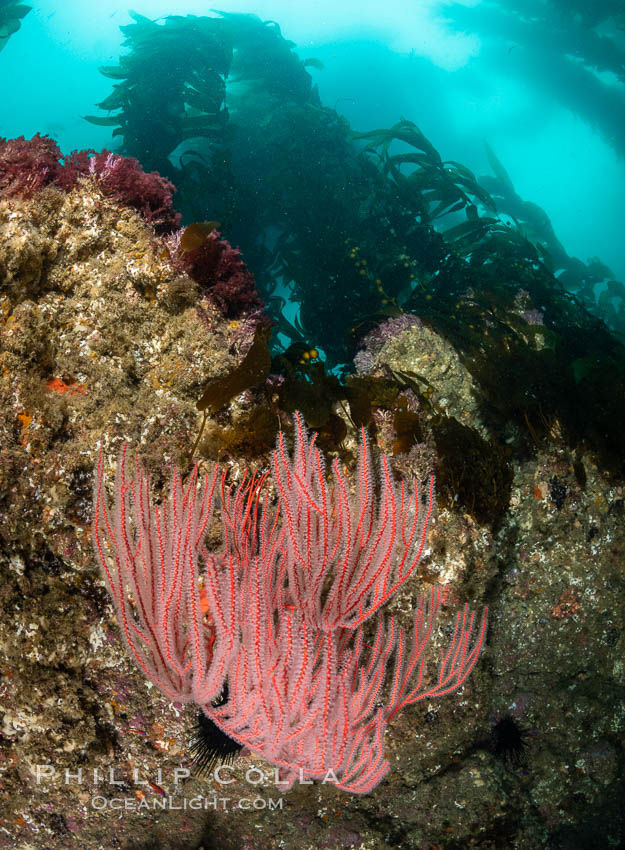 Red gorgonian on rocky reef, below kelp forest, underwater. The red gorgonian is a filter-feeding temperate colonial species that lives on the rocky bottom at depths between 50 to 200 feet deep. Gorgonians are oriented at right angles to prevailing water currents to capture plankton drifting by.
Image ID: 37055
Species: Red Gorgonian, Lophogorgia chilensis
Location: San Clemente Island, California, USA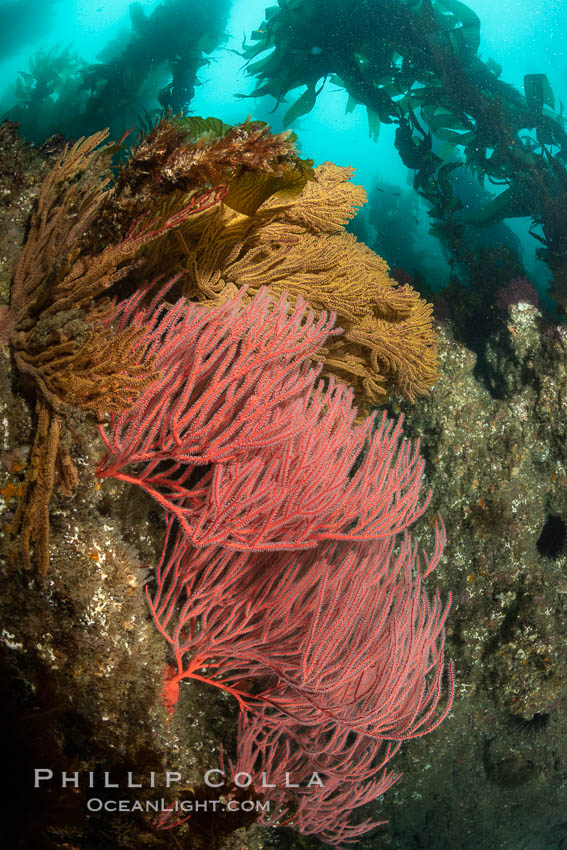 Red gorgonian and California golden gorgonian on underwater rocky reef below kelp forest, San Clemente Island. Gorgonians are filter-feeding temperate colonial species that lives on the rocky bottom at depths between 50 to 200 feet deep. Each individual polyp is a distinct animal, together they secrete calcium that forms the structure of the colony. Gorgonians are oriented at right angles to prevailing water currents to capture plankton drifting by, San Clemente Island. Gorgonians are oriented at right angles to prevailing water currents to capture plankton drifting by.
Image ID: 37059
Species: Red Gorgonian, Lophogorgia chilensis
Location: San Clemente Island, California, USA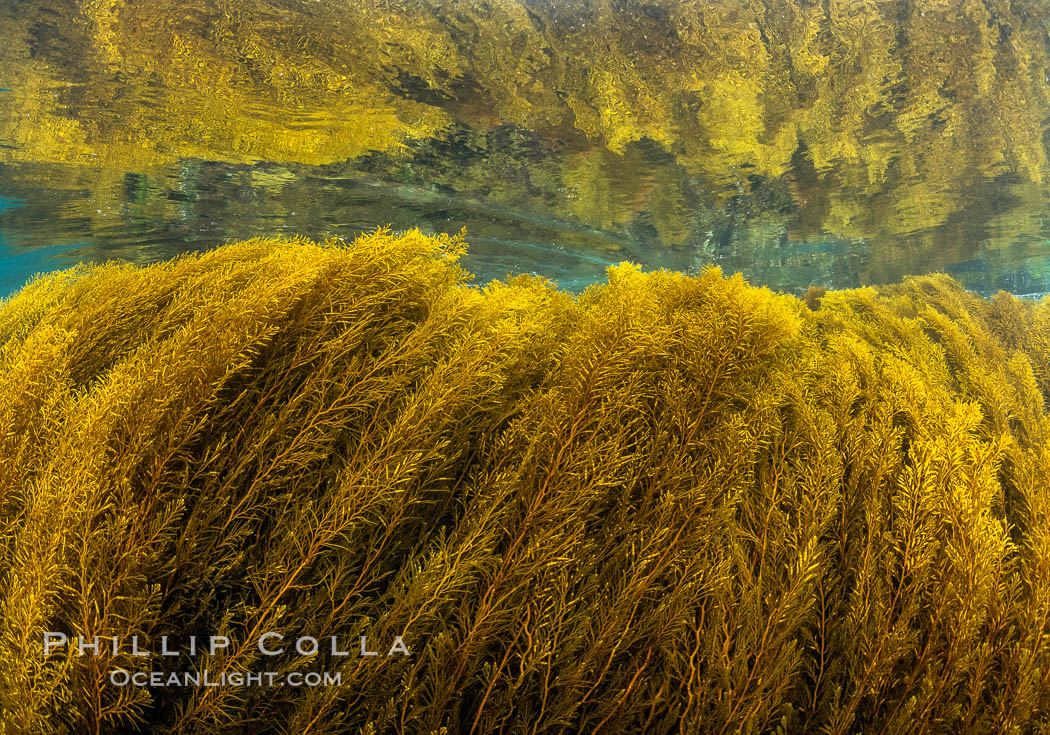 Stephanocystis dioica kelp algae on a shallow rocky reef, reflected underneath the surface of the ocean.
Image ID: 37063
Species: Stephanocystis dioica
Location: San Clemente Island, California, USA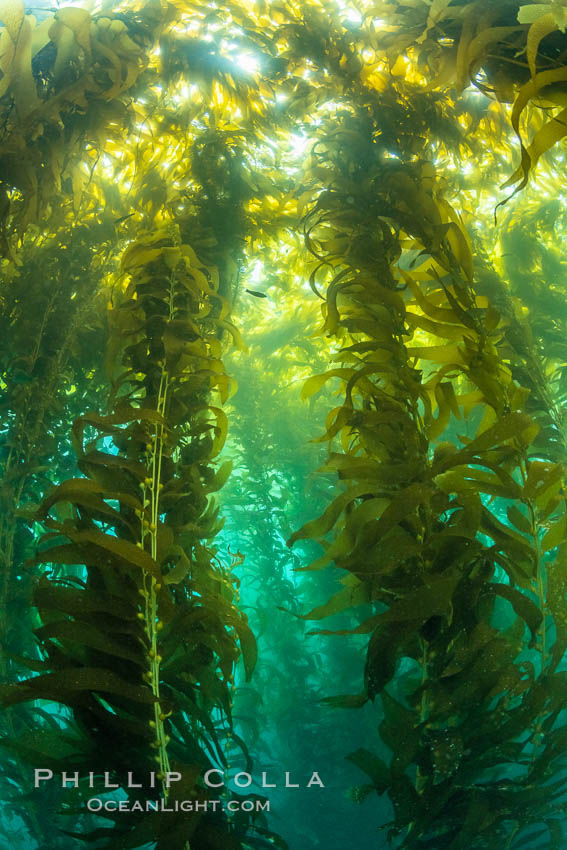 Sunlight glows throughout a giant kelp forest. Giant kelp, the fastest growing plant on Earth, reaches from the rocky reef to the ocean's surface like a submarine forest.
Image ID: 37086
Species: Giant Kelp, Macrocystis pyrifera
Location: San Clemente Island, California, USA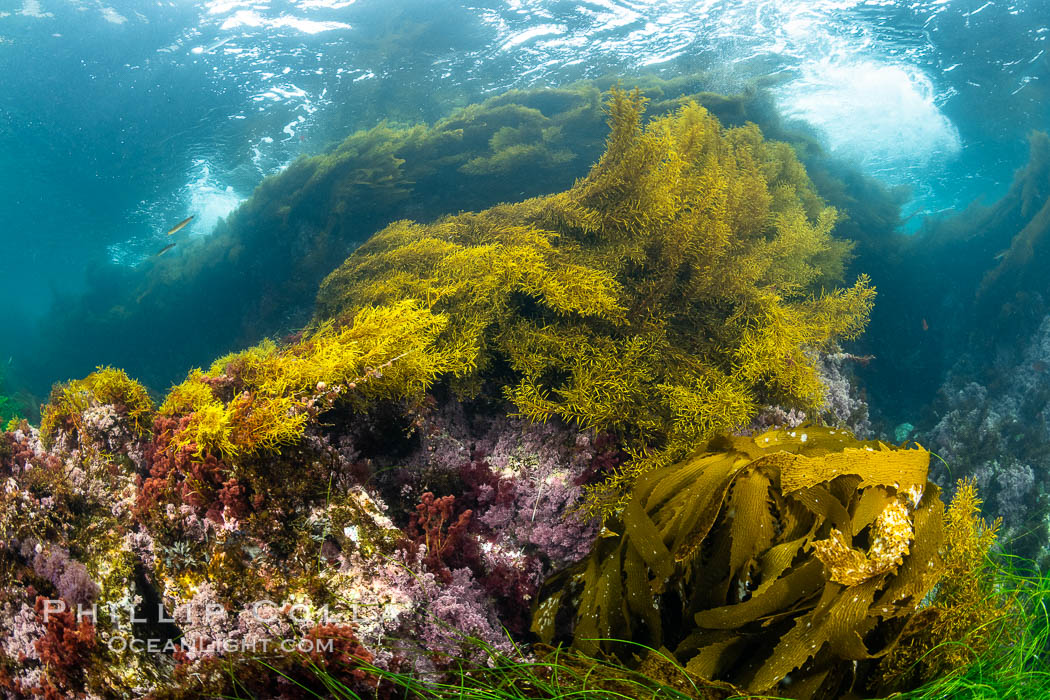 Various algae species sway with passing waves, including Stephanocystis dioica and Southern Sea Palm (Eisenia arborea).
Image ID: 37062
Species: Stephanocystis dioica
Location: San Clemente Island, California, USA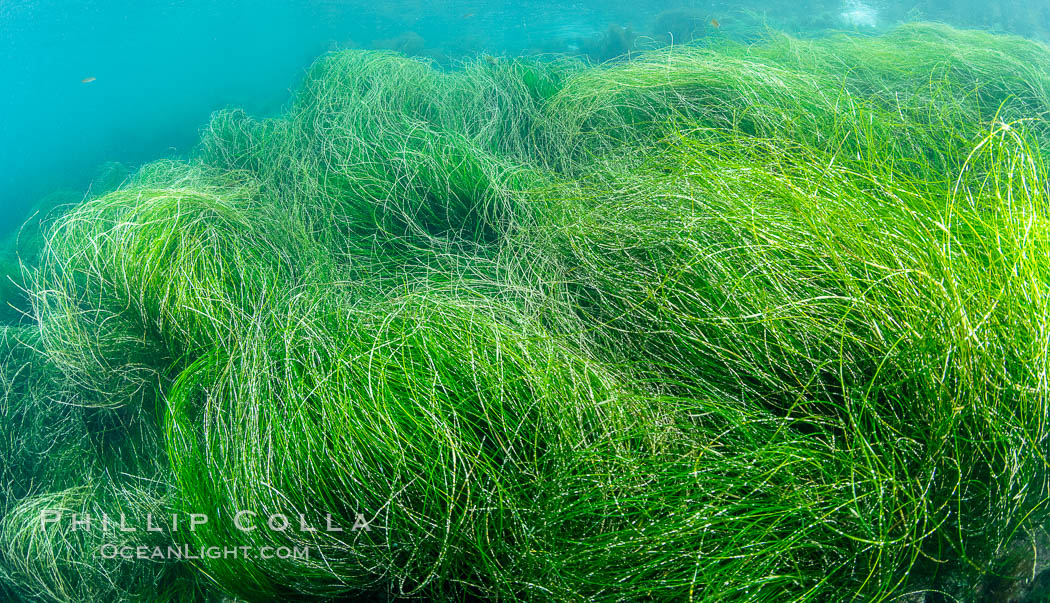 Surfgrass (Phyllospadix), moving with waves in shallow water, San Clemente Island.
Image ID: 37064
Species: Surfgrass, Phyllospadix
Location: San Clemente Island, California, USA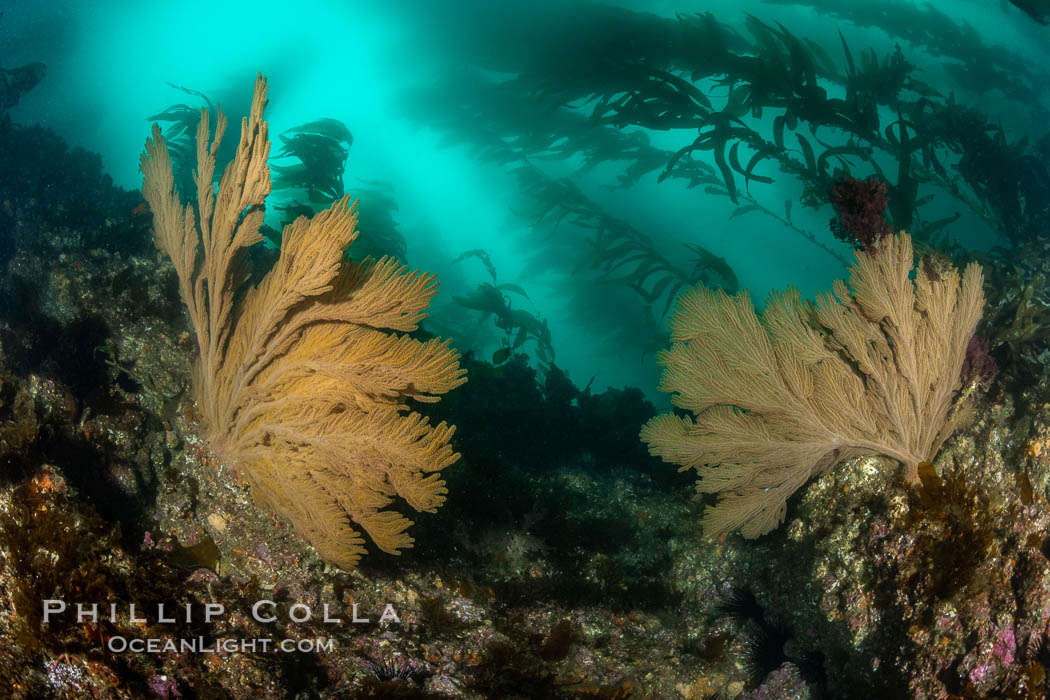 California golden gorgonian on underwater rocky reef below kelp forest, San Clemente Island. The golden gorgonian is a filter-feeding temperate colonial species that lives on the rocky bottom at depths between 50 to 200 feet deep. Each individual polyp is a distinct animal, together they secrete calcium that forms the structure of the colony. Gorgonians are oriented at right angles to prevailing water currents to capture plankton drifting by.
Image ID: 37078
Species: California golden gorgonian, Muricea californica
Location: San Clemente Island, California, USA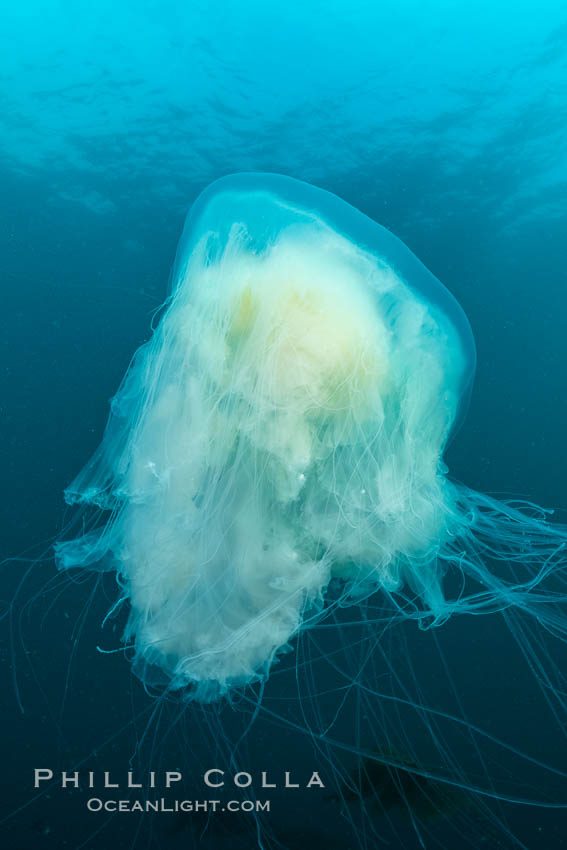 Fried-egg jellyfish, drifting through the open ocean.
Image ID: 37090
Location: San Clemente Island, California, USA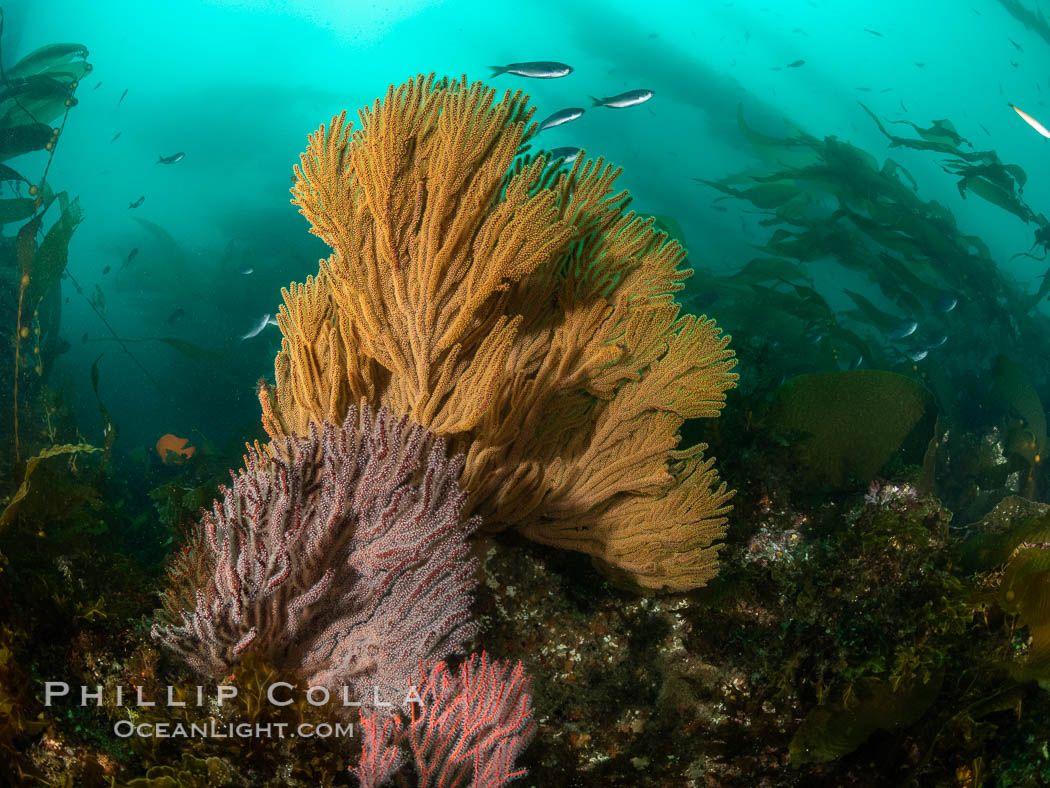 Brown gorgonian and California golden gorgonian on underwater rocky reef below kelp forest, San Clemente Island. Gorgonians are filter-feeding temperate colonial species that lives on the rocky bottom at depths between 50 to 200 feet deep. Each individual polyp is a distinct animal, together they secrete calcium that forms the structure of the colony. Gorgonians are oriented at right angles to prevailing water currents to capture plankton drifting by.
Image ID: 37079
Species: California golden gorgonian, Brown gorgonian, Muricea californica, Muricea fruticosa
Location: San Clemente Island, California, USA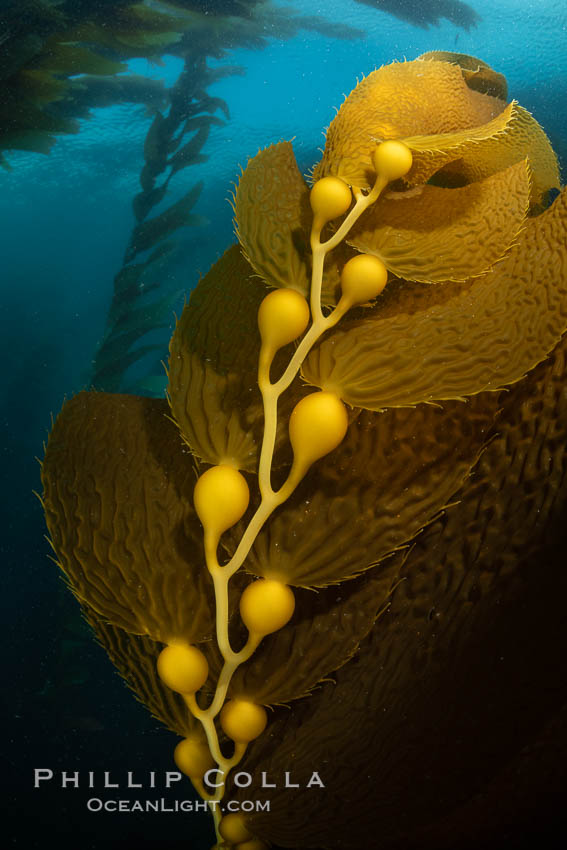 Kelp fronds and pneumatocysts. Pneumatocysts, gas-filled bladders, float the kelp plant off the ocean bottom toward the surface and sunlight, where the leaf-like blades and stipes of the kelp plant grow fastest. Giant kelp can grow up to 2' in a single day given optimal conditions. Epic submarine forests of kelp grow throughout California's Southern Channel Islands.
Image ID: 37100
Species: Giant Kelp, Macrocystis pyrifera
Location: San Clemente Island, California, USA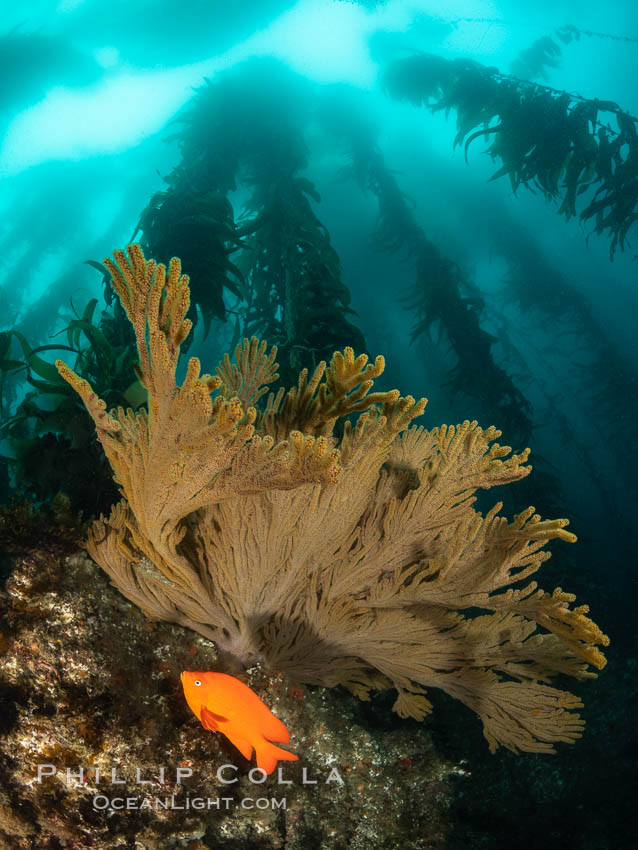 Garibaldi and golden gorgonian, with a underwater forest of giant kelp rising in the background, underwater.
Image ID: 37097
Species: California golden gorgonian, Garibaldi, Muricea californica, Hypsypops rubicundus
Location: San Clemente Island, California, USA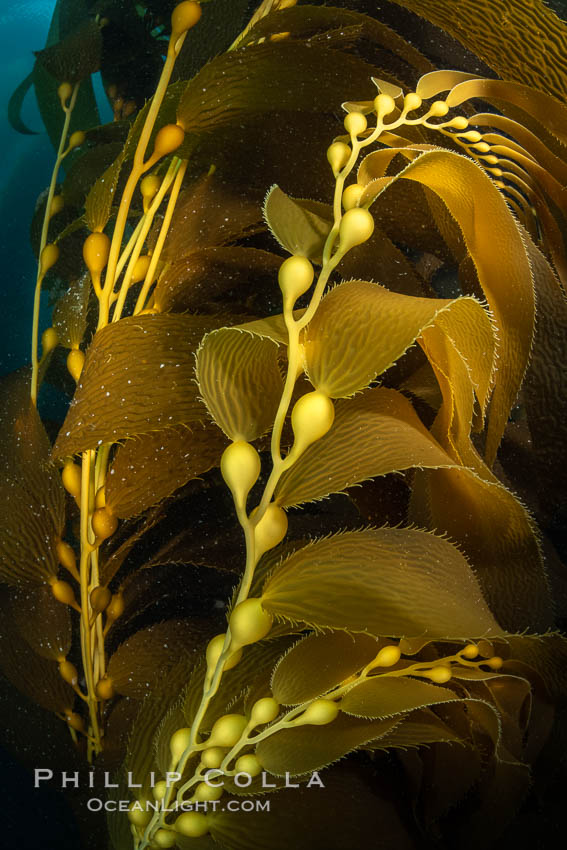 Kelp fronds and pneumatocysts. Pneumatocysts, gas-filled bladders, float the kelp plant off the ocean bottom toward the surface and sunlight, where the leaf-like blades and stipes of the kelp plant grow fastest. Giant kelp can grow up to 2' in a single day given optimal conditions. Epic submarine forests of kelp grow throughout California's Southern Channel Islands.
Image ID: 37101
Species: Giant Kelp, Macrocystis pyrifera
Location: San Clemente Island, California, USA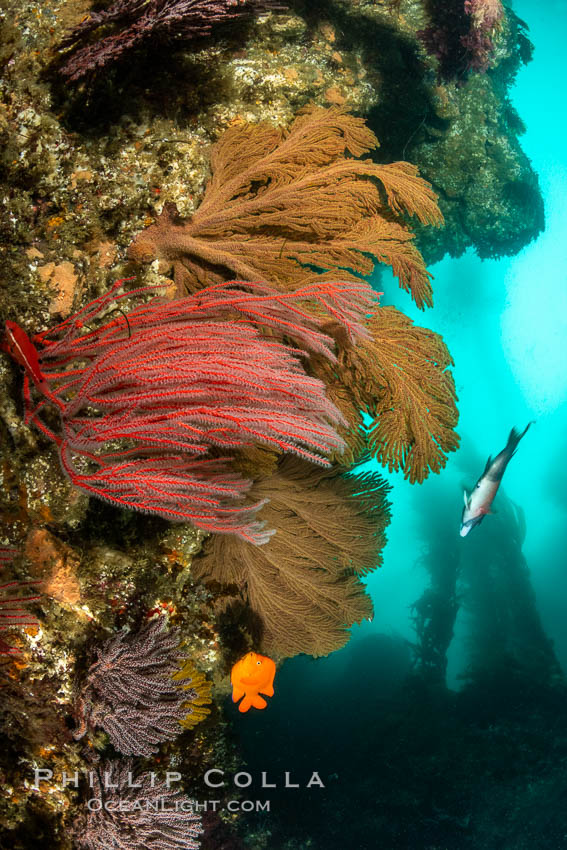 Red gorgonian and California golden gorgonian on underwater rocky reef below kelp forest, San Clemente Island. Gorgonians are filter-feeding temperate colonial species that lives on the rocky bottom at depths between 50 to 200 feet deep. Each individual polyp is a distinct animal, together they secrete calcium that forms the structure of the colony. Gorgonians are oriented at right angles to prevailing water currents to capture plankton drifting by, San Clemente Island. Gorgonians are oriented at right angles to prevailing water currents to capture plankton drifting by.
Image ID: 37115
Species: Red Gorgonian, Lophogorgia chilensis
Location: San Clemente Island, California, USA
Red gorgonian on rocky reef, below kelp forest, underwater. The red gorgonian is a filter-feeding temperate colonial species that lives on the rocky bottom at depths between 50 to 200 feet deep. Gorgonians are oriented at right angles to prevailing water currents to capture plankton drifting by.
Image ID: 37120
Species: Red Gorgonian, Lophogorgia chilensis
Location: San Clemente Island, California, USA
Red gorgonian on rocky reef, below kelp forest, underwater. The red gorgonian is a filter-feeding temperate colonial species that lives on the rocky bottom at depths between 50 to 200 feet deep. Gorgonians are oriented at right angles to prevailing water currents to capture plankton drifting by.
Image ID: 37124
Species: Red Gorgonian, Lophogorgia chilensis
Location: San Clemente Island, California, USA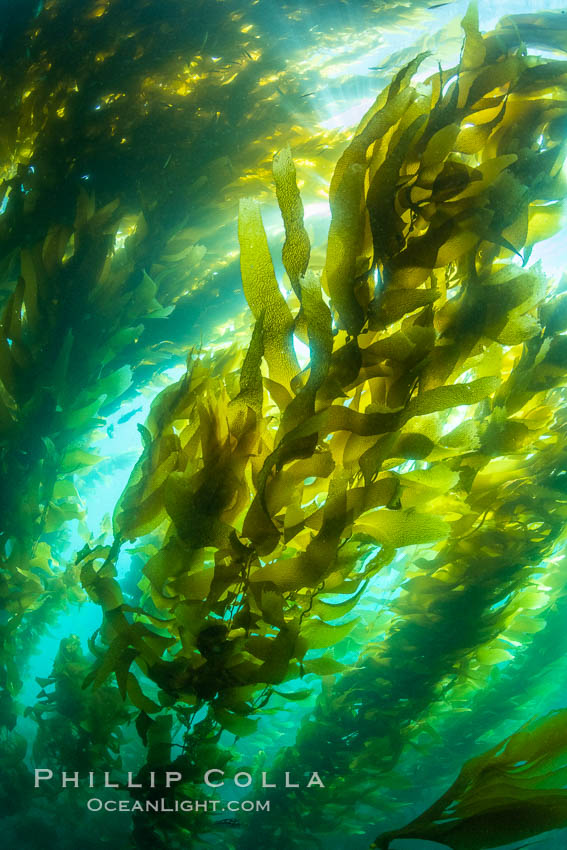 Sunlight glows throughout a giant kelp forest. Giant kelp, the fastest growing plant on Earth, reaches from the rocky reef to the ocean's surface like a submarine forest.
Image ID: 37092
Species: Giant Kelp, Macrocystis pyrifera
Location: San Clemente Island, California, USA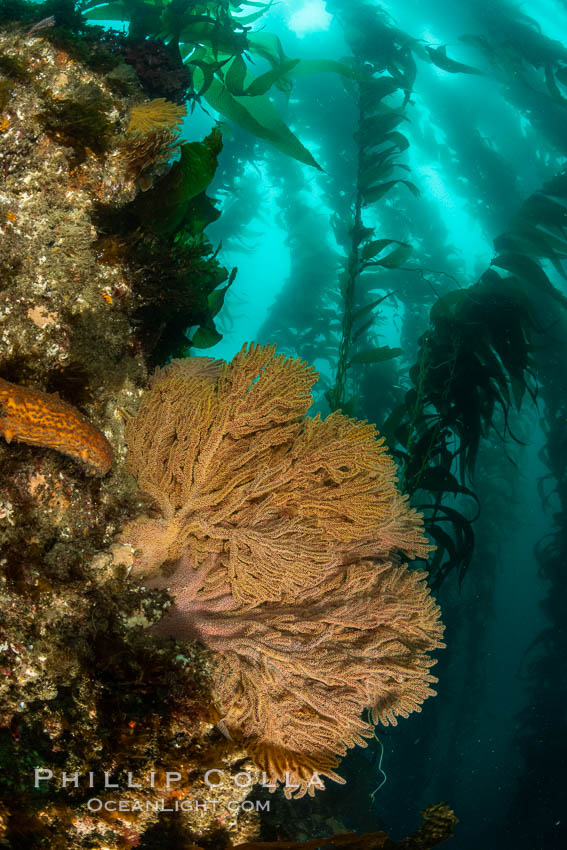 California golden gorgonian on underwater rocky reef below kelp forest, San Clemente Island. The golden gorgonian is a filter-feeding temperate colonial species that lives on the rocky bottom at depths between 50 to 200 feet deep. Each individual polyp is a distinct animal, together they secrete calcium that forms the structure of the colony. Gorgonians are oriented at right angles to prevailing water currents to capture plankton drifting by.
Image ID: 37119
Species: California golden gorgonian, Muricea californica
Location: San Clemente Island, California, USA