Wolf Island is one of the two northernmost islands in the Galapagos archipelago. Along with Darwin Island, Isla Wolf is famous for its rich undersea and seabird life. There are no land visits on the island, so the few visitors to the island are almost entirely divers or research scientists. Typical of most islands in the Galapagos, Wolf Island has a historical second name that often appears on nautical charts: Wenman Island.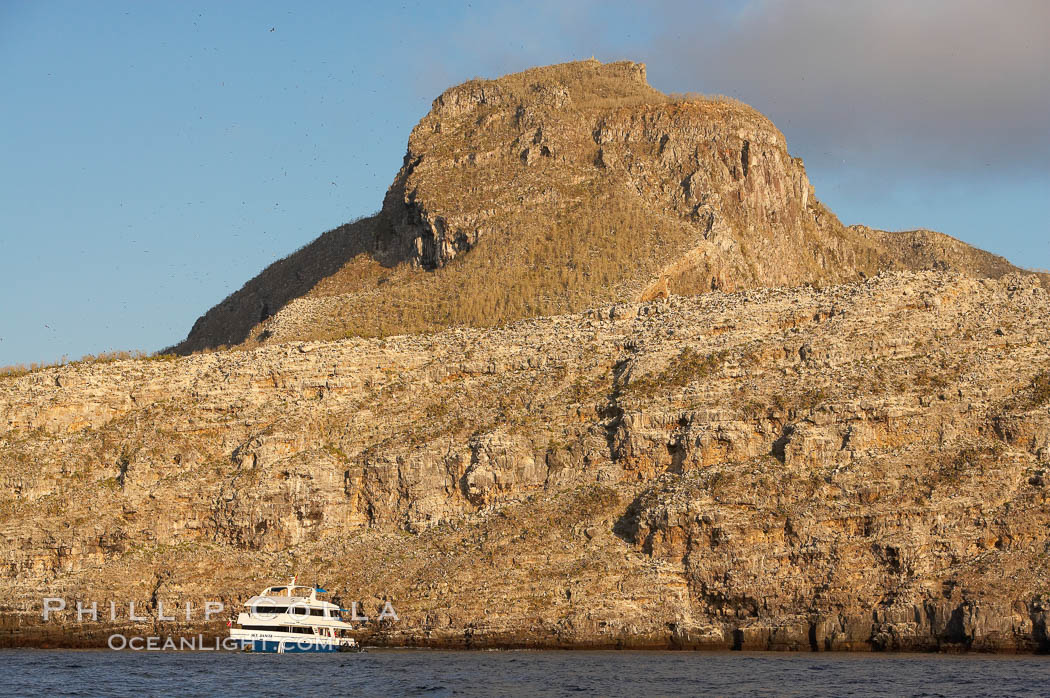 Wolf Island, with a liveaboard tour boat below sheer seacliffs, is the largest of the islands in the distant northern island group of the Galapagos archipelago, is home to hundreds of thousands of seabirds. Vast schools of sharks and fish inhabit the waters surrounding Wolf Island.
Image ID: 16629
Location: Wolf Island, Galapagos Islands, Ecuador
Isla Wolf lies 100km north of the central Galapagos islands, and requires about 12-15 hours to reach by boat. The crossing can be rough, but the abundant life and spectacular diving at the island are well worth the effort. Hammerhead sharks (Sphyrna lewini) are often seen at Wolf Island, typically in schools of up to hundreds at a time. Fortunate divers will also see whale sharks (Rhincodon typus), Galapagos sharks (Carcharhinus galapagensis), bottlenose dolphins, spotted eagle rays (Aetobatus narinari) and Galapagos fur seals (Arctocephalus galapagoensis).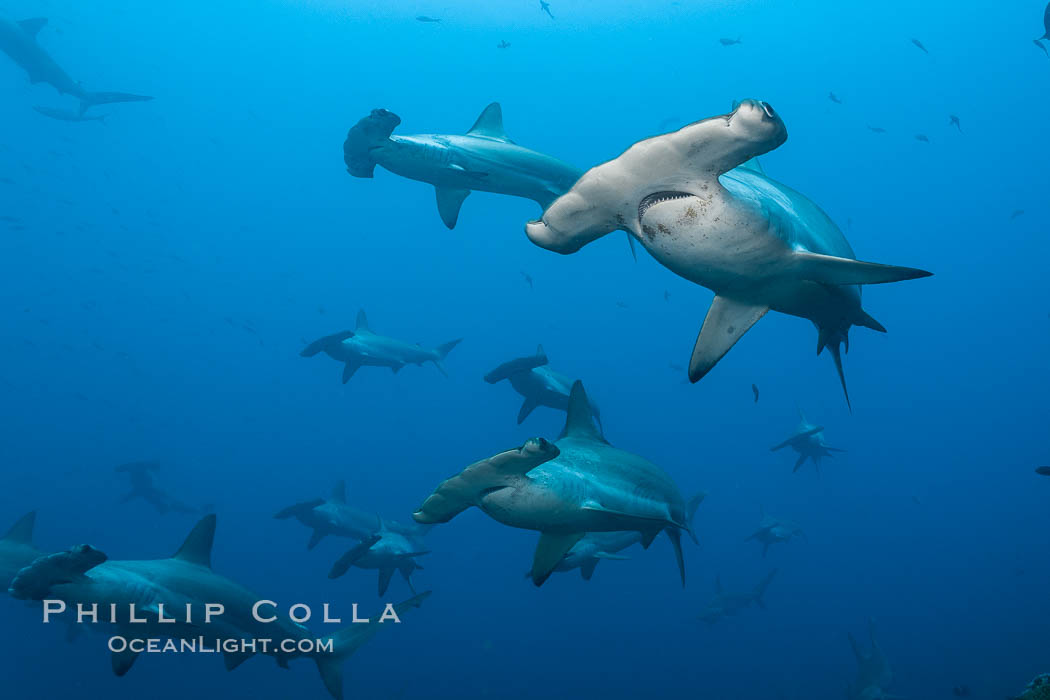 Hammerhead sharks swim in a school underwater at Wolf Island in the Galapagos archipelago. The hammerheads eyes and other sensor organs are placed far apart on its wide head to give the shark greater ability to sense the location of prey.
Image ID: 16271
Species: Scalloped hammerhead shark, Sphyrna lewini
Location: Wolf Island, Galapagos Islands, Ecuador
Above water the island is an extraordinary bird habitat. Seabirds wheel by the thousands in updrafts above the island throughout the day, with morning and evening fly-ins and fly-outs as the birds depart to forage for food or return to rest at the island. Red-footed boobies (Sula sula), nazca boobies (Sula granti, formerly known as masked boobies), frigates, pelicans and swallow-tailed gulls (Creagrus furcata) dominate the skies above Wolf.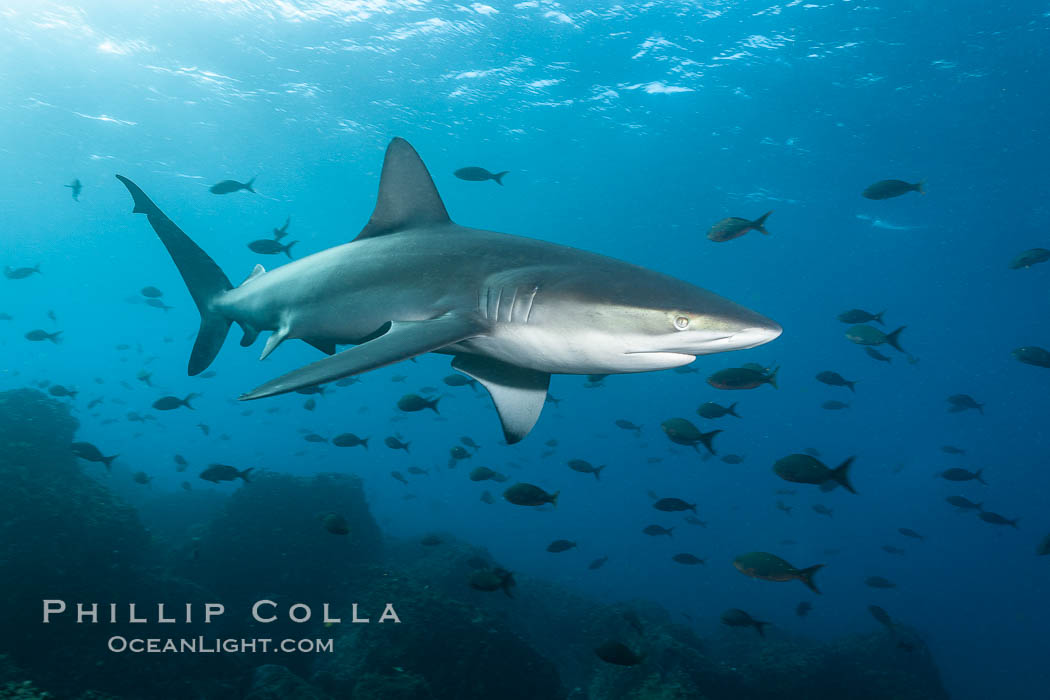 Galapagos shark swims over a reef in the Galapagos Islands, with schooling fish in the distance.
Image ID: 16240
Species: Galapagos shark, Carcharhinus galapagensis
Location: Wolf Island, Galapagos Islands, Ecuador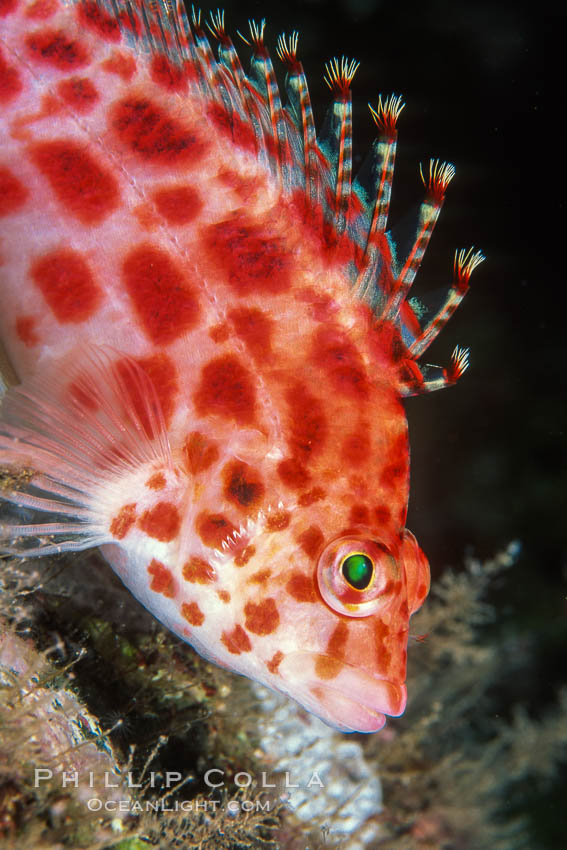 Coral hawkfish.
Image ID: 02432
Species: Coral hawkfish, Cirrhitichthys oxycephalus
Location: Wolf Island, Galapagos Islands, Ecuador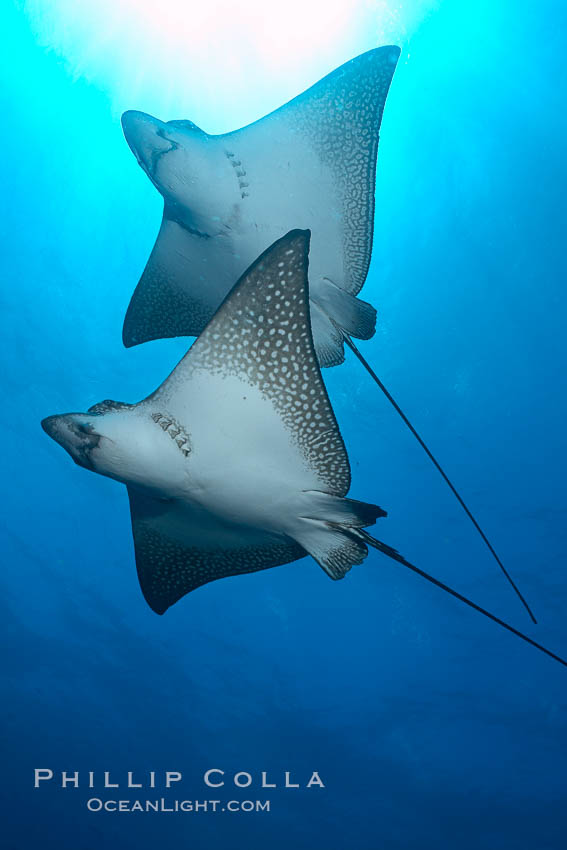 Spotted eagle rays.
Image ID: 16333
Species: Spotted eagle ray, Aetobatus narinari
Location: Wolf Island, Galapagos Islands, Ecuador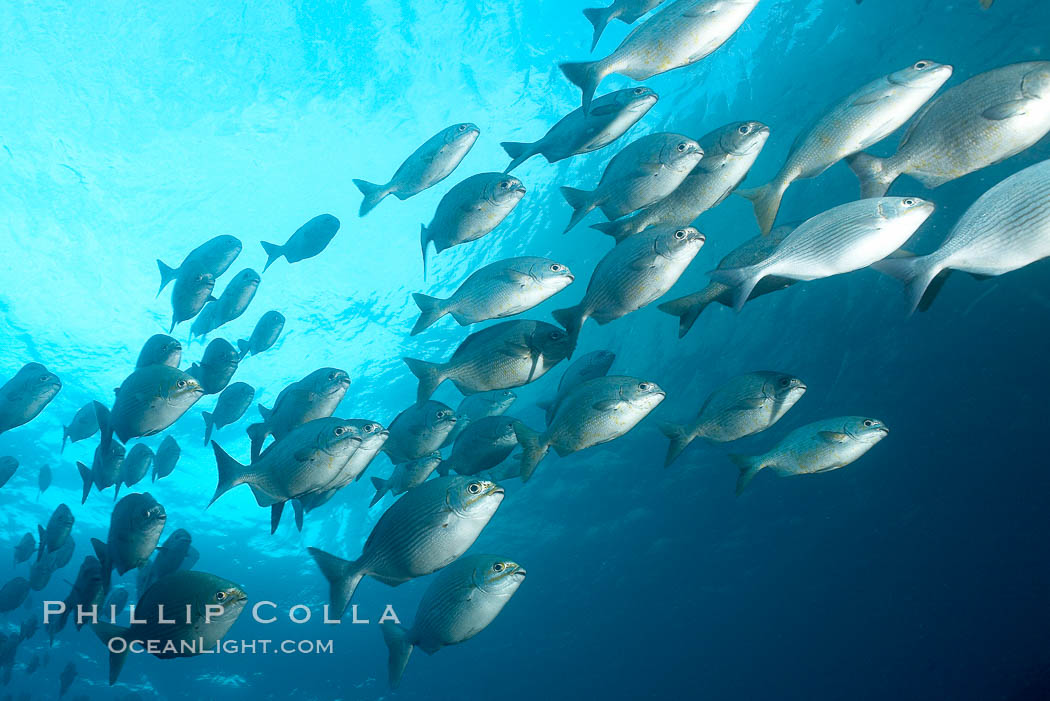 Striped sea chub, schooling.
Image ID: 16412
Species: Striped sea chub, Kyphosus analogous
Location: Wolf Island, Galapagos Islands, Ecuador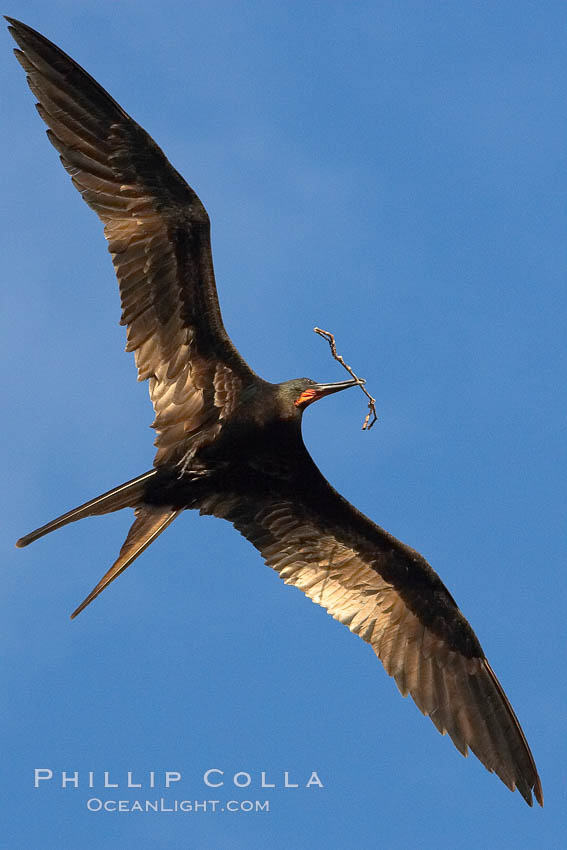 Great frigatebird, adult male, in flight, carrying twig for nest building, green iridescence of scapular feathers identifying species. Wolf Island.
Image ID: 16708
Species: Great frigatebird, Fregata minor
Location: Wolf Island, Galapagos Islands, Ecuador
Hammerhead sharks, schooling, black and white / grainy.
Image ID: 16256
Species: Scalloped hammerhead shark, Sphyrna lewini
Location: Wolf Island, Galapagos Islands, Ecuador