Photos of Zodiac Cruising in Antartica
I was able to spend quite a bit of time sightseeing and photographing from a Zodiac (inflatable) while in Antarctica. These hours were some of the most special of the trip. In some ways, one has more freedom of movement while in a zodiac than one does on land in Antarctica. Certainly the perspective one gains, while moving about at the water's edge, is appealing. After spending the day ashore at Paulet Island, I elected to join Hugh Rose and Patrick Endres in a zodiac that they were driving, to look for penguins on small icebergs and just enjoy the surroundings before we departed that evening. We came upon some beautiful small bergs that afternoon, the most interesting of which was this pockmarked chunk: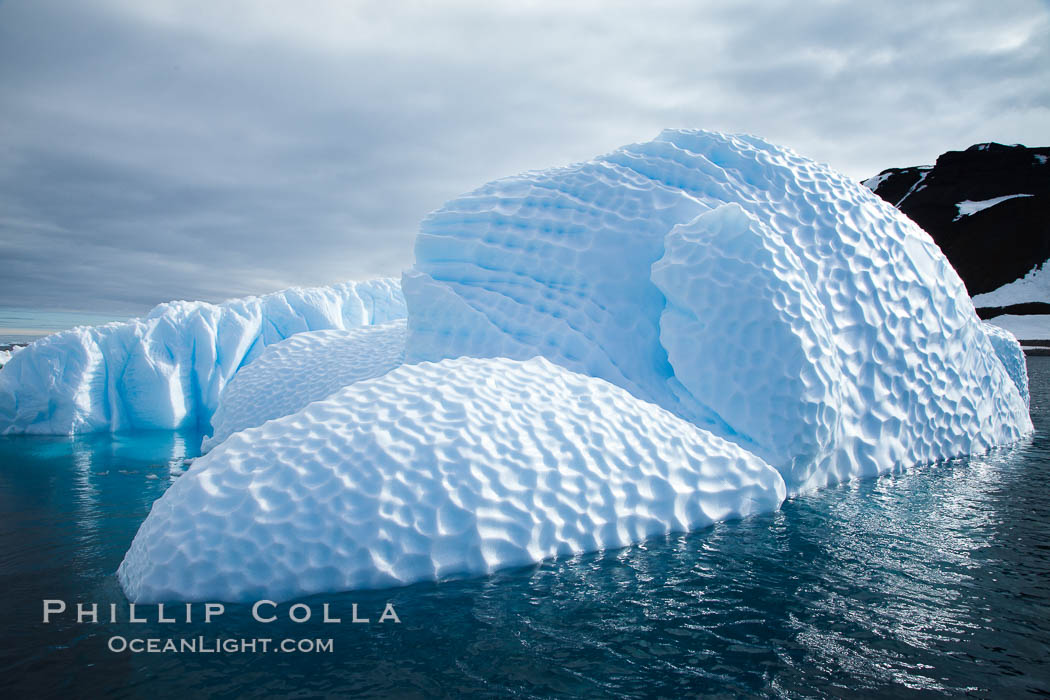 Iceberg with scalloped erosion. The eroded indentations on this iceberg were melted when this portion of the iceberg was underwater. As it melted, the iceberg grew topheavy, eventually flipping and exposing this interesting surface.
Image ID: 24789
Location: Paulet Island, Antarctic Peninsula, Antarctica
Later, we had the very good fortune to raft up alongside an iceberg that was carrying some inquisitive Adelie penguins, who immediately walked across the berg to meet us and seemed as if they wanted to hop in our boat! (See my blog entry about the penguin encounter.) The sun cleared some clouds and cast low, warm, flat light on the little birds, while the clouds in the distance remained dark — a photographer's dream. I was able to shoot some fun images of them, including the one below as well as one that became the recent cover of Nature's Best Magazine.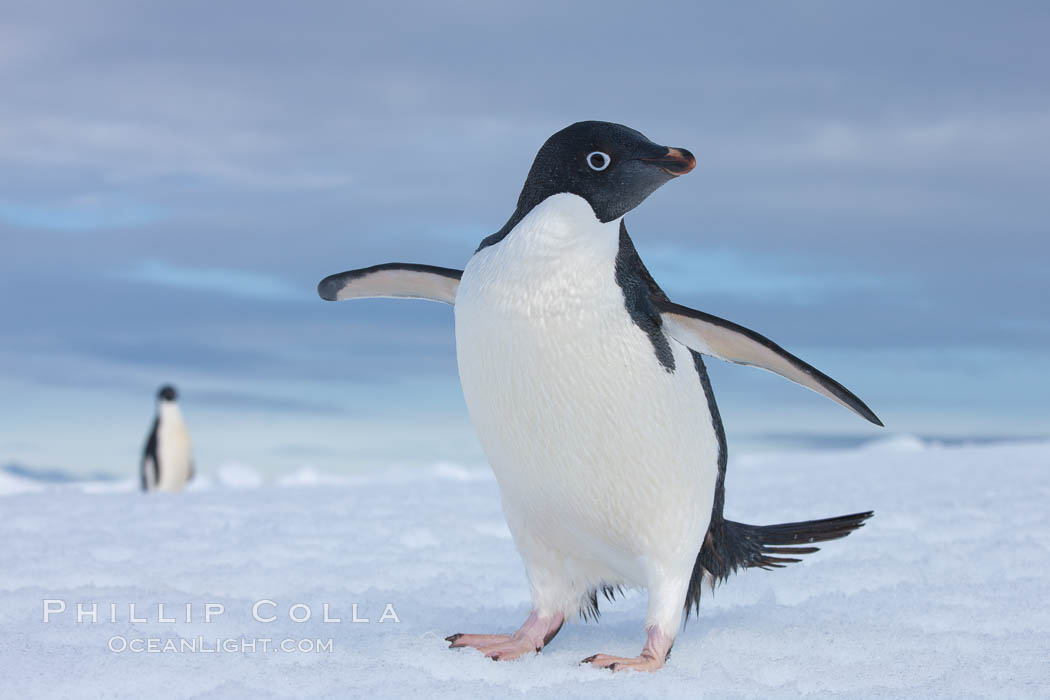 A curious Adelie penguin, standing at the edge of an iceberg, looks over the photographer.
Image ID: 25015
Species: Adelie Penguin, Pygoscelis adeliae
Location: Paulet Island, Antarctic Peninsula, Antarctica
Patrick was keen on photographing the ice, so the rest of us in the boat took notice (at least I did) and made some photos too. It is just like photographing snowflakes, no two views are alike. I knew I was never going to be able to photograph even a tiny fraction of the beautiful Antarctic ice that surrounded us, and resigned myself to just trying to make a few good ones.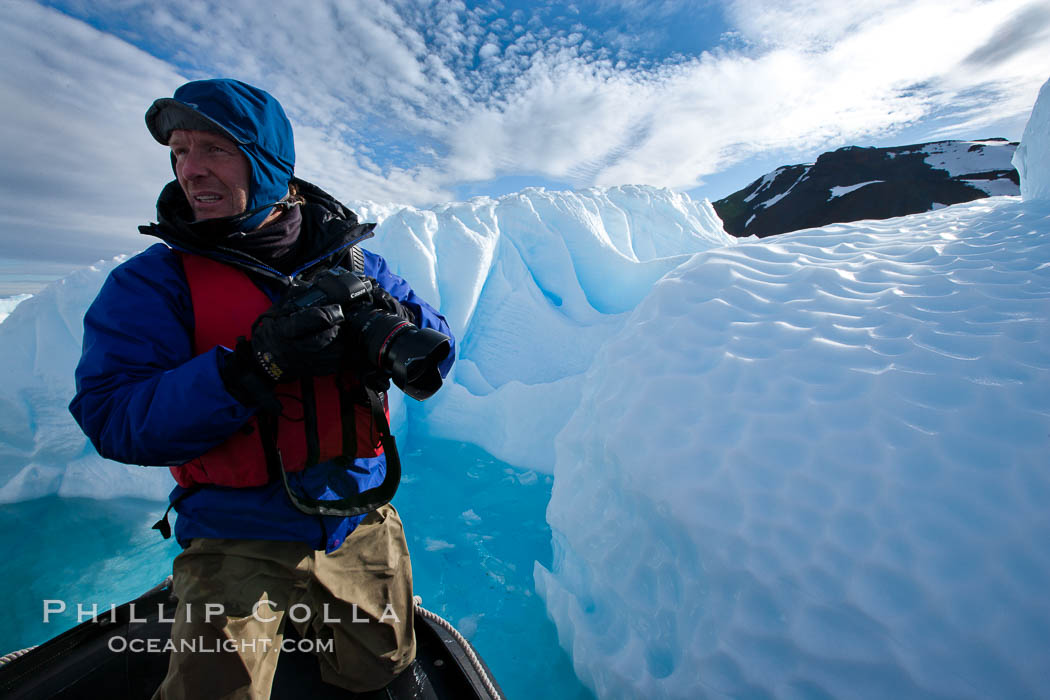 Photographer Patrick Endres works alongside an iceberg near Paulet Island.
Image ID: 24996
Location: Paulet Island, Antarctic Peninsula, Antarctica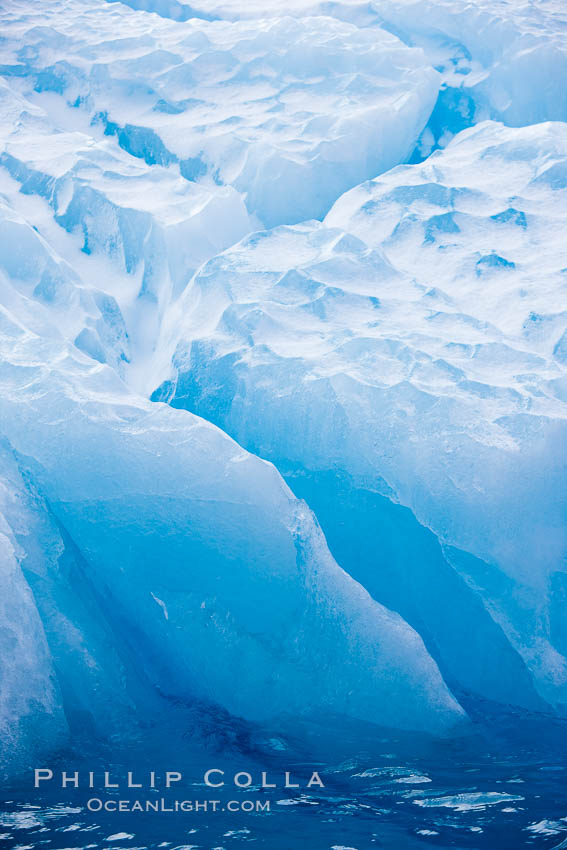 Iceberg detail.
Image ID: 24900
Location: Paulet Island, Antarctic Peninsula, Antarctica
After we returned to the icebreaker M/V Polar Star, the captain took us on a long cruise through some nearby channels, offering us sunset views that I will never forget. I lashed one of my cameras to the ship's wheel house and shot a cool timelapse of our sunset cruise.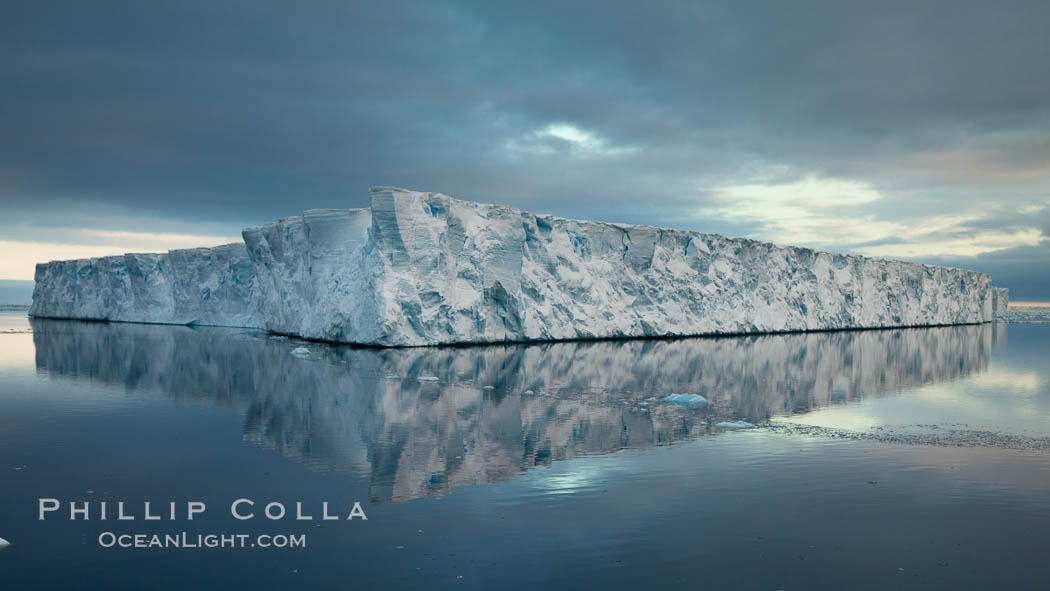 Tabular iceberg, Antarctic Peninsula, near Paulet Island, sunset.
Image ID: 24778
Location: Paulet Island, Antarctic Peninsula, Antarctica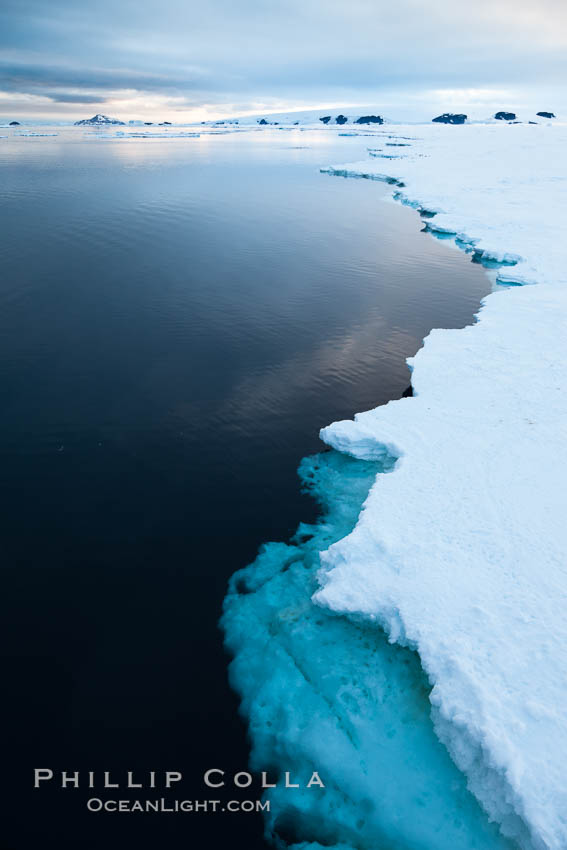 The edge of the fast ice along the shore, near Paulet Island.
Image ID: 24788
Location: Paulet Island, Antarctic Peninsula, Antarctica
Next: Devil Island, Antarctica
Previous: Paulet Island, Antarctic Peninsula, Antarctica
Trip Index: Cheesemans Antarctica, Falklands and South Georgia
All "Southern Ocean" entries