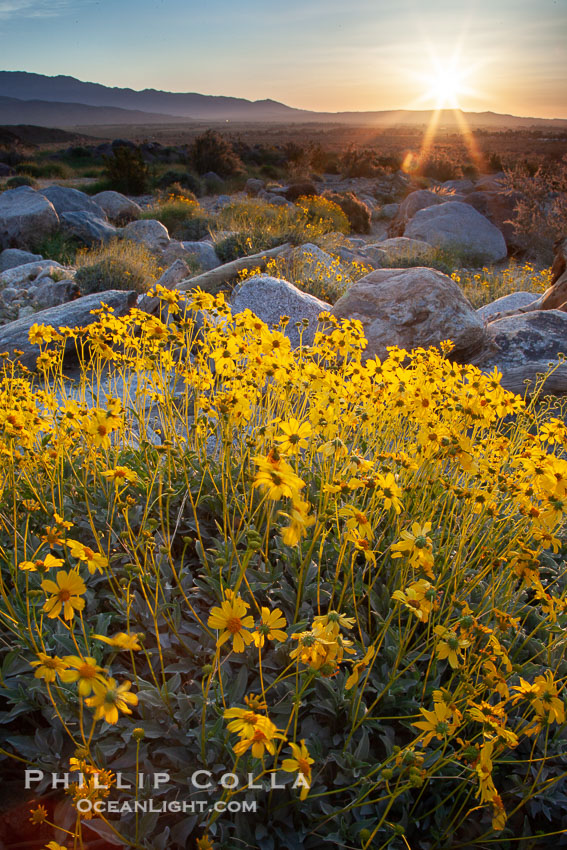 Brittlebush at sunrise, dawn, springtime bloom, Palm Canyon, Anza Borrego Desert State Park.
Image ID: 24301
Species: Brittlebush, Encelia farinosa
Location: Anza-Borrego Desert State Park, Anza Borrego, California, USA
I made a sunrise visit to Anza-Borrego Desert State Park, my first visit this spring. By 9am I had seen enough to know there was no further point in staying, and the light had grown harsh. There is some good news and bad news — bad news first.
Bad: Since I have been monitoring reports from other photographers for the past month, especially Ron Niebrugge's, I had a reasonable idea of what to expect. Nonetheless, I was surprised and deeply disappointed by the extent to which invasive Sarahan mustard has overrun some of the best and most accessible wildflower areas of past years. Everyone who has visited Anza-Borrego for wildflowers is probably familiar with the alluvial flood area that descends from Coyote Canyon, and is bordered by DiGorgio Road on the west, Henderson Canyon Road on the south, and mountains to the east. My fear is that that entire area will never again produce the gorgeous expanses of Dune Evening Primrose and Sand Verbena that is has in the past. Currently, it is totally overrun and choked by saharan mustard. In theory this year's timing of rain and warm spells should have produced a fantastic bloom in that area right about now, peaking in the next 10 days or so. Well, that won't be happening. I did not even bother to get my camera out as I made a few stops on Henderson Canyon Road and past the end of DiGiorgio Road; I had a hard time even finding patches of verbena to look at. With some walking way in from the road, one can find patches of sand verbena (Abronia villosa) but honestly they are just nothing like in past years. While there are desert lilies about, they are overshadowed by the taller, engulfing mustard. My favorite desert flower, the dune evening primrose (Oenothera deltoides), is just not happening this season; the few that are blooming are being smothered. To the east of Borrego Springs, on S22 out toward the Fonts Point and Arroyo Salado turnoffs, past years have often had large swaths of sand verbena. That's not happening in those areas right now, and probably won't this year. Mustard is starting to appear in those areas as well, unfortunately.
I hate to say it, but my sense is that this year's flower bloom in Anza-Borrego will be (is?) sub-par. The same may hold true for the Coachella Valley. We saw virtually no color on the western flanks of the Coachella Valley, including almost no brittlebush, as we left Palm Desert and drove up into the mountains today.
Good: I think this may be a super year for cactus blooms. I went to a couple of my favorite canyons and found thousands of cacti, including large red barrel cactus (Ferocactus cylindraceus), looking healthy, in bud stage or just beginning to bloom. They look great. I plan to come back in a couple weeks to see how they have progressed. Brittlebush is beginning to bloom now, and looks very good in some areas, including Borrego Palm Canyon (near the visitor center), where it can be seen growing alongside the short-lived stream that is still flowing (video). While the brittlebush (Encelia farinosa) is sparse relative to past years, it provides the best opportunities for color. I am hopeful the brittlebush fills out and covers the western flanks of the Anza-Borrego basin in yellow as it has in the past. If it does, it will probably take at least another week or two to develop that way.
I will return in another week or so for the cactus, ocotillo, agave and brittlebush, but with little hope for the flowers.
Update 1: Micheal Gordon posted his observations (similar to mine). Many have commented on the Carol Leigh's Calphoto wildflower sheet, also with some dour news about the mustard
Update 2: I was pleased to see water in Palm Canyon, so I shot and posted a little video of the stream flowing past brittlebush.
Update 3: Oh, yeah, here is a shameless plug: Borrego Springs House for Sale! A family member is selling a home in Borrego Springs. It is a beautiful, custom, single-level high-end home with interior pool and courtyard on a large quiet lot. Let me know if you are interested.
Below are some photos I got this morning between sunrise and 9am.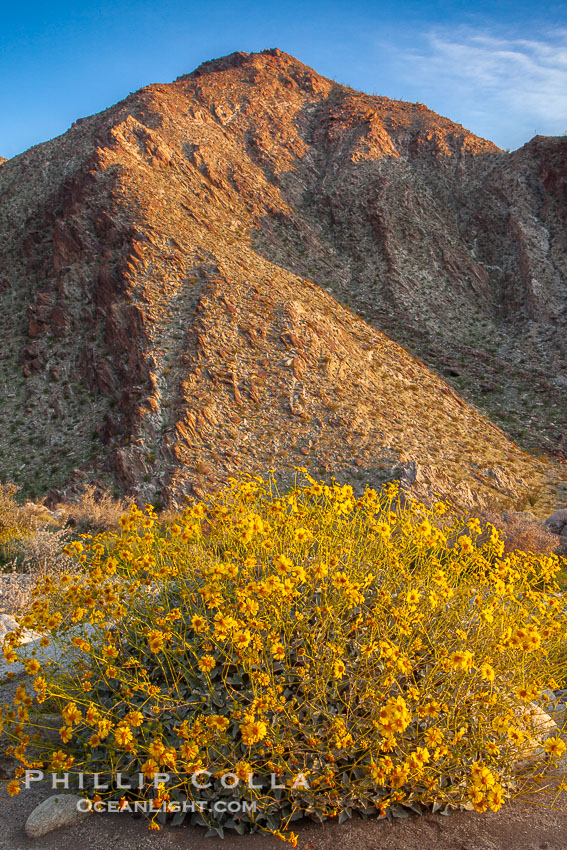 Brittlebush blooms in spring, Palm Canyon, Anza Borrego Desert State Park.
Image ID: 24304
Species: Brittlebush, Encelia farinosa
Location: Anza-Borrego Desert State Park, Anza Borrego, California, USA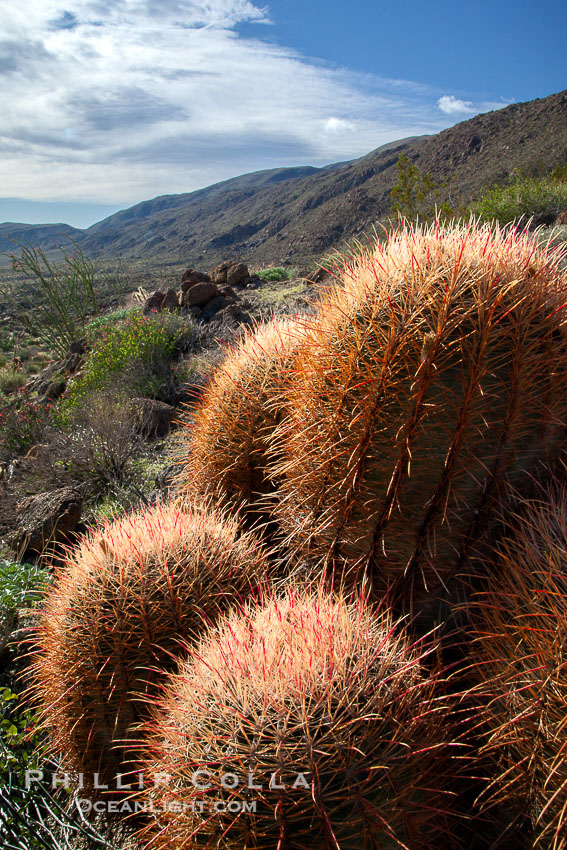 Red barrel cactus, Glorietta Canyon, Anza-Borrego Desert State Park.
Image ID: 24302
Species: Red barrel cactus, Ferocactus cylindraceus
Location: Anza-Borrego Desert State Park, Anza Borrego, California, USA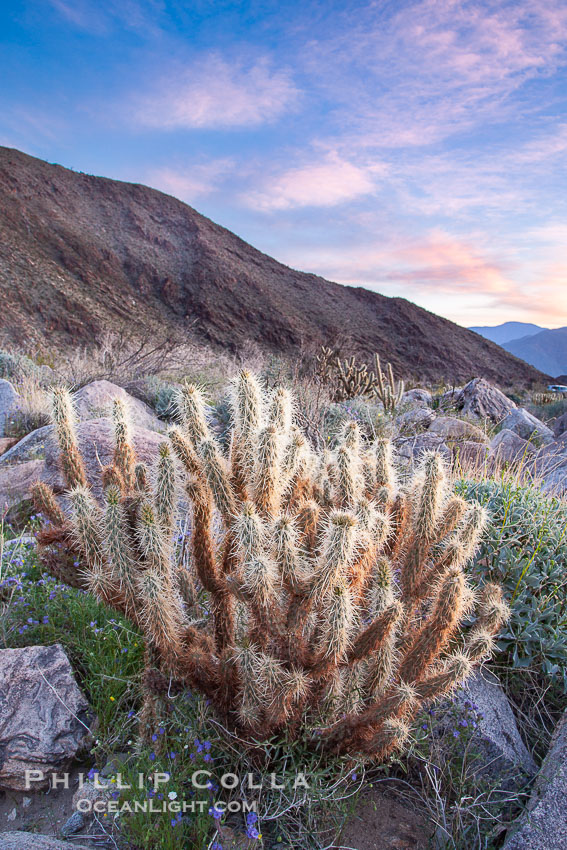 Cholla cactus, sunrise, dawn, Palm Canyon, Anza-Borrego Desert State Park.
Image ID: 24305
Species: Cholla cactus, Opuntia
Location: Anza-Borrego Desert State Park, Anza Borrego, California, USA
Red barrel flower bloom, cactus detail, spines and flower on top of the cactus, Glorietta Canyon, Anza-Borrego Desert State Park.
Image ID: 24309
Species: Red barrel cactus, Ferocactus cylindraceus
Location: Anza-Borrego Desert State Park, Anza Borrego, California, USA