En Route to South Georgia Island, Wandering albatross in flight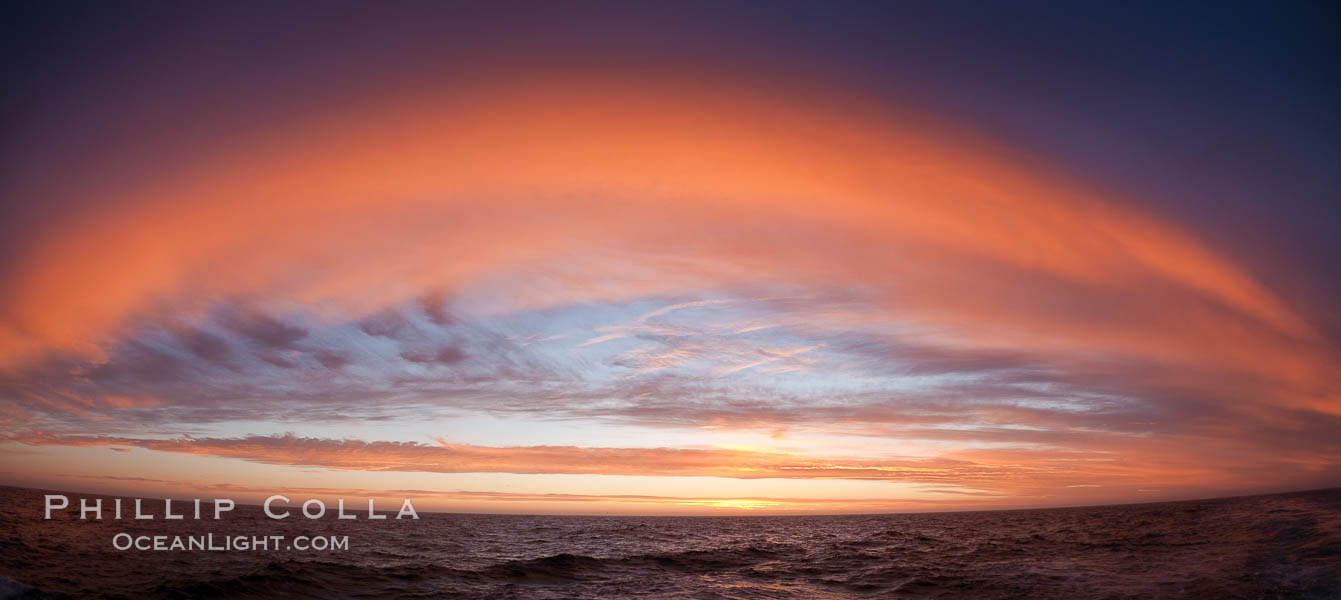 Sunset clouds create a colorful arch, spanning the heavens from horizon to horizon, over the open sea between the Falkland Islands and South Georgia Island.
Image ID: 24073
Location: Southern Ocean
It is a three day sail from the Falkland Islands to South Georgia Island. Day 1 dawned with leaden gray skies that soon clear, at which time the weather can only be described as great, with following seas, light winds and very little swell. I spent the day on deck trying to photograph and identify seabirds and spot whales. Sunset was stunning, with an arch of red and orange clouds that required a 180-degree fisheye lens to capture in its entirety. Day 2 brings my first Wandering Albatross (Diomedea exulans), enormous and elegant birds that soar over the open ocean swells, arcing and diving to take full advantage of the updraft created by each passing wave.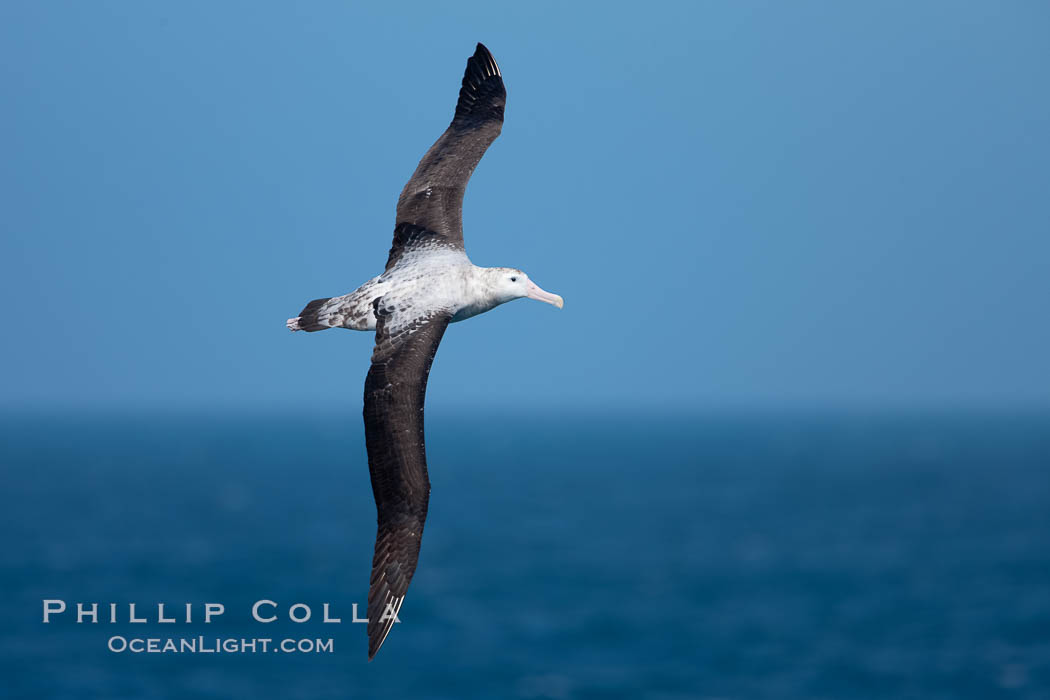 Wandering albatross in flight, over the open sea. The wandering albatross has the largest wingspan of any living bird, with the wingspan between, up to 12′ from wingtip to wingtip. It can soar on the open ocean for hours at a time, riding the updrafts from individual swells, with a glide ratio of 22 units of distance for every unit of drop. The wandering albatross can live up to 23 years. They hunt at night on the open ocean for cephalopods, small fish, and crustaceans. The survival of the species is at risk due to mortality from long-line fishing gear.
Image ID: 24071
Species: Wandering albatross, Diomedea exulans
Location: Southern Ocean
Wandering albatross have the largest wingspan of any living species of bird, over 11 feet from tip to tip. When one wandering albatross passed alongside the boat very close I was able to hear the wind as it parted and passed over the wings of this magnificent bird. The wandering albatrosses glide almost the entire time they are in sight; their aerodynamics are so remarkably efficient they rarely need to flap their wings. Most excellent. I am glad to have been able to see this species of albatross out here in the middle of the ocean, where it is so obviously at home and I am so obviously not. The oft-quoted ornithologist Robert Cushman Murphy said it well upon sighting his first Wandering Albatross in 1912: I now belong to a higher cult of mortals, for I have seen the albatross!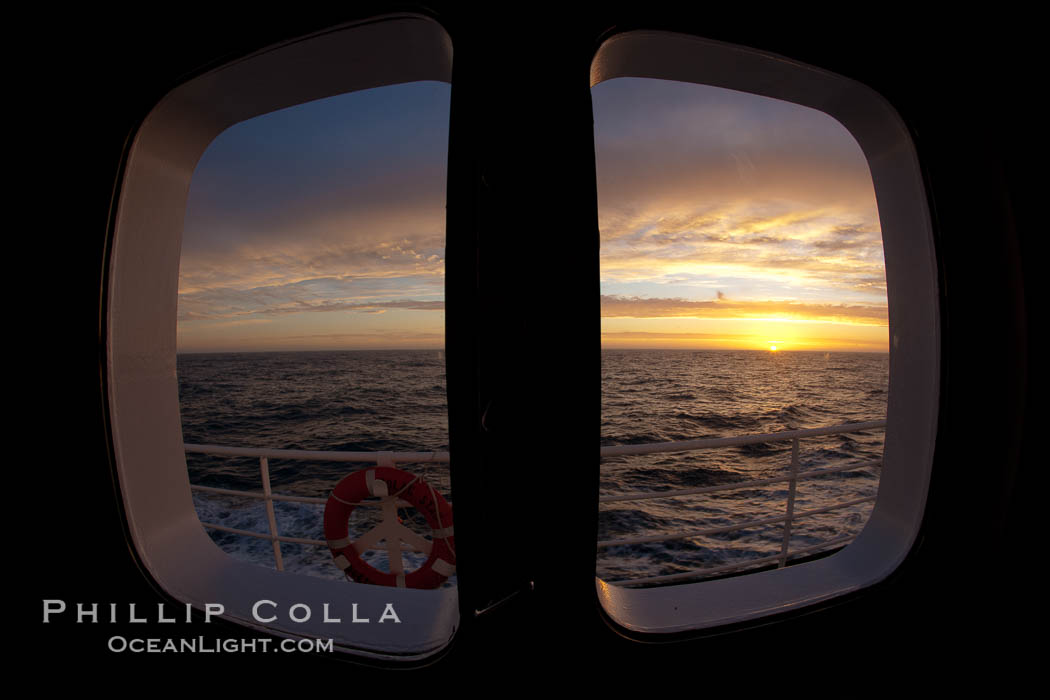 Sunset viewed through the window of my cabin on the M/V Polar Star, somewhere between Falkland Islands and South Georgia Island.
Image ID: 24097
Location: Southern Ocean
At one point a storm of prions and other small seabirds gather aloft behind the boat, dipping the beaks into the water as they flit and hover above the ocean's surface. It seems to me they are feeding. Simultaneously we spot our first whales. The fact the two species are present here is no coincidence — we must be in an area of food, perhaps krill. Much guessing among my shipmates ensues as to what species of whales they are. I refuse to speculate early on, as I have learned from many hours spotting whales that I need to see at least the dorsal ridge or fluke, preferably both, to hazard a guess. Gradually I decide that they are all fin whales, based on the manner of their round out and dive, the shape and color of their rostrums and their dorsal fins, and their blows. The flock of small birds and our whale sightings eventually lessen, indicating we are leaving the feeding zone (if that is indeed what it was). As the day wears on, periodic individual wandering albatrosses are seen soaring around the M/V Polar Star, always angling and turning to best use the updrafts of the swells to glide. Since the wandering albatrosses tend to stay at a distance from the boat, I needed my longest lens and a teleconverter (500+1.4x), a heavy combination to handhold on the deck a rolling boat. I took a lot of photos and was lucky to manage a few sharp images. I go to bed wondering what South Georgia Island will look like when we arrive tomorrow.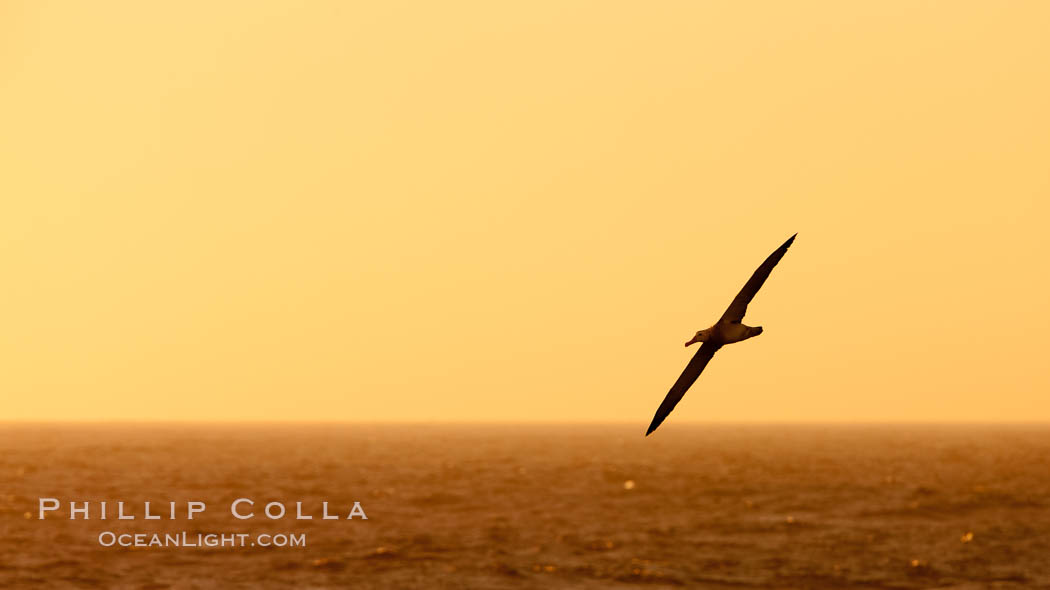 Wandering albatross in flight, over the open sea. The wandering albatross has the largest wingspan of any living bird, with the wingspan between, up to 12′ from wingtip to wingtip. It can soar on the open ocean for hours at a time, riding the updrafts from individual swells, with a glide ratio of 22 units of distance for every unit of drop. The wandering albatross can live up to 23 years. They hunt at night on the open ocean for cephalopods, small fish, and crustaceans. The survival of the species is at risk due to mortality from long-line fishing gear.
Image ID: 24092
Species: Wandering albatross, Diomedea exulans
Location: Southern Ocean
Next: Approaching South Georgia Island
Previous: Steeple Jason, West Falklands
Trip Index: Cheesemans Antarctica, Falklands and South Georgia
All "Southern Ocean" entries