Equipment List for Antarctica, South Georgia Island and the Falklands.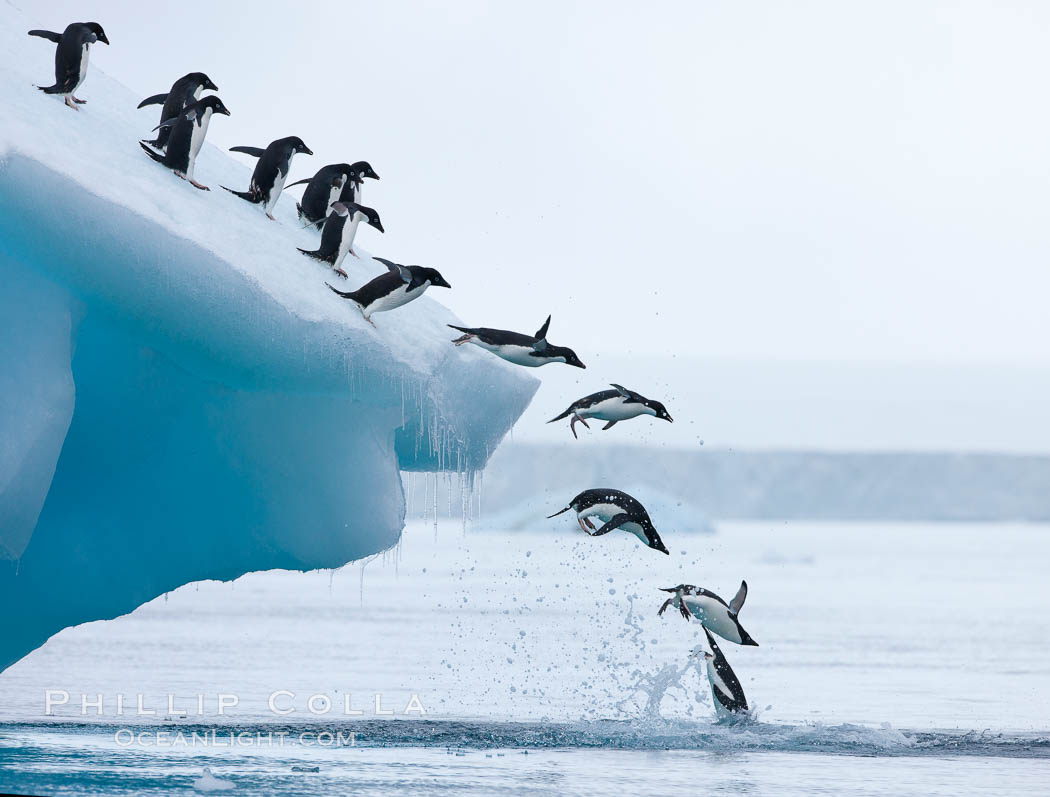 Adelie penguins leaping into the ocean from an iceberg.
Image ID: 25005
Species: Adelie Penguin, Pygoscelis adeliae
Location: Brown Bluff, Antarctic Peninsula, Antarctica
This is what I used on my recent Antarctica, South Georgia and Falklands trip. Photo gear will be described tomorrow as that is a whole nuther issue. I'll take virtually the same gear next time, with one small alteration.
Clothing
In general my main concern on this trip was staying dry in the rain and snow, and not overheating on longer walks. Layers and synthetics worked great. The only time I actually felt cold was on a few zodiac rides, and then putting on an extra fleece jacket under my Goretex shell did the trick.
Goretex jacket / shell. I use North Face Goretex jackets. I took two of them, one for use ashore that soon got dirty and smelly since I often lay down on the ground to photograph. The other was for use on the ship and remained clean. Both have dual zippers that allow North Face and Marmot fleece sweaters to be zipped into the jacket. The shell does not need insulation, in fact it is better to insulate with polar fleece sweaters separate (see next). The shell should have a hood for rain and for wet zodiac rides. You will get bird guano on your outer jacket.
Polar fleece jacket. I took three, one each of all three Polartec weights, that zip into the North Face jackets. Usually the mid-weight one was enough but a few times I wore two of them for warmth.
Gortex Pants. I use Cabela's GORE-TEX® Guidewear® Uninsulated Bibs – Tall. They are big, heavy duty and I am very happy with them. I have never had any rips or worn areas with these pants in spite of many hours scrambling around on rocks and the ground for photos. They are tougher than most people need, but the big pockets are great for gloves, camera stuff, hats, etc. If you use a more lightweight material don't be surprised when they tear, in which case rubber cement or duct tape will save the day. You will get lots of bird guano on your pants.
Waterproof Boots. I use Muckboots, the Wetlands model. Your boots absolutely must be waterproof and comfortable. I observed that NEOS overboots did not perform well for those that brought them; they eventually borrowed plain-old rubber boots provided by the Polar Star. I found my Muckboots to be quite comfortable and since they are neoprene they are very warm, I only needed to wear a single pair of athletic socks even in the coldest places we went. They do fit a little on the loose side but were still serviceable for long hikes. Wear extra layer of socks to make them fit more snugly. You will walk through vast areas of bird guano in your boots, and then you will rinse them off on deck when you return to the boat.
Chest waders: I may use chest waders in lieu of pants and boots on my next visit, since there were a few times I wanted to wade into the water up to my waist. The key is finding a set of chest waders that are comfortable to wear for 6-10 hours at a time.
Inner wear: Do not wear cotton. Wear synthetics to ensure that you dry quickly if you are sweating or if you get wet. Cotton does not dry well, and if you get wet you will stay wet and eventually get cold. I prefer to wear Nike quick-dry athletic shirts under my sweater, and either shorts (in Falklands) or light-insulation pants (such as REI quick-dry synthetic pants or thin fleece or pile pants) under my heavy duty waterproof pants. Long-johns, thermal underwear, are often mentioned for this sort of trip but I did not bring them nor did I need them, however, if you are old or have poor circulation you might consider thermals of some sort.
Gloves: I took several different pairs mittens and gloves plus a sturdy pair of glove underliners that themselves can also serve as lightweight gloves. You may find you prefer lightweight gloves for time ashore when you are handling camera equipment or walking sticks, and heavier gloves (such as neoprene/wetsuite gloves or waterproof ski gloves) for the often wet zodiac rides. Your gloves will get bird guano on them.
Hat. I took a warm ski hat for cold days and a lightweight baseball hat for sunny days. My mistake is that I forgot to pack my Sun Precautions Hat, which I use in the tropics or on my boat. In the Falklands we had sunny, dry, warm weather and my neck, face and ears got burnt even with sunscreen on.
Shades. Bring at least one good pair of polarized sunglasses. They should be suitable for marine use since you will be wearing them around water much of the time.
Shorts and comfortable shoes for around the boat. Flip flops if you are from California.
Luggage. I use an REI wheeled duffel, it can carry all of my clothes, boots, tripod and loads of camera stuff.
Dry Bag / River Bag
NRS 3.8 Liter Heavy Duty Dry Bag. I used a really big, strong dry bag from NRS. It was large enough that I could slip my entire backpack into it, along with spare sweaters, shoes, jacket, whatever. I would leave it at the landing site and return to it if I needed to exchange gear, or remove clothes if it got too warm, etc. This thing is built like a tank, reinforced at all stress points with double thick material on the boat for abrasion resistance. Be warned: this particular bag is big. I needed a big bag to put my big backpack in, and I am big enough to heft it around. You may want to go with a smaller dry bag, especially if your camera backpack is small.
Personal
Sunscreen. SPF 1000 is good. I ran out and had to borrow. Bring plenty.
Chapstick. Wow, I ran out and boy was I sorry. Your lips will get wind-burnt and chapped. Bring 3-4 chapsticks.
Hand lotion. My hands got really dry and the skin cracked.
Medications. Make sure to have proper antibiotics if you have a history of infections, as well as plenty of Advil for sore muscles. Tamiflu if you can get it and are worried about someone bringing flu onto the boat. H1N1 flu vaccine if you can get it. Seasick medication, including the prescription "patch". I generally do not get seasick and yet I packed Bonine and the patch just in case. Hand santizer is good to have for any travel. Bring your own supply of bandaids and Neosporin ointment, the last thing you want is for a small cut to become a problem infection.
Ear plugs. Get some good ones, the kind that are shaped (sort of) ergonomically, they can really make the difference between a good night's sleep and sleep deprivation.
Converter plugs. I went to a lighting and electrical shop in Ushuaia and bought two converters which I used together on the ship: one to change two-prong marine/ship outlet to South American three-prong 220V and a second to convert South American three-prong 220V to North American three-prong 220V/110V.
Next: Photography Gear for Antarctica, South Georgia and Falklands
Previous: Penguin Encounter, Paulet Island, Antarctic Peninsula
Trip Index: Cheesemans Antarctica, Falklands and South Georgia
All "Southern Ocean" entries